---
It was the accidental discovery of a vintage photograph, which enabled me to meet my first Irish-American relative, my great grandmother, Ellen Whelan Lyons of Co Waterford, Ireland. At a family reunion in South Dakota, my cousin, John Maloney, had tossed out on the table a bushel basketful of old photos. My wife Nona retrieved from the pile a photo of an impressive young woman, because, she said, "I liked her face and her look, thinking she was an interesting woman."
Six years later, UPS delivered a large framed portrait of an older woman with a note from my cousin, Betty Coughlin who wrote on the back of the portrait: "This is our great grandmother, Ellen Whelan Lyons, born 1821, Co. Waterford, died 1889, Madison, SD. It was found hanging on the wall in a nursing home for the past eight years in the room of Margaret 'Bog' Coughlin, a grand-daughter of Ellen Whelan Lyons."
Ellen Lyons Smith, a granddaughter, wrote of the family migration as heard directly from her namesake: "Grandma's name was Ellen Whelan – Phelan or Ó Faoláin. Her father was a landlord and the family enjoyed a comfortable living. Grandma was educated by governesses and had many opportunities of culture not enjoyed by the average person in Ireland at that time.
When I was age 15, Grandma told me the story of her romance – how her father had selected a husband for her in their own social sphere. She refused and made her own choice, Jeremiah Lyons, the son of a poor flax farmer. One can understand the slight, fair girl being attracted to the stalwart Jeremiah, the true Irish type with the broad shoulders, deep-set eyes, rosy cheeks, and black hair. She never regretted her decision, though their early life together was not easy from a worldly point of view."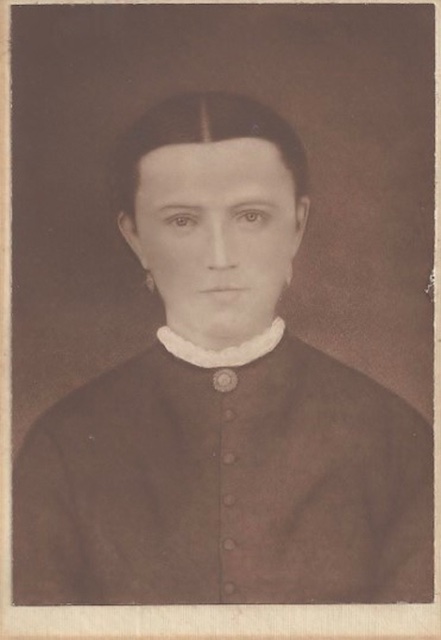 Florence Finley Kolbach, a cousin, chronicled the odyssey of Ellen and Jeremiah Lyons who as young newlyweds were forced to flee famine and oppression and sail from Dungarvan, County Waterford, Ireland in 1845.  Filled with hope for a better life and $1,500 sown in Jeremiah's underwear, they made the crossing to America. But when Jeremiah caught the cholera on board ship, he was isolated from Ellen and their two young daughters, Bridget and Margaret. Upon arrival at the docks, unknown to Ellen, Jeremiah was placed in a pest house along the shore line in New York City where he was nursed by anonymous caretakers.
 For three months, Ellen searched for her husband in every shanty and shack in the city until, in the words of the story recited at every family reunion: 
One day a man said, "Well, yes, but it just couldn't be him. He was so old and bearded and thin."
But, he said, if she wished, she may come in and look.
There are no records on the book. He seemed to be traveling alone. His memory was gone, and he was without name or home. Thus she found her Jerry lying on a bed of straw,
His face was drawn in a look of awe. What had happened in the past there was no telling. He raised his head and whispered "Ellen."
The $1,500 had disappeared. After Ellen had nursed her Jerry back to health, they joined with other recent immigrants from Ireland and worked alongside Chinese contract laborers to build the railroad from New York to Chicago. In that windy city, with a growing family – including my grandfather Will – they became successful farmers and later moved farther west to Iowa and finally to Dakota Territory where they spent the autumn of their lives with their pioneer sons and daughters.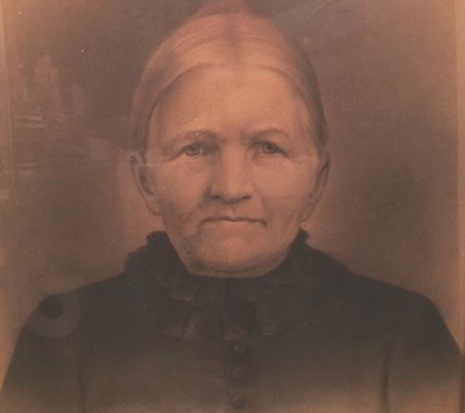 With the best of their years laid by, they made their last home with daughter Bridget Lyons Rea in Madison, SD where: "They helped twist hay, to burn and keep warm. On New Year's Eve, in eighteen eighty-nine, in the midst of a South Dakota snow storm, Death's Angel called for Ellen and bade her come. Five years later Jerry joined her in their last home."  I have been privileged to visit their graves in St. Thomas Aquinas Cemetery, Madison, South Dakota.
I believe that my immigrant great-grandparents, Jeremiah and Ellen Lyons, are the real radicals in America's history. They lived in their adopted land, not as victims of the oppression they had fled, but as confident and contributing citizens who saw that their own fulfillment was in helping to build this country, its schools, farms and businesses. When I reflect on their odyssey, I realize that the pathway to my home began in a pest house where the kindness of strangers in New York City gave my first American relatives a taste of the goodness and greatness of its people.
---
SEND IN YOUR OWN FAMILY ALBUM PHOTO
Submit photograph(s) along with your name, address, phone number, and a description (max 800 words), to SUBMIT@IRISHAMERICA.COM with the subject line "Photo Album". Or mail to Patricia Harty at Irish America, 875 Sixth Avenue, Suite 1606, New York, NY 10001. If photos are irreplaceable, then please send a good quality reproduction. We will pay $65 for each submission that we print.