Eileen Collins, the first female to command a space mission, is a determined down-to-earth woman who never let anything stand in the way of her dream.
August 1999: NASA, Texas: Eileen Collins looks a little tired and it's no wonder. America's first female space commander has been caught in a whirlwind of publicity since she returned to earth some three weeks before, having successfully led a crew of four astronauts on a mission to deploy the Chandra X-Ray Observatory, a telescope expected to unlock the deepest secrets of the universe.
She has just completed 47 interviews back to back (Len Irish, who took our cover photo of Collins, says she was one of the nicest people he ever photographed – "no fuss"), and there's a television crew waiting for her to put on her spacesuit, and to top it off Collins has a cold. "I caught a cold in space, and I still have it. I'm trying to get the doctors to figure that one out," she chuckles, assuring me that she's not tired at all.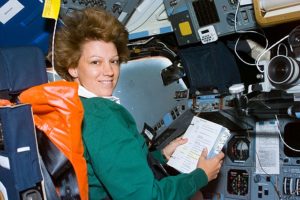 At the commander's station on Space Shuttle Columbia on the first day of the STS-93 mission. Photo: NASATalking about the space program is something that this energetic woman with soft reddish hair and warm brown eyes loves to do. "I could sit here for hours and talk to you about it," she says. "I think the space program is critical to people around the world. Look at our mission – we took up this telescope, it looks at x-rays, it tells us all about these high-energy objects like neutron stars, quasars, different galaxies, it can tell us about black holes, it can tell us about the missing mass in the universe."
The other important consideration is that the space program allows scientists the opportunity to study the earth from space. "There's so much we can learn about the earth from space," Collins says. "We can see erosion and pollution. We saw jungles being burned in South America – we saw fires everywhere. When we first flew our space missions back in the sixties the island of Madagascar was completely forested and now the land has been cleared. Is that good or bad? That's for the scientists to say. But you can see it from space and you can tell people."
Then there's the space station that the Americans are building. There are some major components up there already, according to Collins. The shuttle has made two trips already and once the station is completely built the shuttles will be going back for logistics, resupply, and crew and science transfers.
It's easy to see that Collins loves her job. "I love it, I absolutely love it," she emphasizes.
Michael Collins, the astronaut who took part in the trip to the moon, can't be reached for comment on his namesake's historic mission. He's "a fisherman these days," his wife Patricia (whose mother is from Mayo) tells me on the phone from Florida. The younger Collins ran into the reclusive elder in the halls of NASA, but the two didn't figure out if they are related or not.
It is known that Michael Collins believes that there are other life forms out there – does Eileen?
"It almost seems to me, just from a purely scientific point of view, chances are there is life – maybe just microscopic life. I don't know. Either there is or there isn't. And either thought is just mind-boggling."
NASA has changed its policy since the days when Michael Collins' contemporary John Glenn defended its bar on women. Today Eileen Collins is one of three female pilots at NASA, and one of 34 women among the 247 astronauts to fly on the shuttle. When she blasted into space some very special women were soaring with her in spirit. Known as the Mercury 13 women, they passed rigorous training and medical testing in the early 1960s, but never flew into space.
"It's a lot saner these days," Collins, who carried a flight pin belonging to one of the Mercury women on her trip, assures me. "A lot of the medical experiments that are being done are voluntary. And if you decline an experiment, it does not affect your career."
Ever wonder what does happen to a body in space? The first thing you notice is that there's an immediate fluid shift, Collins tells me. "After the main engine's cut off, your face gets fat, your eyes look small. Hair goes up. Your legs get skinny. Food floats around in your stomach because you don't have gravity pulling everything down.
"My back stretches – I get stomach awareness. It's not painful, and it doesn't bother me, but I know it. So the first feeling is the physical. The second thing is looking out at the earth. And that is just breathtaking. Mostly you see blue ocean and white clouds. But then you'll see land. And then you'll look for signs of whatever you're looking for – in our mission, it was coral reefs and erosion."
Collins tells me that she has a favorite trick that she likes to do in space. "I'll put my face right up against a window, so I can't see anything else in the shuttle, and I'll put my arms out, and my legs out, and I feel like I'm flying over the earth with no spacecraft.
"And it's really neat. You feel like you're Superman flying over the earth."
SUPERWOMAN
Collins didn't take her first flight until she was 19 – on a commercial airline with her mother. "I remember thinking 'so this is what it's like up here,'" she recalls. The following summer, she saved a thousand dollars working at part-time jobs and signed up for flying lessons. A year later she got her license and went off to the Air Force in August of 1978 to fly jets.
She wanted to be a combat pilot but the military had just allowed women to join the Air Force and wouldn't hear of it. However, Collins did become their first female test pilot. Ask this soft-spoken woman about breaking into the all-male domain and she shrugs, "Sure, there were a couple of jokes." Her father says his daughter never has a bad word to say about anyone, and Collins refuses to elaborate. Any macho attitude she may have encountered was more than likely matched by her determination.
During her time in the military, she earned the rank of Lieutenant Colonel, two master's degrees, and several service medals including one for flying home American medical students who had been held hostage in Grenada in 1983. All the while she kept the dream of joining the space program within her sights. "When I was a child all the astronauts were men," Collins remembers. "I really adored them and I wanted to learn about their families – what their wives were like, what their kids were like, and what they did before they became astronauts. How did they get selected? And it wasn't until I got to high school that I started wondering, hey, what's going on here? Why can't women do this?"
Finally, in 1990, twelve years after she joined the military, NASA invited Collins to be their first female pilot and she was ready.
"My first flight rendezvoused with Mir, but didn't dock. And my second flight docked with Mir, and we did an astronaut transfer and logistics transfer. It was just incredible," she recalls.
FROM ELMIRA TO MIR
When she finally blasted off into space, Collins had come to the end of a long, long journey, further than most people realized. As Jay Leno said when she was a guest on his show, she didn't have Yale handed to her on a plate. Collins worked to pay her own tuition first at community college and then at Syracuse University. And on top of that, she managed to save enough money to pay for flying lessons.
Though she dislikes the word "disadvantaged" in relation to her upbringing – she says, "We were poor but we were not disadvantaged" – Collins shows that an impecunious start in life can be overcome with determination and focus. The woman that would become the first female commander in space grew up in a government housing project, in Elmira, New York, the second of four children. Her parents split when she was nine and the family went on food stamps for a while until her mother got a clerical job at the correctional facility in Elmira.
Her mother, Rose Marie, has commented that the walls of the apartment in Hoffman Court were paper thin and she couldn't wait to get out of there, but her daughter remembers differently: "We lived on the edge of the city next to this beautiful little creek. There was a football field and woods…" And of course, there was the National Soaring Museum and Harris Hill from where the gliders flew that would instill the dream of flight in the young girl. "I'd watch the gliders and I would say, well, maybe someday I'll get to do that," Collins says.
In the meantime, she read everything she could about flying. "I really got to love flying when I started reading about pilots – women pilots, military pilots, I read about Amelia Earhart, and Bessie Coleman [the first African American pilot] and about the military pilots who took part in World War II, the Korean War, and the Vietnam War. Those military pilots became role models for me."
The parents remained friendly after the split and although James Collins, a postal worker, couldn't contribute much in the way of money to his family, he paid for his children's Catholic school education.
"I wasn't there for them that much and I didn't have anything in the way of money but I paid for them to go to Catholic school because I knew in my heart it was the right thing to do,' he says.
In high school, Collins excelled at science and math, and her advice to young women today is, "Don't put limits on your dreams. Explore a lot of different areas in school — languages, sciences, math. Just because everybody else is or is not doing it isn't a good enough reason. You have to find what you like. Because you will be really good at something if you really love doing it."
Collins also stresses the important role that parents play: "My parents weren't perfect, nobody is perfect, but at least they said to me, `We're here for you, we love you.'"
Although she doesn't go around talking about it, the strong Catholic values that Collins grew up with stayed with her. "I think the way you are as a person really speaks for itself. And I like to live by Christian-Catholic ideals and attitudes, like helping people whenever you can.
"Whenever you're in trouble," she says, "just turn it over to God and let Him take care of it for you." For good measure, she took her mother's Connemara marble rosary beads with her into space.
Maybe it was her faith that kept Collins calm on her most recent mission.
"Five seconds after lift-off we had an electrical short. As soon as the controllers (computers that send commands to the main engine) get a power interruption they fail and they don't come back on. So of the three engines that the shuttle has, two of those engines lost controllers."
Did Collins panic? "No. We were very confident. When we heard the call, `you've lost ACI – sensor's off, you've lost redundancy this controller's down and that controller's down' – we knew exactly what to do. I was extremely confident that if we had another failure after that I knew what to do."
Confident as Collins sounds, her father tells me that she mentioned to him that God had played a part in landing the troubled shuttle.
Probably the most difficult part of the operation for her, she says, was the frustration of not flying. There were several aborted attempts before the shuttle finally took off on that mission.
"It's quite tiring – you get up, and you go through your briefings, you suit up, you go out to the launch pad, you climb in, you strap in, you lie on your back, in our case, for four hours while we waited for weather and/or problems to clear. And then when the scrub is called, you end up lying on your back for another hour while you reconfigure the systems to get them in a position to try the next day. And when you get out you go back to astronaut crew quarters and you de-suit, and you've only got a couple of hours left in the day before you need to go to bed."
And then there's Bridget Marie. "I'm told I'm going off to space for five days, but I'm in quarantine for seven days. And my daughter isn't going to see me. She can't see me in quarantine, because we're medically isolated. So I had to tell her what was going to happen. And I said, 'Mommy's going to be back. I'm going into space; you're going to be able to see me on TV. You can talk to me on the phone, you can talk to me on the radio,' and I said, `Daddy's going to be with you the whole time.' And he was. He managed to get off work the whole time."
It helps that Collins' husband, Pat Youngs, is also a flyer. The couple met in 1983 when they were both stationed at Travis Air Force Base in California, flying C-141 cargo transport planes. They married in 1988 and today Youngs is a pilot with Delta Airlines.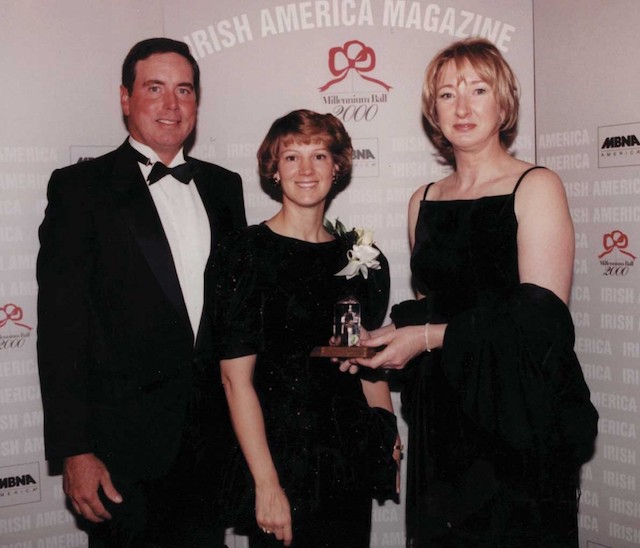 "He's not 100 percent Irish, but he does have some Irish heritage," she tells me. "Bridget is named after a relative on my father's side." When her daughter was born, Collins had both sides of the family write down all the interesting names on their relevant sides. "Bridget" won out, and Collins added Marie for her maternal grandmother Marie Reidy.
"My father's mother, Marie Reidy, told me as much as she could remember about Ireland and I wrote it all down. My husband and I went over there for a golf tournament. I said, `Oh, let's go to County Cork and look up Collins in the phone book,' but there were so many people named Collins listed that we gave up."
Space has wiped the ancestral history detail from her head, Collins claims, but her father fills me in. "Railroad workers on both sides of the family," he says. On her mother's side, the family is from Clare, and on her father's side, they hail from Cork.
James Collins doesn't see anything in his family background that would have produced such an ace. "I was driving in my car all alone and I turned on the radio and it was Eileen talking about the space station and I was just in awe of her," he tells me. "Here she is a national hero and she's my little girl."
EPILOGUE
Collins and her husband Pat flew in from Houston for our December 8, 1999 "Irish of the Century" dinner in New York. As we go to press [March 2000] she's deeply involved in a technical assignment related to computer and data systems for astronauts and has greatly reduced time for interviews or media. She's in the queue for another space mission. "Typically astronauts and certainly the commanders go into rotation," Doug Johnson from NASA tells me, adding, "I wouldn't doubt that sometime in the next year, especially with Eileen's capabilities and experience she'll be back in space."
And that's one place that Eileen Collins loves to be.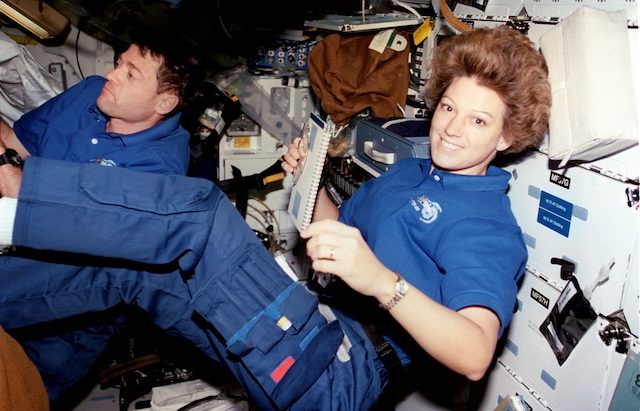 Editors note: On December 16, 2022, Eileen Collins, a member of Irish America's Hall of Fame was awarded the Wright Brothers Memorial Trophy by the National Aeronautical Association for her perseverance in the advancement of aviation and aerospace as a teacher, astronaut, and leader, and for serving as an inspiration for all those seeking to break barriers in their field.