Kelly Sworn in, Remembers McCain
Newly elected U.S. Senator Mark Kelly honored fellow Irish American and former senator John McCain before he officially took office in late 2020.
Kelly, along with his wife (former congresswoman Gabrielle Giffords) and daughter, Claire, visited the gravesite of late Arizona U.S. senator John McCain.
"The family laid a wreath at McCain's grave at the U.S. Naval Academy Cemetery in Maryland and paid their respects to McCain, who died in 2018 after a battle with brain cancer," the Arizona Republic reported.
Kelly has long said McCain was "someone he looked up to growing up, despite the two representing opposing political parties," the Hill noted. "Kelly said he's looking forward to using
McCain's desk when he takes office." Kelly himself has said: "(McCain) was a hero of mine when I was young, and we often don't get to meet our heroes. It's also much less often that you eventually get to call them a friend and to be elected to his United States Senate seat, that– that's a very big deal for me."
"Sky" the Limit for Caolilinn
For any actor, a role alongside Hollywood legend George Clooney would be the experience of a lifetime. That is certainly the case for Ireland's own Caolilinn Springall.
The only difference is that the young Irish actress is only seven years old.
Springall stars in the new Netflix movie Midnight Sky, directed by and starring the Irish American Clooney, who said he enjoyed working alongside such a young actress.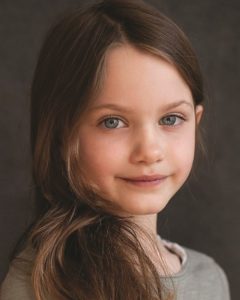 "I was so happy because we'd finish up, I'd get home in time to put the kids to bed usually because you know we're working with Caoilinn (Springall, Clooney's co-star), a nice Irish girl and we'd have to finish at a certain time because she's a kid so you can't work past a certain time," Clooney was quoted as saying in the Irish Sun newspaper.
The release of Midnight Sky also gave Clooney a chance to talk about a recent visit to Ireland to see relatives.
"We were there for Easter (in 2019), it was unusually warm and nice and it couldn't have been more fun to be there," he told Dublin radio station SPIN 1038. I met a bunch of relatives I never knew I had which was also fun! My experience there was so memorable and seeing family was so much fun. Being able to feel your real roots is a really cool thing! My father had been there and visited the family before."
Midnight Sky is a dystopian sci-fi flick, and also stars Felicity Jones and Kyle Chandler.
Brooks noted that Shields' "father was the first Catholic to serve on their town's school board," and added that "To this day Mark argues that politics is about looking for converts, not punishing heretics. You pass bills and win campaigns by bending to accommodate those whose votes can be gotten."
Shields Steps Down
Who says Americans can't talk about politics in a civil way?
For over three decades, Mark Shields has shared insights in newspaper columns and on public television. Now that the 83-year-old Massachusetts native and Irish American is retiring from his regular post on PBS, even those who disagree with him can't help but comment on Shields' experience, wisdom and – most importantly – decency.
"Every Friday evening for the last 19 years, Mark Shields and I have gathered to talk politics on the "PBS NewsHour," New York Times columnist David Brooks wrote in December.
"We've had thousands of disagreements over the years, but never a second of acrimony. Mark radiates a generosity of spirit that improves all who come within his light."
A graduate of Notre Dame University, Shields began working in Washington in the mid-1960s, eventually joining the presidential campaign of fellow Irish Catholic Bobby Kennedy. Shields later worked on campaigns for Edmund Muskie as well as Sargent Shriver, who was married to Eunice Kennedy.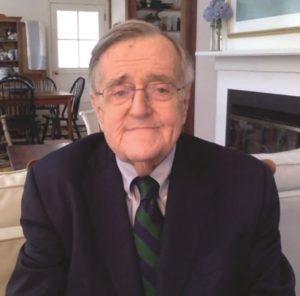 By one count, Shields worked on campaigns in 40 states over the course of a decade, before becoming an editorial writer at the Washington Post, as well as a syndicated political columnist in the late 1970s.
Perhaps Shields' highest profile gig was as the liberal talking head on the PBS News Hour.
Partner David Brooks praised Shields' "conception of politics, because it's different from the conception many people carry in their heads these days."
He cited Shields' Irish Catholic youth as a clear inspiration.
"We are all imprinted as children and young adults with certain ideas about the world, which stay with us for the rest of our lives. Mark, like many who came of age in the 1950s and 1960s – including Joe Biden – was imprinted with the idea that politics is a deeply noble profession, a form of service, a vocation."
Brooks noted that Shields' "father was the first Catholic to serve on their town's school board," and added that "To this day Mark argues that politics is about looking for converts, not punishing heretics. You pass bills and win campaigns by bending to accommodate those whose votes can be gotten."♦