In a rare television interview from 1983, Michael Flannery speaks with Niall O'Dowd for a PBS show based in San Francisco called Irish Magazine.
Michael Flannery fought in the Irish War of Independence. He joined the volunteers when he was 14 years of age. "I was as tall then as I am now, and no one asked," Flannery says in this interview with Niall O'Dowd taped in 1983. It was the year that Flannery led the St. Patrick's Day Parade up Fifth Avenue as Grand Marshal.
Flannery was a controversial figure. He was an outspoken advocate of the IRA; he had raised money for the border campaign of the 50s, and was one of the founders of Irish Northern Aid (NORAID) all of which he talks about in this interview.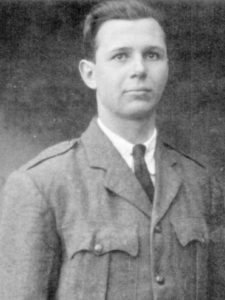 In 1982, Flannery and four others were acquitted of smuggling guns to the IRA. Their defense presented arguments about alleged CIA involvement, FBI entrapment, and diplomatic pressure from the British government.  Following the trial, Flannery was named Grand Marshal of the 1983 parade, which sparked much controversy.  Irish government dignitaries turned their back as he passed the reviewing stand.  Senators Patrick Moynihan and Ted Kennedy, and former New York governor Hugh Carey boycotted the parade.  Catholic high schools were ordered by the church hierarchy to keep their marching bands away. But the public turned out in droves and it was one of the largest attended parades ever.  
Topics discussed in this far-reaching interview, are Flannery's boyhood in Ireland; the War of Independence; his reason for emigrating to New York and why he stayed. Flannery died on September 30, 1994, and is buried in Mount Saint Mary's Cemetery in Flushing, New York.  
Editor's Note: This film is part of our ongoing archiving project. Irish Magazine, a PBS TV show produced by Frank Ahern (d. 2020) ran in the early 80s. Presenters included Niall O'Dowd and Patricia Harty, who founded Irish America magazine in 1985, and Patricia O'Reilly who went on produce and host Out of Ireland, a very successful weekly TV show that ran on PBS for many years.
The following is a transcript of the interview between Michael Flannery and Niall O'Dowd.
Niall O'Dowd: Thank you. I'm very pleased indeed to have as my very special guest tonight here on Irish Magazine, Mr. Michael Flannery, who was the Grand Marshal of St. Patrick's Day Parade in New York. And, if indeed, you were watching your televisions or your newspapers over the past few weeks, you can't have missed this gentleman. And in fact, the story and the statements that he made about his feelings about Ireland, and the occupation of Northern Ireland by the British.
Niall O'Dowd: Michael, welcome to Irish Magazine.
Michael Flannery: Thank you.
Michael, becoming such a worldwide celebrity almost overnight, it's like being a pop star. How do you feel about it?
I have absolutely no feelings about it. Just all in the day's work.
Really? And do you think that the St. Patrick's Day Parade made possibly the strongest statement that has been made in many years here in America about the Irish?
It definitely has. And I was pleased, although I was not part of bringing this controversy about. It just broke around my head and I accepted. I never step back from a challenge.
What were your feelings when you stepped out there with two million people on the sidewalks and 100,000 people behind you?
But, of course, naturally, I'm human with a certain amount of racial pride. I was very pleased. And I thank God that it was such a beautiful day. It would have been disastrous if it had been the following day, which just poured rain. So we were very fortunate in that respect. And the thing that struck me most was the decorum, the decency of the whole thing. It was one of the really nice parades without an untoward incident.
And I think that the New York Police Department was in a good share responsible for that. Their cooperation was tremendous; they moved the parade fast. And they certainly did everything in their power to make it a good parade.
Michael, the San Francisco Chronicle columnist Warren Hinckle said, you are now the most famous living Irishman because of the amount of publicity that you got.
I don't feel a bit different. lLaughs]
Describe your feelings. Were you a little worried before the parade that all this stuff about what the politicians were saying and what the editorial writers in the Washington Post and New York Times were saying was going to affect the crowd at the parade?
No, really, I wasn't. I was quite optimistic that it would increase the crowds, and I kept on saying so. Although, I was at a luncheon of the police inspectors a couple of days before and they thought that it was unfounded optimism on my part even though they were going to control it. They thought that there would be controversies, but I had no thought at any time that it would get out of hand.
Well, the New York Times reported that the police said it was the largest parade of all times. What do you attribute that to? Were there a lot of Irish out there who suddenly got very angry about the way that you had been treated in the media ?
There was, and I knew that there would be, because Irishmen, apart from all their other feelings or virtues, they love a controversy. I just think they do.
And I knew that people – from the telegrams, calls and everything else we got – that there were people out there who hadn't marched in 50 years. Someone suggested to me that I should get an ambulance to stand by because there would be a lot of them falling down, but no one did.
That's tremendous. Michael, it's a long way from Shinrone, County Tipperary to Grand Marshal of the St. Patrick's Day Parade, one of the most widely publicized parades of all time. I'd like to take you back to your childhood, where your commitment to a united Ireland began. Could you tell us a little bit about that time?
Well, firstly, I came from a Fenian family. And at that time, there was no radio or television. So the thing was to ramble to certain houses. And ours was one of these houses. So as a youngster I was separated from my three brothers who were one, two, and three in the family with sisters in between, so I was much separated from them. I sat around listening to these people when the brothers were playing games or doing something else. And it was very enlightening to hear them talk, first of farming, but eventually talk would turn to the Fenian movement, and to the Land League movement. There was a tremendous amount of agitation going on about land at that time because the Wyndham [Land Purchase] Act had just been passed, that was 1903, and then the act of 1907. And I partly lived through the conversations, because I was separated from my brothers, who when they were be going to play games, would say, "Go home, young man." So the only other thing I could do was read. Unfortunately, in Ireland, you didn't have that many books. But I was very fortunate that I did have tremendous histories and things and I just poured over.
So you were imbued at a very early age with the spirit of Irish nationalism?
Yes, I was just waiting until I grew up to have a revolution.
This story where you followed your brother around the back of the hay barn and you demanded to join the IRA. Is that true?
Yeah, at age 14. But I was as tall then as I am now and no one asked me my age. I didn't lie about it.
And you said you wanted to join the IRA?
Yes. I'd been plaguing them for some time. It was the Volunteers at a time, Irish Volunteers. They would go on a route march every Sunday to Cloughjordan or to Roscrea or down to Ballingarry or wherever, and I trotted along behind them always. I was always there.
The young kid that wouldn't go away?
Wouldn't go away.
So you're joining the IRA, and of course, that was a very serious thing at the time in Ireland.
It was. Well I had given it tremendous thought, even at that early age. I'd say my brothers just went into it because of the Fenian tradition and things like that. And they were asked when Sean McDermott came around there. I think it must have been probably early in 1915 when he came bicycling through. And I can remember him because of his lame step. He was quite lame.
Sean McDermott, was one of the signatories of the Irish Proclamation in 1916.
And he came and organized, and, of course, naturally he had the names of families who were national. He didn't just go to everyone. He just saw two or three families in a district and then he left the organizing up to them.
So you were in the IRA when the 1916 Rising occurred but that was basically in Dublin. There was very little down the country.
That was in Dublin, we didn't do a thing. What I would've been doing if it had come down the country, I would have been riding on the bicycle into Nenagh or other places, to see how things were going. And that would be the only participation I'd have had… there's no gun, no gun.
I was talking to Dan McCormick, another veteran Republican based in San Francisco. He would tell us about how he was asked to drive a car. And nobody had ever seen a car in Ireland at the time. And Dan put it in reverse or something and crashed it so he didn't take part in the Rising either. But you took part in the guerilla war against the Black and Tans?
I did. Yes.
In the piece I read about you, you describe how you shot people and how this was part of a day's work. This is how it was in Ireland at the time.
Well, usually, I don't think anyone ever tells directly that they did. The best I can do is say that I tried awful hard. And I had no feelings or qualms of conscious about men dying or anything but I never saw a man dying, whether he was a Black and Tan or anything else, that I didn't ask God to have mercy on his soul. So in that way, I was rather peculiar. The others used to think that I was a Holy Joe or something.
This was a time in Ireland when it was probably more vicious than what's happening in Northern Ireland today in terms of what was going on.
It was, but still it was much easier. You must remember that all of Ireland was with us, and all of the people that were with us. Whereas today, it's so confined and that there's the majority of the people living there, though, they shouldn't be the majority, but they are, are against the IRA, so they have a much harder time, I'd say, than we did.
I know that you always quote the 1918 election, which indeed a lot of people do. (Speaks to the audience). This was an election in Ireland when Sinn Féin candidates took 78 percent of the vote, which is, I think, the only ever All-Ireland election ever held, and the British set it aside.
The only one on that sort of plebiscite for freedom. You must remember that the Redmondites, who were all nationalists, had 87 out of 105 members going over to England looking for Home Rule. And now 87 was a majority, but England wouldn't even give them Home Rule. So constitutional means had been tried and failed completely. So when the Republic was set up on the 21st January, 1919, after that vote. And it was a definite vote for freedom or to remain with England. And still, a huge majority said "set up the Republic" and they did set it up.
And the result was that England came back and tried to arrest all the members who were elected. They did succeed in arresting 36 of them. I remember at the first Dáil, I think the phrase by the clerk was "i bpríosún an strainséir," (in jail of the stranger).
The first Irish parliament that was set up, the Dáil.
And it was functioning in every branch: financial, agricultural, educational, and everything else. It was a real government. And I remember I was attached to the courts end of it and we completely controlled the courts in Ireland. There was no case tried in the British courts, although they opened them every week or every month, as case might be.
So you became Judge Michael Flannery?
I wasn't the judge, but what I was actually doing was getting the people together who would be suing each other. I went out and got all the details more or less for them. I'm always proud that I settled about five cases without ever going to court.
It must have been a fantastic time in Ireland. There must have been a great sense of nationalism?
There was. Tremendous. You'd never think anything that followed after could occur.
Following the Treaty, you took the anti-Treaty side?
I did, yes.
And you served some time in prison where you took on a hunger strike along with others?
I did. Yes.
Yeah. How long were you on hunger strike?
Well, I almost forget myself, when I read the papers, it's anything from 29 days to 39 days. But actually as far as I can remember, it was only 28 days.
We started it because in one wing of Mountjoy [Prison] where I was a resident at the time, and that one particular wing was singled out above all the other wings. Why? I don't know. But the brutality that was going on there was terrible.
And then we decided, finally, to go on hunger strike. And after three days of hunger strike, they moved us down to a new camp on the Curragh. Number three camp on the Curragh, just opened for that purpose, thinking they'd break up the whole thing. But now the papers announced it and everything else. And the [Republican] army headquarters announced that all prisoners go on strike. And they did 25 days, as I remember we had three days start on them.
What was it like?
Well, somehow or other… it's 28 days, it's not just terrible. I had a problem that most others didn't have. I got bed sores. And I thought bed sores would be abrasions on the skin, but they weren't. It was just as if you were kicked in a football game, kicked in the hips or something like that. And I couldn't sleep lying in bed. So I had to get up every day and walk around. I played chess and that's what I did each day, I knew all the chess players. So I'd go from bed to bed playing chess. And we drank hot water with plenty of salt and I had no difficulty.
Did you at any point question your commitment and say, "why am I putting myself through this? I could have taken the easy way out?"
I really didn't. I was resolved from the beginning that it was the right thing to do. And sometimes when I go back to Ireland, I have to laugh. I say to some of the old fellas – they're completely out of it – "you were an IRA man when I was here" and they say, "well, we did our bit." And I have to point out to them that you don't win freedom by bits. They were in then, they should be in with it still. There's a lot of them that are not. They sit back and take life easy.
Following your release from prison, you came to the United States.
I was released on May Day 1924, although I don't know why I was in at that time. The Civil War had been over a year but there was about a hundred of us still in jail. We thought we'd get out for Christmas. We didn't. And it was May Day 1924 when I got out of prison. And then with three brothers at home, I had nothing to do and I couldn't get a job.
So I was asked to reorganize the IRA and that's what I was doing in Tipperary until 1926. I voted against Fianna Fáil as Tipperary delegates did in general. However, Fianna Fáil was established and promised they'd get a Republic in a hurry by going into the Dáil. And we didn't know whether to believe them or not. I didn't myself but we had to go along with them and give them a chance.
So then what were we going to do? There's a general exodus of young fellows. From 1923 to 1927, thousands of young people left Ireland. So they thought it was good idea [that] some of us went to the different places where they were congregated and organized them to help at home. So I and two others were chosen to come to New York. And I'd been the youngest, "it was Bell the cat – you go". I came here for two years.
Did you feel, at that time, you were going to be away from Ireland for the rest of your life?
I didn't. I came for two years and that was it. But fate and circumstances change. So they thought I was doing a good job here, although the organizing was tremendously easy. There was an organization, Clan na Gael, here at the time, and they had taken most of them into the organization, so that part was easy.
But the Depression came, so I had to stay here for the Depression. I had a job and I stayed here for the Depression. And then after the Depression, war came. I didn't get back for 22 years.
But you became incredibly active in Irish circles. [Speaking to the audience] This is something that people in the media probably didn't realize, that this man has been networking in the New York Irish community for 50 years. There isn't a single organization that you haven't been in at some point or another. So it probably came to the day of the St. Patrick's Day Parade, and there's was a lot of people who knew Michael Flannery as the head of the Tipperary club or the head of the GAA or a lot of organizations that were not necessarily connected at all.
Yes, I think I belonged to every worthwhile organization in New York.
So taking it up to the present day, Michael, in 1969, when the Troubles erupted. Irish Northern Aid, you were one of the founding members.
I was. Yes.
What inspired you to do that?
Well, truthfully, I always kept in touch with the movement at home, Sinn Féin and the IRA. I don't deny at all, that I did. And they requested to talk to me about helping from New York and so forth. So I suggested to them that there was no use [trying to raise funds]. I had gotten a little disheartened after the '56 campaign, which was quite an intensive one. But they just starved out. [Meaning there was not enough money raised to support the dependents of the IRA operatives].
And at that time, I was trying to raise money for the same purpose and didn't succeed in doing so. And I pointed out to them it just wasn't wise to start a campaign and go into it wholeheartedly and fail because of starvation or anything else.
And they said, well, if you can feed our dependents, we guarantee to keep it going on. Well, I said, unless you're prepared to keep it going, I'm not prepared to throw everything into it anymore until it's such a time built up that you'll be able to continue. So they promised that they would continue their end of it if I could help to feed their dependents.
And that was what I undertook at that time. There were other organizations here, but I wanted something that would identify with the North so you couldn't call it An Cumann Cabrach (Gaelic for A Friendly Help) which it was called at home. You couldn't call it the dependents' fund. Dependents of who? Where? So we called it Irish Northern Aid.
And I can't tell you the reason why, but it just took off like a house on fire.
There's no doubt about that.
And I can't give a reason for it because [during the] '56 campaign I tried terribly hard. But now a lot of people had just got wiser about the thing and I don't know what it was, but they just came into it wholeheartedly. Within the first six months we raised $365,000, which we didn't raise altogether in the time I spent on the ('56) campaign, I'll tell you.
I think it was a question, too, that people were comparing it to civil rights here in America.
Civil rights, of course, that was the great thing about it. It started off with civil rights. But then after these 14 people lost their lives for no purpose at all. They were unarmed [on Bloody Sunday 1972]. The IRA was not even being very active at that time. And I think it woke a tremendous spirit of resurgence against the brutality of it all.
Michael, our time is almost up. But I just wanted to bring you through the fact, last year, you stood trial in New York [for gunrunning]. What was your feeling then? Were you worried at the time you're going to end up back in jail?
Well, people think that I never worry, and I don't. It's one of the most blessed of things.
You were confident all along?
I was quite confident. I must say the lawyers were worried and the others worried. But once in court, one of my own lawyers remarked to Frank Durkin, who is the lawyer sitting on the other side of me, "I swear Flannery is enjoying this." And I said to him, "I'm not alone." And Durkin said, "who the heck else is?" And I said, "the judge." And I swear he was.
I think you were, too, because then you were acquitted and, in fact, your testimony also moved the jury to tears. Is that true?
It did. Yes.
Amazing thing.
And that was the reason I could have been acquitted the first day. But the lawyers asked me, would I stay in and try to rescue the others? And of course, I saw that as a cue that I had to, whether I liked it or not, that I'd have to stay there. It was a pleasure to do so.
So Michael, after such a long life committed to the cause, on March 17th this year, you had 100,000 people behind you and two million watching it and, indeed, the whole world watching. It must have been a great climax for you in your efforts?
Well, I took it, and it's right, I must say. People think that I'm sort of numb or something, but I'm not.
You did the thing.
I did appreciate it for the honor and the fact that it was such a parade without incident and the numbers were great. I really felt that this is an answer to everything. And I did thank God that it was such a wonderful parade.
Michael Flannery, it's been a pleasure to talk with you. Thank you very much indeed.
Thank you.♦