Irish LGBT Rights Campaigner Honored In NYC
A street in Queens, New York, has been named after Belfast-born Tarlach Mac Niallais, who famously campaigned for LGBT rights. Mac Niallais died in April 2020 from a Covid-related illness.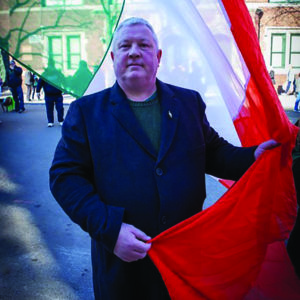 "Tarlach Mac Niallais Way" was officially unveiled in December 2021 and can be found on the junction of 49th Street and 43rd Avenue in Queens.
Mac Niallais had moved to the city in the mid-1980s and became actively involved in LGBT rights, including the campaign to allow members of the movement to march under their own banner in New York City's St. Patrick's Day Parade.
The campaign succeeded in its mission with permission being granted in 2016.
Mac Niallais also managed a project in Queens for people with learning disabilities.
Jimmy Van Bramer, member of New York City Council and longtime friend of Mac Niallais, spoke to RTE about the commemoration.
"It is an honor and a privilege to be able to name a street after someone I knew well for 30 years.
"I wish he were still alive today, but he deserves to be recognized and remembered forever." Mac Niallais' legacy will live on in countless ways, and the street in Queens is now another.
Van Bramer put it best when he told RTÉ "Everyone will see that big Irish name and he deserves that."
Ireland's Honorary Consul General In Delaware
Brian McGlinchey, a prominent figure in the Biden for President campaign, was appointed as Ireland's Honorary Consul to the State of Delaware in a ceremony that took place in Wilmington in December.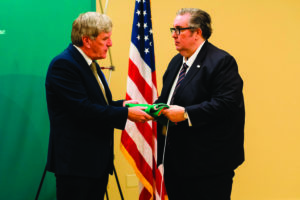 Speaking ahead of the appointment, McGlinchey said: "As the proud son of an immigrant, and citizen of Ireland, I am humbled by this appointment.
"I look forward to expanding support for the Irish diaspora and strengthening relationships between our State, the greater Delaware Valley extensive Irish network, and Ireland."
Ireland's Ambassador to the U.S. Dan Mulhall, who presented McGlinchey with an Irish flag at the ceremony, acknowledged, "Brian's appointment highlights the great potential we see to deepen and broaden our engagement in Delaware. I know that Brian will be a tremendous advocate for Ireland and a source of support for Irish citizens and Irish businesses active in Delaware."♦