Snowflake
By Louise Nealon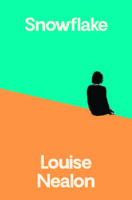 There's been a huge buzz about Louise Nealon ever since word of her debut novel was announced, with many reviewers and critics calling her the next Sally Rooney. Maybe they should all leave the Mayo writer to be the current and next Sally Rooney, however, and come up with different descriptors for almost every other Irish female writer under 30. Nealon's protagonist, Debbie White, is about as far from Rooney's Marianne as conceivably possible. True, they're both culchies attending first year at Trinity College. True, they both have a distorted sense of self. But that's where the similarity ends. Debbie, often at the mercy of her mother's mercurial whims, seeks solace in her Uncle Billy's caravan when life gets too much. She feels like a fish out of water in Trinity, and if it weren't for her friendship with Xanthe (whose name she initially mishears as Santy), she would be completely foundering. Louise Nealon is the next Louise Nealon – you read it here first.
---
Bright Burning Things
By Lisa Harding
The characters of Yaya and Tommy have been circling in my head since I finished this book – and I expect it'll be the same for most readers. Tommy is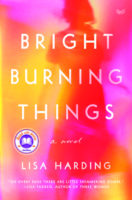 nearly five and he loves his Yaya (his pet name for his mother Sonya). Yaya loves her Tommy, too, it's just that she sometimes struggles with how she expresses that love. There isn't always enough food in the house, and sometimes her exuberance tips over the edge into something more frightening, which leaves him trying to mind her so that 'bad fairy' mama won't take over. Harding's eloquence in describing Sonya's highs and lows, and how they affect Tommy, is a thing of beauty in itself. The language dips and soars, as we readers follow Sonya into an alcohol rehabilitation unit, and into an exploration of her own upbringing. Harding is a writer, actress and playwright, and although we're not previously familiar with her work, if she's even a fraction as good as the latter two as she is at the first, she is unbelievably talented. This is not an easy story to read, but it is exhilaratingly brilliant.
---
The Rules of Revelation
By Lisa McInerney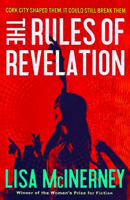 If you have read and enjoyed Lisa McInerney's previous two books (The Glorious Heresies and The Blood Miracles) you will know exactly what kind of an emotional rollercoaster you're in for with her newest novel. (You don't have to have read them in order to enjoy The Rules of Revelation, but your enjoyment will be greatly enhanced by knowing the back stories in all their glorious and lurid detail.) Think Roddy Doyle's Barrytown trilogy, but with a Cork lilt and a far more frenzied pace. Young Ryan Cusack, all grown now, is returning to Ireland as part of an up and coming band. They're going to record an album on home ground and he'd like to spend time with his former girlfriend Karine, the mother of his young son. But there are those who don't want to see Ryan back on Irish soil – including a former sex-worker and a Cork gangster. His own father is conflicted about what it will mean to have him home, and Ryan himself is not sure how to handle all the emotions that are bubbling to the surface. The tougher moments are shot through with great humour but McInerney never loses sight of the humanity that makes her characters so relatable.
---
About Us
By Sinéad Moriarty
Maggie Purcell is certainly worth her weight in gold in Sinéad Moriarty's new novel – she manages to help five individuals who are struggling with various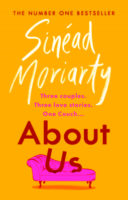 relationship issues, and sends them merrily on their way. Alice and Niall have been bogged down in domesticity and parenting, and have lost sight of the fun they used to have and the lovers they used to be. With Niall's best friend reveling in his separation and his glamorous young girlfriend, Alice is worried that it's already too late to fix the chasm in their marriage. Meanwhile, Ann thought when she and Ken retired that they'd have lots of time for travel and fun. But Ken seems to have aged far more quickly than his young-at-heart wife, and he doesn't understand why she is so caught up in the idea of exploring new interests and countries. Primary school teacher Orla is falling hard for the divorced father of one of her pupils, but she can't bring herself to tell him why their relationship will never work. Enter Maggie, stage left, with a no-nonsense approach and buckets of down-to-earth advice. A warm and engaging read from an author who does so much to champion books and reading.
---
Small Things Like These
By Claire Keegan
If you tried to reckon a writer's impact by the number of the words they have sent out into the world, then Claire Keegan would be found sorely wanting.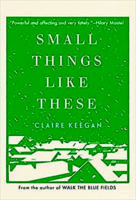 And yet, here we are, a full eleven years after her novella Foster, and her newest succinct work – Small Things Like These – has probably racked up more words in glowing reviews than there are in the book itself. Small Things introduces us to Bill Furlong, a coal and timber merchant never happier than in the warmth of his family home, amongst women – his wife and five daughters. As he does his rounds, bracing himself for his busiest time of the year, he reflects on his life (born to an unwed mother, but saved from a 'home' by her kindly boss) and his luck. Making a delivery to the local convent, he reflects also on what exactly happens to the scores of young girls who attend the 'training school' there. It's Ireland, 1985, the time and place in which Keegan seems most comfortable in her writing, and most readers now know exactly what goes on behind the doors of the "powerful-looking place … with black, wide-open gates and a host of tall, shining windows, facing the town."
---
April in Spain
By John Banville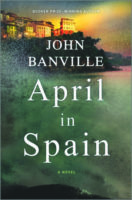 Life couldn't really be much better for John Banville's archetypal grumpy detective (except, instead of being a detective he's a pathologist in 1950s Dublin) but, true to form, he can't settle to enjoy it. On holidays in northern Spain with his newish wife Evelyn, he spots a woman who seems familiar. Eventually, it hits him. She was friendly with his daughter and she's been missing, presumed dead, for some years now. Quirke calls in a favor and has a detective dispatched to San Sebastian. Also making the journey is his daughter April, who is keen to see if it is her friend. But there's someone else en route to Spain also, someone who has no qualms about doing whatever it takes to sort things out. You can't help but worry at the quiet air of menace throughout, and Quirke himself seems decidedly on edge about having set the wheels in motion for a showdown.
---
Dinner Party: A Tragedy
By Sarah Gilmartin
Dinner Party starts, as expected, with a woman named Kate getting herself ready to host her family for a dinner get-together. The siblings are gathered in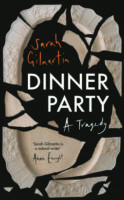 memory of Elaine, Kate's twin sister, who has died a number of years previously. There's one player missing, however – the family matriarch. Gradually, the story unfolds. And what a story. Mammy Bernadette has always ruled the roost in the Gleeson house growing up, and her children learned to duck and dive from an early age. Her mercurial moods affected everyone differently, but any little glimpse we get of the grown-up siblings indicates much suppressed trauma and lasting effects. When Kate's dinner party ends abruptly, she finds herself spinning out of control … again. A portrait of a deeply troubled family, but there is redemption, thankfully.
---
The Echo Chamber
By John Boyne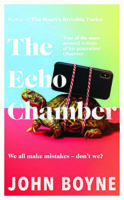 This was such a pleasant surprise of a book – I didn't expect to enjoy it half as much as I did, but found myself laughing throughout and really liking it. The Cleverley family are almost as insufferable as the name suggests. Patriarch George is a BBC 'personality' who hasn't quite moved with the times as much as he'd like to think. His wife Beverley writes Mills & Boon-style bodice-rippers (or rather, she oversees the writing of them), and their children Nelson, Elizabeth and Achilles have varying 'issues'. Nelson is a teacher who hates his job and adopts various uniforms as a confidence-building exercise; Elizabeth trades insults and arguments on Twitter from a fake account; and Achilles has a nice little sideline going in blackmail. Boyne, who has had his own issues on social media, does not hold back when taking potshots at online commentators. That said, revenge might be a dish (book) best served cold, but this is a deliciously warm and humorous hug of a tale.
---
Memoir
My Mess is a Bit of a Life: Adventures in Anxiety
By Georgia Pritchett
Having loved some of the television shows Georgia Pritchett has written (Veep, Succession and The Thick of It to name but a few) it was probably a given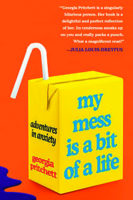 that I'd enjoy her memoir. Subtitled Adventures in Anxiety, this humorous collection of vignettes takes the reader through some of Pritchett's successes, as well introducing the inner critics she has helpfully named Statler and Waldorf (after the grumpy oul' Muppets in the balcony), and outlining the tribulations and joys of parenting two autistic sons. Humor, of course, is very subjective, but this one had me laughing out loud at times – particularly when it comes to her account of meeting Joe Biden (then VP to Barack Obama) in The White House. Tasked with writing a sketch for Biden and Julia Louis-Dreyfus (the eponymous star of Veep), she listens as Biden happily informs her how much his mother hated the English, even showing off reams of anti-Brit poetry she had written. A very amusing memoir.♦