Long before the news was out in the media on Sunday evening, up and down the Rockaway Peninsula, they knew something was going horribly wrong at a house fire in Canarsie.
Over the Fire Department's radio, they heard the calls that a ceiling collapsed inside a two-story house as a routine fire was suddenly raging. The Brooklyn firefighters are known for aggressive pursuit of potential down civilians in house fires and so as an engine pulled up with 500 gallons of water, they were quick to enter. Thirty one year old firefighter Timothy Klein assigned to truck 170, was among the leads going in as the backup "nozzleman" because he had drawn a one-day assignment to Engine 257, which shares the same firehouse with his hook and ladder truck.
While the fire engine has 500 gallons of water, it lasts only two to three minutes while the firefighters outside work in a team that races to hook up to a hydrant that will send water gushing into the hoses once the truck's tanks are emptied.
Nobody knows exactly what happened inside in those first few minutes. The fire suddenly seemed to engulf the second floor where they were operating in a two-story house and there were questions if the firefighters were getting the blast of water they needed. Eventually, the fire spread to three-alarm and involved 100 firefighters.
On the ground, as the fire suddenly exploded, and the routine fire was suddenly out of control the order was made "EVACUATE". Three firefighters made their way out, jumping out windows or climbing down ladders. One firefighter ended up with two broken arms. A total of nine would be injured.
In a bar in Far Rockaway, where the fire culture runs deep, they heard the first radio call go out.
"Code Red. Code Red."
In firefighter lingo, it means critical injury.
Firefighter Klein was found unconscious and was brought out on a stretcher.
The word was that he was buried under rubble from the collapsed ceiling and in the fall his mask was ripped off for 20 crucial minutes while they rushed to find him. A 21-year-old autistic male resident who had been the object of the initial search would also be found dead hours later.
In a local establishment, Bungalow Bar, not far from where firefighter Klein had purchased a condo on Beach 129 only five months earlier, the word was spreading among the patrons on a lazy spring afternoon. This was looking bad. A company of firefighters was accompanying the stretcher to Brookdale University Medical Center. And nobody wanted to admit it, but they knew.
Just as they knew in Harbor Lights, Kennedy's, and Jameson's – where his girlfriend Courtney Gallagher worked – and every pub and restaurant from Breezy Point to far Rockaway where fun-loving and hard drinking firefighters gather.
Slowly, silence began to spread through the crowd and turned the festive Sunday afternoon into a low buzz, a murmur, a feeling of impending doom in a peninsula that had known so much of the same feeling in the wake of 9/11.
Amid the splash of the ocean waves in the seaside bars and homes, in the close-knit community, there is also the knowledge that has been hammered home to them far too often; life is short and at any time, your number could be called. Later that evening, it was official; firefighter Timothy Patrick Klein, a six-year veteran, had died fighting the blaze.
For many firefighters, but especially in Breezy Point, home to families of firefighters since the early 1900s, and Rockaway, where Klein grew up and proudly purchased his first apartment, there is a pulse of Irishness that runs deep. Klein's father Patrick is a retired firefighter (of Irish and German heritage), his mother's maiden name is McDade, and his three sisters are Tara, ten months younger, Bridget four years younger, and Erin six years younger.
Three years earlier Timothy Klein had delivered the painful eulogy for a long-time friend, another fallen firefighter from Ladder 170, Steven Pollard. On Jan. 6, 2019, he and Pollard were responding to a two-car crash and fire on the Belt Parkway where two people were trapped inside a flipped-over car. As they rushed to the rescue, they had to hurdle over an opening in the divided roadway on the Mill Basin Bridge as they approached the crash on the opposite side of the parkway. Klein made it over. Pollard fell through the opening and plunged 52 feet to his death.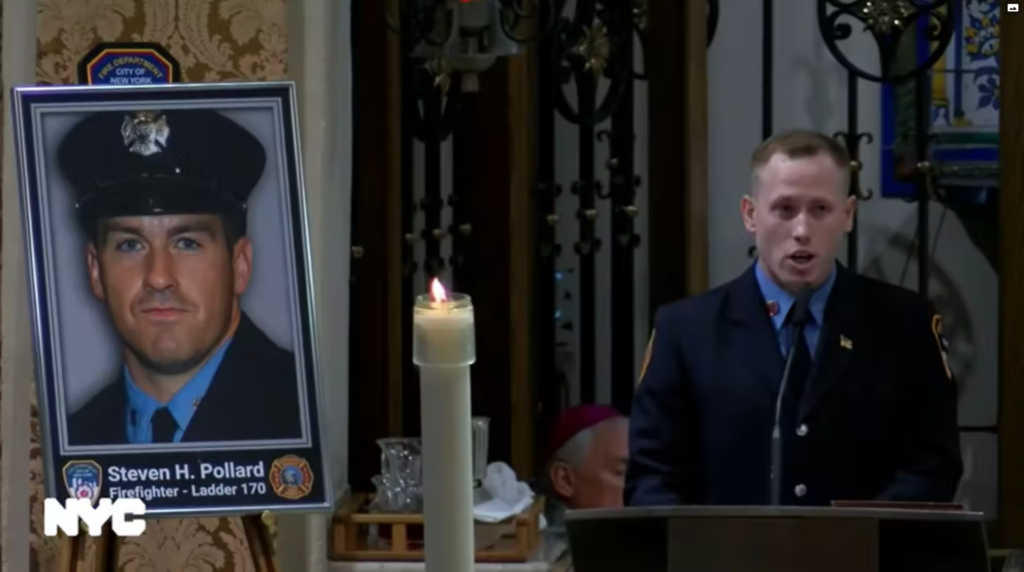 "Firemen are going to get killed," Klein said in the eulogy for his friend on a cold January day three years ago, words that now seem eerily prescient. "When they join the department they face that fact. When a man becomes a firefighter his greatest act of bravery has been accomplished. What he does after that is all in the line of work. They were not thinking of getting killed when they went where death lurked. They went there to put the fire out and got killed. Firefighters do not regard themselves as heroes because they do what the business requires."
The bagpipes played outside Ladder 170 Engine 257 in Brooklyn on Monday, April 25th as the black and purple bunting was hung for the second time in three years.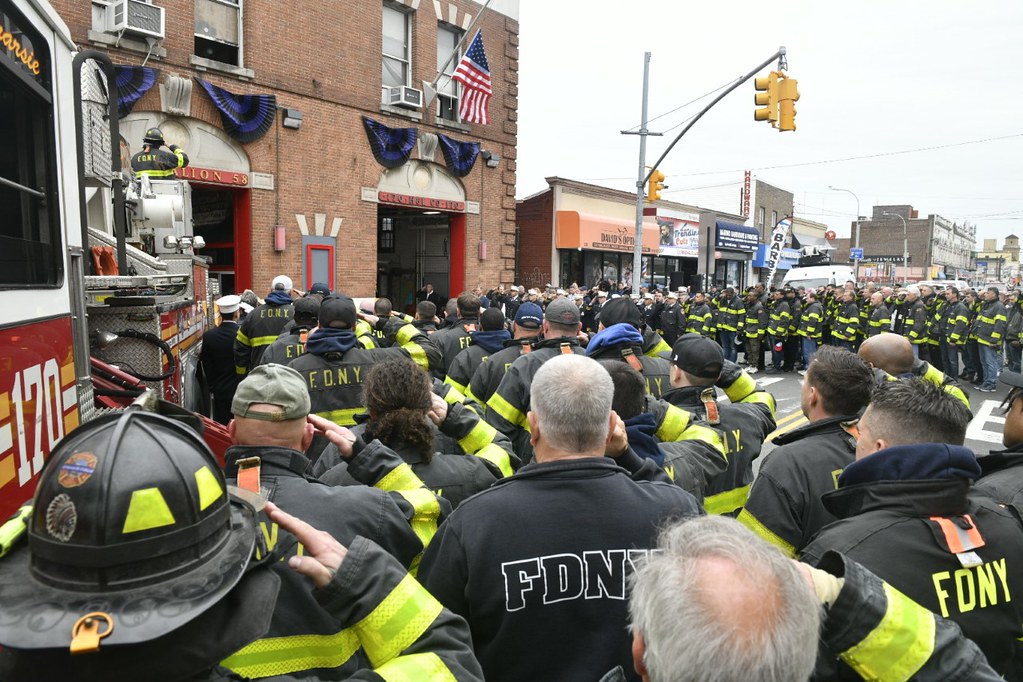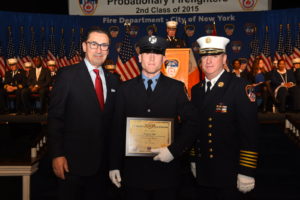 Klein had always wanted to be a firefighter. His father Pat, a 30-year firefighter veteran, also served in Brooklyn, and young Klein had many cousins and uncles on the job.
A cousin, Keith Klein who is on the job, told the NYT the day the bunting was hung, "Timothy understood the risks. We all do, growing up in a firefighter family."
At the funeral service, held Friday at St. Francis de Sales Church in Belle Harbor, Queens, Mayor Eric Adams spoke and thanked the family for reminding him of the strength of the American family.
Acting FDNY Commissioner Laura Kavanagh, said the most fitting tribute she could deliver was to quote the words Timothy Klein had used to eulogize his friend Steven Pollard three years earlier.
But it was Timothy's mother Dee Dee Klein and fellow firefighter Vincent Geary from ladder 170 who drew the biggest ovations.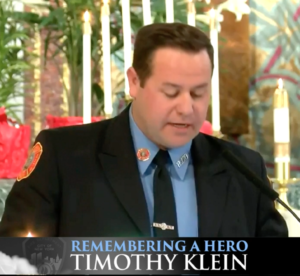 Geary recalled the many shared moments he had with TK, known as "The Golden Boy," and the "Canarsie Kid" after he landed in the firehouse that ladder 170 shared with Engine 257. Geary said one rule that the firehouse abided by is, "if something good happened to you in the fire department, you had to throw a party for everyone else." Geary, who said he met his wife through his pal, recalled one Thanksgiving when TK had sent a group email to friends and told them that a favorite bar in Rockaway called The Wharf was going to waive its cover charge if they brought cans for a charitable food drive. Of course, the bar had no such food drive in play and the bouncers all wondered why so many people were turning up with a can of food – with Klein thanking them all and waving them in.
His mom recalled how her son overcame anemia as a baby and how his dad's fellow firefighters donated blood for Timmy's transfusions, so in a way she said, firefighting was in his blood from the start . She thought his medical issues early on helped him develop his affinity for charities including Fight for Firefighters, which he worked with on his days off, building and remodeling homes for disabled first responders.
She talked about how her son loved sports, and though he was small for his age due to his illness, he tried out for every team and played with enthusiasm. He played rugby for a Breezy Point team, softball in Brooklyn and Queens FDNY teams, and had played basketball for the vaunted basketball program at his high school – Archbishop Molloy.
"We don't think he was great at any one thing," said Dee Dee, "but he was darn good at a lot of things."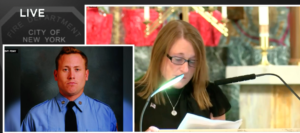 Firefighter funerals, even for sudden deaths, are reunions in many ways. There are handshakes and back slaps and "how's the family?"
And it is probably not true that every other house in Rockaway had two or three firefighters stepping out in dress blue finest on Friday, but it sure seemed that way as they stole to the church past all the trees and railings and doorways decked out with red ribbons.
There was in some ways a casualness preceding the somber gathering. Until you heard the sound of the muffled drums approaching. Then the sea of dress blues stood to attention. And all that could be heard on the way into the church and again on the way out, was the sound of flags flapping in the breeze.
Then after the blue line that stretched for what seemed a mile stood at rigid attention for 20 minutes, came the announcement. "On behalf of the Klein Family and the Fire Department of the City of New York, we thank you.
"Company dismissed."
And off they went to fight fires another day.