Great Famine Voices San Francisco explores the history of the city's Irish community on a tour led by Myles Dungan (RTÉ Radio 1, The History Show) and Glen Gendzel (San Jose State University). They recount the legacy of Famine Irish emigrants in building the city as well as the impact of the San Francisco earthquake and fire of 1906 on landmarks such as the Flood Building, St. Patrick's Church, and Old St. Mary's Cathedral. They provide an unflinching account of the role of Irish emigrants such as Denis Kearney and Matthew Noonan in fomenting anti-Chinese racism and pay tribute to the inspirational figure of Kate Kennedy, an early public school teacher and labour activist whose family had fled from famine-stricken Ireland.
---
Great Famine Voices San Francisco is part of the Great Famine Voices 2023 season that is hosted by the National Famine Museum, Strokestown Park, and Irish Heritage Trust with funding from the Government of Ireland Emigrant Support Programme.
Great Famine Voices 2023 Schedule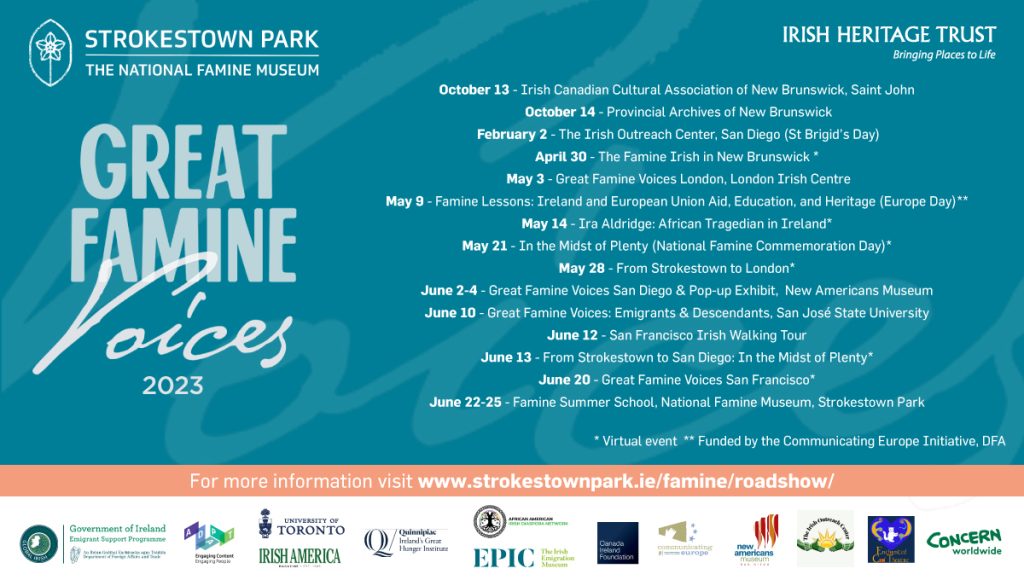 You can watch all Great Famine Voices 2023 season videos on the Strokestown website.