Historic Election in Northern Ireland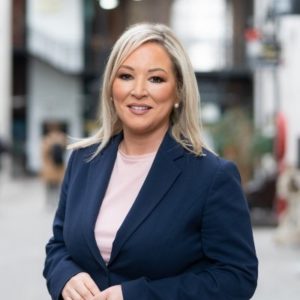 Northern Ireland could see a historic change in leadership as Sinn Féin became the largest party in last week's elections.
Once considered the political wing of the IRA, Sinn Féin overtook the Democratic Unionist Party (DUP) winning 27 seats in the Northern Ireland Assembly.
The result means Northern Ireland will have its first ever nationalist First Minister as party leader Michelle O'Neill is set to become the first Sinn Féin party member to hold the position. O'Neill could even be the last person to hold the position as a referendum on the unification of Ireland looks possible.
A clause in the 1998 Good Friday Agreement established that a referendum on Irish unification could be held if it appears likely the majority of voters would back it.
Ahead of the election O'Neill spoke about the importance of power-sharing within Stormont, the government of Northern Ireland.
"Sinn Féin wants to see Irish unity. There is no contradiction in wanting to see Irish Unity and also our commitment to power-sharing, co-operating with others and delivering for all in the political institutions."
Due to the power-sharing agreement, the post of first minister and deputy first minister are shared between the largest unionist and nationalist parties in Northern Ireland. However, the leader of the DUP Jeffrey Donaldson has said the party will not support O'Neill's election, therefore blocking the formation of a new government.
Donaldson has since resigned his seat in the Northern Ireland Assembly in order to maintain his position as a Member of Parliament (MP) in London. Current rules don't permit holding two elected posts at once. Donaldson appointed DUP MP Emma Little-Pengelly to the seat. 
Despite this change, the DUP maintains that it will not support the election of a new Speaker at Stormont. The disagreement stems from both parties' opposing views on trade and the Northern Ireland Protocol.
"I will continue as the member of Parliament for Lagan Valley until the protocol issues are resolved," Donaldson said.
Since the election, O'Neill has repeatedly called for the DUP to re-enter the Executive (Northern Ireland's government), saying the party was "disgracefully holding the public to ransom for their Brexit mess."
Katie Taylor Croke Park Fight Supported By Former Mayors
Katie Taylor's potential Croke Park rematch has received support from two former lord mayors of Dublin.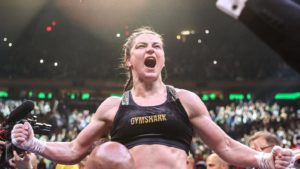 Taylor defeated Amanda Serrano in a headline fight at Madison Square Garden last month. Taylor's team, including boxing promoter Eddie Hearn, were immediately calling for the pair's next bout to take place in Dublin.
The rematch would mark Taylor's first fight on home soil since 2016 and her first ever as a professional.
Former lord mayors Christy Burke and Niall Ring have voiced their support for the fight. Independent Councillor Burke said: "Everyone wants this fight to go ahead in Croke Park to acknowledge what great sports stars and role models these women are. Not only is it a wonderful opportunity for them but for the entire country to be showcased on the world stage."
Olympic gold medalist Kellie Harrington has also been backed to appear on the undercard.
Harrington followed in the footsteps of Taylor and Michael Carruth to become Ireland's third Olympic boxing champion last summer. Speaking about the opportunity to fight at Croke Park, the amateur fighter said, "If the opportunity came, I would take it with both hands for sure."
Kellie Harrington To Receive Freedom of Dublin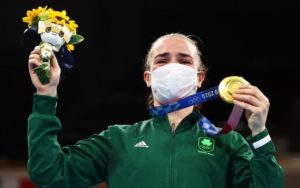 And while Harrington awaits word on a Croke Park appearance, the Olympian is set to be awarded the Freedom of Dublin next month.
Harrington will receive the honor alongside world leading cyber psychologist Dr Mary Aiken and LGBTQ activist Ailbhe Smith.
83 people have been awarded the Freedom of Dublin since 1876. Just five recipients have been female, including the late Mother Teresa of Calcutta and former First Lady Michelle Obama (though she has yet to be bestowed with the honor).
Speaking in relation to the nominees, Lord Mayor Alison Gilliland said:
"They have made a significant contribution to our city and indeed our country. I have nominated Ailbhe Smyth for her work in the areas of human rights, social justice and academia, Professor Mary Aiken for her work in the areas of cyberpsychology, online safety and security, and Kellie Harrington for her unstinting work in the community, her caring exemplar and role modelling for young people and for her sporting achievements."
The conferral ceremony will take place on June 11.
Paradise Square Receives 10 Tony Nominations
Irish talent has been acknowledged this side of the Atlantic as Paradise Square received 10 Tony nominations, including best musical.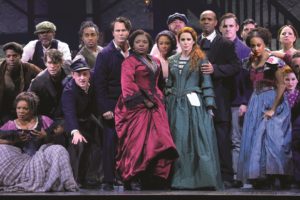 Larry Kirwan's ambitious musical was put together entirely during the COVID pandemic and debuted on Broadway in March.
The musical is set in New York's famed Five Points neighborhood and tells the story of Irish immigrants and African Americans during the draft riots.
While Strange Loop topped nominations at 11, Paradise Square was tied second with MJ, the Michael Jackson musical.
Paradise Square's nomination categories include best original score, best actress in a lead role, best actor in a featured role, best choreography, best costume design, best lighting and best book of a musical.
The Tony Award's will take place on June 12.
Ambassador Cronin Gets in Touch With Her Roots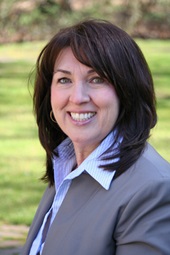 U.S. Ambassador to Ireland Claire Cronin has been getting in touch with her roots by visiting Co. Donegal where her grandfather had emigrated from in 1912.
Ambassador Cronin spoke to RTÉ News about her visit to Carrowmenagh in Inishowen where her grandfather Hugh McLoughlin was born in 1886.
She said she grew up hearing stories about Donegal from her father and had only recently had the opportunity to visit the home of her ancestors.
Ambassador Cronin said the visit was very emotional and she wished her parents could have been with her.
Her trip to Donegal included meeting with distant relatives as well as visiting the local Garden of Remembrance which honors the 13 families who were evicted by an absentee landlord at Christmastime in 1881.
Ambassador Cronin said her ancestors were among those evicted and this has confirmed to her that while her roots are humble, they are also strong.
Caroline Kennedy Announced as U.S. Ambassador to Australia
Caroline Kennedy has been confirmed by the Senate as the U.S. Ambassador to Australia.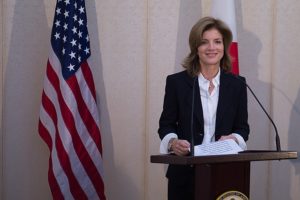 Kennedy, an author and attorney, formerly worked as the U.S. Ambassador to Japan from 2013-2017 under former President Barack Obama.
Kennedy takes over the role in a vital time as Australia strengthens its relationship with Washington in response to China's growing power and increasingly assertive behavior in Asia and beyond.
Australia's Foreign Minister Marise Payne took to Twitter to congratulate Kennedy, saying she "looks forward to deepening cooperation to secure a stable & prosperous region".
Kennedy, who has strong Irish roots through her late father John F Kennedy, succeeds Arthur Culvahouse, who left the position in early 2021 when former President Donald Trump left office.
USS The Sullivans Could Reopen by Memorial Day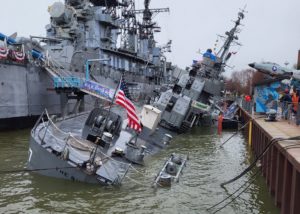 USS The Sullivans is "righted and floating" and could reopen by Memorial Day Weekend, according to Mayor of Buffalo Bryon W Brown.
"We are very happy to report today that the effort to save USS The Sullivans is on course, and the ship is righted and floating," he said in a press conference on May 5. "The emergency response phase is complete, and we have started the maintenance and decontamination phase."
The news comes after the ship began sinking following a serious hull breach last month. A timelapse of the partial sinking was shown during the press conference.
Captain Lexia Littlejohn of the U.S. Coast Guard said the ship has been "substantially righted" and that dewatering of the vessel was about 95% complete. About 585,000 gallons of water has been removed from the ship and 9,510 gallons of oily-water. A total of 53 holes had been plugged.
Paul Marzello, President and CEO of Buffalo & Erie County Naval & Military Park said while the ship could reopen by Memorial Day Weekend visitors will not be allowed inside the ship.
Marzello went on to offer some insight into how the incident which led to the sinking occurred.
"What happened on April 13, 2022, was the result of three factors: age of the ship, years of deferred maintenance, and harsh weather. In the past, proper hull maintenance was deferred for lack of adequate funding."
Marzello said funding ahs since been raised and the organization is stronger as a result of the incident.
"The motto of the USS The Sullivans is 'We Stick Together,' based on the passionate spirit of the five Sullivan brothers, and that was never more evident than the 21 days it took to raise the ship named in their honor."
Missing Irishman Found Dead in California
The body of a missing Irishman who had gone missing in California was found by authorities this week.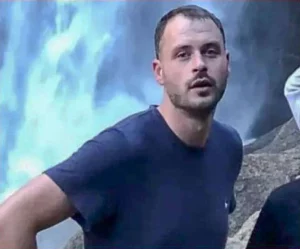 Gary Reilly, 28, was found dead in an apartment with two other men, all of whom had reportedly overdosed.
An appeal to find the Co Meath man was launched in the U.S. and received wide coverage in Ireland after he was reportedly ejected from a bus last week.
One Irish man wrote a Facebook appeal which said: "My friend Gary Reilly has been missing since Tuesday night 5/3/2022 he was getting the midnight bus from Bakersfield to Los Angeles and got ejected from the bus somewhere between Santa Clarita and Bakersfield."
The Irish Immigration Pastoral Center in San Francisco confirmed this week that Reilly has been located and that his family would like to thank all those who assisted in the search.
Gary is remembered fondly by friends and family both in the U.S. in Ireland.
Reilly's former GAA teammate paid tribute, writing about how he felt "lucky to share the field with you for that short time. What a gent. Sleep tight big man."
Another friend wrote, "What a top bloke Gary was, it was a pleasure to meet him both at work and socially."
Maureen O'Hara Statue in West Cork Causes Controversy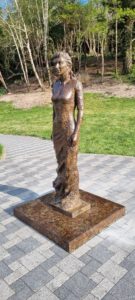 Maureen O'Hara's grandson has said the family deserves an apology following the controversial statue of his famous grandmother which was removed from its West Cork site within two days of its unveiling.
Conor Beau Fitzsimons spoke to The Southern Star this week about the debacle.
"No one reached out to us, to even show us, or ask our opinion if there was a likeness to [Maureen]. It's so disrespectful after what Maureen did for West Cork. They couldn't get their act together and get it right."
He continued, "They certainly dropped the ball and what was worse was that no one even called to say the statue was going up. We only found out about it when the statue was actually taken down."
Following the statue's removal, Fitzsimons has invited artists from all over Ireland to design a statue of his grandmother.
"We want a statue of her to remain in Glengarriff for years to come and I am really disappointed at how it has all turned out."
His comments come after Cork County Council said in a statement that the artist behind the statue "indicated that it was his preference to remove the sculpture and refuse the commission" following criticism and backlash online.
O'Hara, who hails from Co. Dublin, purchased a home in Glengarriff with her husband Captain Charles F Blair Jr in 1970, eight years before his death in a plane crash.
O'Hara used the home as a holiday retreat before settling there permanently in 2005. She remained in Cork until 2014 when she bid her native Ireland farewell to spend her remaining time with family in the U.S., where she passed away in 2015.
"I have so many happy memories of Ludgine Park," she said at the time of her move. "I will cherish them my whole life and so with a smile, I pass the home on to a lucky family who will love her as much as I do. They have the most wonderful neighbors a person can hope for in Glengarriff.
"I can never fully express my gratitude for their kindness and the special place each of them holds in my heart. It's a lovely village filled with wonderful people who are so proud of this magical piece of heaven. She is with me always in my heart."
Trad Band Téada Release New Album
Téada (pronounced Tay-da) is one of Ireland's leading traditional bands with a worldwide reach. Celebrating 21 years in the industry, Téada have recently released their sixth album Coiscéim Coiligh / As The Days Brighten (pronounced Cush-came Quilly).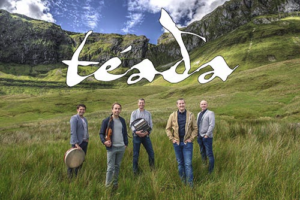 The new album features 12 tracks, including the brilliant vocals of Séamus Begley and Chicago-born John C Reilly on the song Eileen Óg.
 Téada consists of Oisín Mac Diarmada on the fiddle, Paul Finn on the accordian, Damien Stenson on the flute, Seán McElwain on the guitar and Tristan Rosenstock on the bodhran. 
Samantha Harvey also performs with the band as a pianist and dancer. 
The band won Album of the Week on BBC Radio nan Gàidheal and has been called "a treasure trove of newly minted tunes jostling alongside pristine choices from the last century" by the Irish Times.
Reviewing the new album, Folk Alley said:
"The band seems to revel in the speed and fury of Irish reels; the swing of barn dances, hornpipes, and jigs; and the old-world earnestness of Irish pub songs…It's a delight to have Téada back on the scene."
Téada have played at festivals all over the world including many in Ireland, the U.S. and Canada. For more information on the album and upcoming tour dates visit their website here.