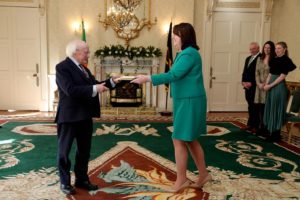 Massachusetts native Claire D. Cronin is officially the new U.S. Ambassador to Ireland. She presented her credentials on February 10, 2022 to Ireland's President Michael D. Higgins at his official residence and workplace, Áras an Uachtaráin. Joining her at the official visit were her husband Ray and their two children Kara and Kerry.
In a welcome video issued by the U.S. Embassy in Dublin, Cronin graciously expressed her honor and enthusiasm for being chosen for the position, and said she looked forward to welcoming Irish friends and colleagues to the Deerfield House in Dublin's Phoenix Park, the home of the US Ambassador to Ireland. She urged Irish and Americans alike to follow her adventures on Twitter at @USAmbIreland.
Then she quickly got right down to business.
"President Biden entrusted me as U.S. Ambassador to Ireland at a very important moment," Cronin said in the video. "As his eyes and ears here in Ireland I plan to engage with politicians and other stakeholders. President Biden is unequivocal in his support for the Good Friday Agreement, an historic achievement that must be protected to ensure peace and stability in Northern Ireland."
Later in the day, Ambassador Cronin met with Prime Minister of Ireland Taoiseach Micheál Martin and Minister for Foreign Affairs and Minister for Defense Simony Coveney and other government officials.
Cronin's confirmation process took nearly eight months. The 62-year-old Massachusetts state legislator with family roots in Donegal was first nominated by the White House on June 23, 2021 to be U.S. Ambassador Extraordinary and Plenipotentiary of the United States of America in Ireland. She appeared before the U.S. Senate Foreign Relations Committee on September 29, 2021 and was approved by the committee on October 19, 2021. The U.S. Senate then approved her on December 18, 2021, and she was formally sworn-in at the House Chamber at the Massachusetts State House on January 19, 2022.
Cronin beat out several high profile Irish-Americans vying for the coveted Dublin position. Her advantage turned out to be President Biden himself, who in the past few years has come to appreciate her considerable political savvy, legal expertise, legislative accomplishments and mediating skills. She served on the Biden campaign's National Finance Committee and became a top surrogate in the campaign. In March 2020 she helped Biden stage a Super Tuesday upset in Massachusetts, winning 30% of the vote while besting hometown favorite Senator Elizabeth Warren and Vermont's Senator Bernie Sanders. At the Democratic National Convention in summer 2020, Cronin was chosen to officially announce her state's eleven electoral votes for Biden.
Family Traditions
Cronin, whose maiden name is McLaughlin, comes from a proud Irish-American family of lawyers, teachers and elected officials. Her dad James was an attorney and veteran who served in the South Pacific during WWII and was a Pearl Harbor survivor who later attended law school with the help of the GI Bill. Her mother Phyllis (Lucey) was a beloved elementary school teacher who won Teacher of the Year awards in Norfolk County. Phyllis' uncle was a state representative, and so was her brother, C. Gerald Lucey, who also served two terms as mayor of Brockton.
Just as Joe Biden was profoundly shaped by hard-scrabble Scranton, a mining town of backbreaking labor and immigrant dreams, Cronin's life has similarly been shaped by Brockton, a blue-collar city southwest of Boston, once known as the Shoe Capital of America when it boasted 39 shoe factories in the early 20th century. Her Irish immigrant grandfather worked in one of those shoe factories, and her family's purposeful ascension to public service, law and education gives Cronin a distinct sense of place and an appreciation of her family's American journey.
"I grew up in Brockton, which I always believed really shaped who I am as a person," she says in an interview with Commonwealth Magazine. "I grew up in a family where …work in government was a way to give back to your community and something that I always valued."
A political science major at Stonehill College in Easton, run by the Congregation of Holy Cross, Cronin got her law degree from Suffolk University Law School in Boston.
As an attorney, Cronin has handled numerous civil cases, from personal injury suits to criminal cases while also becoming a skilled negotiator and arbitrator. Most notably, she arbitrated the $85 million landmark settlement of the Massachusetts clergy sexual abuse cases in 2003, according to her office.
Cronin didn't run for public office until 2012, winning an open seat as state representative in the 11th Plymouth District, which includes Brockton and Easton. Then she rose steadily through the ranks at the rough-and-tumble Massachusetts State House, distinguishing herself as a skilled legislator and committee leader, while breaking glass ceilings along the way.
As the first woman to chair the state's joint Judiciary Committee in the House, she was the architect of a comprehensive criminal justice reform bill, cited as the most extensive reform of the state's criminal justice system in decades. She has advocated for increased educational funding, better access to mental health and substance abuse services, civil rights issues and veterans' benefits.
In February 2021, Cronin became the first woman appointed as the Massachusetts House Majority Leader, the second highest house leadership position. House Speaker Ronald Mariano, called her "one of the most thoughtful and trustworthy elected officials I have ever had the privilege of working with. Time and time again, she has demonstrated her ability to unite people and forge meaningful solutions to politically-complex issues."
In fact, her leadership style mirrors that of President Biden. "I always try to get to yes if we can get to yes, and I've always had a very open-door policy," Cronin told Commonwealth Magazine. "My background is as a mediator, so that shaped the way I work to build consensus when working on legislation."
At her September 29, 2021 hearing before the Senate Foreign Relations Committee, Cronin promised to "work with Ireland to ensure that addressing global challenges and partnering in global security continue to be strong elements of our bilateral relationship."
She also noted the strong economic ties between the two countries, stating, "The United States is Ireland's strongest and largest trade and investment partner. More than 900 U.S. firms operate in Ireland and, Ireland is currently the ninth largest investor in the United States. I will promote the United States as an investment and exchange destination for Irish companies, and advocate for increased two-way trade and investment to create jobs in the United States and Ireland."
Irish-American Response
The response from Irish-American leaders to Cronin's nomination has been enthusiastic.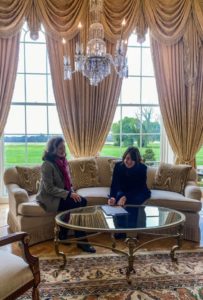 Massachusetts Congressman Richard E. Neal predicts Cronin "will play a significant role in helping to strengthen the bonds between the United States and Ireland. This is an important posting and that is why I look forward to working closely with the Ambassador on a range of issues to reinforce and expand our unique transatlantic partnership."
Bruce A. Morrison, former Connecticut congressman, immigration reform leader and founder of the Morrison Public Affairs Group in Bethesda, MD, praised Cronin's "sterling reputation as a legislator and proven leader in the Massachusetts State House.
"She has a steadfast relationship with President Joe Biden, who trusts her political skills and judgement," Morrison says. "That combination makes her an excellent choice to be our next U.S. Ambassador to Ireland. She will have the President's ear and they will be a great team for maintaining the strong Irish-U.S. relationship."
The Boston-based Irish American Partnership also sent congratulations, writing, "As the first woman to serve as Majority Leader in the Massachusetts Legislature, she will be the third woman to serve at this posting in Dublin, and we look forward to working together to strengthen the longstanding relationship that bonds the United States and Ireland."
Cronin joins only two other women who have held the Ambassador to Ireland position: Margaret M. O'Shaughnessy Heckler (1986-89) and Jean Kennedy Smith (1993-98). Like Cronin, both of them are from Massachusetts.
In her parting words to her colleagues at the Massachusetts State House in January, Cronin said, "Today, I'm leaving a place I love and a job I love for a chance to serve our country as the United States Ambassador to Ireland. I am grateful to be able to serve as the personal representative of President Biden, a person I admire and respect, a profoundly decent human being and good man. I'm looking forward to serving in Ireland and building upon the strong bonds that exist between our two countries." ♦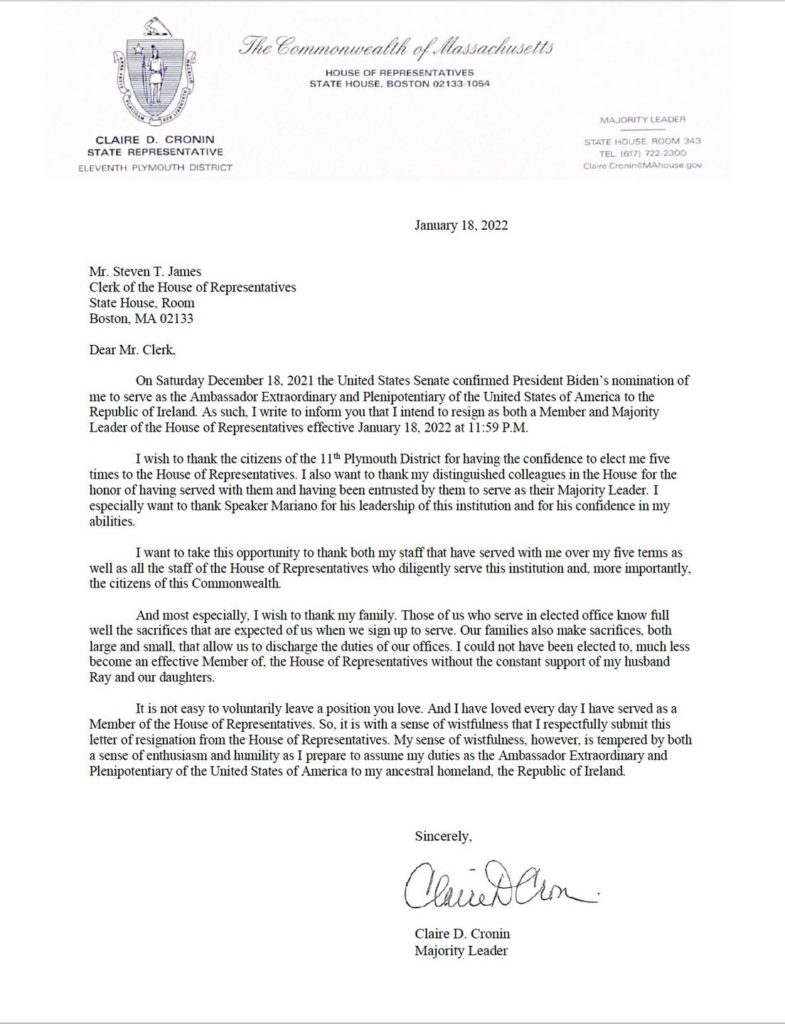 ---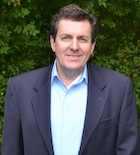 Michael Quinlin is author of Irish Boston (Globe Pequot Press) and editor of Classic Irish Stories (Lyons Press). He founded the Boston Irish Tourism Association, created Boston's Irish Heritage Trail, and formed MassJazz to promote the vibrant jazz scene in Massachusetts. Mike lives in Milton, Massachusetts with his wife, Colette, and son, Devin.