Sparks Fly in Northern Ireland
Photo: Getty Images
Under heightened police presence and tight security, Northern Ireland's Orange Order members marched through Belfast City for Tuesday's Twelfth of July celebrations.
The Orange Order parades celebrate the Battle of Boyne on July 1, 1690, when William of Orange, also known as King Billy, defeated the army of Catholic King James II, and the Battle of Aughrim, the decisive battle of the Williamite war, which took place on July 12, 1691.
Around 10,000 Orange Order members and bandsmen took part in the parade in Belfast, and an estimated 500,000 people participated in loyalist events at the 18 locations across Northern Ireland for the first time since the COVID-19 pandemic began.
The parades come as Northern Ireland continues to struggle with political tensions and instability and its third month without a functioning government.
Tensions between nationalist and loyalist communities are at an all-time high after the resignation of U.K. Prime Minister Boris Johnson on July 7 and the renegotiation of the Northern Ireland Protocol Bill.
This year's parades involved the highest number of Police Service of Northern Ireland (PSNI) officers. Over a third of the police service, approximately 2,500 officers, were assigned to facilitate over 600 celebration parades.
A large jump in police presence follows a violent an incident on July 7, when petrol bombs and bricks were thrown at a loyalist bonfire site in north Belfast. Northern Irish investigators are treating the incident as a hate crime.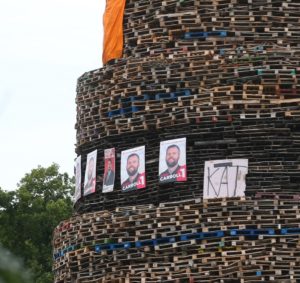 On Monday the 11, the night before the parades, about 250 bonfires were lit in communities across Northern Ireland.
The PSNI is investigating the bonfires after receiving multiple complaints of election posters and Irish effigies featured in the loyalist bonfire celebrations, but have yet to label the incidents or investigations as a hate crimes.
Historically, many loyalist bonfires included anti-Irish and anti-Nationalist imagery and symbolism: the burning of Irish tricolor flags, figures of Hunger Strikers, and violent language.
A photo of the Cregagh estate bonfire made its rounds on social media for its sectarian messages. The bonfire was decorated in Irish election posters of Sinn Féin councilor Gary McCleave, GAA jerseys, Irish flags, and two boards with threatening messages. One board on the bonfire reads "All Taigs Are Targets," and the other with offensive language toward Sinn Féin Vice President Michelle O'Neill.
Loyalists posted photos on Twitter of themselves celebrating beneath the Cregagh bonfire.
The Glenfield area bonfire featured the Irish tricolor flag, and life-size figures of Irish leaders hanging from wooden planks, akin to lynching.
In a scalding op-ed for the Irish Central, Michael O'Dowd calls the bonfire celebrations "self-proclaimed 'cultural sites' that are rife with the intimidation of residents, environmental hazards, drunken behavior, and community strife.
O'Dowd also called out the Orange Order for a song where they mocked the murder of Michaela McAreavey.
"The Orange Order has distanced itself from these bonfires, but they can't detach from one of the grossest acts of naked sectarianism that occurred in the past 12 months," O'Dowd writes.
Democratic Unionist Party (DUP) East Belfast leader MLA David Brooks called the messaging on the bonfires "pathetic."
"We are a proud community, proud of our culture and traditions. These images do nothing to further our cause," Brooks continued. "This does not represent the good people of the Cregagh."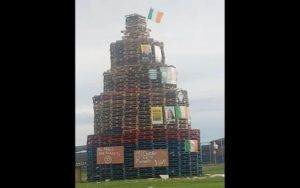 Paul Doherty, West Belfast SDLP representative, demanded that "leaders in the unionist community need to call these actions out and put a stop to this once and for all."
Twitter user Aoife Kelly (@eefaakelly) uploaded a video of a man emerging from a house with an Irish tricolor flag flying from the middle floor window and hurling a small bin at the members of the Bangor Protestant Boys Flute Band.
One of the band members stopped the bin with his leg, and then the group proceeded to storm the home. A heated bandsman removes a wheeled garbage bin and smashes it through the ground-level window of the tricolor-flagged home when members of the Orange Order urge the bandsmen to clear the property and continue marching.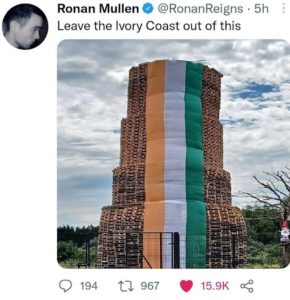 In June, BBC Northern Ireland decided to end live coverage of the Twelfth of July parade in Belfast after "careful consideration." Instead, the BBC U.K. will provide an hour-long program covering the events at eight locations.

TUV leader Jim Allister called the decision to end live coverage "a slap in the face" for unionist members. He deemed it a symptom of "anti-unionist BBC culture.
"The Twelfth of July is our national holiday," Mr. Allister added. "It is one of the largest cultural events in Europe. BBC Northern Ireland should be looking at it as an opportunity to showcase Northern Ireland's artistic and musical talent to the world."
Ireland's Coalition Government Survives a No-Confidence Vote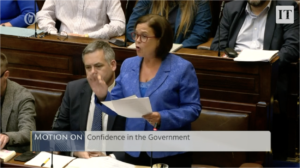 Despite losing its formal majority last week, Ireland's coalition government tabled and then survived a motion of no confidence prompted by the opposition party Sinn Féin on Tuesday, July 12.
The coalition government secured its win with a significant majority of 85 against the no-confidence motion and 66 votes on the oppositional side.
Sinn Féin's motion comes after TD Joe McHugh resigned from the Fine Gael whip on July 7 and abandoned his coalition colleagues as they attempted to secure €2.7 billion for homeowners recovering from the mica scandal.
On Sunday, June 10, TD McHugh and Independent TD MacSharry said they would vote against the motion of no confidence. Without the two votes, Sinn Féin's oppositional motion would likely fail.
The current government coalition comprises Fianna Fáil, Fine Gael, and the Green Party. However, now that TD McHugh has resigned, the center-right aligned party has lost its majority footing and has only 79 of the 160 seats in the lower house.
The formal majority loss comes a year after TD MacSharry quit the Fianna Fáil last year.
"This is a government that has now lost its parliamentary majority, and is failing to tackle the cost of living and housing crises," Sinn Féin leader Mary Lou McDonald said in a statement.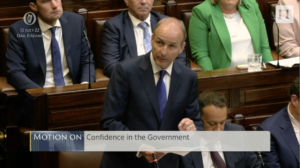 "It's not hard to see why this coalition is coming apart at the seams," McDonald added in a speech on Tuesday the 12.

In a heated speech on Prime Time on July 12, Taoiseach Micheál Martin said, "I am proud of what my party and our partners in government have together helped our country to overcome in the past two years – and the policies we have put in place for sustained, long-term progress," then adding, "shouting 'not enough,' 'more' and 'what-about' represents an approach to politics that is, at its heart, deeply dishonest."
Sinn Féin is leading in the polls for the 2025 general election.
A Huge Win for Abortion-Rights Activists: Irish Health Minister Announces 'Safe Access Zones'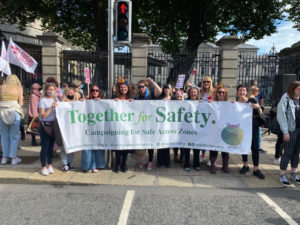 On Tuesday, July 12, Irish Health Minister Stephen Donnelly announced a ban on anti-abortion protests outside maternity hospitals, clinics providing abortion services, and health care facilities gathering or providing abortion information.
Called the Safe Access to Termination of Pregnancy Services Bill 2021, the now-prioritized bill prohibits anti-abortion demonstrators from gathering within 100m of the entry to an abortion-care provider, citing a need to protect people from harassment and intimidation.
A ban on protests within a certain distance is known as a "safe access zone" or SAZ and allows the patients and staff to enter and exit safely.
The announcement is a monumental win for groups like Limerick-based organization Together for Safety, which drafted the Seanad bill and gathered over 2,800 members to petition the repeal to get the safe access zone bill in motion.
"We are delighted with today's announcement," said Yvie Murphy, co-convenor of Together for Safety.
"People need to be able to access health care in privacy and dignity and without being harassed or intimidated – Safe Access Zones around health centers have been shown worldwide to be the best and safest way to facilitate this. This year has seen a number of other European countries bring in this safeguard and we are so proud that Ireland will be taking steps to protect people when they're at their most vulnerable," Murphy wrote in a statement.
Senator Pauline O'Reilly, who co-signed the bipartisan Seanad (or Senate) bill, said that the enforcement of safe access zones could not come soon enough.
"Current laws do not protect pregnant people from the silent protests that take place around the country outside GP practices, clinics and hospitals and that have been shown to be greatly intimidating," Senator O'Reilly said, adding, "as a country, we still have a lot of work to do in prioritising women's healthcare, not least improving access to abortion services at all stages of pregnancy."
On the same day of this announcement, a study directed by Trinity College Dublin called Unplanned Pregnancy and Abortion Care (UnPAC) revealed that women diagnosed with fatal fetal anomalies, or FFAs, face more issues than others in receiving abortion care.
"The fact that a high proportion of parents facing diagnosis of fatal foetal anomalies are forced to make a decision about travelling abroad for abortion or continuing with the pregnancy in Ireland cannot go on," Senator Pauline O'Reilly said about the UnPAC report.
The safe access zone bill is expected to come into effect later this year after being fast-tracked through the Dail.
Irish Actor Brendan Gleeson Secures his Second Emmy Nomination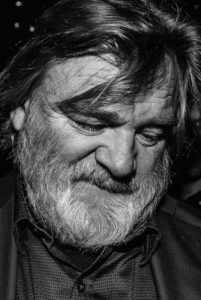 Dublin-born actor Brendan Gleeson is up for his second Emmy nomination for Outstanding Actor in a Short Form Comedy or Drama Series for his performance as Scott in the British TV series State of the Union.
The Primetime Emmy Award and three-time IFTA award winner stars alongside Patricia Clarkson, who plays his wife, Ellen. Clarkson is also up for an Emmy Award for Outstanding Actress in a Short Form Comedy or Drama Series for her role as Ellen in State of the Union.
The Emmy-nominated show only has ten episodes per season, and each episode lasts only ten minutes. Because of its quickened pace, the series proposes a unique challenge for the actors to passionately portray the heated and frayed relationship between husband and wife in marriage counseling sessions.
Gleeson won his first Emmy for Outstanding Lead Actor in a Miniseries or Movie in 2009 for his performance as Winston Churchill in HBO's "Into the Storm" and is number 18 on the Irish Times list of the greatest Irish film actors.
The Irish actor is best known for his role in the Harry Potter series as Alastor' Mad Eye' Moody, as well as his performances in Braveheart, Gangs of New York, and The Ballad of Buster Scruggs.
As outlined in the 2011 interview with Irish America, Gleeson did not start professionally acting until he was 34.
Gleeson taught English and Irish at the Catholic Belcamp College in Dublin for a decade, but his love for acting was a lifelong passion. "When I first was able to fill in A-C-T-O-R for the occupation line on my passport," he said gently, "that was the first time I really felt 'Wow, I'm home.'"
In the State of the Union's first season, Irish actor Chris O'Dowd and his co-star Rosamund Pike snagged Emmy wins for Outstanding Actor and Actress in a Short Form Comedy or Drama Series for their performances as Louise and Tom.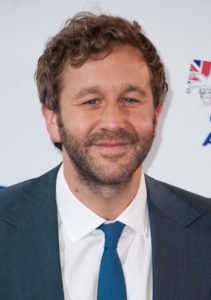 Originally from Boyle, Co. Roscommon, O'Dowd is listed at number 39 on the Irish Times list of Ireland's greatest actors. He received high acclaim for his performance as Roy Trenneman in the Channel 4 comedy The IT Crowd and Officer Rhodes in the 2011 movie Bridesmaids.
In a 2014 interview with Irish America, Chris O'Dowd talked about his transition from a drama to comedy actor.
"Once I understood the mechanics of how comedy worked, I was fascinated by it," O'Dowd said in the interview.
Another notable name on the Emmy list is HBO Succession star Brian Cox, a Scottish actor with proud Irish roots, for his performance as Logan Roy. The successful Scottish actor's grandmother emigrated from Donegal and his grandfather's family from Derry to escape the horrors of the famine.
This year's nomination is Cox's fourth prime-time naming but the second Emmy nod for Outstanding Lead Actor in a Drama Series for his performance in Succession.
The 74th Primetime Emmy Awards will be held September 12 at the Microsoft Theater in Los Angeles.
The Fleadh Cheoil hÉireann Returns to Mullingar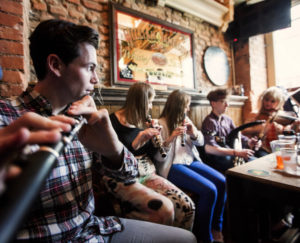 The Fleadh Cheoil na hÉireann, the biggest international Irish music and cultural event is returning to Mullingar Co. Westmeath this summer, from July 31 to August 7.
The Irish music, language, song, and dance festival is expected to have nearly half a million participants in the midlands of Co. Westmeath, known as the Hidden Heartlands.
After a two-year hiatus due to the COVID-19 pandemic restrictions, The festival kickoff will be hosted by the Irish President, Michael D Higgins, and over 150 competitions in music, song, dance, and the Irish language to follow.
The Fleadh Cheoil na hÉireann festival will host performances by celebrated Irish musicians like button accordionist Sharon Shannon, Co. Clare fiddler Martin Hayes and the Common Ground Ensemble, the Bridge Céili Band, Daithí Gormley, Frankie Gavin, and Catherine McHugh.
In an interview with RTE news, Labhrás Ó Murchú, Ardstiúrthóir of Comhaltas Ceoltóirí Éireann, said it was a unanimous decision to host the 2022 Fleadh Cheoil na hÉireann in Mullingar.
"Mullingar is very special because it's where Comhaltas was founded. A lot of the groundwork is done. The Fleadh committee in Mullingar has created a bond with Westmeath County Council. They're planning to deliver something very special for culture and tourism. This is a very important financial injection for the region of over €50 million," Ó Murchú said.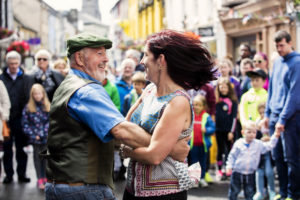 Mullingar is where Comhaltas Ceoltóirí Éireann, Ireland's most influential traditional cultural organization, was founded in 1951. This cultural landmark is why this year's Fleadh festival is celebrated as 'The Homecoming' of Irish events.
From August 1 to 5, the Fleadh Cheoil na hÉireann is offering over 60 master performers to tutor over 700 students at the Scoil Eigse in Irish traditional arts, workshops, recitals, and sessions. Pre-registration is required to attend the workshops.
The Fleadh performances and cultural events will be held in the Mullingar art center, local churches, band halls, and other local hotspots.
To learn more about Fleadh Cheoil na hÉireann or pre-register for the Scoil Éigse program, visit https://fleadhcheoil.ie/.
1980s Pop Icon Kate Bush Hits Top Spots on International Charts Again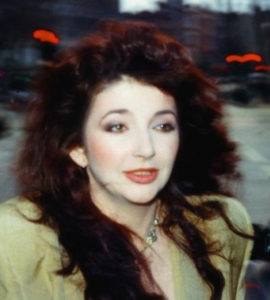 Pop superstar Kate Bush has been topping the Irish, U.K., and U.S. music charts for the first time since the 1980s.
Her iconic 1985 hit "Running Up That Hill," made famous again by the Netflix TV series Stranger Things, is currently number one for the second month in a row on Billboard's Top TV Songs Chart., first in the U.K.'s Billboard Chart throughout June, and still at the top spot in Ireland's charts.
Although Bush is a distinctly English artist, her Irish roots largely influenced her music and writing.
Born Catherine Bush in Kent, England, and raised in a home of musicians and Irish-focused music, she is the daughter of Dungarvan, Co. Waterford native Hannah Daly.
The 1980 hit 'Army Dreamers' was her first song to showcase her Irish heritage, which showcased Stuart Elliot's bodhran thumps and her brother Paddy's talent on the mandolin.
In a 2014 interview with the Irish Independent, she told reporters, "I'm incredibly proud of being half-Irish. I really wanted to get that Irish blood in me to come through, so I worked very hard on it."
While the British press described Bush as "a quintessential English artist," she regularly featured some of Ireland's most talented musicians and composers.
In 1996, the half-English half-Irish artist collaborated with Irish bouzouki player Donal Lunny and covered the famous poem Mna na hEireann (Women of Ireland) from Ulster icon Peader Ó Doirnin.
Riverdance composer Bill Whelan on bagpipes, Liam O'Flynn on uilleann pipes, Dónal Lunny of Planxty on bouzouki, and The Chieftain's Seán Keane on fiddle were just some of the artists featured in Bush's collection of albums.
In an ode to her Irish heritage, Bush posed with a set of traditional uilleann pipes for the single cover of her song' Night of the Swallow' for the 1982 album The Dreaming, where Riverdance composer Bill Whelan was first featured.
Though Bush is notoriously private, the singer gave her first interview in six years with BBC Radio 4 Reporter Emma Barnett.
"['Stranger Things'] is such a great series, I thought that the track would get some attention. But I just never imagined that it would be anything like this," Bush tells Barnett. "It's so exciting. But it's quite shocking really, isn't it? I mean, the whole world's gone mad."
Biden Announces Presidential Nominees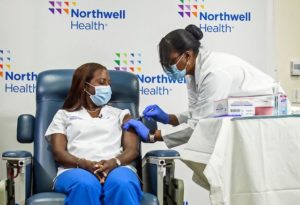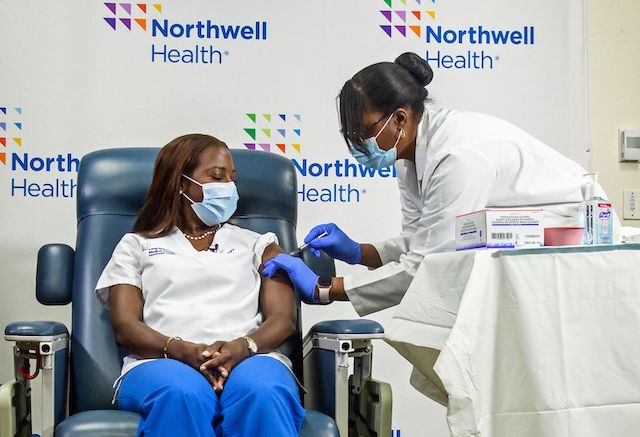 On Thursday, July 7, President Biden presented the Medal of Freedom awards to seventeen American individuals who have contributed to U.S. culture, values, and security. Among the recipients was Sandra Lindsay, a New York critical care nurse who was the first person in the United States to receive the COVID-19 vaccine.
Lindsay works at the Long Island Jewish Medical Center, operated by Northwell Health, the largest health and medical system in New York State, whose CEO is Limerick-born Michael Dowling, wo proved to be an astounding leader during the worst of the pandemic.
She first received the vaccine on December 14, 2020, at the Long Island Jewish Medical Center- the same hospital where she oversees all intensive care patients.
Northwell Health hospitals have treated more COVID-19 patients than anywhere in the United States since March 2020, when the COVID-19 pandemic first spread through the New York City metropolitan area.
The ICU nurse became a global sensation in December 2020 when she was shown on national TV receiving the first coronavirus vaccine on a video conference call with then-New York Governor Andrew Cuomo, and Northwell CEO Michael Dowling.
In a posthumous memorial, late Arizona Senator John McCain was also awarded the Medal of Freedom.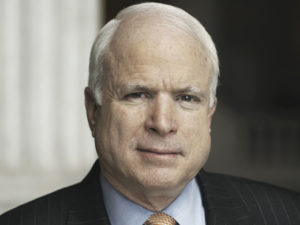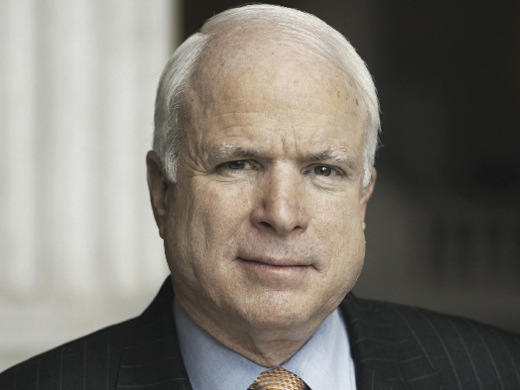 Sen. McCain served in the Navy in the war in Vietnam, where he was captured in 1967 and held for over five years as a prisoner of war. He was released in March 1973 along with 108 other imprisoned soldiers.
After his recovery from war wounds, McCain served Arizona as a Senator and member of the House of Representatives, as well as a promising presidential bid in the 2008 election race. He was also the recipient of a Purple Heart medal, a symbol that a service member underwent a massive sacrifice while in the line of duty.
In a 2008 interview with Irish America's co-founding publisher Niall O'Dowd, McCain said that he believed in the hope of America's promises because of his family's immigration luck.
His mother's side of the family has roots in County Antrim, and his father's family can be traced back to the Highland Scots.
He passed away in 2018 at age 81 from brain cancer complications.