Comeback Katie Wins in Madison Square Garden
Saturday 30 April saw midtown Manhattan painted green after Ireland's own Katie Taylor beat Amanda Serrano in what has been described as the "biggest women's fight of all time".
The fight, billed as 'For History', was the first women's boxing match to headline Madison Square Garden and has since been dubbed the fight of the year.
Taylor, who hails from Bray in Co. Wicklow, successfully defended her lightweight titles after a seventh round rally fit for the silver screen.
Serrano, the seven-division world champion, looked poised for victory after a touch-and-go fifth round for Taylor. Despite the heated reaction from her fans and promoter Jake Paul over the split decision victory, Serrano came out on top in terms of humility, congratulating Taylor and acknowledging the victory for the sport.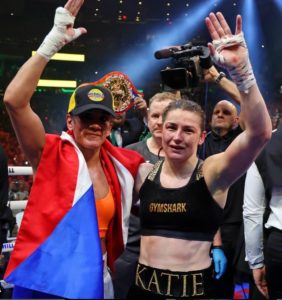 "We won. We won for equality. We won for fair pay. We won for boxing. We won for women. We won for young girls. So, I raise my hand as a champion, no matter what the outcome of one fight was."
Taylor echoed her competitor's comments, "Everyone was talking about this fight being the biggest in women's history, but I think it actually exceeded everything that people were talking about," Taylor said in a post-fight interview.
"This was a special, special moment. I think that both myself and Amanda have broken down so many barriers in the last few years in our sport. I love my sport and I want to keep making history."
The momentous fight received a recording-breaking audience of 1.5 million worldwide reported DAZN. These unprecedented figures combined with a sold-out Madison Square Garden seem to have solidified the demand for a rematch, with Croke Park being mentioned as a potential venue.
Messages of support and congratulations for Taylor's victory have rolled in from the likes of Hollywood star Charlize Theron and One Direction's Niall Horan. Leading the applause in Ireland, President Michael D Higgins said the win was "another fantastic achievement in her monumental career."
Taoiseach Micheál Martin congratulated Taylor on her "win borne out of courage, determination, skill and stamina."
To watch the highlights from the fight click here.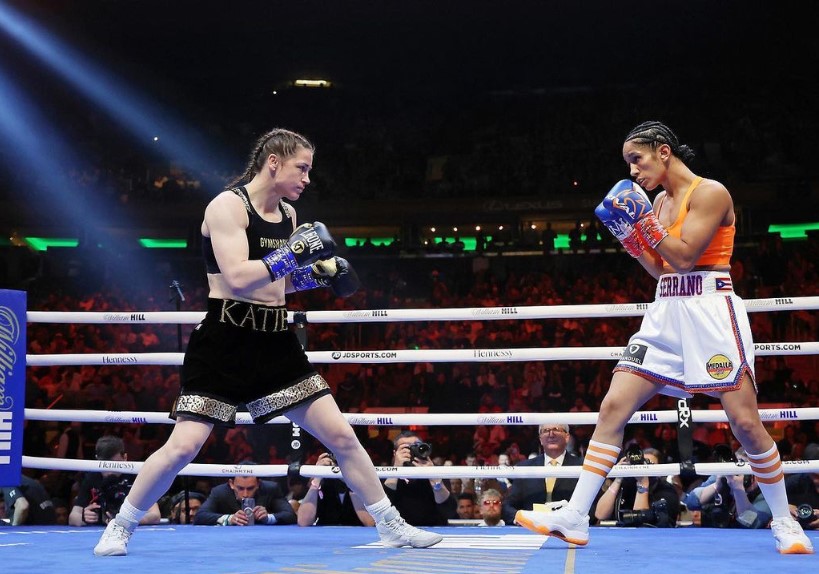 Irish Talent at the Met Gala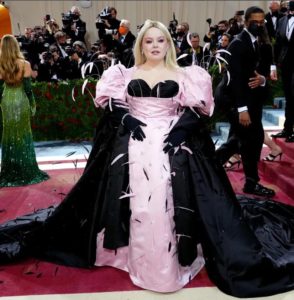 And from Madison Square to the Upper East Side, New York played host to even more Irish talent as the 2022 Met Gala took place this week.
Normal People star Paul Mescal walked the red carpet with rumored fiancé Phoebe Bridgers as well as his former co-star Daisy Edgar Jones.
Mescal is famous in Ireland not just for his acting chops but for sporting his Kildare GAA shorts at highly publicized events such as Coachella. Sporting some new facial hair, the former GAA star upgraded to a Valentino black tuxedo jacket to attend Met Gala, which he referred to as "the most alien thing I've ever done".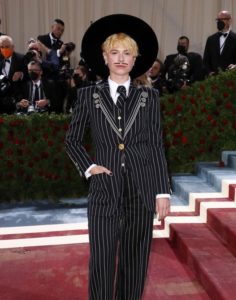 Derry Girl's Nicola Coughlin perfectly embodied the "Gilded Glamour" theme in a pink and black gown from British designer Richard Quinn. The dress was completed with hundreds of feathers, a nod to Coughlin's Bridgerton character Penelope Featherington.
Coughlin posted videos of herself surrounded by celebrities at the event in which she joked about how she used to work in an Irish supermarket.
Oscar nominee Jessie Buckley, who recently appeared alongside Mescal in The Lost Daughter, teamed a Schiaparelli pin stripe suit with a broad brimmed hat. Like Mescal, the Kerry actress also showed off a natty (penciled on) mustache.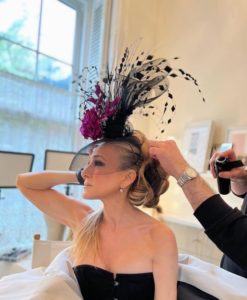 Sarah Jessica Parker, a Co. Donegal homeowner, showed her support for Irish talent as she donned a headpiece designed by Galway haute couture milliner Philip Treacy. Treacy has collaborated with designers including Versace and Valentino. His pieces have been worn by members of the Royal family and A listers such as Lady Gaga.
Another behind-the-scenes Irish presence at the event was hairstylist Andrew Fitzsimons who created singer Camila Cabello's floral updo.
The Dublin native achieved the look using products from his own affordable haircare line. He has previously worked with fashion icons such as the Kardashians.
Russia Threatens UK and Ireland With Nuclear Attack
This week Russian state TV aired clips simulating Ireland being wiped out by nuclear weapons.
The clips were broadcast on state-owned channel Russia-1 and were introduced by Dmitry Kiselyov, a close associate of Russian president Vladimir Putin and a perceived propagandist for the Kremlin.
Ireland is not mentioned directly in the clips as Kiselyov speaks of an attack on the "British Isles" in response to the UK's support for Ukraine amid the ongoing conflict.
The two clips show Kiselyov baselessly claim UK prime minister Boris Johnson had threatened a nuclear strike on Russia.
"Why threaten never-ending Russia when you're on an island which is, you know, is so small?" he said according to a translation from journalist Francis Scarr. "The island is so small that just one Sarmat missile is sufficient to sink it once and for all. Everything has been calculated already."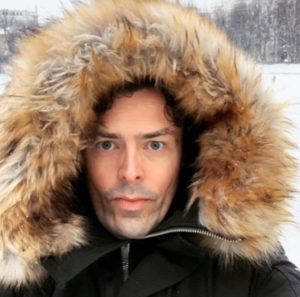 In a second segment, Kiselyov refers to an experimental Russian weapon, to "plunge the British Isles into the depths of the sea."
Kiselyov, who is on an EU sanctions list, has a long history of spreading conspiracy theories.
Also sanctioned is Russia-based Irish national Brian McDonald (or Bryan MacDonald). McDonald appears on the list of UK sanctions due to his work with RT (formerly Russia Today) which is affiliated with the Russian government.
The financial sanctoons notice said McDonald's work for RT meant the UK government considered him to be "a member of, or associated with, a person involved in destabilising Ukraine or undermining or threatening the territorial integrity, sovereignty or independence of Ukraine, or obtaining a beneift from or supporting the government of Russia."
41st Anniversary of Bobby Sands Death
This week marked the 41st anniversary of the death of Bobby Sands, leader of the 1981 Irish hunger strike.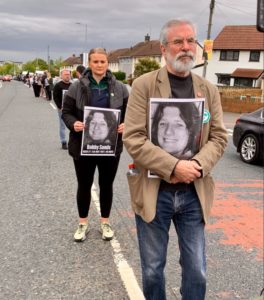 Sands and nine other Republican prisoners died from starvation as they protested prison conditions and their right to be recognized as political prisoners.
The men decided to join the strike one by one at staggered intervals in order to prolong the protest and receive maximum coverage, thereby pressuring Prime Minister Margaret Thatcher.
Sands, the IRA's former officer commanding in prison, was the first casualty of the strike. He passed away on 5 May 1981. On 9 April, Sands won a seat in Commons, just a month before his death. He died without ever having taken his seat.
Commemorations for the hunger strikers took place across Ireland this week. Former president of Sinn Féin Gerry Adams took to Twitter to honor Sands and his comrades:
"Remembering our friend and comrade Bobby Sands and all of those who died on hunger strike. Their courage and vision of a new Ireland continues to inspire today."
To read more about Bobby Sands click here.
Mo Donegal Among Favorites in Kentucky Derby
The 2022 Kentucky Derby is taking place on Saturday 7 April and Ireland's "Forgotten County" will be represented as Mo Donegal is one of the latest Derby hopefuls.
Donegal Racing, founded in 2008 by Jerry and Linda Crawford of Des Moines, Iowa, is named in honor of Co. Donegal where Jerry's ancestors hail from.
Mo Donegal, named after his sire Uncle Mo, is the third horse of Crawford's to qualify for the Derby, following in the footsteps of Dullahan and Paddy O'Prado.
Mo Donegal clinched his spot with an incredible come-from-behind win last month in Queens, New York.
Speaking after the race, Jerry Crawford said, "I sat there all day Friday and all day Saturday and not one horse closed against the bias until Mo Donegal, who had been 12 lengths back. He was able to close on a surface when no one else did and get there in time. I think that performance is much more impressive than meets the eye."
At the time of writing, the odds on Mo Derby to win the Derby are 10/1.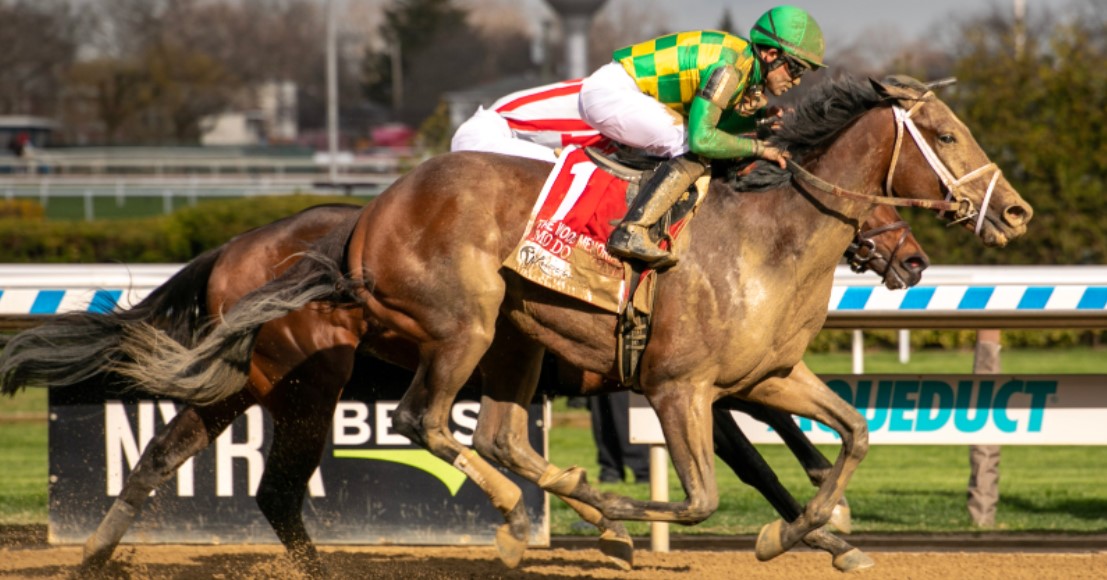 Irish Beaches Named Among Europe's Best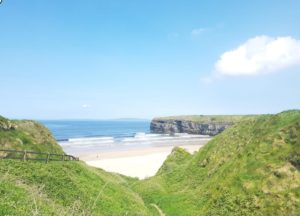 Two Irish beaches have been named among the best in Europe by The Guardian.
The list included an official ranking of 40 beaches from tropical locations such as Greece and Portugal to the Emerald Isle.
The west of Ireland came out victorious as both the Irish beaches selected are located along the Wild Atlantic Way. The first up was Ballybunion in Co. Kerry. The Guardian wrote the four beaches of the resort town "have been popular since Victorian times and still draw a huge crowd on sunny summer days."
While the north Kerry destination can indeed be busy during the summer season, The Guardian recommends escaping "the throng by climbing the path to the stunning cliff walks above."
Travelling north along the Wild Atlantic Way you will come across the second of the two Irish beaches at Glassilaun in Co. Galway.
Set in the idyllic region of Connemara, overlooked by Mweelra Mountain, the beach boasts beautiful views of Killary Harbour and Achill Island.
Dishing out the ultimate compliment, The Guardian writes the sandy stretches "could rival those of the Caribbean – if the weather would only cooperate more frequently."
So, whether you are based in Ireland or have a trip planned to the Emerald Isle, look no further than the west coast for all your ideal beach getaway.