Irish American Partnership Announces $500,000 Disbursement to Education and Community Programs in Ireland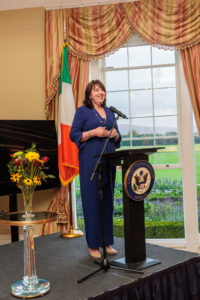 On September 29, the Irish American Partnership announced it disbursed $500,000 in grants to primary schools, universities, community programs, and organizations across the island of Ireland during its biennial leadership mission this week. The awards were announced at a reception to culminate the mission, hosted at the residence of U.S. Ambassador to Ireland, Claire D. Cronin, on Wednesday night.  
"We are delighted to spend this week evaluating our program funding and demonstrating the Partnership's crucial support and impact on education and community development to our Board members and wonderful supporters," said Chief Executive Mary Sugrue at the reception.  
Beneficiary programs supported in this latest tranche of funding were granted to an array of organizations and universities across Ireland and direct grants to primary schools throughout the island of Ireland.
The funding announcement follows the award of $20,000 in grants to Scoil na Maighne Mhuire, Ballycar National School, Stonehall National School, and Clonmoney National School in Co. Clare, who will use this funding to purchase much-needed resources.
The grants were presented by decorated Irish golfer and Partnership ambassador Leona Maguire to mark Maguire's participation in the KPMG Women's Irish Open.
"It was my honor to host the delegates from the Irish American Partnership at Deerfield House," Ambassador Claire Cronin said. 
 This announcement of $500,000 funding will provide essential support to the next generation of Irish children. The Partnership strengthens the ties between our two countries."
These programs were selected for their transformative impact on students, schools, and communities and their work advancing the Partnership's priority campaigns to direct grants to schools, university access scholarships, education for homeless youth, as well as integrated education and reconciliation initiatives in Northern Ireland.
20,000 People Protest in Dublin Over the Cost-of-Living Crisis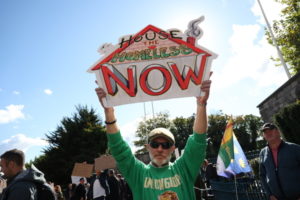 On Saturday, September 24, just days before the Budget 2023 announcement, nearly 20,000 people took to the streets of Dublin to protest the cost-of-living crisis in Ireland. The protesters started gathering at Parnell Square and took O'Connell Street toward Merrion Square, holding posters that read "BAN Evictions" and "House the Homeless Now!"
The march was organized by the Cost of Living Coalition, a group that demands government action to fix the increasing rent, grocery, and general supply costs.
Sinn Féin President Mary Lou Macdonald, a supporter of the Coalition and the marchers, spoke at the event.
"This cost-of-living crisis shows again the huge inequalities that exist in Ireland," she said, calling on the government to cut rent and energy bills and ban rent increases for at least three years.
"Remember, they've left people in dire straits for months and told them to wait for September. September is here."
On Tuesday, September 27, the 2023 Budget was announced and includes a permanent hike to social welfare rates with an increase of 12 euros per week, a double child benefit in November, cuts in childcare, university, and school costs, as well as 600 euro worth in energy credits.
And as for rent controls and eviction bans, the marchers and activists don't think their housing security needs have been met. The 2023 Budget only includes an annual 500-euro credit for renters over the next two years.
"The €600 off our energy bills over the winter will help somewhat – but those happiest with this policy likely sit on the boards of private energy companies," Luke Byrne, a pay-as-you-earn worker, told the Independent.
"I would like to have seen a more radical approach from the Government to what is a global crisis affecting a key public service."
Energy bills are expected to skyrocket this autumn and winter, increasing by 26.7 percent for electricity and 27.5 percent for gas starting on October 1.
Irish Government Introduces Paid Leave for Victims of Domestic Violence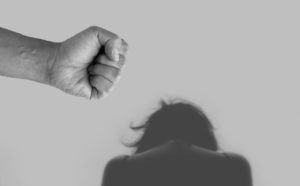 On Friday, September 23, the Irish Government introduced the approval of a bill that provides five days of paid leave from work for the victims of domestic violence and supports employers in developing anti-violence workplace policies and supporting their employees who may be experiencing domestic abuse.
Under the Work-Life Balance and Miscellaneous Provisions Bill 2022, the government is providing a variety of measures that allow for more women to join the workforce, encourage the equal sharing of family-related leave between men and women, and allow family caretakers to manage the stress of their lives.
The bill, once enacted, will establish three critical standards to support families and caregivers appropriately:
1)    The right to request flexible working arrangements for parents and carers,
2)    A right to leave for medical care purposes for employees with children up to age 12 and their caretakers,
3)    The extension of the current entitlement to breastfeeding and lactation breaks from six months to two years. 
Roderic O'Gorman, the Minister for Children, Equality, Disability, Integration and Youth of Ireland, said: "I am pleased to have secured Cabinet approval for publication of the Work-Life Balance Bill. We are committed to ensuring that every child gets the best start in life, and supporting all parents to spend more time with their children in those precious early years is a big part of that."
"Importantly, the Bill will also provide significant assistance to those who are suffering domestic, sexual or gender-based violence. The Government has always prioritized the issue of domestic, sexual, and gender-based violence, and Ireland will now become one of the first countries in Europe to introduce a right to paid leave for victims of domestic violence."
 The Government also approved the Domestic Violence Leave Report, which includes recommendations for employers on how to best support their employees. 
Brendan Gleeson to Host SNL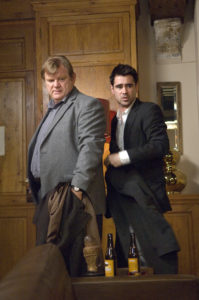 Brendan Gleeson will make his first debut on the SNL stage on October 8 for the second show of the new season. He joins other Irish SNL hosts like Saoirse Ronan, Liam Neeson, and Gabriel Byrne. 
The debut will follow a performance by Willow, a musician and performer, and daughter of Will Smith and Jada Pinkett Smith. The first episode will be hosted by Miles Teller with Music from Kendrick Lamar, and on the third day, rapper and performer Meghan Thee Stallion is starring as both host and musical guest.
Gleeson is starring in the upcoming film The Banshees of Inisherin by Martin McDonagh, which recently received huge acclaim at the Venice Film Festival. The Dublin-born actor will star alongside Irish actors Collin Farrell, Kerry Condon, and Barry Keoghan.
The film is scheduled to premiere just a few weeks after Gleeson's SNL debut on October 21. 
West Cork Commemorates the 100-Year Anniversary of Seven Free State Soldiers Killed in Landmine Blast
A wreath was laid on the memorial site of seven Irish Free State Soldiers who died in a landmine blast during a Civil War attack on September 16, 1922, in Carrigaphooca, Macroom, Co. Cork.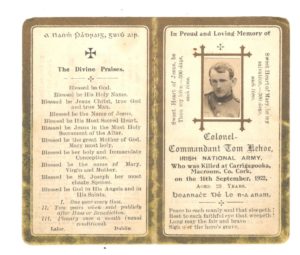 At the ceremony on September 22, Michael Creed, the Cork North West Fine Gael TD said, "It is important that we acknowledge the sacrifices made by our forefathers and these seven men in particular, who paid the ultimate sacrifice in laying their lives when laying down the foundation of the modern Irish state and it is a very solid foundation for which we should be eternally grateful,"
"It's also important to bear in mind the democratic imprimatur that they had in that work of laying down the foundations of the state that we enjoy today – the 1922 General Election where nearly 80pc of those who voted, voted for pro-Treaty parties," the TD added. 
The monument honoring Col Cmdt. Thomas Keogh, who fought in Jacob's Factory during the 1916 Easter Rising, Capt. Dan O'Brien, Sgt William Murphy, Pt Thomas Manning, Pt John O'Riordan, Pt Patrick O'Rourke, and Pt Ralph Conway stands on Ballyvourney Road just outside of Macroom. 
The landmine explosion at Carrigaphooca was the first majorly fatal use of landmines by the anti-treaty IRA and had the most casualties.