Irish American Writers & Artists (IAW&A) will return to an in-person event and welcome back members and friends to its annual Eugene O'Neill Award party on October 24th.
Larry Kirwan will receive the 2022 Lifetime Achievement Award at this gala event which will include live music and performances at the beautiful Skylight Room, upstairs at Rosie O'Grady's in the heart of Manhattan at 7th Avenue and 52nd Street.
Kirwan is an author, political activist, and Tony Award-nominated playwright (Paradise Square) who came to prominence as the leader of the Celtic rock band, Black 47 (1989-2014).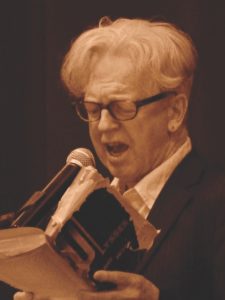 Kate Mulgrew, of Star Trek and Orange is the New Black fame, will present the award to Kirwan.
Founded in 2008, to highlight and encourages Irish Americans who are active in the arts, with online and in-person salons, IAW&A has become an important contributor to New York's Irish American art scene. It supports developing artists and writers, and in 2009, it inaugurated the annual Frank McCourt Award for high school students.
Kirwan joins such distinguished O'Neill Award recipients as Peter Quinn, Joanie Madden, Phil Donahue, Malachy McCourt, Patricia Harty, Pete Hamill, John Patrick Shanley, Judy Collins, Charlotte Moore and Ciarán O'Reilly of the Irish Repertory Theatre, Brian Dennehy, William Kennedy, and Kate Mulgrew.
In addition, live performances, hors d'oeuvres, a buffet dinner, and an open bar, will add to the festivities.
Included in the ticket price is a one-year membership in IAW&A.
For tickets go to O'Neill 2022 link on Eventbrite.
To purchase an ad in the event program email Anita Daly at anitadaly@yahoo.com.
Visit the IAW&A website to learn more about the organization and the upcoming Eugene O'Neill Lifetime Achievement Award.