I was born at home in Emmetsburg, Iowa in 1928. The doctor said, "You have a son!" My mother didn't know what to name me and the doctor said, "How about Roger? That's my father's name. It's a fine name."
Both my parents were Irish. Mother was born Mary Margaret Mahoney. My first memories involve living in the small town in the shadow of the Assumption Parish. We lived across the street from the property – a large Catholic church, a beautiful convent, rectory, baseball diamond and football field.
Mr. and Mrs. Mulroney lived on the East, and Patty and Marion Walsh lived on the West – they were brother and sister. Mrs. Mulroney's granddaughter was a beautiful red headed girl and a devout Catholic. She married a successful farmer.
Our town was about 3500 people at that time. There were Catholics on each side – the north and the south. The south was mostly Irish – Brennans, Murphys, Nearys, Fogartys, Milleas, and Crowleys.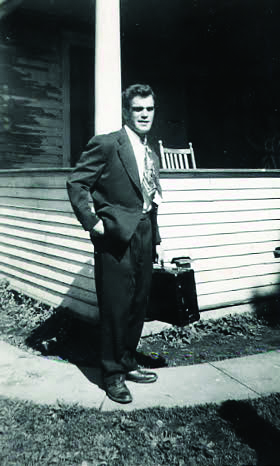 The Crowley sisters said of the 25 children in the neighborhood, I was the ugliest.
I had two older sisters, Mary Kay and Bets, two older brothers John (Jack) and Bill. Eventually I had nine sisters and three brothers. My father was a postal clerk, and he kept three cows and some pigs and chickens.
I used Jack's birthdate to get hired by the Chicago Milwaukee Pacific railroad as a gandy dancer, a guy that works on the track. They call him a gandy dancer because of the motion he made throwing gravel under the railroad ties. Bill and I both worked 60 hours a week. Employees made 56 cents an hour. You worked 10 hours a day for six days, with Sunday off. Overtime was paid on a daily basis.
I ran a machine that Bill couldn't run because he was smaller and lighter than I was. It was a tamping machine – it was brutal. It was used to pack the gravel the gandy dancers threw under the railroad ties. They'd only leave you on it for two 15-minute intervals with a 15-minute break in between. I got 60 cents an hour for that.
When we started out, we were living on the track. They had a couple of pullman cars sitting on the side rail. We were sleeping and eating on the cars. That was the first six weeks. Then the extra gang moved down the track to Emmetsburg, so we got to live at home.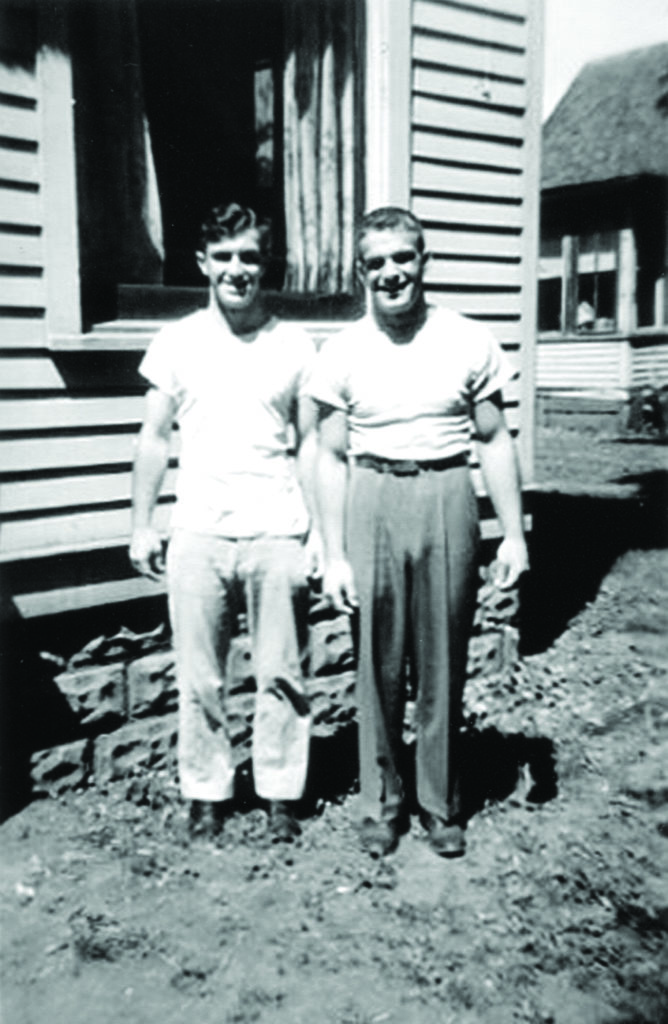 I tanned. I worked all day without a shirt, or a cap and I'd get brown. Bill would get covered in blisters 2 inches in diameter. But he was a good worker, and I can't remember him losing any time.
The end of the summer I'd work a few Saturdays. My folks were really hard up. They had a monster grocery bill. My father had a good job with the Postal Service, but he had 13 kids, so they ran up a big grocery bill at this Irish store, O'Brien's. And it was coming down to a lawsuit. I forget how much, it was under a thousand, but it was in the hundreds. My parents were about to get sued, but the railroad workers got a raise – it went up to 65 cents an hour – and it was retroactive, and it covered all the time that Bill and I were working that summer.
So, Bill and I each got a check that totaled almost a thousand dollars. And that settled the grocery bill. The younger children were never exposed to any of this, they didn't know what was going on. My brother Mike was six years younger than me, and I've never told him about it.
When I graduated from high school, I got a scholarship from Loras College in Dubuque, Iowa to play college football. I was never first string. I played guard in football. I played much better baseball – I was a 1st baseman.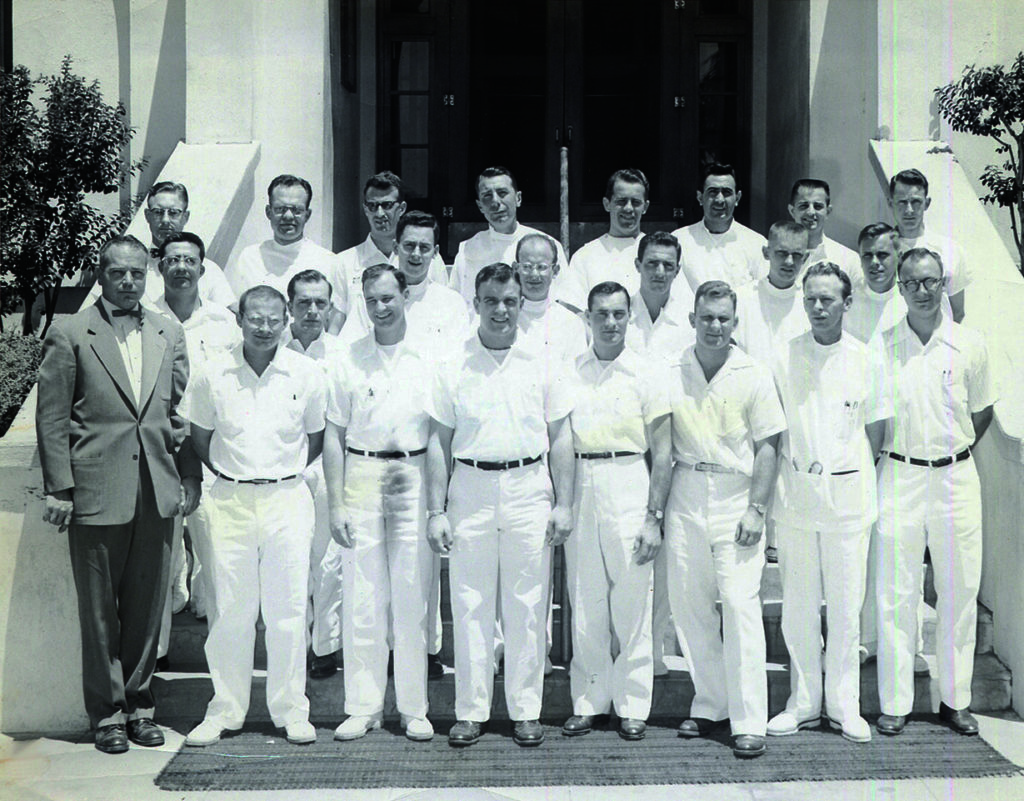 One of the greatest things that ever happened to me was, Joe Carpenter, who was in my sister Betty's class – I'll be damned if he didn't enroll in Dubuque. He was about 6'3." We nicknamed him "Fish" because he had these big hands. Whenever he shook hands, it was like shaking hands with a dead fish. He was so funny.
Dubuque was 265 miles from Emmetsburg. And this was before the interstate was built. I could damn near write a book about walking to Dubuque with Fish. We hitchhiked, many short rides through little towns. What adventures we had, walking back and forth together, coming home for Thanksgiving and Christmas, and going back after New Year's, all the snow and ice – such great adventures.
I played football for two years on a scholarship. I couldn't keep my grades up to get into medical school and play football at the same time. So, I quit football. I moved off campus and I found work in a dairy and worked long hours. The year I got into medical school they had more applications than they had ever had before. It was a miracle I got in. I had good grades, but there were a lot of guys that got straight A's. I didn't get in on the first round.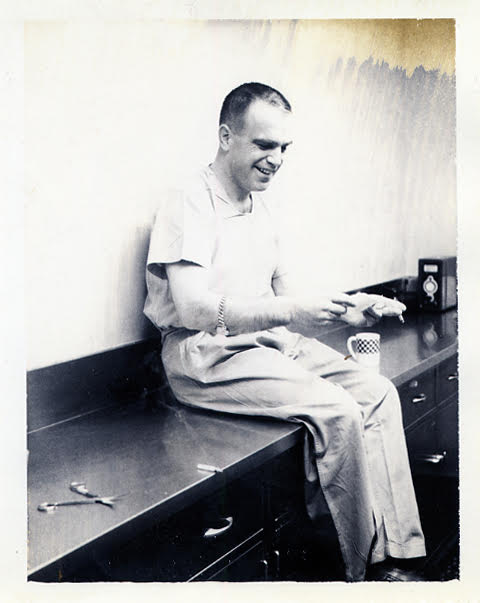 The summer of my junior year, 1949, I had a job sweeping streets, can you imagine that? I was home for lunch and my dad came home with a letter from the University of Iowa and I thought, here's my rejection letter. And I opened it and couldn't believe I'd been accepted – I'd gotten in! I was really choked up and told my father. I finally got across to him what this letter meant and he said, "Are you going to go?" And I thought, Jesus dad, we've been living together all these years and you don't know me.
I graduated from medical school in 1953 and went into the service. I did my internship in Fresno. I delivered countless babies. We used to say, "Having babies would seldom be done, if getting them started were not so much fun." During that time, there was a young couple whose son I delivered. They told me, "We're naming him after you!" So, if you ever meet a Roger Mallett in California, you know that he was named after me.
– By Dr. Roger Millea, who recently celebrated his 94th birthday, as told to his daughter, Holly.