by Tom Deignan
Northwell CEO Michael Dowling talks about leadership, the future of healthcare, and what immigrants can teach the rest of us
You could understand why someone like Michael Dowling – who grew up amidst extreme poverty in Limerick – might turn out to be a bit of a pessimist.
Especially if they also spent the last two-plus years weathering the grim storm of COVID, overseeing the largest health care operation in one of the hardest hit states.
But that's exactly why optimism is needed now more than ever, according to Dowling, President and CEO of Northwell Health.
"If you've never had a bad day, how would you ever know what a good day looks like?" Dowling wondered, when Irish America caught up with him recently.
Dowling attributes his optimism to his experiences as an immigrant.
"I think immigrants are, by nature, optimistic. It's inherent in their DNA. Nobody leaves one country, to move to another country, without being optimistic about it. No pessimist is ever going to do that."
Not that it's easy – especially in 2022. From the new reality of the post-pandemic health care landscape, to the cultural divisions paralyzing the nation's political system, Dowling's job has only gotten more challenging in recent years.
But he's earned widespread praise from both employees as well as industry observers.
"Personal hardships have informed Dowling's unique view of the world, along with decades of observing state governments' 'wars' against epidemics of AIDS, drugs and homelessness," the website Fierce Health Care noted recently.
"This has helped (Dowling) develop the resilience leaders need to put out fires and persevere through challenges – for instance, the roughly 350,000 COVID-19 patients he said Northwell Health has treated over the course of the pandemic."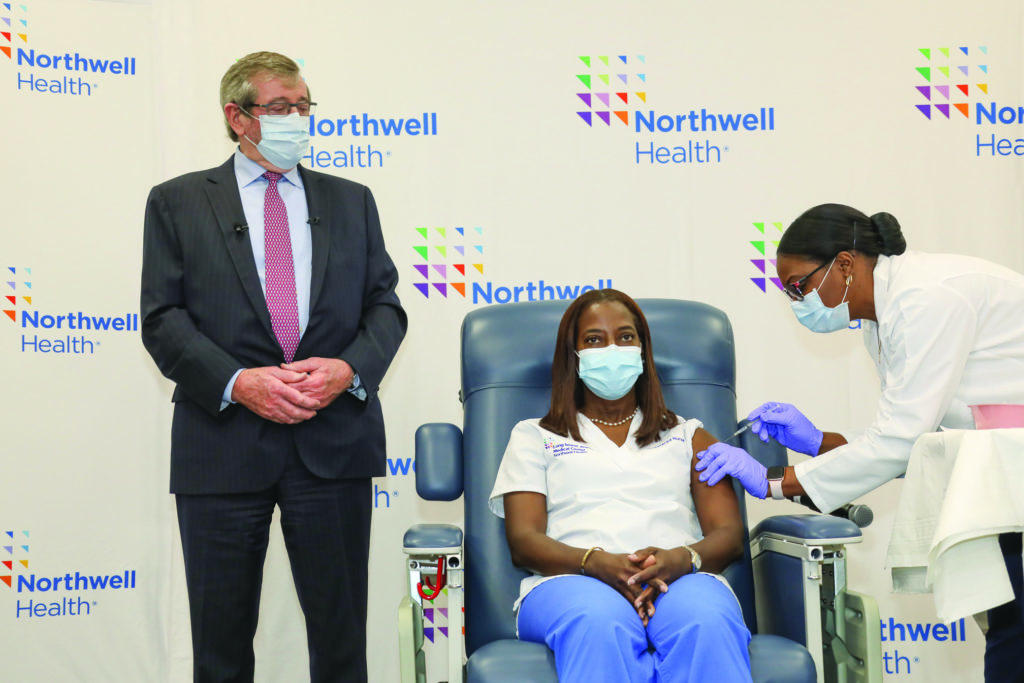 The "Lost Art of Compromise"
Recently, Dowling has been speaking out on the need for leaders to find common ground.
In a recent essay making the rounds among health care professionals, Dowling wrote: "We would all be well served to reintroduce ourselves to the art of compromise, for the good of our family relationships, for the good of our respective professions, for the good of our country and society in general, and even for the good of our own personal health."
Given the adversity of his youth in Knockaderry, as the oldest of five children – raised by two disabled parents, all of which was chronicled vividly in his 2020 memoir After the Roof Caved In: An Immigrant's Journey from Ireland to America – it's no surprise Dowling has developed a strong sense of perseverance and perspective.
"Nothing comes across as impossible for those who manage to escape the poverty they experienced as a kid."
Learning Experience
Dowling is glad to say that his day-to-day duties are no longer dictated by the COVID emergency that dominated the world, starting in the late winter of 2020.
"We're back in many ways to normal," he says, which means more time spent on long-term research and academics, covering crucial but complicated topics ranging from orthopedics to cancer.
But even the "normal" Dowling speaks of is not…normal.
"As difficult as it was, (COVID) was also a learning experience. It catapulted us forward, and we learned so many new things."
Perhaps the biggest – and fastest – change was the swift integration and acceptance of telemedicine. "For most people, this was the first time they interacted with a doctor or nurse using this technology," says Dowling.
"Nothing can replace face-to-face interaction, but telehealth is highly effective. During the pandemic, telemedicine enabled people who got sick to consult with their caregiver without coming into the doctor's office, and for those with chronic illnesses, provided a continuity of care that would otherwise not have been possible."
Then there are the various meetings, or other work responsibilities, that used to be performed exclusively in person, but can now be performed online.
"I happen to believe meetings are better in person," Dowling says, before adding: "But I'm on Zoom a lot."
Dowling believes the increasingly "hybrid future" of healthcare will improve both the quality and availability of services for average Americans.
For now, COVID remains a prominent presence in Dowling's work, in terms of preparing for future pandemics, which, Dowling says, "everyone pretty much agrees will happen. And when it does, we need to do better."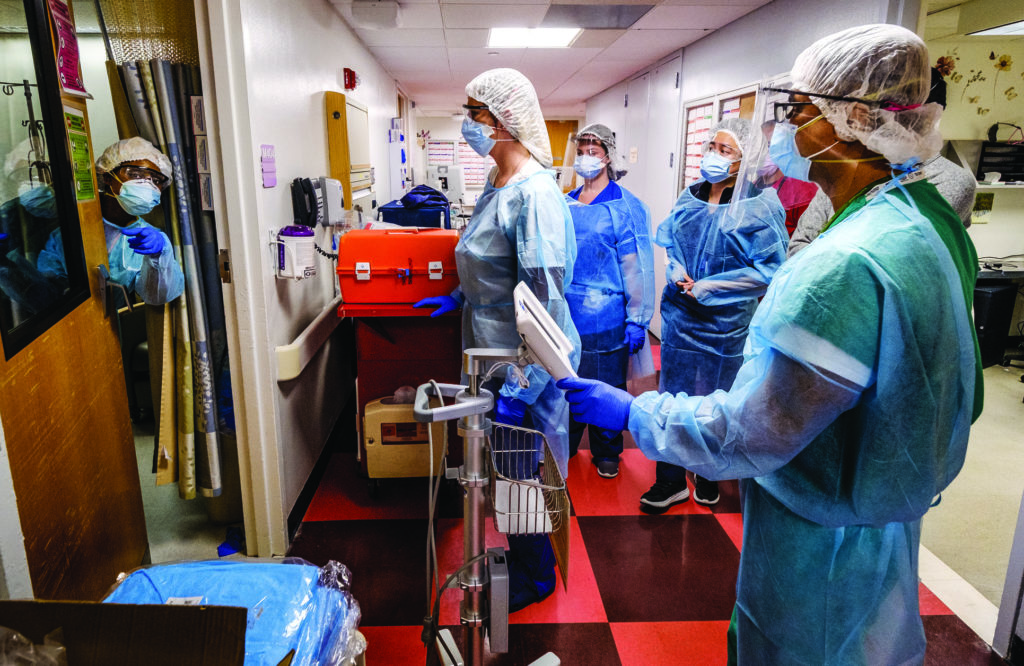 Healing Divisions
The skies get even darker when Dowling discusses the impact of politics on health care delivery. Much has been said about America's increasingly fierce culture wars. It might seem as if partisan warfare would not impact the nuts and bolts of patient care, or hospital operations.
But – as with so many things these days – it's actually hard to separate health care from politics.
"We've lost our sense of community and unity," Dowling says. And this is an area in which he has lots of experience.
Before joining Northwell Health, Dowling worked as the top health and human services advisor to New York Governor Mario Cuomo.
Disagreements were certainly heated and passionate back then, Dowling notes. "But we never made it personal," he adds. "And that goes for both sides."
After a long day spent fighting over issues and priorities, Dowling recalls, Republicans and Democrats could still socialize cordially in the evening – because they could still talk to each other like human beings.
"Today that doesn't happen at all."
All of this has a negative trickle-down effect.
If people can't get together in the same room, more meetings have to take place. When people do talk, they are less forthright and more guarded.
"And sometimes people focus on things that just don't matter a hell of a lot," Dowling adds. "I sit there sometimes and I wonder, 'Have I lost my mind?' I can't have a discussion with people about what's good for the community at large (because) we fall into these silos of partisanship."
Ultimately, Dowling says, it takes a lot longer to brainstorm and produce the kinds of potential solutions necessary to reach any kind of consensus.
"It's the people in the general community who get hurt the most," says Dowling.
A "Horrific Change"
No issue illustrates the consequences of hyper-partisanship in health care more starkly than abortion.
"[Northwell is] going to continue providing care to women consistent with the laws of New York. We have not changed any of our policies or procedures," he says, declaring himself "lucky" to be working in New York, where abortion remains legal at the state level.
Dowling sympathizes with other executives, running hospitals in states where abortion has recently been restricted severely.
"In other states, this is a horrific challenge," says Dowling, adding that emergency situations are going to arise when life and death decisions need to be made very quickly.
Dowling, for one, has a blunt prediction.
"People will die as a result of this decision."
Dowling takes a similarly forceful stand on the issue of gun violence.
"Every CEO in America should be standing up and defending the lives of children and adults threatened by guns," said Dowling. "But – again – because such stark lines have been drawn on this issue, few are willing to speak out."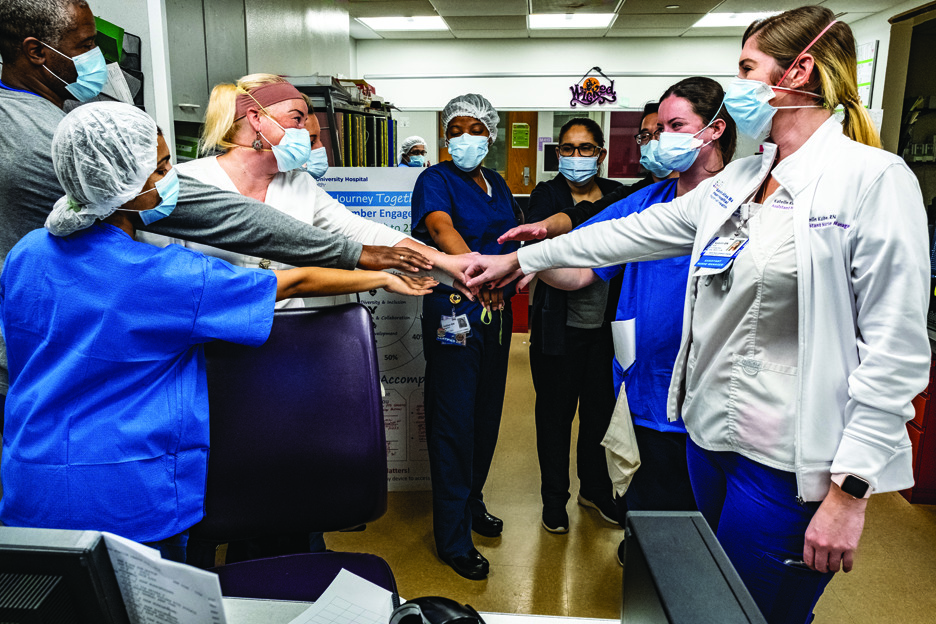 Flexibility and Teamwork
Ironically, it seems this nation of immigrants has lost another important attribute
"In order to do what immigrants need to do, you have to be flexible, adaptable," said Dowling. Too many – on too many issues – are unwilling to exhibit such flexibility.
Dowling also credits his days as a Gaelic hurling player with teaching him valuable lessons about "teamwork."
Looking ahead to the broader future of healthcare in the U.S., Dowling believes "innovation" is key. "We have the ability to vastly improve people's quality of life," he says, and he believes "access" and the "quality" of care delivered will continue to get better in the coming years. He also believes such improvements depend on "respect for the benefits of science."
Dowling adds: "Think about where we were 50 years ago. It's a completely different world from where we are today. And then, think about where we can be in 50 years. That all comes from the benefits of science."
As for leadership in any field these days, you should not be surprised to hear what Dowling says.
"You need a high degree of optimism. Leadership is about creating a better future for people. You can't do that as a pessimist. Leaders should be a beacon of hope, inspiring the people around them to improve the lives of others… Think of people like Mandela or Gandhi. MLK. FDR. Can we have someone like that again? Of course, we can."
Dowling adds: "But you can't sit around and wait for someone else to do something. You have to stand up and do it."