We have showcased some terrific honorees over the years, but none more inspiring than those medical professionals profiled in this issue.
The honorees on this list persevered through the toughest of times to provide the utmost care to patients in the most critical moments, and we are honored to recognize their work through the COVID-19 pandemic and beyond. They represent the best nurses and doctors who saved countless lives, researchers who provided insight into hard-to-treat illnesses, and hospital executives who made crucial decisions when needed.
We are especially pleased to have so many nurses on our list. They are the backbone of the healthcare system, providing 24/7 care for patients every day. And, we are happy to shine a light on the Northwell Nurse Choir whose performance on America's Got Talent was powerful. Singing out the words "I will fight for you," with passion and sincerity, they moved the audience to tears, and earned themselves a Golden Buzzer.
The choir includes two talented Irish-Americans, Lisa Kennedy and Winnie Mele, and we are thrilled to honor both in this issue.
Like so many of our healthcare honorees, diplomat Geraldine Byrne Nason, has devoted a great deal of energy to issues that affect humankind. Food shortages, climate change, education, and the challenges women and young girls face in developing countries, were all on her agenda as Ireland's Ambassador to the U.N. and during her time on the Security Council. She talks about these concerns in an interview I did with her this past July, just before she left for Washington, D.C., to take on the role as Ireland's Ambassador to the U.S.
It's human nature to put challenging times behind us but as we move forward and embrace the new normal, and hopefully, masks get put away in a drawer to be forgotten about, there are some things we shouldn't forget. My hope is that the stories in this issue will live forever as a reminder that bad times can bring out the best in people.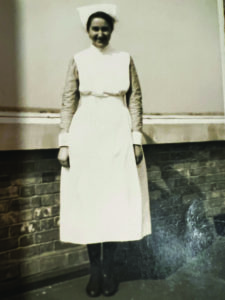 Peter Foley's photographs taken in the early days of the pandemic serve as a stark reminder of what was endured, should we be inclined to forget. One image is of a group of nurses from out of state – some of the 4,000 who came to join our own nurses on the frontline when New York was grappling with an unknown enemy in a medical war zone.
As we move forward let's hang on to our awe of nurses and the care and compassion they exhibited as the spotlight fades on the tremendous work that they did, and continue to do. Let's remember the kindness of strangers, the fortitude of essential workers, and let's never forget the scientists who worked long hours to come up with vaccines to take out the silent killer.
We dedicate this issue to the memory of Dr. Barbara Murphy Chair of Medicine at Mount Sinai, who gave the keynote address at one of our early Healthcare 50/Life Science events. Barbara passed away in 2021 from cancer. She was a wonderful doctor and a true friend. And on a personal note, I've replaced my usual (out-of-date) editor's photograph with a picture of my mother, Norah Egan. As a passionate healthcare worker, she was so disappointed when I chose not to become a nurse. During WWII she worked at St. Mary's Hospital London, and as kids, she told us about tending to wounded soldiers returning from Dunkirk. She also told us about the great scientist she met at St. Mary's – Alexander Fleming who discovered penicillin (when we were complaining that the bread was moldy.). She would have loved this issue, and would be thrilled to read all about our honorees. Thanks Mama. Bravo to all our honorees!
Mórtas Cine