Kirwan Honored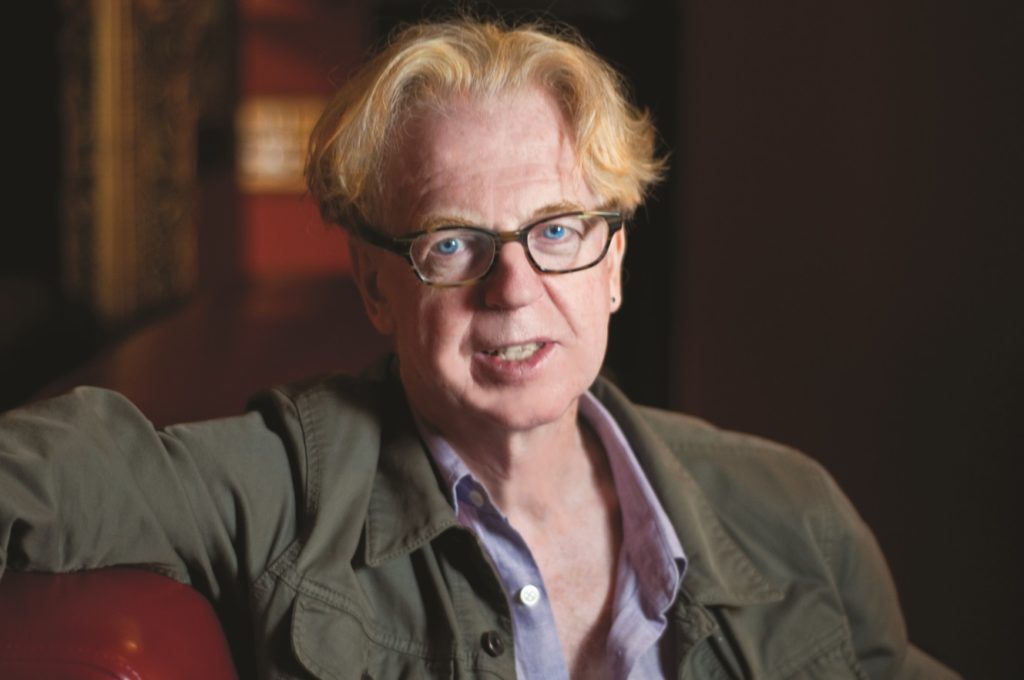 It was a big night for a true Irish renaissance man back in October when the Irish American Writers & Artists (IAW&A) group gathered at Rosie O'Grady's in Manhattan to celebrate Larry Kirwan – author, musician, activist, and more – as the winner of this year's Eugene O'Neill Lifetime Achievement Award.
"From the Bells of Hell bar to Broadway is no easy jump," IAW&A member and past winner Malachy McCourt quipped. "But Larry landed."
Most recently, Kirwan received a Tony nomination for helping to write the Broadway musical Paradise Square,  "which follows the frequenters of a Five Points neighborhood saloon in Manhattan during the American Civil War," as Playbill.com noted, adding that the musical story revolves around the saloon's African American owner, "a conflicted newly arrived Irish immigrant, a freedom seeker, and a once-great songwriter."
Kirwan, who was born in Wexford, and is a past president of the IAW&A, rose to fame as front man for the Irish band Black 47 which he formed in 1989 with Chris Byrne who was on hand to introduce Larry on the night.
"You could say I've been working on Paradise Square all my life," Kirwan told Irish America during a recent Zoom interview, covering his entire career. "My grandfather had a friend who left for the U.S. and he never heard from him again. He used to say, 'Ah, he must have gotten lost in the Five Points.' And I said to myself, 'The Five Points? What is that?'"
TJ English and All That Irish Jazz
Another Irish American who recently brought musical flair to storytelling is best-selling Westies author TJ English.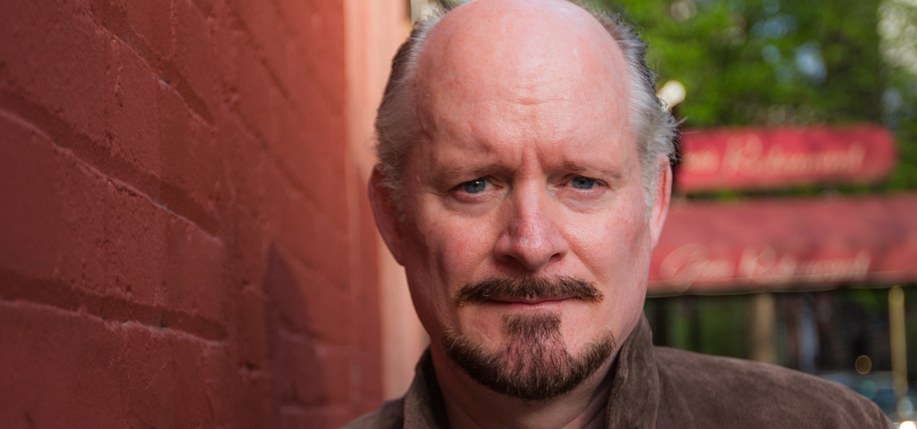 "I live in Greenwich Village," English told Irish America in a Zoom interview. "And I'm surrounded by a lot of great little jazz clubs. I've become a steady patron of those clubs, and I've become friendly with the owners of a couple of those clubs, so I had a first hand view of what they went through (during the COVID pandemic) to try to keep the clubs functioning. It was kind of a heroic effort."
English tells a similarly heroic – if more unseemly, at times – story in his latest book Dangerous Rhythms: Jazz and the Underworld.
The book examines the underworld roots of what many call the most American of art forms. In the immigrant wards of New Orleans, Irish and Italian immigrants worked with African Americans – not always on the friendliest terms – to provide venues for musicians, as well as entertainment for hard-working city dwellers.
A key player in the early days of Jazz was Thomas Anderson, son of immigrants from Ireland and Scotland.
"Anderson was a classic political boss of the late 19th century, into the early 20th century, and New Orleans had a political structure that was quite similar to the major cities of the East," English said. "Anderson was the leader of the political machine, and he became the impresario of the neighborhood of Storyville."
This was a vice district for gamblers and prostitutes.
"But music became a part of this. … Storyville was a legendary neighborhood, where jazz and the mobster element and the political element of the city all kind of came together. … In the book I follow that thread to Kansas City. And Chicago. And New York, and all these other places."
Over the years, English's books have sprawled from Southie to Cuba, though he always tends to bring it all back to the Irish immigrant experience.
One thing was different writing Dangerous Rhythms during the COVID pandemic.
"There was really nothing else to do for a long stretch of time. So I got a lot of writing done, and actually turned in this manuscript six months early – which is unheard of for me."
Bronx Cheer: Peter Quinn Launch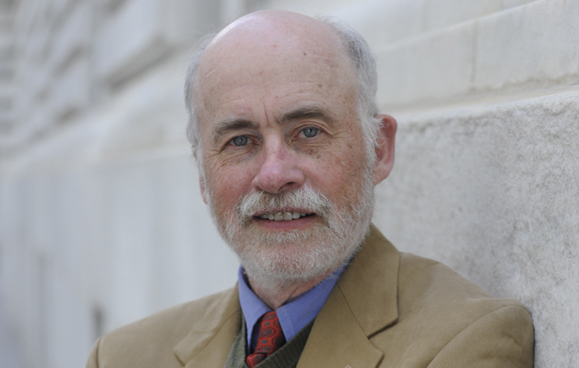 A who's who of the Irish literary world – including Colum McCann, Malachy McCourt and Dan Barry – braved a hard rain in November to take a trip to the Bronx by way of Manhattan's West Side.
The Irish Arts Center was the venue for a launch party in honor of Peter Quinn's memoir Cross Bronx: A Writing Life.
The book follows Quinn's birth and coming of age in the titular New York borough, taking the reader to Fordham University, and later, to a career as a speechwriter for Mario Cuomo and following that, a job at Time Warner.
Then things really get interesting. Quinn published one of the great Irish-American books in 1994, the historical novel Banished Children of Eve, which was recently re-released – along with his Fintan Dunne mystery trilogy – by Fordham University Press.
Quinn told Irish America during a recent Zoom chat that it was a rewarding experience to look back on Banished Children of Eve, which is set in New York City at the dawn of the Civil War.
"It took me ten years to finish that book," said Quinn. "It's been great to see the characters come alive in people's minds. That's what any writer wants."
In a foreword to Cross Bronx, Dan Barry, reporter and columnist for the New York Times, calls Quinn the "poet laureate of the New York Irish American experience," adding that "one moment he is placing the much-maligned Tammany Hall in proper context, and in the next he's examining how strands of the Irish famine are woven through Irish American DNA."
Writers on the Irish World
Peter Quinn guides us through one Irish neighborhood, there are two recent books that have also gotten lots of attention for examining Ireland's impact on the world.
First is On Every Tide: The Making and Unmaking of the Irish World, which was recently praised by another writer who knows a thing or two about the Irish in the world – Fintan O'Toole.
"The raw numbers do tell a grim demographic tale," O'Toole wrote in the New York Times Book Review, of Sean Connolly's epic story of Irish migration, and how they became a force in politics, religion and labor in the new world.
"In 1841, a census recorded Ireland's population as 8.2 million. In 2022, despite the global population having grown around eightfold since the 1800s, and even after a recent period of rapid population growth on the island, the figure for Ireland and Northern Ireland together is only seven million. … this decline really is exceptional. All the more so because, with the horrific exception of the potato famine of the 1840s, the Irish have not died in large numbers in wars or disasters. Rather, they have departed."
Calling Connolly's book "engaging and erudite" O'Toole adds: "For the countries into which this human tide washed, the Irish presence was unavoidable."
Connolly himself wrote about one dark aspect of these departed in The Washington Post.
"The deportations were part of a strict new policy introduced with strong support from the voting public. Sixteen immigrants were rounded up and sent 3,000 miles away to their country of origin. Five of them were women with an average age of 71. They complained – in vain – of the hardship of being forced to leave a country where they had lived for 40 years.
Although this story is depressingly familiar, it does not come from today's headlines.
The year was 1859, and the immigrants were Irish, dispatched from Boston to Liverpool and from there on to Ireland. They were victims of the Western world's first great immigration panic."
Meanwhile, celebrated Irish American journalist Timothy Egan recalled his Catholic School days writing about the hefty book Catholicism: A Global History from the French Revolution to Pope Francis, by Notre Dame professor John T. McGreevey.
"When I was a tween kid in salt-and-pepper corduroys at Assumption of the Blessed Virgin Mary school, the only thing I feared more than an authoritarian nun with a stiff ruler was the prospect of that class known as church history," writes Egan, whose previous book A Pilgrimage to Eternity was a personal exploration of faith.
Egan lauds McGreevey for doing "a remarkable job of explaining how the epic struggle between reformists and traditionalists has led us to the present moment in the Roman Catholic Church."
Egan admits, though, there are some things that simply can't be explained. "As the Irish Catholic comedian George Carlin noted, the priest who was supposed to have all the answers responded to a student's perplexed queries with the inevitable, 'Well, it's a mystery.'
View Tom Deignan's video interviews with Timothy Egan, TJ English, Larry Kirwan, and Peter Quinn on Irish America's YouTube page – @IrishAmerica
A New Chapter – Martin Scorsese: Revised
By Mary Gallagher
Just in time to mark the medium-defining director's 80th year comes the latest reprint of Martin Scorsese: A Journey. Released in its earliest form in 1991, the book is the work of Irish America's own Renaissance woman Mary Pat Kelly.
The new edition features Kelly's 2022 interview with the director, covering the aspects of his upbringing that made him the filmmaker he is, concepts that attract him to explore, and his latest films. Special attention is paid to Scorsese's newest offering, Killers of the Flower Moon, portraying the brutal slayings of Osage Nation members to seize land and oil rights.
Kelly's special connection to Scorsese has placed her in a unique position to conduct this ongoing study, indeed making her perhaps the one individual who could. Her request for a copy of one of his earliest films, It's Not Just You, Murray! to compare with James Joyce's short story "Grace" for her senior thesis set in motion a correspondence that became an in depth film studies course, conveying but not containing Scorsese's passion for his art.
In part biography, part film critique, and part collective tribute, Kelly conducts a developed but incisive character study of Scorsese. Testimonies include the director's parents (and occasional onscreen talent), screenwriters, performers (Robert DeNiro and Paul Newman not least among these), editors, and studio executives.
A seamless blend of criticism and behind the scenes commentary makes the narrative a brilliant example of Kelly's skill as a journalist, a fitting tribute to, in her words, a "priest of the imagination."
Martin Scorsese: A Journey (Revised) is published by Hachette Books and is available in paperback, e-book, and audiobook formats. Killers of the Flower Moon is due for a 2023 release. Mary Pat Kelly's musical Shirah of Bethlehem: A Christmas Cantata, performed by the Allegri Junior and Youth choirs, is running at The Playhouse in Derry; tickets are available at www.derryplayhouse.co.uk.