George Washington changed the world and saved democracy by defeating the British during the American War of Independence. The Irish role in the American Revolution, the war for the ages, has never been correctly reported. Because many of the Irish who fought were poor and illiterate and left no memoirs, their stories and role have never been told. Until now.
The Irish played a huge role in the American Revolution, not just on the battlefield but also in the field hospitals and in the framing of the Declaration of Independence. Learn the story of the famous spy Hercules Mulligan, who saved George Washington's life on two occasions and who was famously portrayed by Okieriete Onaodowan in Lin-Manuel Miranda's smash hit Hamilton. Discover the story of James Hoban, a carpenter from Ireland who Washington tasked with building the most famous residence in the world: the White House.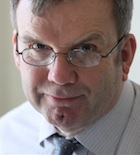 Niall O'Dowd, the author of Lincoln and the Irish and A New Ireland, takes readers on a journey into the unexplored contributions of the Irish in the American Revolution and behind the scenes of the relationships of some of those men and women with the first president of the United States. These unsung heroes of the American Revolution have never gotten their due, never had their story told, until now, in George Washington and the Irish. 
New York Times columnist Timothy Egan said in an advance review of the new book: "From the margins of American history to the makers of American history, Niall O'Dowd once again finds a gallery of largely lost sons and daughters of Erin who deserve their place in the founding story of a nation.
"Who knew that a painter from a debtor's prison in Dublin gave us the image of Washington on the dollar bill, or that a peasant's son from County Wexford was the founder of the American Navy?
"With this book, O'Dowd continues his remarkable reshaping of the story of the Irish in America."
George Washington and the Irish: Incredible Stories of the Irish Spies, Soldiers, and Workers Who Helped Free America is available for purchase from Amazon and Barnes and Noble.