AwakenHub Takes New York City for First Trade Mission to the U.S.
AwakenHub, the only cross-border social enterprise serving Irish women founders landed in New York City for its first trade mission to the United States on St. Brigid's Day, Feb 1st at the Bank of Ireland NYC Hub.
It was a remarkable two and half year trajectory from being founded on Zoom during the Covid lockdown to now introducing six AwakenHub entrepreneurs to an invited audience of investors, family offices, corporations, government agencies, friends, and allies.
The St. Brigid Day event also announced the formation of AwakenAngels, which will appeal directly to the Irish Diaspora to invest in AwakenHub's Irish women founders to build stronger communities in Ireland while also scaling their companies globally.
"We started AwakenHub first and foremost as five friends who wanted to leverage our combined professional networks for good. Our social impact mission is to remove barriers to investment, scale, and success for women founders across the island of Ireland and beyond," said Sinead Crowley, Director of Strategy and Operations, Community Builder, and Co-Founder, AwakenHub.
Founded in June 2020, AwakenHub provides a professional community to underserved women entrepreneurs throughout all of Ireland. With a mission to level up opportunity, access, and connectivity for women founders throughout the
Island of Ireland by removing barriers to investment, scale, and success. The organization's vision is a society where every founder's journey is equitable irrespective of gender. Now with nearly 3,000 members, and 82 companies accredited by its SheGenerate accelerator program, AwakenHub was ready to take New York City and outreach directly to the vast global Irish Business Diaspora.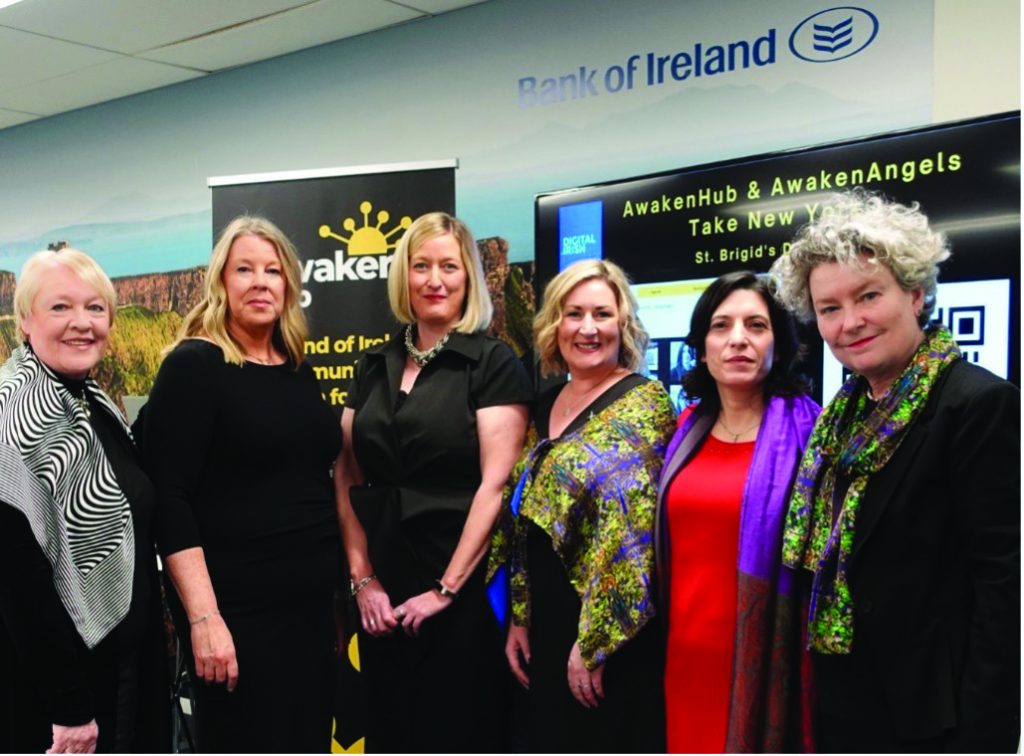 "In a post-COVID world, ambitious startups should be global from Day One. Our AwakenHub team recognized the importance of the U.S. Trade Mission to expanding the horizons of our selected six of our member companies who are closest to taking on investment or expanding their customer base into the U.S.," said Mary McKenna, expert advisor to the European Commission, Entrepreneur-in-Residence at the University of Oxford, and Co-Founder of AwakenHub.
"We are grateful for the support of our Global Diaspora Ambassador, Mary Ann Pierce, her team at MAP Digital, and the support of Invest NI Americas, Digital Irish, and the Irish Consul General,  Helena Nolan, and her wonderful team at the Irish Consulate Office in New York." After the success of our first Trade Mission to the U.S., AwakenHub is planning for future trade missions to San Francisco, Boston, and Chicago, as well as hosting AwakenAngels funding "tea" salons in the near future.
AwakenHub is also fundraising for its operating budget from Irish government agencies as well as from foundations, corporations, and private donors. "We have been so successful in growing AwakenHub as a bootstrap with the founders volunteering their time. However, the time has come to secure funding to institutionalize AwakenHub. Relying on the pro-bono donation of our time and expertise is not sustainable," says Clare McGee, Director & Co-Founder of Innovate-NI and Co-Founder, AwakenHub.
Investment into women-led businesses globally still sits at only two percent and Ireland continues to lag behind this. AwakenAngels has a unique opportunity to disrupt these statistics and drive a real change in awareness and mindset in relation to the investment landscape for women across the island. Indeed, its initial market validation activities have proven a demand for our unique model of syndication for women.
"As we honor the 25th anniversary of the Good Friday Agreement from my hometown of Derry and throughout the island," said Clare McGee, "supporting women-run companies from both sides of the border not only ensures gender equality and economic sustainability but strengthens the peace process with prosperity for all.  This is the mission of AwakenHub and AwakenAngels to invest in women to build a better and more equitable Ireland and world."
Each AwakenHub company pitched to perfection and delivered sharp and targeted "asks" to the audience. They all realized significant inbound interest and spent the week in New York attending funding meetings. "I spoke to another successful founder who attended, and he said he was also so impressed with the event and the startups! Well done everyone," offered Fiona McEntee, Immigration Attorney, McEntee Law Group.
Andrea Haughian, Executive Vice President, Head of Americas Invest Northern Ireland summed it up.
"It was an exceptional week celebrating extraordinary women. AwakenHub took New York!"
In addition to the AwakenHub founders the New York Trade Mission was supported by AwakenHub Big Sisters: Louise O'Conor, Founding Partner, Beta Digital, Co-Founder, Ireland Together and Enterprise Ireland Mentor, Gillian McColgan, CTO, Hilco IP Merchant Banking, LLC and "honorary Big Sister" John Ferris, Ulster Bank, Deal Maker, Department for International Trade (DIT) and ThePower Business School. John provided AwakenHub with its first grant. Also participating in AwakenHub's Trade Mission were other AwakenHub companies and recent SheGenerates graduates.
Tony Dunne, who heads the Bank of Ireland in the U.S., tweeted:  "What an amazing atmosphere in Bank of Ireland NYC Hub last night; delighted to play our small part to support the brilliant AwakenHub. Well done to all the presenters on the night."
The Presenters
A game-changing technology that uses AI, Machine Learning, and Computer Vision to reduce the manual effort transitionally involved in Video Analysis.
An LED wall that can show any background. Shoot worlds that do not exist or locations that are incapable of visiting. Tremendous cost saving and gateway to Metaverse activations.
Aflo™ uses AI, sensors, and hyper-personalized data to control life-threatening symptoms for people with asthma, COPD, and cystic fibrosis. aflo™ is to improve the management of respiratory conditions for patients and clinicians, saving lives, reducing costs, and improving outcomes.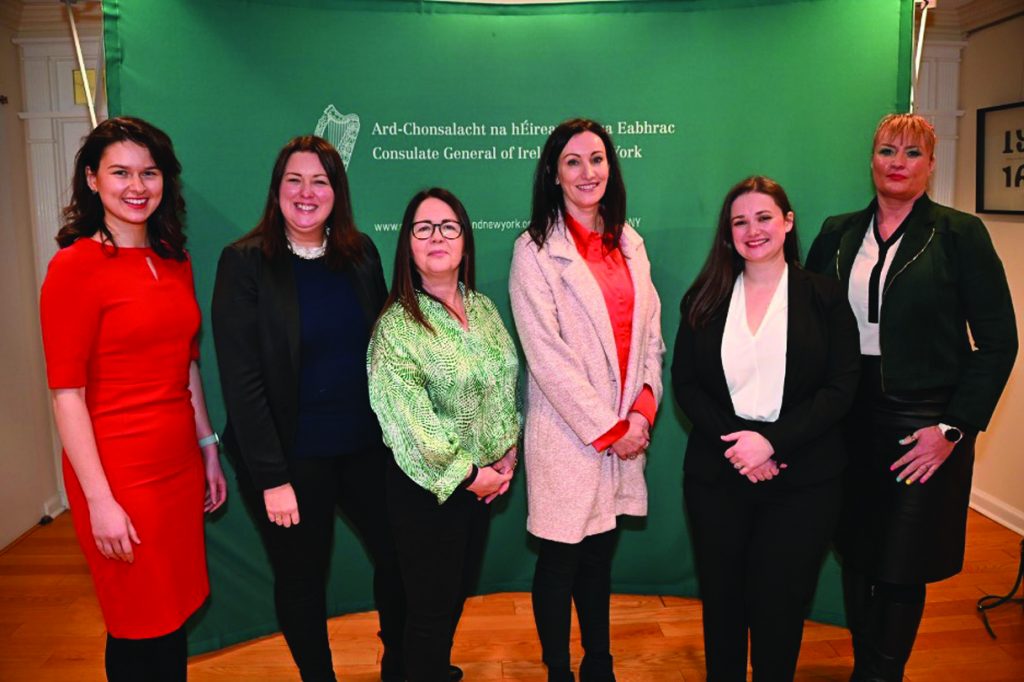 Avril Power, giyst, Cork
Innovative summarization technology that produces automated, edited video summaries using AI and Machine Learning, drives 4 times more content discovery and maximizes audience retention by at least 40 percent.
Stimulus-responsive oxygen-generating nanoparticles for enhanced treatment of cancer.
Naomi McGregor, Movetru, Down, Belfast
Wearable technology and cutting-edge data analysis that eradicates preventable injury and reduces ACL recovery time for elite athletes.