If political power can be judged by how an individual influences society and changes its laws, then there's an arguable case for British defense lawyer Michael Mansfield being one of the most powerful figures on the British stage today.
The list of trials and inquiries in which he has played a major role reads like a legal history of the last 20 years, including successfully overturning the convictions of the Birmingham Six and the Guildford Four (who had served 17 and 15 years respectively for IRA bombings they did not commit) and his now high-profile involvement in the Bloody Sunday Inquiry in Derry, an investigation into the 1972 British Army shootings of 14 unarmed civilians. (See Last Word from this issue).
Mansfield is one of the few British lawyers who could measure up to the titans of the U.S. legal scene, where superstar lawyers attract the kind of following rarely seen this side of the Atlantic. He generates devotion on the left of the political spectrum, particularly amongst the Irish, and loathing from the British right wing.
His special passion for cases in which people's human rights have allegedly been breached in the British courts, however, is not restricted to Irish-related cases and extends into other areas of discrimination.
He defended a black youth accused of murdering a London police officer in what became known as the "Broadwater Farm" case (named after the housing project in which the murder took place) and was also centrally involved in the "Stephen Lawrence Inquiry" which focused on racism in Britain's largest police force.
In the Lawrence case, Mansfield's work with both Irish and black people dovetails. He draws close parallels between the London Metropolitan police force's mishandling of the murder of a young black man by white racists, with the murder of a Catholic Irishman in Portadown, allegedly within sight of four members of the Royal Ulster Constabulary (police).
For Mansfield, the "McPherson Report" into the Stephen Lawrence case has been particularly significant in that he believes it could change the course of race relations in Britain, and how the British police deal with racial minorities.
As a lawyer representing several families of the Bloody Sunday dead, he is now living four days a week in Derry, a town he likes for its "vibrancy" and because he can walk everywhere (in London, Mansfield cycles to work).
It's here that Irish America caught up with him, at dinner in the city's new Trinity Hotel, not far from the Guildhall, where the Inquiry sits, and a short distance from his temporary home, on the top floor of a friend's house overlooking the River Foyle.
His fondness for Derry, established over many years, has deepened in the months he has spent here, which is good, as the Inquiry is expected to last at least another two years.
Giving one reason for his affection for Derry, Mansfield explains how, in March last year on the first day of the Bloody Sunday Inquiry, he stood outside his hotel front door, breathing in the cool Derry air. As he began to shoulder three heavy bags full of legal documents to the Inquiry, a stranger sauntered up to him, smiled, wished him a good morning and, without another word, lifted up the cases and walked off. Mansfield followed.
"He carried them to the Guildhall, set them down inside, said `Good luck' and then disappeared. I hadn't seen him before or since."
Inside the Inquiry, as in every other courtroom, there's intense interest whenever Mansfield stands up to make a point. One observer says, "In the afternoons, when people sometimes get sleepy, you notice them stirring in their seats and perking up as soon as he gets to his feet."
He has always had a special interest in Ireland and appeared last year at the inquest into the Omagh bombing that killed 29 people.
At that time, he and other lawyers who queried the effectiveness of the RUC response to the bomb warnings were criticized for appearing to try to "shift blame" from the Real IRA bombers onto the police. There were mutterings of disquiet inside the inquest itself, and some British newspapers criticized this line of questioning.
Mansfield says he was aware of this view, but says that some of the families who were worried changed their minds later, realizing the questions had to be asked to get as close to the truth as possible.
It was, for example, revealed during the inquest that RUC officers working on the day of the Omagh bombing had no real training in procedures to clear the town, arguably contributing to the channeling of the victims towards, rather than away from, the car bomb.
"If I had been the child or parent of one of those killed in Omagh, I would have wanted those questions asked. I would need to know. The families couldn't ask those questions themselves, so I asked them."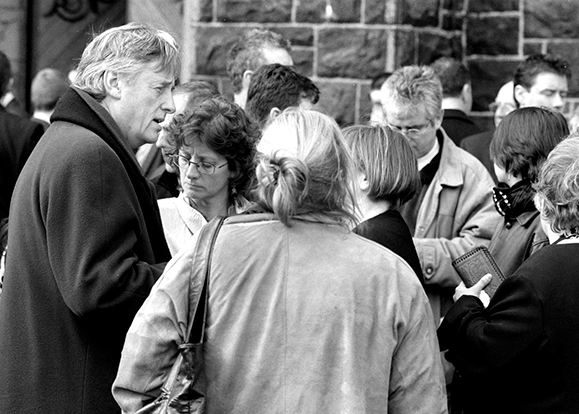 Mansfield himself, of course, like everyone else who attended the inquest, found it a grueling experience. "Before the case began, we were shown the video footage of what Omagh was like in the minutes after the bombing.
"They were moments of sheer horror, but as a lawyer I had to work my way through that feeling because I couldn't have appeared in court in front of the shocked families and broken down myself."
What about the newspaper reports suggesting his line of questioning was shifting the blame? "I don't read reviews," he answers curtly. One senses an intense dislike of an increasingly illiberal British press.
As the foremost British defense lawyer of his day, his time is in huge demand and, alongside the Inquiry in Derry, he is also working in London defending the man accused of murdering BBC Crimewatch presenter Jill Dando.
Mansfield was born to middle-class parents in the comfortable, if ordinary, north London suburb of Finchley (whose MP, Margaret Thatcher, probably epitomizes most of Mansfield's instinctive dislikes).
Ironically, it was in Finchley that Mansfield, now the archetypal butt of many a policeman's ire, first felt the stirrings of an interest in the law.
"My parents were both law-abiding Conservatives. One day, while we were out shopping in our old Ford Anglia, a police officer gave my mother a ticket for parking too close to a pedestrian crossing.
"The evidence wasn't true and my mother was incensed. When the case came to court, she decided to defend herself. My father, whose leg was shot off during the war, and who never got out of the car, had been there when it happened.
"When he stumbled into the courtroom on one leg and said it was untrue, she won the case.
"Ever afterwards, whenever she saw a policeman, she would say, `There goes one of those "bluebottles." Don't let them land on you. If that is what they are capable of doing to me, a Conservative, what about the rest of the population?'
"I was a child at the time, but I was also angry at what the policeman had tried to do to my mother. That feeling stayed with me. A long time later, when a very senior police officer asked me why I had taken to the law, I told him this story. He commented that the officer who had tried to give my mother the parking ticket all that time ago had a lot to answer for!"
Another influence on him, at this early age, was the American. television series The Defenders, starring Edward G. Robinson, which chronicled the exploits of a father and son law firm, "I became hooked," he says.
"All the cases in the show exemplified one aspect of the law or another. The important thing was that the father and son team did not always win. The show wasn't about winning, it was about the law. I told my own father that was what I wanted to do with my life, but he just said I was mad."
Mansfield attended a boarding school, Highgate, where he and other pupils were the sons of the better-off, before applying to Keele University. He was turned down.
His response was to travel by train to Keele, in northern England, confront the admissions tutor in his own home, and demand to be admitted to the University.
The tutor was initially taken aback, but after consulting colleagues he re-interviewed Mansfield and eventually said, `OK, you're in.' Mansfield, who had brought a toothbrush and pajamas along, stayed overnight with the tutor and began his studies at Keele the following day.
University life began with Mansfield studying philosophy under a disciplinarian professor who told him, from day one, he would "never make it." This, however, merely served to galvanize the young student and the infuriated professor was eventually forced to make an announcement: "I hate to have to tell you this, but you came first."
At Keele, Mansfield began his first forays into political life, standing as a Labour candidate in student union elections. "I began to enjoy public speaking. It was an exciting time to be a student politician. I liked the sense that you could make a difference."
He also became an amateur inventor, dreaming up, amongst other things, a fork that also cut like a knife, an umbrella that opened electronically and a bed that lifted its occupant up in the morning to begin the day.
By this time, however, he had decided to pursue a legal career. His academic record at Keele was not maintained and he failed his law exams four times before eventually scraping through.
By then he was aged 33, married with a young son, and hankering to leave Britain for Australia and a new life. Everything was arranged when, on the eve of departure, he was offered a job in a top law firm.
After a lot of agonizing, he accepted. "Part of me always regretted not leaving for Australia – my youngest son is there now," but he stayed in Britain and his legal career took off.
His first high-profile case was defending one of the "Angry Brigade," a group of anarchists accused of conspiracy to cause explosions. In 1973, he defended sisters Dolours and Marian Price, accused of involvement in the IRA bombing of the Old Bailey, home to London's Central Criminal Court.
Ironically, Mansfield's own car was wrecked in the bombing. "At the time there was a rail strike and restrictions had been lifted, allowing commuters to park on streets where it was usually banned. My car's doors were blown off."
After towing his car back home to Highgate, a policeman came to his door in the middle of the night to inform him that he had "terrible news, sir, but your car's been vandalized."
He studied Irish politics at school, but in his conversations with the Price sisters, he developed a deeper interest. "Here were two young women who explained what they had done against a background of being denied their civil rights. It was an eye-opener."
Since then, there has hardly been a case in Britain involving Irish defendants that Mansfield has not been involved in, making him the best-known British lawyer in Ireland with an unrivaled stature amongst those who believe that human rights has to be at the heart of the peace process.
Controversy follows Mansfield slavishly but he shows little or no sign of concern. Supremely confident in the value of his work, and shrugging off right-wing criticism as one might an irritating gnat, he looks set to continue to confront the British legal establishment for many years to come. ♦