It's an unseasonably balmy October night a little ever a month since the tragedy of September 11 and a well-heeled crowd has gathered at the trendy Park restaurant in Manhattan for a benefit organized by Denis Leary's Firefighter's Foundation to raise money for the families of the 343 firefighters who lost their lives on that terrible day.
To the backdrop of Celtic tunes played by the Mount Kisco Scottish Pipe and Drum Band, handsome firemen in their dress blue uniforms mingle with celebrities, including James Gandolfini and the cast of The Sopranos, Liam Neeson, Robert de Niro, Harrison Ford, Penny Marshall, Richard Gere, Julianne Moore and Jon Stewart. Waiters float around with Cosmopolitans and platters of fried calamari and chicken satay, and giggly girlfriends take turns snapping photos of each other with hunky firemen. The World Trade Center disaster is never far from anyone's thoughts but this night is a chance for New York's Bravest to get their minds off the horrors they now face on a daily basis, particularly the daunting task of searching for their brothers, fathers, friends in that still-smoldering mass of rubble known as Ground Zero. In keeping with the festive spirit, actress Patti D'Arbanville, wife of New York City firefighter Terry Quinn and event co-coordinator, even ran a "Kiss a Fireman" booth. There were many takers.
"We're looking to bring a smile to their faces and raise a lot of money in one shot," says actor/comic Denis Leary, 43, who started The Leary Firefighters Foundation a year ago when six firefighters including his cousin were killed on the job in his hometown of Worcester, Massachusetts. Just a few weeks prior to this event he hosted a charity hockey game in that city (attended by Michael J. Fox, Conan O'Brien and former Boston Bruins) and as the enormity of the loss of life in Manhattan began to sink in he knew he had to take action. "A lot of the New York guys came up to our event in Worcester. It was the first time they had taken a break since September 11 and it really gave them a boost to have a few days where they were just laughing and enjoying themselves. So we're looking to do the same thing here." When he takes the stage, he tells the audience, "Please open your wallets, be nice to the firemen, say hello. Let's show them a good time. If I had a pair of tits, I'd be showing them tonight!" The crowd goes wild. The revelry continues when Nathan Lane and Matthew Broderick belt out a number from the musical Oklahoma!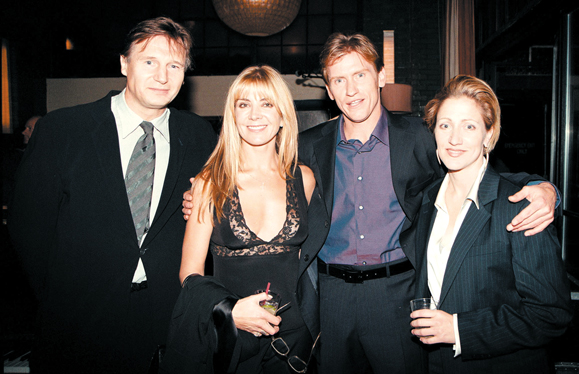 The mood turns somber when an emotional Steve Buscemi, a former firefighter with Engine Company 25, begins a heartbreaking eulogy to his many slain friends but can't be heard above the din. James Gandolfini suddenly grabs the mike. "Will you please shut up?" he yells. "Can you please just be quiet for five minutes? Let's remember why we are here." With that the room falls silent. And not just because it's Tony Soprano. Reminders of exactly why we are here are scattered throughout the room — crayon drawings by children of the fallen firefighters depicting the burning buildings and their hero dads running into them (some 1,000 kids will grow up without their fathers). The main event, a live auction of items like tickets to The Producers, a Derek Jeter jersey, and a signed guitar from Sting, were scooped up in record time. Amid joy and sorrow, an estimated $325,000 was raised for the foundation.
"No matter how much we make it's just a drop in the bucket compared with what we are going to need," says Leary, as he loosens his tie. It's a few days before the Park event and we are on the set of his ABC show The Job, a comedy about a street-smart New York City detective named Mike McNeil. In addition to playing the lead role, Leary co-created the series (filmed in locations around the city and in a Long Island City studio) and co-writes it with Peter Tollan. He is dressed in a charcoal gray suit with a light gray shirt and silvery tie with blue flecks which bring out the color of his intense blue eyes. Though his schedule is incredibly busy, he has agreed to sit down with Irish America because he is so passionate about his cause and eager to get the word out. "One of the things I wanted to make certain when I formed the foundation was that the money would go directly into the hands of the firefighters and their families. It's one of the troubling aspects of watching this money float in that, due to the nature of the beast, not all of it is going to make it where it's meant to go. Our immediate goal is to get as much money in their hands as possible — each of these 343 families will receive an individual check. The long-range goal is to get them better pay and better equipment."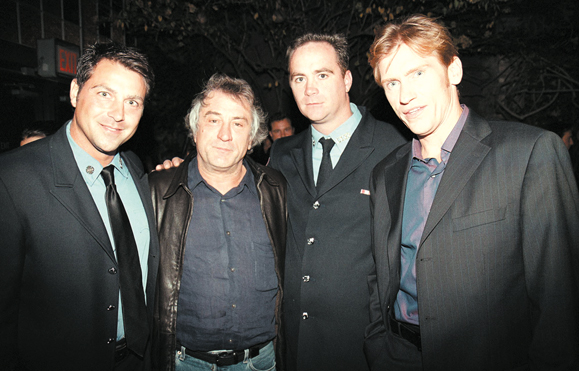 He pauses to light a Marlboro Light.
"Firefighters don't get paid much to begin with. Their starting salary is $32,000 a year before taxes. People don't realize that almost every single one of those guys has a second and third job. My cousin worked in construction and carpentry, a lot of them are electricians. I'd like to see them in a position where this job is all they have to worry about and not about feeding their kids and paying their mortgages," he says "Everyone is talking about how great they were and how much they admire them, but not one politician — and I spoke to Senator Kerry about this when he was at the event in Worcester — not one politician has stepped forward and said `Hey, don't you think that maybe we should pay these guys a little more?' I mean, we're sending $320 million in federal aid to Afghanistan. These guys have been at the bottom of the totem pole from day one…we're going to make the noise for them."
His eyes are as focused as laser beams. If Denis Leary was determined before September 11, now he's truly a man on a mission. Like the rest of the city and, indeed, the world, he was shocked and stunned by what happened on that clear September morning. "I was on my way to play hockey at Chelsea Piers with a friend. We turned a corner and saw the smoke and thought, `What the fuck is that?' We didn't know it was a plane that hit the second building, we thought it just looked like an explosion. We stood in the median in the middle of the West Side Highway, watching both buildings burn. The fire trucks and ambulances were racing past us. We got stuck down there for several hours because they turned the Chelsea Piers rink into a triage center. Once the buildings collapsed, all hell broke loose. The phones weren't working so I couldn't get through to anybody. It was only on Wednesday that we were able to find out who was missing and who was not. Two firefighters that I knew were gone, and Ace Bailey, a former Boston Bruin and now a scout for the L.A. Kings, was on the second plane. For Terry and Patti it was 60 guys gone, including the godfather of one of their kids. It's just astonishing."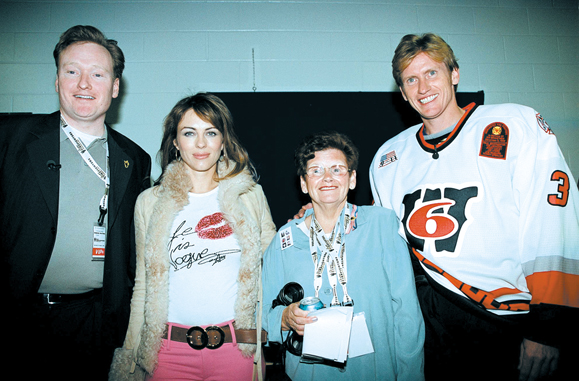 I ask if he's been to Ground Zero. "Yeah, I did go, early on. A couple of guys that I knew were down there digging. It's not a pretty place. It's a big celebrity thing now to go down there. I would tell people, be happy if you don't have to go down there. The smell alone is terrible. It's mind-boggling when you think about the magnitude of it all. This is the biggest and best fire department in the world. You ask any firefighter from anywhere in the country, they talk about New York. They talk about the training these guys have and the experience these guys have. The last thing they want to worry about is their paycheck. If my celebrity can open doors and help raise money, then that is what it should be used for."
As a child growing up in an Irish-Catholic family in working-class Worcester, Leary probably never imagined that he'd ever be in a position to give back in such a positive way, but community and family have always been a constant in his life. His mother, Nora, a homemaker, and father, John, who worked a series of blue-collar jobs to support Denis and his three siblings, always made sure that family came first. "My parents were always around, and if they weren't around because of work, you were stuck in your cousin's house. It was one of those neighborhoods where everybody knows everybody, so there was always someone watching you and you couldn't get away with anything. One of my uncles was on the police force. It was ridiculous. If you got caught you'd prefer to be held in jail than go home, it was the worst beating you could get," he says with a smile.
As in so many Irish families, humor was a way of dealing with tough times in the Leary household. "My father was a really funny guy. Sarcastically funny and just funny in general. We grew up laughing at adversity and laughing at people in the family. It was just always there. If you did something stupid it was going to be brought back over and over again, the most embarrassing moments." In addition to his knack for comedy, Denis was also a gifted writer and possessed a strong stage presence. "I was a really bad student. I wanted to be a professional hockey player. Luckily, I stumbled upon theater. Some nun stuck me in a play in grammar school. I met girls and I was like, wow! She saw something in me and thank God she did because I'd be screwed right now if she hadn't. She knew some people at Emerson College in Boston, so she set up an audition for me. Her name was Sr. Rosemary Sullivan; she died just this past summer. She was an extraordinary person. She saved my life." He takes another drag of his cigarette.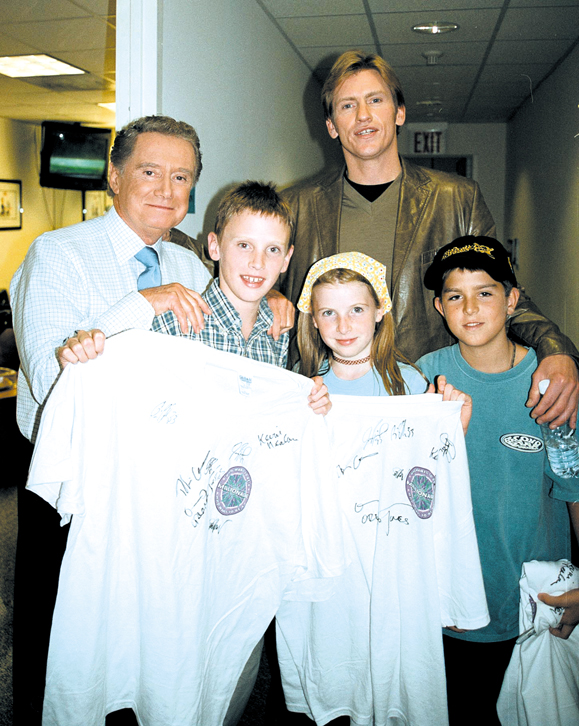 "Denis, we're ready for you now."
I turn to find an assistant director, who looks all of 25, summoning Denis to the fictional precinct room to do a few scenes. He disappears for a half hour, and when he returns he has ditched the suit for a more casual short-sleeved cream button-up shirt and slacks. You can't help noticing that he is taller and leaner than you expect, and that rugged Irish charm and no-bull-shit attitude that comes across on screen is much more potent in person. It's that gruff disposition — well, he's lightened up a bit from the days when he chewed out anyone who didn't smoke five packs a day, drink whisky and eat red meat — that helped propel Leary to stardom. In 1992, his hilarious one-man show No Cure for Cancer (which he says came from "family experiences and my observations and my take on things") introduced his singular brand of comedy to New York audiences, and his career has been on the rise ever since. Film credits include The Ref, Wag the Dog, Demolition Man, and The Thomas Crown Affair with two more on the way — Final with Hope Davis in December and Double Whammy with Elizabeth Hurley in February. Though he would love to do another comedy special for HBO (Lock `n' Load followed No Cure), his main focus right now is The Job which begin its second season in January.
"I developed this series for my production company, Apostle, based on the true life of a friend of mine who is a detective named Mike Charles, but when Peter and I got the script together I thought to myself, this is going be a great character. I would be an idiot to let someone else play it. Plus, all the actors are so good it's easy to write for them. It's really been a dream job." He also says that he prefers television to feature films because he has more control over the product. "On location, you may not like the people you're working with and you're stuck under somebody else's vision. For any actor, eight out of ten films you make are going to suck and I don't want to be stuck in Toronto or Utah for three months. I don't like being away from New York."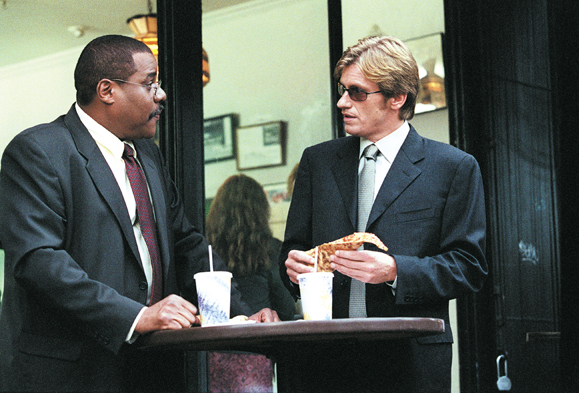 Though he is from Massachusetts he considers himself a New Yorker at heart and keeps an apartment on the Upper West Side. He also has a farm in Connecticut where his wife, screenwriter Ann Lembeck, and his two children Jack, 12, and Devon, 10, reside. "I am pretty much an East Coast person. New York, Boston, London and Pads is pretty much all I need," he says. And, of course, Ireland. "I am strongly connected to my Irish roots. My mother and father grew up on adjoining farms outside Killarney which is now one big farm. Anywhere you go in that area of Kerry up to the Dingle Peninsula are Learys, O'Sullivans, Burkes — all part of the same clan. Even when we didn't have any money, we found a way to scrabble something together to get everybody over there. Now, I try to get back there as often as possible with my kids. This past summer I took them and a bunch of my nieces and nephews over there and just let them run around like maniacs. They'd go into Killarney at night as a gang with the big ones in charge of the little ones, just like I used to do with my cousins. Twenty of us would just about raid the town, we'd eat, drink, meet girls, the whole nine yards. It's important to me that my kids know their family in Ireland."
It's unlikely he'll be taking any extended trips in the near future. Leary's workload for the show is intense. A typical day of shooting can last up to 15 hours, which doesn't leave time for much else — except for the occasional hockey game at Chelsea Piers with buddies like Scott Wolf, Michael J. Fox and Tim Robbins. But you can be sure that he will continue to work with The Leary Firefighters Foundation. No doubt, the many men he is helping are thankful to have such a staunch supporter in Denis Leary. I ask if he has ever considered running for political office. "I am passionate about it but that's not my job. This is my job," he says as he motions with his hands to the cameras and the lights. "But as I said in Massachusetts and as I will say in New York and say every time I run into a politician of note, I will tell him our message — that our aim is to get firefighters more money on every front. He can tell us it's not going to happen but we're not going to take no for an answer."
Now, just who are you going to put your money on? ♦