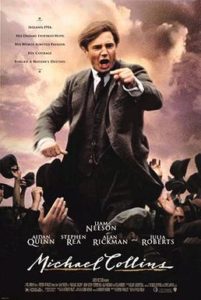 Though an event in Clonakilty, Co. Cork on Thursday, August 22 was a salute to the tamed Irish patriot Michael Collins, Liam Neeson was the star of the show as hundreds of fans turned out to meet and greet the Co. Antrim-born star.
Neeson traveled from New York to attend the ceremony in which a seven-foot high statue of Collins, in full military regalia, was unveiled in the statesman's hometown. Neeson, of course, brilliantly portrayed Collins in the 1996 Neil Jordan movie Michael Collins, which also starred Julia Roberts and Aidan Quinn.
The actor jumped at the invitation to speak at the ceremony, and his connection to Collins has clearly lasted well beyond the film. "It means everything to be here," Neeson told those gathered in the town center. "It was the greatest professional experience of my life to play him (Collins) on film. I feel a deep connection to him."
That's high praise indeed from a man who's earned stellar praise for so much of his work, including a Best Actor Oscar nomination for Schindler's List in 1994 and a Tony nod this year for The Crucible. Though his K-19 Widowmaker summer offering with Harrison Ford bombed big-time at the box office, the 50-year-old Neeson is still as busy as ever and has several projects in the pipeline, including one with his wife Natasha Richardson.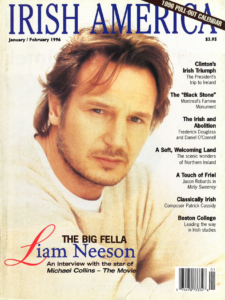 But out of all the characters, he's played, his heart belongs to Michael Collins. "It took us 12 years to put that film together and I'm very proud of it," he says.
Neeson also told the locals to keep spreading the Collins gospel. "The people here have put in a fantastic effort and I feel an affinity with them," he said. "It is important to bring Michael Collins out into the light. He was a remarkable man."
Collins was killed 80 years ago in an ambush. The Clonakilty folk are hoping that the bronze statue will become a major tourist attraction. With Neeson's seal of approval, it's certainly off to a good start.
Liam Neeson graced the January/February 1996 issue of Irish America and in his interview with Mary Pat Kelly he spoke about playing Michael Collins. ♦