In memory of her brother David, who died of of MS related causes, Honora Harty flew from San Francisco to Dublin to join a group of MS Ireland walkers embarking on the Camino de Santiago (the Way of St. James), the ancient pilgrimage route. The walkers picked up the trail in Estella in northeast Spain and walked to the Cathedral of Santiago de Compostela in Galicia on the west coast.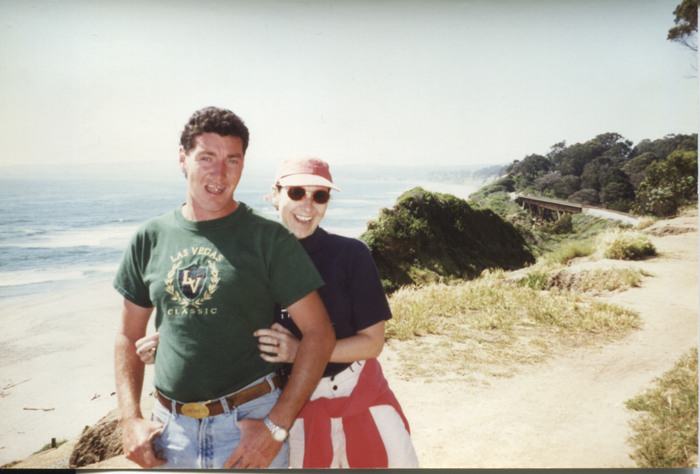 I land in Dublin at 7 a.m. on the first of June, having left San Francisco the morning before. After 13 hours in the air, I am tired but awake with memories of my brother David, young and alive – as he will always be for me – and in whose memory I am making this trip.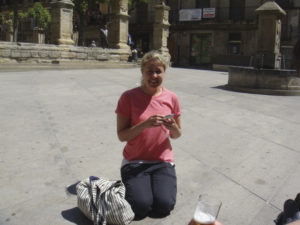 I walk through the airport, weary from lack of sleep. But with each sighting of a red tee shirt bearing the MS Ireland logo (by 10:00 a.m., there would be 30 of us), I'm energized. The first to greet me is Caitriona Hughes with whom I'd corresponded over the last two months. She gives me the kind of warm, familiar hug one gets from someone they've never met, but somehow knows. We're members of the same tribe. Kindred spirits. We all board a plane to Spain, each with our own hopes and anxieties about the trip ahead.
I hope that my training over the past six weeks – walking up to eight miles a day – will get me through this roughly 200km journey and that my six-month-old hip replacement will hold up.
We're met at Bilbao airport by our trusted and wonderful coach driver Gustavo. Straight from the get-go, he looks out for us – a wise, gentle shepherd watching over his flock. It's a good feeling.
At our hotel in Puente La Reina, I take a quick shower and taste the local vino blanco (coffee aside) while getting to know the group by name.
I instantly warm to my roomy Marie Therese Wall – with her head of red hair and quirky sense of humor. She's a bath girl while I favor the shower, and she always lets me go first and says it's okay for me to grab the bed by the window.
To bed, then early up at seven for breakfast and on the road by eight, which will become our morning routine for the next ten days.
On day one of the walk we take turns telling our stories as to why we're walking the Camino. Not one of the 30 aspirations is the same – to each his own. Yet everyone is a lesson in life and a step closer to where we're going; towards something that has meaning.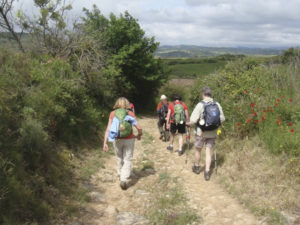 As we leave the town of Puente La Reina we pass over a Romanesque bridge and continue for a time on what was an old Roman road. I contemplate the history of the Camino and the thousands of pilgrims over the centuries, each carrying their own dreams and sorrows, who walked this way before me.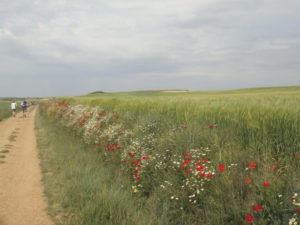 Each day we begin anew, trekking different terrain. Today, surrounded by open fields of red poppies; tomorrow something else. Some days the paths are all climbing; others, an endless descent. But boy, the view from the top of these mountains is just beautiful, and if I may say, not unlike Ireland.
Most days we walk through small villages, sometimes stopping for coffee and having our pilgrim passports stamped; always enjoying the locals and other peregrinos (pilgrims). We meet so many people from all over the globe that the world seems small and undivided.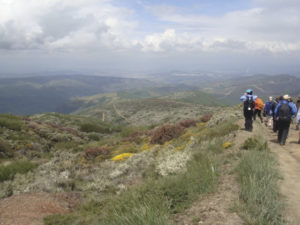 Lunch is always a welcome treat. After coming off a mountain or through a forest or pasture, our bus is waiting for us. Gustavo, Ruth, and Gabriel who have walked many a Camino and made many a hike with MS Ireland, look after us on the trek, always armed with some local delicacy to try, and ready to bandage a blister or massage a cramping foot.
One day after hiking through a beautiful forest we came upon a plaque dated 1936 when the Spanish Civil War was raging. At this spot, mass graves have recently been discovered and are still being excavated. It was here that Franco ordered the killing of hundreds of loyalists young and old. I shivered to imagine. And chided myself for not knowing more about this period.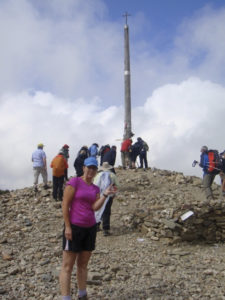 On the day we walked to Cruce De Ferro (the iron cross), the highest point on the Camino, it was raining, but as the ancient cross came into sight the clouds cleared to a bright blue sky. We had been told to bring a stone that could be left at the cross – it's a long tradition since medieval times when pilgrims after traveling through the mountains would leave a stone in thanks and pray for safe passage and protection on the rest of their journey.
There are different stories about what the stone is meant to represent, but the general one is that it represents burdens from your past that you have been carrying. Or you can place a stone in memory of someone.
I took the small stone from my backpack and went to lay it at the cross. Smooth and cool, it weighted my hand. I could feel my brother with me, hear him whisper, "Good on you, Sis. Don't cry."
But of course, I did.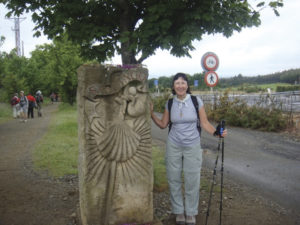 I had a moment then when I thought I had lost my backpack. After looking around frantically for a couple of minutes, I realized that it was still on my back, but it felt weightless now. I suppose it was some physical manifestation of a psychological burden laid down. I felt lighter in my heart too. I was letting go of my grief over David's death after years of living with progressive MS, and remembering our good times together, especially when we were part of the 'four young ones' in our family of 13.
The final leg of the trek into Santiago de Compostela is bittersweet. We are anxious to get to the cathedral and finish our journey, but we are not ready to say goodbye to new friends.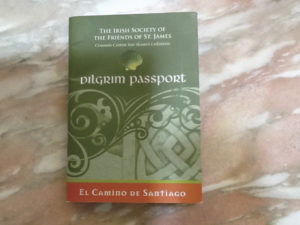 We walk towards the Cathedral of St. James as a group singing: "We're on the one road/ sharing the one load/ We're on the road to God knows where. …" A street artist playing the bagpipes picks up our tune and walks along with us. What an entrance we make into the square where our earth angels Gabriel, Ruth, Caitriona, and Gustavo have bottles of champagne chilled and waiting.
On our last night, to celebrate at a Galician restaurant where after what feels like endless courses of local fish and other delicacies, we each receive a certificate of completion and get our pilgrim passport stamped.
And so it is that I raise a glass to my fellow pilgrims and give thanks to friends and family who donated to MS Ireland and encouraged me along the way.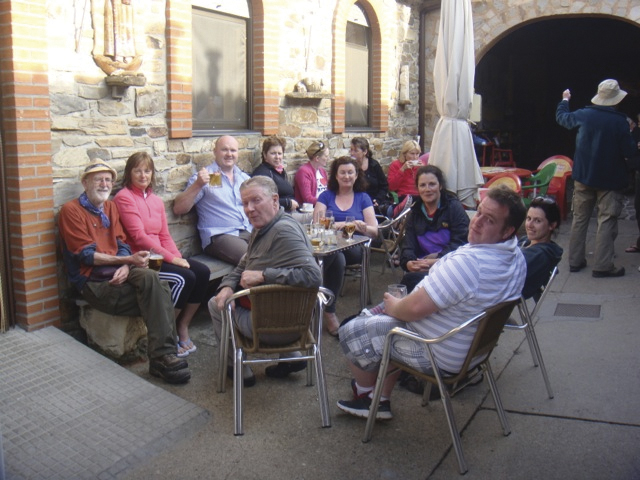 For more on MS Ireland see www.ms-society.ie
All photos provided by Honora Harty