A sampling of quotes from men interviewed in Irish America over the past 30 years on the impact that their Irish mothers had on their lives.
Hotelier John FitzPatrick
"Dad was very successful but he wouldn't have been a success without Mum. She was a great mother but she also helped him with the business. Where did I learn about interior design? I used to follow Mum around the hotel."
– Interview by Patricia Harty, April / May 2010
---
Seamus Heaney
"My mother was very strong – very unruffable, steady on the emotional keel, righteous and majestic and vulnerable. Her McCann family were terrific, they had the volubility of protest – they were democrats. My father had a different kind of majesty, the country farmer's silence and hauteur. My mother had an unbending thing, which she shared with women of that generation, a child a year in eight, nine, ten years. The giving-birth factor involved, I suppose, a willful adherence to the compensations of Catholicism – the cult of the suffering mother of Jesus, the cult of the suffering Jesus, and the cult of St. Anne, the mother of Mary. These were actual real psychic resources for sublimation in the lives of women. In particular, for ones who were going through, without much consolation or understanding, the solitude and exhaustion of childbirth and child-rearing and the biological entrapment of being in a place with no birth control. Nowadays, I remember that affirmative bold outcry of prayers from women in church as a cry of rage and defiance. My mother wouldn't have put it that way – she would have seen it as a form of transport and endurance."
– Interview by Patricia Harty, April / May 1996
---
General Martin E. Dempsey
"My mother cried when I told her I really didn't want to go to West Point. So I went."
– Profile by Adam Farley, April / May 2016
---
Michael Dowling, President and CEO of Northwell Health
"Even though we didn't have much, my mother always made books available. I grew up reading Shakespeare, and the American author Zane Grey whom I loved. . . . My father never really understood it [my desire for education], but my mother did. She was a very strong model. She was big into education even though she had no education herself. She always wanted you to not let your current circumstances limit your potential. You had the potential to do what you aspired to, to aim high. You might not get completely there, but you will go a distance. I still talk to people about that."
– Interview by Sheila Langan, December / January 2014
---
Noah Galloway
"My mom is this little woman with white hair and you see her and you're like 'what a sweet little lady,' but she has this side to her that she's very direct and you think 'I'm not going to cross this woman.'
"When I was in the hospital and kind of depressed my mom said, "I've got to go back to Alabama. I'm not doing you any good, I'm helping you too much; you have to do more for yourself.'"
– Interview by Patricia Harty, June / July 2015. Sergeant Noah Galloway lost his left arm and his left leg in a roadside bombing in Iraq in 2005. In May, 2015 he placed 3rd on ABC's Dancing With the Stars.
---
Garret FitzGerald, McNeil Professor in Translational Medicine and Therapeutics at the University of Pennsylvania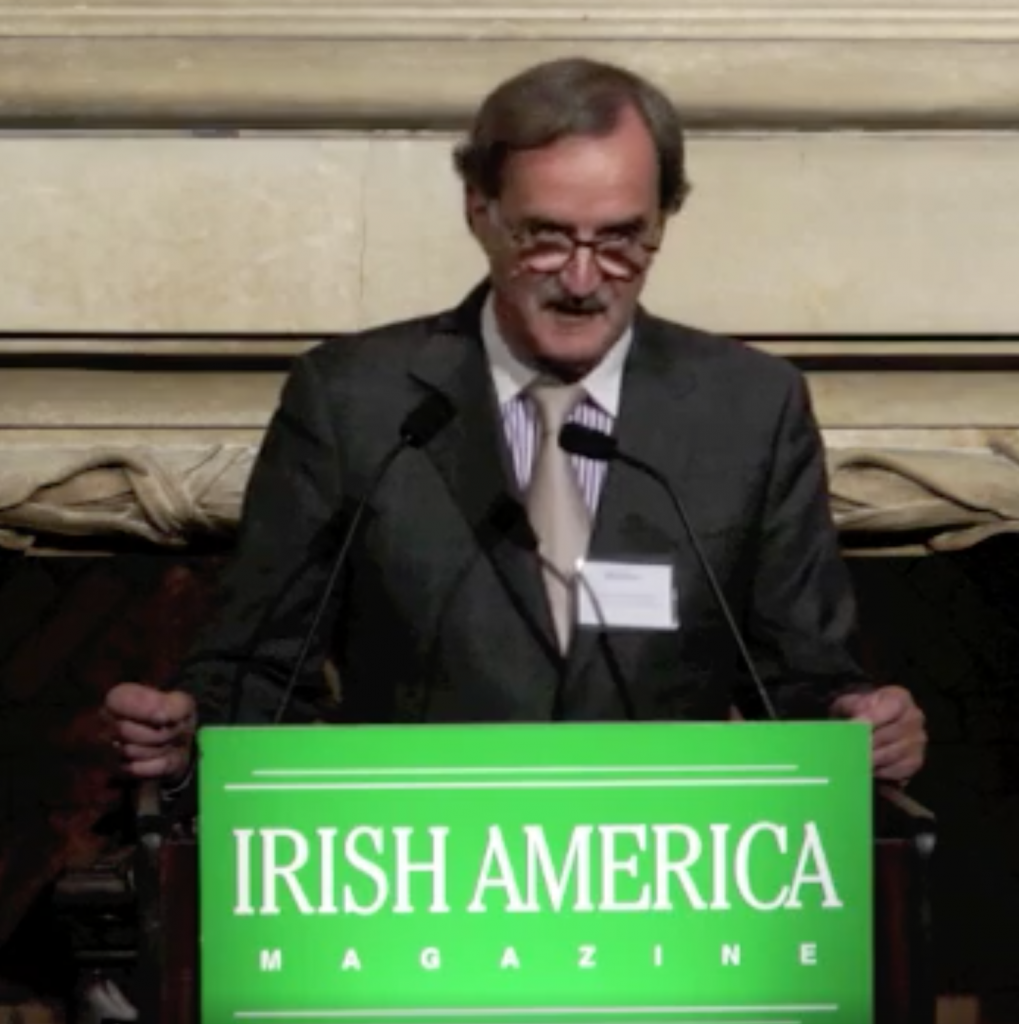 "My mother devoted herself totally and selflessly to me and my dad. She was a tender, loving mom. I have been so lucky to have had her. Whatever work ethic I have, I got from her. She worked from early morning to late at night in the La Touche hotel where I grew up. Never given a salary; it was the Ireland of unfairness of its time."
– Conversation with Patricia Harty, May 2019
---
Jack Welch, the former GE chairman and CEO
"She was a smart, into-everything woman who I was born late in life to. I was an only child. She was my best friend. So if things didn't go right I'd talk to her about them, talk to her about my girlfriends, talk to her about everything. She was my buddy, my manager, and my critic. She was everything. She taught me to play to win, but know how to lose. Although she was never short of whacking me one if she thought I was too strict with my kids or something, she was always right there. She was fantastic."
– Interview by Patricia Harty, October / November 2002
---
Bill Murray
"My mother used to call and say, 'Bill, we really need a new boiler.' Just for the hell of it, I'd say, 'Don't spend a lot of money, just shop around and get a bargain.' I'd say stuff like that purely for the devilment of it. I finally got her an American Express card. The first year she bought a tow when the car broke down. The second year she went out to dinner on her birthday. The third year she rented a condo in Florida for the winter and took a couple of cousins and friends, and last year she went to China. So she's figured it out."
– Interview by Tom English, November 1988
---
Kevin Kline
"It was really my mother – she was the drama queen, very outspoken very reactive, a complete character for the occasion, every occasion…. She was a very powerful woman. She was very nurturing and loving but she could also be angry and tormented. That was the Irish in her."
– Interview by Marlin Cole Lownes, December / January 2001
---
Pat Conroy
Responding to a question about writing in his mother's voice: "Yes, my mother was a great reader. My mother was a great force behind my writing. My mother was a great storyteller who made sure that we knew the stories of the family. My mother was a great creator of legend, and a liar, and everything else you need to be a writer. I think mom was more Irish than dad. Her family came over early from Ireland and went to the Appalachian Hills. Her background was extraordinarily poor."
– Interview with Patricia Harty, September / October 1995
---
Vice President Joe Biden
On being inducted in to the Irish America Hall of Fame: "My mother's creed is the American creed: No one is better than you. Everyone is your equal, and everyone is equal to you."
– March 2013
---
Pete Hamill
"I think the key thing in my life was my mother, because my father, whom I loved, was much more an Ulster man in his inability to express certain emotions. But my mother was better educated. She's finished high school, which was a triumph for any woman in those days, but for a Catholic woman in Belfast it was amazing. And because her father had gone to sea, she understood that there was a wider world out there, which is why she loved New York when she got here.
"She loved it because of its difference. And because of the way she was. I had that sense that everything was possible. It wasn't absurd to say, 'I want to be a painter.' It was kind of nutty to my father. He thought that once I got that job in the Brooklyn Navy Yard, a civil service job, I should stay there for life. But she thought that the whole point of this place was that you were not a prisoner of what your father or your grandfather did."
– Interview by Patricia Harty, February / March 2002
---
Supreme Court Justice William Brennan
"I wish I could do justice to her. Mother was just absolutely extraordinary, really. She was a sweet, caring woman, fending off my dad when he got upset with something we were doing. She would protect us."
– Interview by Seán Ó Murchú, June 1990
---
George Carlin
"[My mother] was very verbal, very funny, and she had a quick mind. She was the one who loved the dictionary. If I ever asked her about a word, she'd say, 'Let's go look it up.' And she talked to me about all the great Irish writers, about their gifts with the language. She would tell me about Oscar Wilde and George Bernard Shaw and Yeats and Beckett."
– Interview by T.J. English, June / July 2006
---
Martin Sheen
"She was so feisty, so cocky. I learned all the Irish songs from her. We were all kind of suspicious why she left Ireland. She had an education, she spoke Gaelic, she went to Dublin to study. They came from a poor village but they had a pub. My brother Manuel was born above the family pub, Phelan's on Mill Street in Borrisonkane, Co. Tipperary."
– Interview by Tom Dunphy, September 2000
---
Michael Fassbender
"My mother loved cinema and introduced me to many films and actors, which made me want to pursue this profession. I have her to thank for that."
– Interview by Patricia Danaher, August / September 2012 ♦