A profile of Bridget H. Murray, my mother.
---
Bridget Harriet Collier filled the world with many things since she came into it on Tuesday, September 9, 1924: humor, kindness, love. Perhaps the only thing she was short on was complaints about the hardships she faced while raising her family. It's why her birthday remains a day of celebration and remembrance among the Murray clan she built, 95 years later and counting.
Bridget (called Bridie) was raised in Corofin, County Galway, Ireland, by her grandparents, her aunt Nora, and her uncle Paddy.
She was the daughter of Henry Raymond Collier and his wife, Delia (née Murphy). The cottage where she was raised had a thatched roof, and the cooking was done over an open hearth. The outside was neatly whitewashed, and beside it grew the obligatory rosebush. About a mile and a bit up the road was the Ballinasloe Railway Station that was made famous in the movie The Quiet Man.
Bridie worked on the farm, as everyone in her family did. She would milk the cows, feed the chickens, turn the spuds, and perform whatever tasks she was assigned. Friday nights, in the warm weather, there would be a big fire with singing and dancing down at the crossroads. On Sunday, there was Mass at Saint Colman's Church, and the world stood still until the Masses were done.
She also attended the Catholic school at Saint Colman's, where the expression "spare the rod and spoil the child" was taken to heart. Bridie – my mother – would later recall how the schoolmaster repeatedly struck her hand with a rod for some minor transgression. When she went home, she tried to hide her blood-striped hand from her grandfather. When he saw her hand, he took young Bridie to see the schoolmaster and told him, "If you ever touch my granddaughter again, I'll kill you." The schoolmaster never reprimanded her again. Bridie never forgot her grandfather's lesson, and years later, when she had me and my siblings, she would tell the nuns at Saint Jude's elementary school in Manhattan that if there was ever a problem with her kids, "Best to let me know, and I will discipline them."
My mother was a gentle and easygoing woman, but God help anyone laying a hand on any of her nine children – except, of course, her. She took the responsibility of discipline very seriously and could throw a shoe better than any New York Yankee pitcher, bypassing eight of her children and hitting exactly the one she thought was the deserving target of a good wallop. Consequently, she prepared us for life lessons by repeatedly offering to give us something to cry about if we cried about the well-deserved wallop. I don't ever remember anyone taking her up on her offer.
If anyone said anything about her family, she would become a lioness protecting her cubs. I once told my mother how my boss berated me. My mother told me, "Get him on the phone. I'm going to give him a piece of my mind. How dare he speak to you that way!" (She actually said it a little more colorfully, which was atypical for her.)
As a girl, Bridie took many trips on her beloved old bicycle – often for no other reason than to explore. She would ride the 3 miles from her home into Tuam, or even 15 miles to Galway City. When I visited Ireland with her many years later, I didn't believe she actually rode to Galway City and back, but her aunt Nora and friend Julia confirmed this. It was in Corofin, on those Friday nights, that a young Bridie got her passion for Irish music and dance. Later, I could always count on my mother at any party to instruct me in having them turn off whatever music they were playing and put on some "real music," which I always knew to mean Irish music. My sister Donna would always be my mom's dance partner, while my mom instructed me to look after my father because she insisted he had two left feet.
To hear Bridie tell it, her childhood was idyllic – as beautiful as any picture of Ireland in stories or films. No one had much of anything, but for her, it nevertheless remained a wonderful time full of fond memories. Years later, around Christmastime, she would smile as she shared the story of how her grandfather would get her a banana or an orange for Christmas Day, and that would be the greatest gift ever.
Nevertheless, Bridie left her beloved Ireland in 1938, when she boarded the RMS Samaria and made her way to New York, where her mother, Delia Grey, was waiting. It was a difficult journey across the Atlantic for those who weren't traveling first-class – even more so for her, as she was unaccompanied. She would later recall being grateful that an older African American woman had befriended her and would sit with her for meals. Although this attracted many a stare from fellow passengers, my mother paid them no mind and always spoke of how kind this elderly woman was to her. Bridie Collier, a 13-year-old girl who before then had never gone farther than Galway City on her beat-up bicycle, traveling alone to America – it is amazing to think about. (We tried to find the woman in later years, but without knowing her full name, it was nearly impossible. God bless her for befriending and comforting my mom on her long and lonely journey far from home.) When the Samaria reached New York, Delia Grey met her homesick teenage daughter at the dock. Together they traveled up to Washington Heights, where they lived for a while before moving to Inwood in northern Manhattan, both of which were very heavily Irish-populated neighborhoods at the time.
Bridie worked in a bakery and subsequently at Schrafft's [a chain of restaurants]. She had tried to get a job at the phone company, but was unsuccessful due to her Irish brogue. She met my father, James P. Murray, at the age of 17 when her cousin John brought James with him to visit Delia Grey.
My father always said he was smitten with Bridie at first sight – her sky-blue eyes, flawless porcelain skin, beautifully thick auburn hair, shy but joyous smile, and infectious laugh, not to mention her gorgeous legs from all the bicycling and dancing she so loved. People who knew my mother in her younger days said she was an Irish beauty who would turn heads faster than a New York minute.
Only months after meeting Bridie, James proposed marriage to her, and she accepted. They were married just before he shipped out to Hawaii with the 27th New York Infantry Division. James was subsequently separated from the 27th and placed with the 25th (Tropic Lightning) Division and sent to Guadalcanal. He wrote many love letters to Bridie while he was away. Bridie kept a postcard he sent for Christmas in 1944 in a frame on her dresser for the rest of her life. He wrote that he couldn't wait to rejoin her and his soon-to-be first child – my sister Bridget.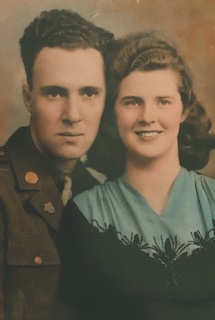 My parents were married in a small wedding at Good Shepherd Church in Inwood on September 24, 1943. Although they didn't have much money, they looked absolutely jubilant in their wedding picture – with my dad looking handsome in his Army uniform and my ever-beautiful mom in a classy dress. They honeymooned at the Hotel St. George in Brooklyn. It was only a day after their honeymoon that he was assigned to the 352 Infantry Battalion, 4th Armored Division, and shipped off to war in Europe.
Bridie sent pictures and wrote long letters to James while he was fighting overseas. When he returned, Bridie was waiting with my sister Bridget, her firstborn. It was a joyous reunion.
This homecoming was followed by several moves and a growing family. After my sister Bridget came eight more children: James (1946) and Kevin (1948) in New York; Thomas (1949) in Indiana; Maureen (1954) in California; and back in New York again, me (1958), Paul (1959), Donna (1962), and Patrick (1963). My mother raised our family in base housing, as my father was a career soldier. (He spent 30 years in the service and fought in WWII, Korea and Vietnam, and for a time was stationed in Germany post war.) It was no small feat for a young mother to raise a large family (with five children all under the age of nine), let alone to manage the complex logistics of moving to different states several times, all without the support of an extended family to help out with childcare.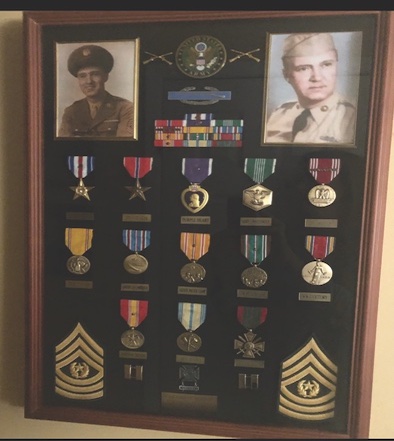 After Maureen was born in Monterey, California, in 1954, my parents decided to move. My mom packed up all five children and came back across the country by train to New York City. They settled in the Dyckman Street Housing Projects at 177 Nagle Avenue in a 1,200-square-foot apartment, three bedrooms and one bath, where they would live for the next 25 years.
It was always clear my dad was madly in love with my mom even after nine children and three decades of marriage. I remember my mother was in the hospital once or twice and my father would tell us, "If anything happens to your mother, you're all going in a home." My dad was of course kidding. He was a tough man with a hardened exterior from the wars in which he so valiantly served, but a loving and sensitive man inside, so much so that he had great trouble giving away a dog, which we won but were ultimately forced to give up because dogs weren't allowed in the apartments where we lived. It was always clear my parents loved us unconditionally and that my mother was numero uno in his book.
The neighborhood was a virtual melting pot of different nationalities, religions, and races. Neighbors looked out for one another. One of the greatest gifts my parents gave us, in addition to the love of family, was the ability to see beyond color, nationality, and religion and to treat others with respect and kindness. The woman who lived next door to us was a wonderful woman named Josie, who was born in Italy and was like a grandmother to all of us. The Hernandezes who lived to our right were from Cuba. The Laskys down the hall were from Germany, and Mr. Lasky had survived a concentration camp. Nick Manyatis and his mother from Greece lived on the 11th floor. Nick was wheelchair-bound from polio. He made his living making women's garters at home, which we would all help him with when we played poker with him on Friday nights.
Everyone was always welcome in my mom's house. One time at the bar when my brother Paul was bartending, he met a young man named Joe G. who was visiting from Ireland and had nowhere to stay. My mother let him stay in our home for months – as well as, when they joined him later, his girlfriend and her sister. When I asked her why she offered her home to these strangers for so long, she said she would want someone to do that for her children if they were visiting Ireland. Few had a bigger, more loving heart than my mom.
My mom worked full-time for AT&T as a telephone operator for 30 years. (I guess she lost her brogue.) She would take the IRT train from Dyckman Street to 50th Street every afternoon, returning at 2:00 a.m. and taking care of her children during the day. When I look back, I don't know how she kept this schedule, and I never heard her complain. My mom would always say somebody had it worse.
My mom was a modern woman, as she shared all the household chores with my dad after he retired from the Armed Forces. My dad made a few good dishes, although I secretly wished he didn't help with the cooking. My mother was a great cook, so much so that I didn't get the joke about bad Irish cooking in my younger years. She always made her own sauces from scratch, and her pot roast was fabulous. She could magically make very little food into a veritable feast for us. I now have an idea as to how the loaves and fishes miracle occurred.
Mom had all the kids do chores around the house, such as food shopping, laundry, mopping, and everyone's favorite… washing dishes. There was no difference… boy or girl, we all needed to chip in and do our part. I could never get into trouble on the weekends, as I spent most of it doing chores.
As mentioned previously, the 11 of us lived in a small three-bedroom apartment – one for my parents, another for my brothers, and the other for me and my sisters. There was only one bathroom, and the competition for it was fierce. It was here I learned the truth of the saying "the early bird gets the worm"– or a bathroom spot without an older, bigger sibling pushing you to the back of the line.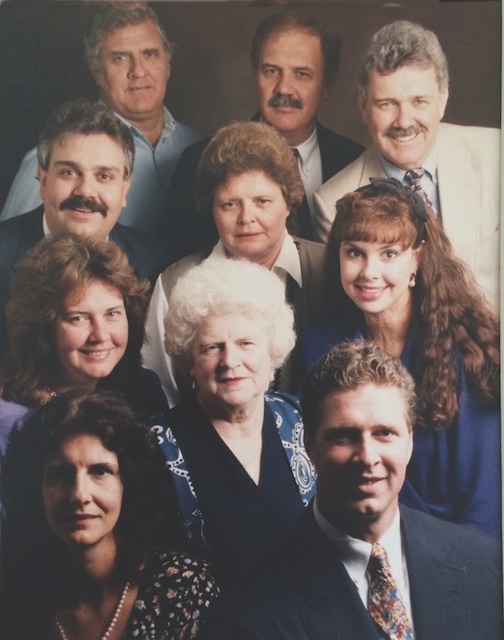 Mom was the ringmaster who orchestrated it all.
My brothers wore the same white suit for First Communion, and the girls each got their own white dress. Every Easter, Mom always made sure, along with my father, that we all got a new suit and shoes.
Mom would buy us new shoes for school, and the next day I remember her putting cardboard in her own shoes to protect her feet from the rain. We always came first. Bridie would do without if it meant her children would not want. I can only look back in admiration for a woman who never shrank in the face of adversity.
My mother was forever ironing shirts and blouses for all of us in school. She made sure we attended Catholic school all the way through high school. As was the custom in many Irish American households, we had a picture of the Sacred Heart, a holy water font on the wall near the door, and the infant of Prague in full regalia on my mother's dresser. My mom gave the gift of the Sacred Heart and infant of Prague to each of her children when they set up house – although I don't recall them in my siblings' and their spouses' bedrooms. One of my siblings' wives commented she wasn't comfortable having Jesus staring at her in the bedroom. I won't share what my mother said.
Clearly, children don't come with instruction manuals, but I certainly give my mom an A+ for raising us. When my sister Donna had her daughter, Katie, and was showing my mom how to hold her, my mom replied that she had raised nine children and she knew how to hold a baby. We always knew mom's love was an even number even though it was divided by nine. She watched her grandchildren very often when her children worked. Bridie never complained, and always helped her children any way she could.
My mom approached life's challenges with determination, grit, faith, a great sense of humor, and always with a smile on her face. She did this even while her husband was serving our country through three different wars, as well as when her sons were in Vietnam. Her faith, love of life, and optimism were a constant, regardless of life's challenges.
My mother also ensured we knew we were Irish Catholic Americans. She was adamant about those descriptors. You could leave out American, but never Irish.
I was actually surprised to learn I was an American in school, and there was always the reminder that there was no better music than Irish music. Ruthie Morrissey, Ruby Murray (no relation), Bridie Gallagher, Connie Foley, Mickey Carton, the McNultys, and especially Joe Derrane were on the playlist. The list was played each and every day. My mom could play her music as loud as she wanted but would not permit any other music to be played too loudly. I know the words to those songs better than songs of my own age group. I was speaking to a friend from Ireland and she said, "How do you know that old diddly music? No one listens to that anymore." I mentioned this to my mom, and she explained I must have misunderstood – or maybe my friend wasn't actually Irish. Well, my mother loved her jigs and reels, and she was proud of it all. Regardless of where we were, or how tired she was, she would always dance when Irish music came on. Mom would get up and dance even in her 90s.
Weeks before she passed, Mom would be dozing in her chair, but when we played "Galway Girl," "The Stack of Barley," or any other Irish song, she would light up and start tapping her feet and clapping her hands.
My father passed at the age of 59 of congestive heart failure. My brothers would chagrin when I would say to my mom, "You're young and you should meet someone else." She would say, "No one could hold a candle to your father!" That said, she said the first thing she was going to do when she passed, was give my dad a good wallop, for leaving her and then hug him for a very, very long time.
My mom at 53 had four children still at home on an AT&T operator's income. It wasn't easy. My mom wouldn't apply for food stamps although she was eligible. I worked several jobs when I lived at home, and it was tight. My mom despite having little was generous with what little she had. I remember doing my mother's taxes, and she had a charitable contribution for $500– which was then two months' salary for me.
I told my mom you can't make up deductions, to which she replied, "Are you mad? Of course I didn't make it up." I was dumbfounded and asked whom she gave it to and for what. She said that she had given it to a man she read about in the paper who was down on his luck.
I thought I had the upper hand now and said the guy was probably a fake.
She said it would be up to God – not me – to judge him if he was a fake and told me not to make her ashamed by being so judgmental. So much for the upper hand.
My mother had bone on bone in her knees, which was very painful, but whenever asked how she was, she would reply with a big smile, "Full of fun and mad for more!"
This woman just never complained. We were in the ER and she was having a heart attack in the midst of a 104°F fever—the doctor asked how she was, and she said she was fine and wanted to know when she could go home.
It's amazing how the life of one person ripples out into the lives of others. My mother had a family of 9 children, 13 grandchildren, and 18 great-grandchildren, and the lessons she taught us were simple but quite profound.
Among the many valuable lessons we learned from her was to never look down on anyone but to offer them a hand up. Mom told us she could not abide a liar or a thief and that we should never be either. Work hard in school, and in life, for that is the road to success, she said. She also told us to stick together as family no matter what happens. We could kill each in the house, but walk out the door and we had better stick by each other.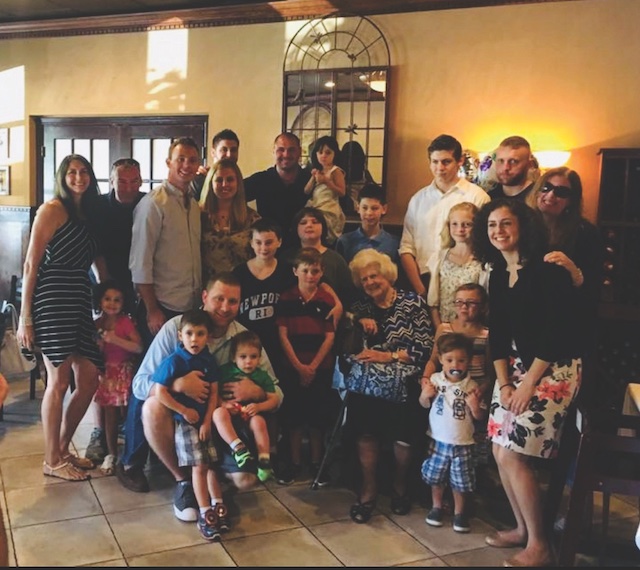 My mom had a great sense of humor.
I recall my niece who had two boys and was pregnant for the third time. She said, "Grandma, I think I am having a girl this time." My mom asked, "Why do you think you're having a girl?" My niece answered, "Because I'm carrying in the front." My mother told her to look at her backside in the mirror. My niece had another boy.
My younger sister used to love to sing. My mom told her, "I wish you were on the radio." My sister asked why. My mom said, "So I could turn you off." Well, she was honest.
My mom never criticized anyone. If anyone said anything bad about her, she would say, "Well, at least they're leaving someone else alone."
One could write a book about my mom. There are so many stories to tell. Suffice it to say that a lovely Galway girl with a mischievous streak, a love of music and dance, and a heart of gold will always have my heart and that of my family.
There is an old Irish song:
"The hands that rocked my cradle through all my baby days are treasures from the sky that money cannot buy.
God gave us mothers and tried to be fair. When he gave me mine, I got more than my share.
I wouldn't trade the silver in my mother's hair for all the gold in the world."
That song says it all.
Bridie H. Murray was an ordinary woman who approached life with extraordinary kindness, generosity, love, and humor. She passed August 27, 2020. She lives on in her masterpiece — her family.
Tuesday, September 9, 1924, will always be a momentous day for our band of Murrays. Until we meet again – thanks for everything, Mom.
Special thanks to Donna and Joe Nugent, and Paul Murray for their extensive help on this celebration of Bridie's life.
Eileen Murray learned from her mother the lessons of perseverance and determination and is a champion of diversity and inclusion in the workplace. Learn more about Eileen by reading Patricia Harty's Eileen Murray: An American Success Story and Darina Molloy's Hall of Fame profile on Eileen.
---