I'm not going to tell you too much about, Look! It's A Woman Writer!: Irish Literary Feminisms 1970 – 2020 edited by Éilís Ní Dhuibhne. Because, as Frank McCourt once said, "You can buy the damn book and read it yourself." And you should.
I read it in one cover-to-cover session, fascinated by these women writers. Each has her own individual characteristics and unique story, yet all are part of what Mary McAleese, in her address to the European Conference on Leadership for Peace sponsored by the John & Pat Hume Foundation in July 2021, called Ireland's "tortuous enough journey…from poverty, conservative Catholic religiosity and isolation…into one of the most stable peaceful and successful globalized economies and democracies in the world." Ireland is also a country that has elected two women presidents and now has sent New York its second female consul general.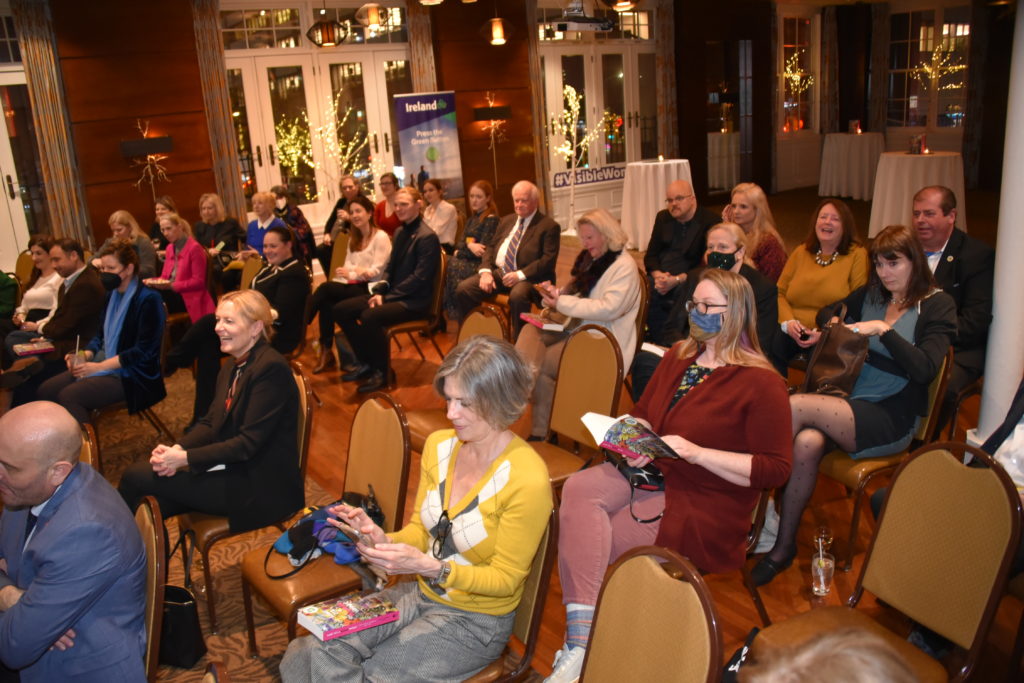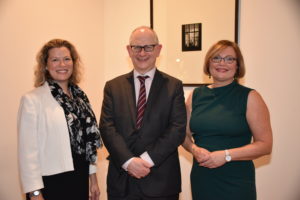 On Tuesday, November 30th, over 70 guests from the New York City Irish and Irish-American community gathered at Manhattan Manor for the first of three events celebrating the U.S. launch of the anthology.
The event was co-hosted by the Consulate General of Ireland Helena Nolan and Andrew Elliott, Northern Ireland Bureau Executive Director, and Britain's new Consul General, Emma Wade Smith was also in attendance.
The book's editor Éilís Ní Dhuibhne, and five of the contributing writers, Ivy Bannister, Ruth Carr, Anne Devlin, Sophia Hillan and Cherry Smyth, took part in a panel discussion moderated by noted New York-based Irish writer and academic, Belinda McKeon.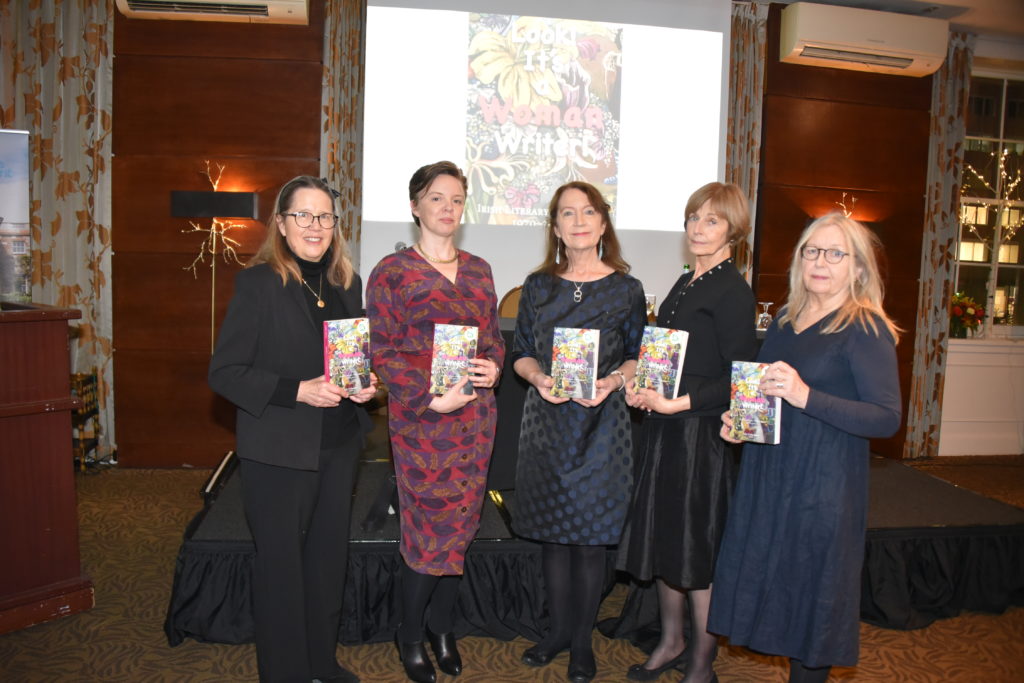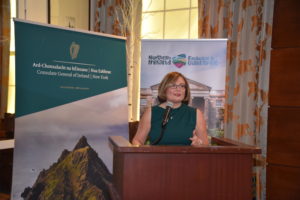 Speaking at Tuesday's event, Helena Nolan, Consul General, said:
"One of the many things that I love about this book, is how it is effortlessly and holistically from an all-island dimension and I am really pleased to have 4 panelists from Northern Ireland participating. 
I also love this book's focus on the transforming power of education for young women and girls, on the importance of the female role model and how it gives a visibility and a voice and a renewed platform to a group of 21 wonderful women writers, all of whom have been active since the 1970s and who now have this opportunity to share the stories behind their stories."
It's heartening to consider how these women overcame so many obstacles to open the doors for a younger generation of global Irish literary stars such as Sally Rooney. As Consul General Nolan points out education was central.
In the forward Martina Devlin singles out the "silver bullet" of Free Secondary Education introduced in 1967 that "seeded women with the confidence to express themselves through the written word." Many of the women writers credit this breakthrough legislation as transformative in their own lives and praised the teachers in the convent schools they attended. Moya Cannon remembers a Scottish nun, Sister Dolores, who was "both passionate and demanding," and read "The Ballad of Sir Patrick Spens" in her accent so dramatically that the whole class felt his terror.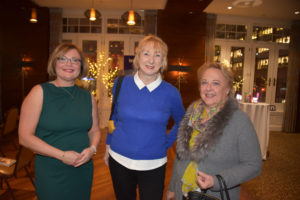 In contrast to these writer's secondary school experiences, male professors dominated their university studies and the "canon" of literature was written almost entirely by men. But these women felt an inner drive to be a writer, a voice that would not be silenced. Many wrote poetry as well as short stories and novels. And some were drawn to the experimental theaters prevalent in Dublin. Though as late as 2016 the Abbey Theater still presented very few plays by women.
Some of the women were inspired by the natural world. Mary O'Donnell speaks of the "ice edging a lake on a winter morning" in Monaghan while for Ivy Bannister it was the Dubliners milling around "in a ferment of awareness" who made her a writer after she arrived from New York for what would be a lifetime residence.
Other Americans appear in these pages too. Jessie Lindennie settled in the West and her workshops and the Salmon Poetry Press provided a platform for aspiring authors. Many of the writers mentioned times spent in the United States as periods of encouragement and productivity.
I couldn't help but think of my own Chicago-born friend, Mary Maher, a leading feminist, novelist, glass-ceiling-breaking journalist and union organizer in Dublin who had passed away that day and whose spirit certainly was present in this gathering. And sitting right next to me was Kathleen Walsh D'Arcy who edited the 1989 collection, "Territories of the Voice" that introduced me and many others to contemporary Irish women writers many of whom she brought to New York for a never-to-be-forgotten Women's Writers Conference in June 1990 at which I met Maeve Kelly, a true feminist foremother and pioneer in writing about women's intimate lives. Many of the essays also mentioned three GOATs – Eavan Boland, Margaret MacCurtain and Maeve Binchy. RIP.
In an afterward, Alan Hayes, publisher at Arlen House presents a survey of women's publishing, celebrating the work of Arlen House, Women's Education Bureau, Irish Feminist Information Publications, Women's Community Press and Attic Press. I know from my own experience how welcoming New Island books were to women authors. I especially liked Summer Palace Press founded by the mother/daughter team Joan and Kate Newmann in Donegal.
The panel discussion concluding the event was full of warmth and connection and evoked the conferences and literary festivals in Ireland so tantalizingly described in the book.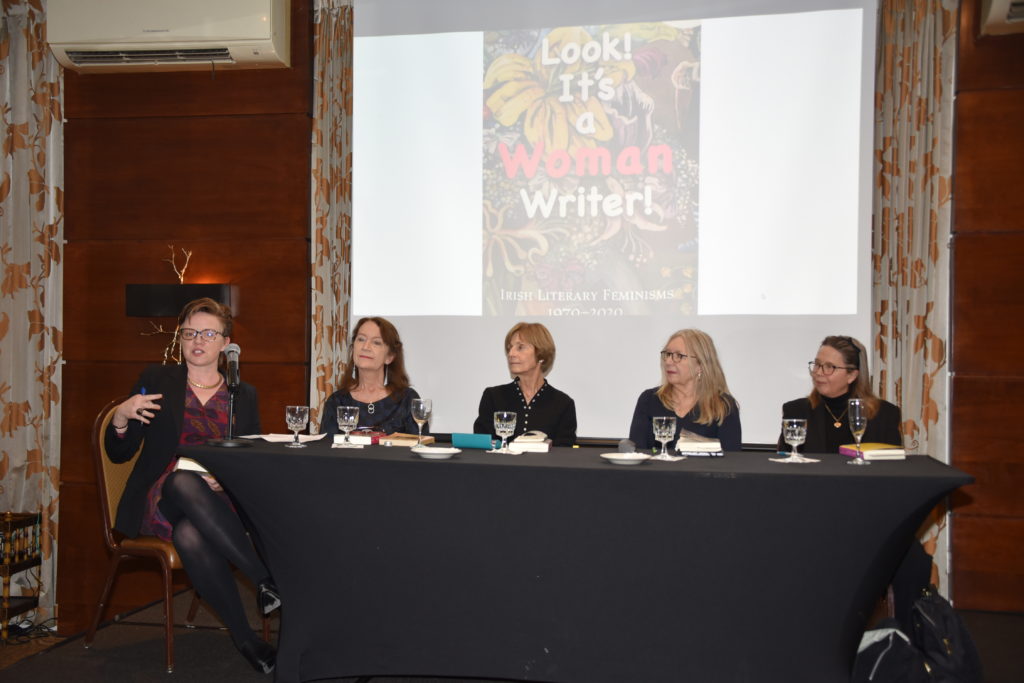 Contributors to the anthology
| | | |
| --- | --- | --- |
| Ivy Bannister | Mary Dorcey | Mary Morrisey |
| Mary Rose Callaghan | Catherine Dunne | Éilís Ní Dhuibhne |
| Moya Cannon | Phyl Herbert | Aine Ni Ghlinn |
| Ruth Carr | Sophia Hillan | Mary O'Donnell |
| Evelyn Conon | Medbh McGuckian | Mary O'Malley |
| Celia de Freine | Liz McManus | Cherry Smyth |
| Anne Devlin | Liz Mills | Mairide Woods |
The book was officially launched at the New York Irish Center on Wednesday evening December 1, 2021 at an event moderated by Yvonne Cassidy and co-sponsored by the Irish American Writers & Artists.
Finally, the contributors to the book met with attendees at the Irish Business Organization Women's lunch on Thursday, which took place at the Bank of Ireland Innovation Lab.
To learn more about the book visit Dublin Unesco.