This story is about Rita and Mel and a Christmas song — no, make that

"The Christmas Song."
"Chestnuts roasting on an open fire,
Jack Frost nipping at your nose."
Rita O'Donnell was just 15 years old and a sophomore at Coughlin High School in 1940 when she got a call from her older sister, Aileen, who was dancing as a member of the Rockettes at Radio City Music Hall.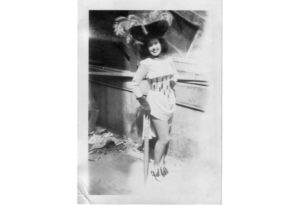 Aileen urged Rita to quit school — she was a 15-year-old sophomore at Coughlin — and go to New York City to join her with the Rockettes. That's where Rita met a young stage hand — 17-year-old Mel Torme.
Rita's brother, James "Spot" O'Donnell, 93, a resident at Wesley Village, and his daughter, Maureen Lynch, told the story of Mel and Rita. Maureen talked to Rita's son, Kevin White, vice president and athletic director at Duke University, and Rita's daughter, Katie White Brochu, who offered more insight into the story.
Kevin White said his mother had "a significant relationship" with Torme in the early 40s. They began dating when Rita was 16 and Mel was 17, he said. The family said Rita would tell them Mel always thought he would make it big and, to prove he could write songs, he penned one for Rita.
"That was 'The Christmas Song,'" Maureen said. "We know there are different stories out there about how the song was put together, but Rita always said Mel wrote the song in 1941 for her."
Yuletide carols being sung by a choir,
And folks dressed up like Eskimos."
Those Internet accounts tell a different story about the origin of "The Christmas Song." Basically, the other story goes that Torme was at the home of Robert Wells in 1945 and found a piece of paper with the first four lines of the song written on it. Torme sat down at a piano and he and Wells completed the song in less than an hour.
The song was first released in 1946.
"Everybody knows a turkey and some mistletoe,
Help to make the season bright."
Maureen Lynch, Kevin White and Katie Brochu heard a different story. They said Rita saw the words to the song in 1941 and Torme wanted to prove to her he could write songs.
Torme gave Rita the lyrics to the song that were written in pencil on some scratch paper. The family says Rita had that paper in 1941 — long before the song was published.
"Tiny little tots with their eyes all aglow,
Will find it hard to sleep tonight."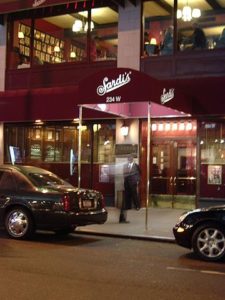 The relationship between Rita, a Catholic, and Torme, who was Jewish, eventually dissolved. Rita's family said the two were engaged, but they never married. Rita and Mel each had climbing careers that required them to travel apart from one another.
Rita would go on to perform with big bands that featured Danny Kaye, Bob Hope, Frank Sinatra, Tommy Tucker and Jimmy Dorsey. She also did USO shows with Bob Hope and Bing Crosby, who called Rita "coal cracker." She also performed many times at the famed Sardi's restaurant in Manhattan.
"They know that Santa's on his way,
He's loaded lots of toys and goodies on his sleigh."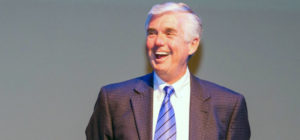 There was that time in the late 1980s when Kevin White, then the athletic director at the University of Maine, went to see Torme's show at the Maine Center for the Arts. Kevin got backstage and introduced himself to Torme as "Rita's son."
The story goes that Torme was overwhelmed to meet Kevin and yelled for a chair so he could sit down. Kevin said Torme fondly recalled Rita, telling her son that "she was so beautiful" and he often wondered what had happened to her.
Kevin didn't tell his mother he was going to Torme's show and she was upset when she found out.
Rita married Emerson White in 1949. Growing up in a six-floor walk-up apartment building in Brooklyn, Emerson's best friend was Jackie Gleason, who created "The Honeymooners" based on characters from that building.
"And ev'ry mother's child is gonna spy,
To see if reindeer really know how to fly."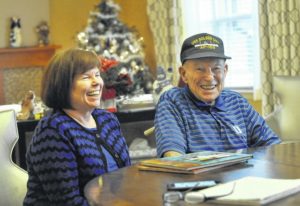 Spot O'Donnell said he never met Torme, but remembers a lot of stories Rita used to tell. He said there's no doubt his sister's version of "The Christmas Song" is accurate.
"We were always told that he wrote that song for Rita," Spot said.
"So I'm offering this simple phrase,
To kids from one to ninety-two."
That's the story of Rita and Mel, who earned the nickname "The Velvet Fog." Two kids who met while trying to make their mark on the world. Both had good careers, entertaining people all over the world.
Even though the best-known version of the song was done by Nat King Cole, it's still Mel's song that Rita said he wrote for her.
"Although it's been said many times, many ways,
Merry Christmas to you."

♦
This article written by Bill O'Boyle originally appeared in the Wilkes-Barre Times Leader on December 25, 2015. The article and images are republished with the permission of the Times Leader.
---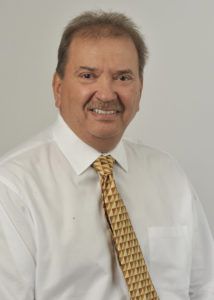 Bill O'Boyle is the Times Leader Media Group's news columnist/staff writer. His popular "Beyond the Byline" column on Sundays and occasional "Feet to the Fire"commentaries are fixtures on our pages. Bill has written for the Times Leader since April 2007, covering everything from Wilkes-Barre City to presidential races and local, state and national politics to breaking news to the repair of the Wyoming Monument. A native of Plymouth now residing in Plains Township, O'Boyle volunteers with Victory Sports for adults with mental and physical challenges, the Hope Center Free Clinic of Wyoming Valley and he serves as a judge in the annual Plymouth Kielbasa Festival contest. A child of the sixties, O'Boyle often visits the site of the 1969 Woodstock Music & Art Fair in Bethel, New York, and his radio is locked into the music of that time.