Stephen Downey 
(1937-2021)
Speechwriter and communications consultant Stephen Downey died in early December 2021, aged 84. Married to lauded cabaret singer and musical theater actress KT Sullivan, Downey was a passionate supporter and aficionado of the arts, and served as president of both the Yeats Drama Society and the New York Browning Society.
Born in Providence, Rhode Island, Downey attended Hamilton College in New York and graduated in 1960. He became a speechwriter and worked on the campaigns of future presidents Jimmy Carter and Bill Clinton, opportunities that took him across the country. He also co-produced the Yeats International Theatre Festival in Dublin's Abbey Theatre before meeting Sullivan, whom he married in 1999.
Downey absorbed and advocated for creative endeavors with unfailing enthusiasm. He produced an off-Broadway performance of American Rhapsody starring his wife in 2000, and the couple co-hosted many an evening of artistic celebration and discussion in their Manhattan Plaza apartment.
"To see him, in an audience, clench a fist in solidarity and wink and silently cheer you to victory was like being spurred on to seize the championship with seconds on the clock," remembered Eric Yves Garcia, a former guest at those events, in a tribute on behalf of the Mable Mercer Foundation, which Downey and Sullivan proudly supported. "It never failed to work a bit of magic."
Downey leaves behind his wife, KT Sullivan, brother Bob, sister, Caroline, and five children.
Pat Fenton
(1942-2022)
Pat Fenton, 80, passed away on January 5, 2022. Pat was a freelance writer and newspaper reporter in the tri-state area, whose pieces have been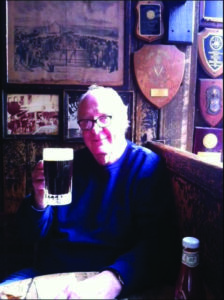 published in the New York Times, New York Newsday, New York Daily News, Irish America, and New York magazine, among others. He worked as a New York City taxi cab driver, bartender, radio host, and court clerk in the NY State Supreme Court. His acclaimed account of working as a cargo handler at Kennedy Airport, Confessions of a Working-Stiff was published in 1973 in New York magazine.
In 2015 his play, Stoopdreamer was entered into Origin's First Irish Theatre Festival of 2015 and was nominated for five awards. In June 2021, Pat's book on the singer, Harry Chapin, was published to much success. In the book, Searching for Harry Chapin's America, Pat describes his road trips to the towns and people that inspired Harry Chapin's most famous songs.
Pat is survived by his wife, Patricia, and their two children, Patrick (Mireya) and Kelly (Doug), his loving grandchildren Miquel and Christopher. Ed. Note: Pat's, "The Last Saloon," on Brooklyn's neighborhood bar, Farrell's, has garnered more comments than any other piece on our website over the past two years. He was a pleasure to work with and he is missed greatly by the Irish America team.
Patricia 'Pat' Hume
(1938-2021)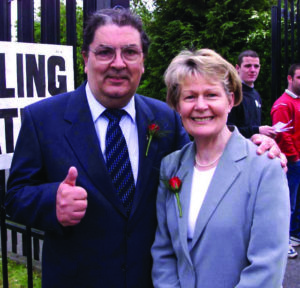 In her final television interview, recorded only weeks before she died, Pat Hume told Mary McAleese, almost wonderingly, about her lifelong ability to trust – "It's a gift," Pat said. And perhaps her final message to all of us.
The faith that informed her life as a teacher, wife, mother and partner for peace with husband John Hume was rooted in her Donegal mother's Celtic spirituality, marked by continuous intellectual exploration and based in a rock-solid belief that loving your neighbor as yourself is somehow the ultimate winning political strategy.
This faith enabled her to radiate a calm good humor that reassured her five children during the darkest times of the Troubles when the family faced continuous intimidation, heartened her SDLP colleagues during challenging election campaigns, made visitors to Derry feel welcome and provided help to all those who reached out to her as director of John Hume's constituency office.
"She was his equal, intellectually and in terms of drive and determination," her son John recalled. "It was clear it was the two of them in it."
In his eulogy at Pat's funeral, her son Aidan said his father, John Hume "was a parcel and Mum delivered him… . Mum was at his right hand throughout his entire life. She was his best friend, his closest confidant, his loving wife, his trusted advisor, and his political antenna."
There is no way to sum up the effect Pat Hume had on so many lives, and the influence she still exerts. The John and Pat Hume Foundation (www.humefoundation.org) is dedicated to advancing the couple's vision of social justice through peaceful change.
Among Pat Hume's many honors were an Honorary Doctorate from Brown University and the Irish Red Cross Lifetime Achievement Award.
Pat Hume is survived by her children, Thérèse, Áine, Aidan, John and Mo; her grand-children Aedín, Michael, Róisín, Dee, Daniel, Ruairí, Marni, Úna, Ronan, Ciara, Isabel, Eamon, Ollie, Rachel, Darragh and Aoibhe; great-grandchildren Aoibhínn and Clodagh.
Pat Hume loved the Irish language. Ar dheis Dé go raibh a hanam.
Brendan Kennelly
(1936-2021)
Award-winning poet, author, and professor, Brendan Kennelly died in October, aged 85. He was born, one of eight in Ballylongford, County Kerry, to parents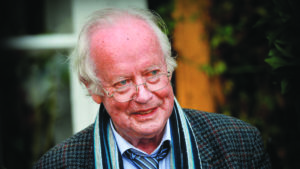 Bridie and Tim, he earned a scholarship to Trinity College Dublin, and eventually became one of the university's most beloved lecturers, keeping his appointment as professor of modern literature from 1973 until his retirement in 2005. During that time he produced such masterworks as Cromwell and The Book of Judas, collections of poetry that colored humanity in the stark lines of two of the most despised men in Irish and Christian history.
"Poetry is written by blind men groping for the light," he told The Guardian in an interview. Yet the other side of the coin was the pure vein of truth delivered of a success, one of the most precious gifts humans have to share with each other. "I'd like to become a poem," he admitted, "to become coherent and accomplished and singing."
Kennelly's death follows that of his only daughter (with Margaret O'Brien) Kristen ("Doodle") by just six months. He is mourned by his siblings Alan, Paddy, Nancy, Mary, and Kenny; and granddaughters Hannah, Meg, and Grace.
John Madden
(1936-2021)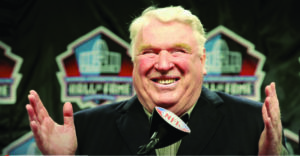 Renowned sports commentator and analyst John Madden died in late December 2021, aged 85. One of three children born to Earl and Mary Madden (née Flaherty) in Austin, Minnesota, Madden grew up firmly working-class, an experience that enabled him to forge a lasting connection with his wide-ranging viewership long after becoming the subject of national attention. His interest and skill in sports showed promise from a young age, receiving offers to play minor-league baseball and notice from teams as high-profile as the New York Yankees and the Boston Red Sox. Yet Madden prioritized his education, obtaining his master's degree in physical education from California Polytechnic State University.
Picked in the 1958 draft to play for the Philadelphia Eagles, a knee injury during training cut Madden's career as a player devastatingly short. Yet he rallied with incredible resilience and turned to coaching: beginning at Allan Hancock College and making his way to the Oakland Raiders. His 10 years with the team achieved 100 regular season victories, seven AFC title championships, and a Superbowl victory in 1976.
"Nobody loved football more than Coach. He was football," NFL commissioner Roger Goodell said in a statement upon the announcement of Madden's death. "There will never be another John Madden, and we will be forever indebted to him for what he did to make football and the NFL what it is today."
Transitioning to broadcasting led to the longest and most face-forward portion of Madden's career. Fifteen years with CBS established him as the best in the business, with the subsequent decades showcasing him and his commentary as the highlight of any broadcast, with universal appeal.
At his induction into the Hall of Fame in 2006, Madden quoted his father. "Once you start work, you're going to have to work the rest of your life," he said, and then revealed: "I have never worked a day in my life. I went from player to coach to a broadcaster, and I am the luckiest guy in the world."
Madden is survived by his wife Virginia, sons Mike and Joe, and several grandchildren.
Mary Maher
(1940-2021)
Journalist, author, union advocate, and founder of the Irish Women's Liberation Movement Mary Maher died in November, aged 81.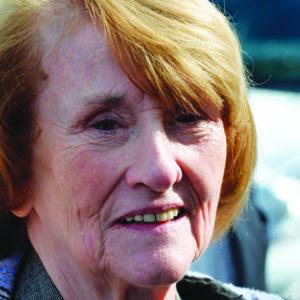 Born in Chicago, Maher's experience as an Irish American with roots in Tipperary forged an abiding interest in Irish affairs along with a progressive spirit. After her start at the Chicago Tribune, and a stint at the Boston Globe, she was drawn to Ireland by an opportunity to work at the Irish Times where she became the first women's editor not long after she joined the newsroom in 1965.
"She was a brilliant reporter and writer, with a capacity to capture the essence of her subjects in language that was clear, crisp, strong, and powerful," said Conor Brady, Irish Times editor for a large part of Maher's tenure there. Maher married Des Gearaghty in 1969 and the couple had two daughters, Maeve and Nóra. They later separated but remained friends and frequently work together on projects.
Maher struck a blow for women's rights, by keeping her job after marrying, and negotiating previously unheard-of paid maternity. Her own late-term pregnancy was all that kept her from boarding the 1971 "Contraceptive Train" to Belfast – a trip to purchase birth control, banned in the Republic, and face arrest for attempting transport back across the border) – an event she organized.
In addition to her daughters, Mary leaves behind siblings Bonnie and Jerome, and grandchildren Níon, Kit, and Finn.
Máire Mhac an tSaoi
(1922-2021)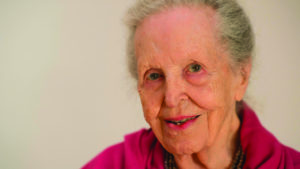 Acclaimed Irish language poet, critic, diplomat, and activist Máire Mhac an tSaoi died in October, at the age of 99. Coming from a heavily active republican family with a wide range of political connections, Mhac an tSaoi carved her own legacy in Irish culture with an evocative, clear poetic voice.
Mhac an tSaoi was raised in Dublin by parents Seán McEntee and Margaret Browne, both participants in the Easter Rising. Her uncle, academic and priest Pádraig de Brún, had a house in Dún Chaoin, Co. Kerry, where the family would visit frequently, and where she became enamored of the Gaeltacht, whose language she soon realized was that of her own soul. "I was formed by the Munster Gaeltacht," she told the Irish Times in a 2015 interview, "without which life would have been inconceivably poorer." She added, "If you didn't know Irish you wouldn't really ever, I think, get the feel of my poetry. It's just part of me."
Beyond innovative publications including Margadh na Saoire and Codladh an Ghaiscígh, Mhac an tSaoi broke barriers as both the first Irish woman to be called to the Bar and to serve as an Irish diplomat. Yet she set it all aside (except her poetry) at 40 to marry fellow diplomat, Conor Cruise O'Brien. They adopted two children and passed 46 happy years together before he died in 2008.
President Michael D. Higgins issued a publicized tribute to Mhac an tSaoi. "Her fearless, powerful, and intriguing personality led her to defy established convention and expectations in a unique way," he wrote. "A prolific writer, she had a lifelong, and contagious, passion for the Irish language, and for the people of the Gaeltacht."
Mhac an tSaoi is survived by her stepdaughter Fedelma and children, Patrick and Margaret.
Gavan O'Herlihy
(1951-2021)
Former Happy Days actor Gavan O'Herlihy died in September, aged 70. Known for his role as the Cunninghams' oldest son Chuck, O'Herlihy found his true niche in villainous roles on stage and screen, in which he continued performing to the end of his life.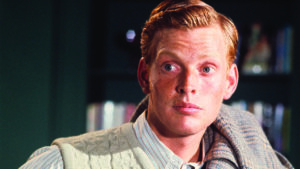 One of four children born to Elsie Bennett and Oscar-nominated actor Dan O'Herlihy, much of his childhood was split between Dublin and Los Angeles. He went to Trinity College, Dublin, during which time he became the Irish National Tennis Champion. By the age of 21, he'd booked his big break as Richie Cunningham's older brother, and by seven episodes in, he'd decided to walk away. "I didn't understand the humor then. I still don't – 1950's humor is alien to me," he told the Irish Independent in 2013. "They were going to develop the others. I would have been a millionaire at 24 or 25, but the work would have sucked. I have no regrets whatsoever."
Later roles included The California Kid, Superman III, Never Say Never Again, Lonesome Dove, The Last Outlaw, and a role alongside his father in Twin Peaks' early days. In 2013, O'Herlihy returned to the Irish works he'd developed a taste for in his college days to take part in a Dublin run of Samuel Beckett's Waiting for Godot. Being educated in Ireland had been transformative for him, as he told the Independent. "To give a child another perspective from L.A. is a great thing. There the sun is powerful, the sea is powerful, the money is powerful. But Dublin in those days held its own power. It was dirty and poor and smelly, and for a young man from California, it had its own magical pull."
""I knew him as the first of two Chucks on Happy Days," former co-star Ron Howard tweeted in a tribute, "and then as Airk in Willow, where I had the pleasure of directing him. A talented actor with a big, free spirit."
O'Herlihy is predeceased by his father, who died in 2005. He is survived by his wife, Juliette, and children Misty and Rogan.
Anne Rice
(1941-2021)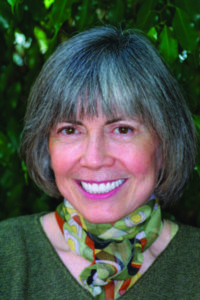 Best-selling novelist Anne Rice died in December; she was 80 years old. Widely recognized for her Vampire Chronicles series following her signature character Lestat, Rice revolutionized the portrayal of vampires in fiction, layering complex humanity over the traditional deviant monstrosity.
One of five daughters born to Irish-Catholic parents, Howard and Kay O'Brien, Rice was raised in New Orleans until her mother died when she was 15. Upon her father's remarriage, the family moved to Texas, where she finished high school and started college before moving to San Francisco to take night classes and start writing professionally. There she ran into former schoolmate Stan Rice, and married him in 1961. The couple's first child, Michele, died of leukemia at the age of six, and the need to express her grief on her own terms fueled Rice's first, perhaps most successful venture, Interview With the Vampire.
"You can put the most horrible things into a frame, and you can go into that frame safely and talk about those things," Rice explained about her process in a 1995 interview with Rolling Stone.
"You can go into the world of Louis and Lestat and Claudia, and be able to talk about grief or loss or survival, and then come back safely.
Rice is predeceased by her daughter, Michele, husband, Stan, and her sister, the writer, Alice Borchardt. She is mourned by her son, Christopher, and her three sisters.♦