President Clinton's Economic Advisor to Ireland
When Senate Majority Leader George Mitchell announced he would not seek re-election it came as a surprise to many, not least his Maine constituents who had given him 80 percent of the votes in the 1988 election. When the 61-year-old senator then turned down a Supreme Court nomination to the great disappointment of the President, there was speculation about him becoming the Commissioner of Baseball – no one was more surprised than the Irish when he was named as the President's economic advisor on Ireland in January, 1995. Shortly after his appointment he spoke to Irish America's editor Patricia Harty about what he hoped the planned White House Economic Conference on Ireland would achieve.
What made you consider this unpaid position when many jobs were open to you?
It was a combination of things. First, I admire President Clinton and I wanted to be helpful to him and his administration. Second, it gave me the opportunity to remain active in public policy matters. When I decided not to seek re-election to the Senate, I made it clear that I was not leaving out of dissatisfaction with public service, in fact, I love public service, but rather I was leaving because my own concept of public service was that I should serve in the Senate only for a limited period and not attempt to make it a lifetime decision. Third, and finally, the opportunity to serve Ireland, the place of my father's heritage, was very attractive to me.
Somebody asked me recently why was I spending so much time at this since it was an unpaid position. I said it's a labor of love, and I meant it. I truly enjoy it. I admire the participants, and I think that it's an opportunity, for me as an Irish American, to play a role in what I think is a historic event. I have enjoyed reading many books on English and Irish history in preparation for this assignment and I really believe this is a moment of historic opportunity that could set the framework for life in Ireland for not just a few years but decades, or perhaps even centuries. It's a historic time, and a tremendous opportunity to make some progress.
Tell me about your visit to Belfast last December for the International Investment Forum.
I had a very good trip, very informative from my standpoint and I hope helpful from the standpoint of our investment effort. I went first to London to visit Prime Minister Major. I met with Prime Minister Bruton and the Foreign Minister, Dick Spring while in Dublin. In Northern Ireland, I met with representatives of all the political parties and community groups. It was a very busy trip but I think I got a good impression and a lot of encouragement from people there about what we can do.
And what do you think we can do?
I have many memories of my visit. The most striking being when I met with community development groups on both sides of the peace line in Belfast on the same day. These were people who did not orchestrate their presentations to me in advance, they had very little contact, none in fact. They said essentially the same thing, with graphs and charts and data to support it, that there is a direct correlation between the levels of unemployment and the levels of violence.
What was the atmosphere like in Northern Ireland on your visit?
There was, it seemed to me, a real genuine, tangible enthusiasm about the absence of violence, about the opportunity to lead normal lives and a desire to move forward with the peace process, and also a very positive feeling toward President Clinton and the effort being made by the United States.
It's unfortunate that very few Americans are aware of the role that the President has played in this effort. Yet when you go over to Ireland, everybody states it and acknowledges it, and people are very generally aware of and recognize the crucial role played by the Clinton administration.
Do you think the Adams visa was crucial to the peace process?
The President made the right decision at each stage of the process and by his actions, has encouraged progress towards peace. I think his timing has been right, and his actions, while obviously difficult and controversial, have been correct.
Your impression of John Major?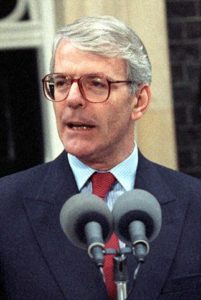 I admire Prime Minister Major. I think what he is doing is courageous. And while I understand the high level of attention that was given to the so-called controversy last week, [Sinn Fein being allowed to fundraise in the U.S.] I think that it has tended to obscure the fundamental commitment on all sides to move forward, not least of which has been Prime Minister Major's determination and steadfastness, and believe me I have had some political experience myself. He has been in a very difficult position and it would have been much easier for him in some respects just to back off, but he has not done so and I think he deserves credit for that. I must say, so do the Prime Ministers of Ireland: Albert Reynolds, for getting the process started and for moving forward, and John Bruton, for what he's done to follow it on.
John Bruton was very forthright about what has to be done, in the speech he made at the AIF dinner in Washington. He's a very impressive man, both he and Albert Reynolds deserve a great deal of credit.
Tell me about the upcoming May Economic Conference in Washington, D.C.
We want to make it clear that it is not the end but the beginning of a process. It is a first step in what will be a long sustained effort to encourage trade with and investment in Northern Ireland and the border counties, in the belief that it is imperative that there be job opportunities if there is to be lasting peaceful resolution there. That is the subject of our mandate.
We hope it will be successful in the sense of first calling attention to opportunities for American companies who want to gain access to the European Community market. Northern Ireland and the border counties, indeed all of Ireland offers a real opportunity. People are English speaking with a high level of literacy and education, and a strong work ethic. While clearly, it's not going to be what every American company wants — some may be looking to the Pacific, others to Latin America, but for those who are looking to Europe for an export market, it makes a great deal of sense.
Also, there are already a number of firms who export their products from that region to the U.S. and there could be many more, particularly smaller firms who perhaps don't have the resources to engage in sophisticated marketing efforts. We're going to try to figure out a way to help them gain access to our marketing efforts and establish matchmaking opportunities so there will be a reciprocal view of business both here and there. Also, by virtue of the President's participation, call attention to it among the American public at large, and then follow it up with a series of subsequent trade missions.
The most important thing is that we have a plan in place to follow through afterward and that the conference is not seen as an end in itself because the creation of jobs and the improvement of an economy is something that takes a sustained effort over time and cannot be done in a single meeting.
The May economic conference in Washington, D.C.
"Is the first step in what will be a long sustained effort to encourage trade with and investment in Northern Ireland and the border counties."
– George Mitchell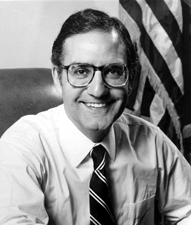 Will the MacBride Principles [the fair employment practices aimed at American companies doing business in Northern Ireland] be discussed at the conference?
We're going to have very brief plenary sessions and then mostly the work will be done in workshop sessions and we will have one on employment and fair employment in the North and that [the Principles] will certainly be discussed.
Tell me about your own Irish background.
My father's parents were born in Ireland and emigrated to the United States just before the turn of the century, sometime in the 1890s, we think. Their name was Kilroy. My father was born in Boston in 1900 and never knew his parents. All the children were raised in a Catholic orphanage in Boston.
All of them?
Yes, there were several children. Although we're not sure of this, apparently what happened is that the mother died and the father couldn't care for them and put them into an orphanage.
My father was adopted when he was four in 1904 by an elderly, childless couple who lived in Bangor, Maine. They changed his name to Mitchell-his name at birth was Joseph Kilroy-and shortly thereafter moved to Waterville, Maine, where I grew up. My mother, in 1920, when she was 18 years old, emigrated from Lebanon to the United States and moved to Waterville, which was where her older sister who preceded her settled. It was obviously while living in Waterville that she met my father.
Did your father's family ever connect up again?
Yes, My father's older brother, whose name was Francis Kilroy, was also adopted out of the orphanage by a family from Portland, Maine, but they did not change his name. He kept the name of Francis Kilroy and he then later made contact with my father, and the families became quite friendly. Francis eventually had three sons who are still living in the Portland area, Richard, Robert and Bill, my first cousins, and we've had regular contact over many years.
What about the Kilroys in Ireland?
We've not traced the family. I went to Ireland a couple of years ago. I can't remember which member of the family told me that my grandparents had come from Cork, but when I went and did a little checking around, I was told that Cork was a major port of embarkation for the U.S. and many people listed it as their place of residence when in fact it was simply the point from where they embarked, they may have been homeless, they may have stayed there for some time, waiting for embarkation, and that it really didn't mean much that they said they were from Cork And so we've never done any genealogy or family history or anything like that. I've met some Kilroys over there [who say] that it is a very common name in Ireland. They're present in all parts of Ireland.
Your wife's name sounds Irish. Where is her family from?
It's M-a-c, capital L-a-c-h-l-a-n. Her grandparents were from Scotland. She was born and raised in Canada, in Montreal as were her parents.
Have you heard about Grosse Ile, Canada's Irish Famine graveyard?
Grosse Ile was a place that led to the original Irish settlement in Maine in the 1830s. There was a downturn in the Irish economy in 1829 and 1830, often called the small famine, and a lot of them came over and landed at Grosse Ile. They had no means of transport and so they walked to the United States and they walked through Maine. There was a lot of violence along the Maine border in 1830, and a number of them stayed in Maine, in fact, there was quite a substantial settlement, while many more went on to Boston. So I'm quite familiar with Grosse Ile. It led to the first large wave of Irish immigration into Maine.
Do you hope to get back to Ireland soon?
Yes. One of my objectives is to return at a time when I can simply enjoy it. That is to say, not on a business trip, on a pleasure trip, on a vacation. I really enjoyed meeting and talking with the people.
Thank you, Senator Mitchell. ♦
Note: 10/06/2023: This interview took place before the conference mentioned in the introduction. When it happened, three months later, it was a tremendous success. Drawing representatives from across the divide in Northern Ireland, the Irish Republic and the U.K., it opened on May 25, 1995. It was a heady event to attend. I remember an elevator chat with Sir Patrick Mayhew then Northeren Ireland Secretary of State, that somehow ended up on gardening! Gerry Adams was complimentary on the Mitchell interview when I met up with him. I had interviewed Adams in for the April 1991 issue and he talked about it being time for peace talks, and here we were. Four years later and a month or so later, the conference was the start of it. You could feel it in the air, the hope of it. 
The Sheraton Hotel,  Washington, D.C., in my memory, was like a gigantic white ship or a space station that lent a "can this be really happening?" vibe to the proceedings. There was a smallish round bar in the center of this huge lobby and I remember at the end of the night a few of us of different persuasions hanging around, and Gusty Spence, a former leader of the UVF, singing a ballad, I couldn't swear it was an Irish ballad, but I think it was.  It was a getting to know you event, and it was a very good start of what was to come. 
It was genius to make it about the economy. Niall O'Dowd led trips over there with Donald Keough of Coca-Cola and Bill Flynn of Mutual of America, and Chuck Feeney, Bruce Morrison, and others, like Tom Moran, and his right hand man, Ed Kenney, made numerous trips and made friends and gave tremendous support across the aisle. Mutual of America opened its doors and its event space on the 35th floor — one of best views in mid town to host often monthly lunches run by the American Committee on American Foreign Policy (a non-governmental group) where speakers of every persuasion,  got to air their views
But back to the conference, May 25, 1995.  President Clinton's opening remarks were about George Mitchell.
"Let me say a special word of thanks to George Mitchell for the tremendous work he has done in organizing this conference. His devotion to the cause of nurturing peace and growth in Northern Ireland and the Republic's border counties has played a central part in the progress that we celebrate here today. I'm delighted that he will lead another mission to Ireland this summer, and even more pleased that he's agreed to continue his work in overseeing our economic initiatives through the end of this year. (Applause.)
"Ireland is lucky to have George Mitchell on its side, even if it has to put up with the envy of the United States Senate, the Supreme Court, and Major League Baseball. (Laughter.)
"You know, George is Irish and Lebanese. Maybe when we succeed in Ireland, if the Secretary of State is not finished — (laughter) — he'll volunteer for other duty. (Laughter.)"
Mitchell was soon invited by the British and Irish governments to chair the peace talks. The rest is history. ♦
Editor's note: In April 2023 Kelly Candaele had the opportunity to witness the historic 25th Anniversary of the Good Friday Agreement and to interview Senator George Mitchell.