Kennedy's appointment as Special Envoy to Northern Ireland affords him a chance to relaunch his political career.
Joe Kennedy III may be a surprise choice to many commentators but not to those close to Joe Biden. This is about American politics too, giving a lifeline to a Kennedy, the family Biden admires more than any other.
The appointment comes with one major advantage, Kennedy will be able to reach the president directly, a vital plus enjoyed by no other Special Envoy save Senator George Mitchell. 
Kennedy (42) served eight years in the House from 2012 to 2020 and became a major political figure. Speaker Nancy Pelosi certainly thought so and gave him the plum job of responding to Donald Trump's State of the Union Address. In 2018 The Stanford graduate aced it.
"We all feel the fault lines of a fractured country. We hear the voices of Americans who feel forgotten and forsaken,' he told a nationwide audience. People began to dream of the next Camelot leader. At six foot tall with a shock of red hair he had the looks and the game to go far and he wore the Kennedy mantle lightly.
But, then, a major miscalculation He decided against more sage advice, to run for the US Senate seat held by Boston political fixture Ed Markey. His staff was so confident some urged Markey to step aside or be steamrolled. What could go wrong?
But Senator Markey, backed by progressives such as Alexandria Ocasio-Cortes, managed to get to the left of Kennedy, in their primary fight Kennedy was widely criticized for not waiting his turn as the 74-year-old trounced him in the Democratic primary in September 2020 sending Kennedy into political oblivion.
Now with this high-level Irish envoy position, he is back, the story getting major prominence in the Washington Post and Boston Globe. He has been biding his time to emerge from the embers of his senate campaign disaster. Now the moment has arrived.
Ironically, it will happen 3,000 miles away from the US when Kennedy will seek to impact the troubled Irish peace process which appears in perpetual crisis.
What kind of envoy will he be? He has none of the Kennedy arrogance of his father, former Congressman Joe Kennedy, and is personable and thoughtful in meetings.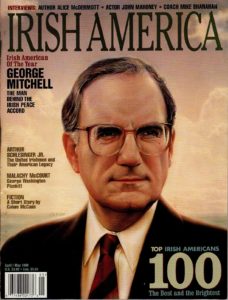 The role is defined as Economic Envoy but that was also the title given to Senator George Mitchell who became the ultimate political operative when he took the job with remarkable success.
Doubtless, Kennedy will be making the trek to Florida where Mitchell has now retired to absorb the lessons that Mitchell learned so well.
Kennedy will have learned from his mistakes and know that how he performs in Ireland will greatly influence his political future. 
Independently wealthy, (net worth $18 million according to a list of Congressmen and women's assets) he can afford the time to build his comeback off a successful period of peacemaking in Ireland. He seems up to the task. In a vital difference, Joe III stood apart from the grandchild generation of Kennedys. Many of the younger clan blazed a trail that ended up in tabloid headlines and worse, deep personal tragedies that gave rise to a Kennedy curse mantra in the media.
Joe Kennedy never attracted such scrutiny,  thanks to his mother, a former expert city planner named Sheila Rausch who divorced Joe's father, Congressman Joe Kennedy Jr, and ensured that young Joe would stay clear of the Kennedy follies.
But despite keeping her distance Rauch decided to go public in a disgraceful episode where the congressman had sought an annulment to marry a new wife.
She described her shock as she received that first letter from the Boston Archdiocese, in which they stated that they were planning to "investigate" her marriage with a view to proving it had never existed.
She told the London Independent " How could anyone make such a statement about a courtship that had lasted nine years and a 12-year marriage that had produced two children?"
It took her years to fight off the inquisitors, eventually receiving their verdict, written in Latin in 2005 that her marriage was real.
The annulment ruined Joe Junior's political career, but his son Joe III picked up the fallen standard.
He has a powerful advocate in the White House. The connection is real. Look no further than the Oval Office where a bust of Robert Kennedy, Joe's grandfather, is often seen perched over the president's left shoulder.