I had only one day for Knocknarae, and it was the worst day.
In Sligo to study at the W.B. Yeats International Summer School, I had decided to take my only free Saturday to climb Knocknarae, one of the two smooth limestone sides of the town's weather-catching bowl, the other being Ben Bulben, both eulogized at one time or another by the town's (and the island's) most famous poet.
County Sligo is not known for its gorgeous weather – in fact, the mythical "fourth season" of summer comes in its full splendor so rarely that the residents still recall, and often speak of, the last Blessed Year, 1995, that they had enough sun to do without Vitamin D pills – but on the day I rode the 472 bus from Sligo to Strandhill, the second of August, the rain seemed to come from all sides; it spat and howled and bit at every hem and button.
Advised that the skies would clear (and fortified by an Irish "fry-up," a deadly breakfast of bacon, egg, tomato, sausage, potato, black and white pudding, and toast … and a Guinness) I ventured out in a blue cotton oxford and leather dress boots. But seaside Strandhill was worse than Sligo, whipped as it was by Atlantic tides, great sea horses baring their teeth and laughing, it seemed, at me.
 I was casting about for any open door, any shelter, preferably one with an iron stove and warm crowded wooden booths, but in the ocean about two dozen surfers in wetsuits battled the gray waves, paddling out again and again in a bay deemed too dangerous for swimming. I gave them a silent salute and went into The Strand Pub for a pint, hoping the rain would let up. It seemed that it had about an hour later, and after getting some scanty directions from a waitress – "Go up the road into town and turn left you will see a carpark" – I went out again into a lighter rain.
A hundred meters from the door of the pub, and fifty from the Strandhill bus stop, without thunder or lightning, without any warning sound, the clouds opened new unseen sluices and let down an even harder rain.
Under a canopy of leaves, a glorified flower bush coaxed by some unsuspecting coast dweller into a shelter for travelers like me, I waited and weighed my options. I could see the mountain, but I did not know how far away it was, nor where to find the marked path. The changing weather was an even greater gamble. But the bus stop was now fifty meters away or more, and that, too, would be a trip through the rain. That walk of defeat might be longer than the walk up the rain-battered limestone slopes.
I set out again.
I'd gone about four kilometers, still in hissing drizzle, before I became a traffic impediment. There were no shoulders, and as I walked the left side of the curving road I listened for cars behind, and when I judged they were close enough I'd jump up into the gorse and nettles to let them zoom past. I hadn't even thought to stick out a thumb when a woman slid her car to a stop and asked me, leaning over her father, if I was headed to Knocknarae.
"Typical Irish pessimism, you know," she said when I mentioned all the people who had tried to dissuade me from the climb – on any day – while I'd been in Sligo. "It'll be slippery, though, so watch yourself," she said.
She pulled into a near-empty carpark, and turned to me. "Heading back into Sligo town? You'll want to go left at the turn down there. Try to hitch back in."
"Not to the bus?"
"It'll be longer back to Strandhill, and then to wait on a bus. S'more direct to Sligo, and it's a busy road. Somebody'll pick you up – and if not, it's only six kilometers."
In an afternoon hitchhiking went from a romantic anachronism to the beginnings of a habit. Across from me, a lady sat in a shack selling hot chocolate and coffee to climbers. Beyond her, what looked like an easy hill stretched up through pastures of sheep.
The rain felt like it might be letting up.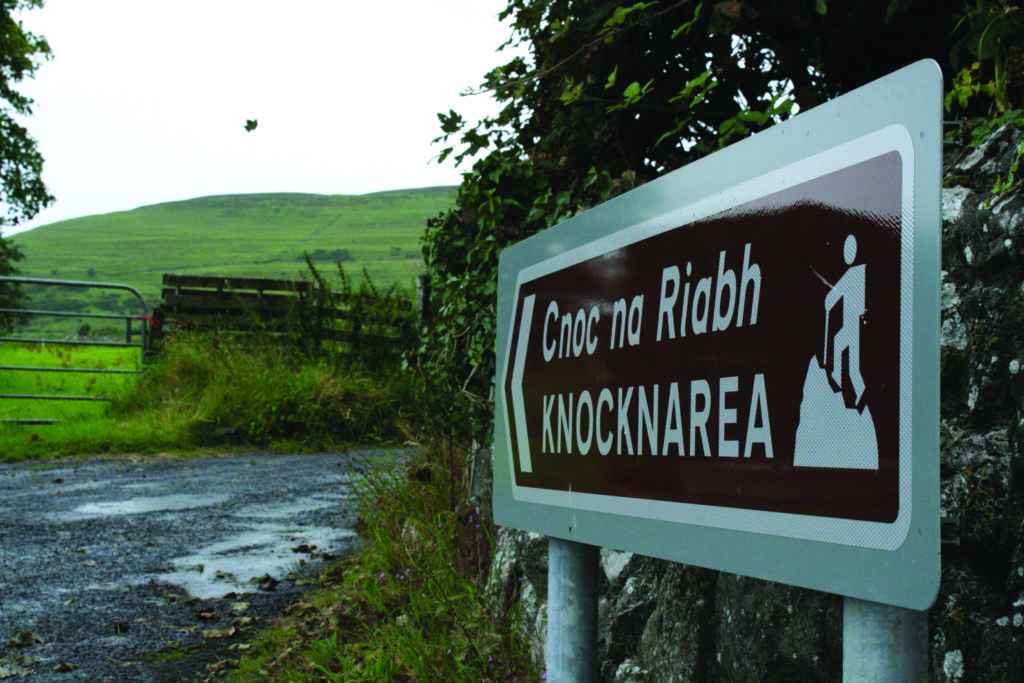 THE RAIN was not letting up, and it was not long before I realized the importance of proper footwear. Stubbornness, bafflement, and Irish pity got me to Knocknarae's foot, but couldn't give my smooth soles more traction on the hill. Most of the going was easy enough – the incline was gradual, and softer parts were covered in a bed of rocks for grip.
But there was a rainstorm, and the pebbles – really rocks the sizes of babies' balled fists – slipped and slid under me, rattling back down the path. The solid parts were made of limestone steps smoothed by millennia of climbers and eons of Irish weather. These rock knuckles were the toughest to navigate, and there were no handholds save the barbed wire strung from perilous loose fence posts to my left.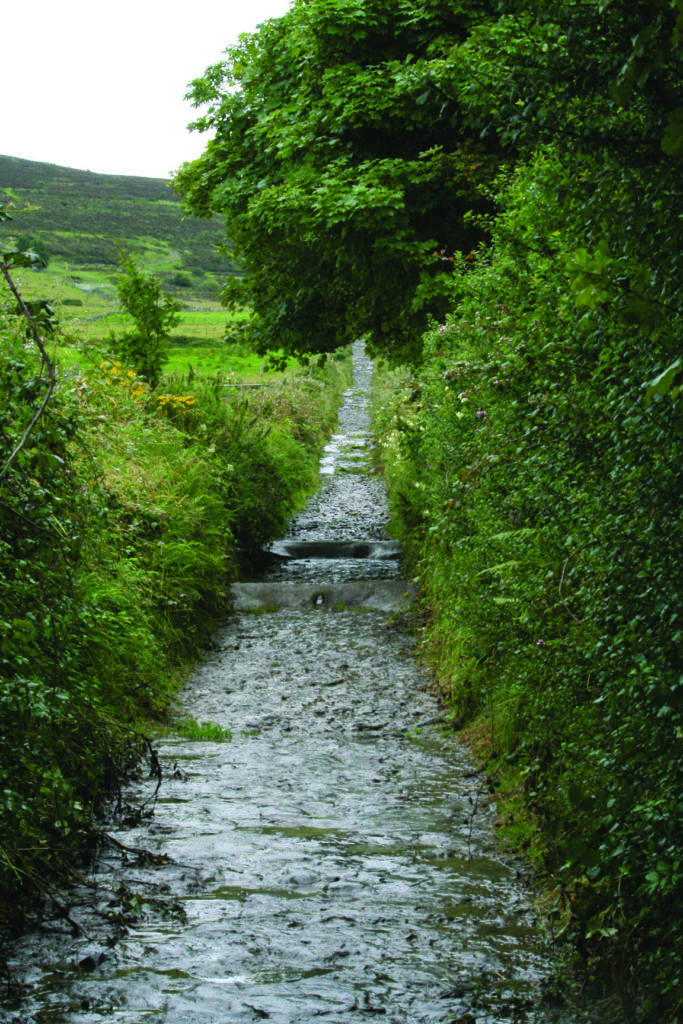 This was not the day's first sartorial epiphany: the former had come about five minutes after leaving my house on Old Cartron Hill in Sligo Town, sans jacket. The month is August, I thought; August means summer. This was naïve. As soon as I hit the bay, the wind blew slantwise doubts through my entire day's plan.
I came unprepared for Knocknarae in ways, for I didn't know what sat at the top. When I crested one of the soft upper ridges, even the sheep below me then, I saw a massive pile of stones, like a crude crown on the mountain.
I knew it was one of the famous cairns of the British Isles – but I hadn't known I'd find one there. As I got closer I saw that though the top was smooth this was broken by a further peak – a small thrusting upward, in the rough shape of a man. I was still too far to tell – but I wondered if it might be some Celtic yogi in contemplation.
Finally I reached it – some forty feet high, one hundred and eighty feet in diameter, a great rubble tumulus of stones head-size and bigger. A simple sign warned off climbers and vandals. I learned later that this was Maeve's Cairn, the tomb of the mythical Méabh, lover of kings and Queen of Connacht in the Ulster Cycle of Irish lore. Though Queen Maeve was allegedly killed with a piece of cheese sent with a particularly deft sling, her burial site could not be nobler: she is entombed in the cairn atop Knocknarae, according to lore, standing upright, so as to face her enemies in Ulster, in the north.
So I sat on a rock at the edge of the cairn and looked out on all the land and sea until both land and sea disappeared in gray oblivion. A giant's handful of pebbles separated me from a semi-divine queen. The same rain that touched me found its way to her. A few feet away from me a couple also sat on the cairn, smoking.
I jotted down one or two thoughts in a leather-bound notebook. The rain sent the ink blooming and swirling down the page. Perhaps this is why Albert Camus chose Sisyphus as his prototypical thwarted man: because there may be nothing more essentially human than the desire to carry rocks up to high places and pile them there. "The struggle itself towards the heights is enough to fill a man's heart," Camus writes.
"One must imagine Sisyphus happy." I imagine Sisyphus happy, and I imagine him walking back down that hill to fetch another rock; every trip down he walks lighter, every trip back up heavier still. So I turned to walk down – a bit lighter on my feet, head clear, empty, gray, rain-whipped. And, like Sisyphus, I knew some day I'd be back to visit Maeve's Cairn, carrying some other rock. As I walked the first easy downslope of the summit a red neon flashed past. It was a runner, and I saw him skid in the wet grass and gravel at the edge of a small cliff, a limestone lip. He stopped on his toes, swaying there, and scanned the descent, from Sligo bay in the east to the wide whitecapped Atlantic in the west, the rough slope below. And then he was off, almost falling, in a mad katabatic flight down the hill. And I followed him down, feeling "cold and passionate as the dawn."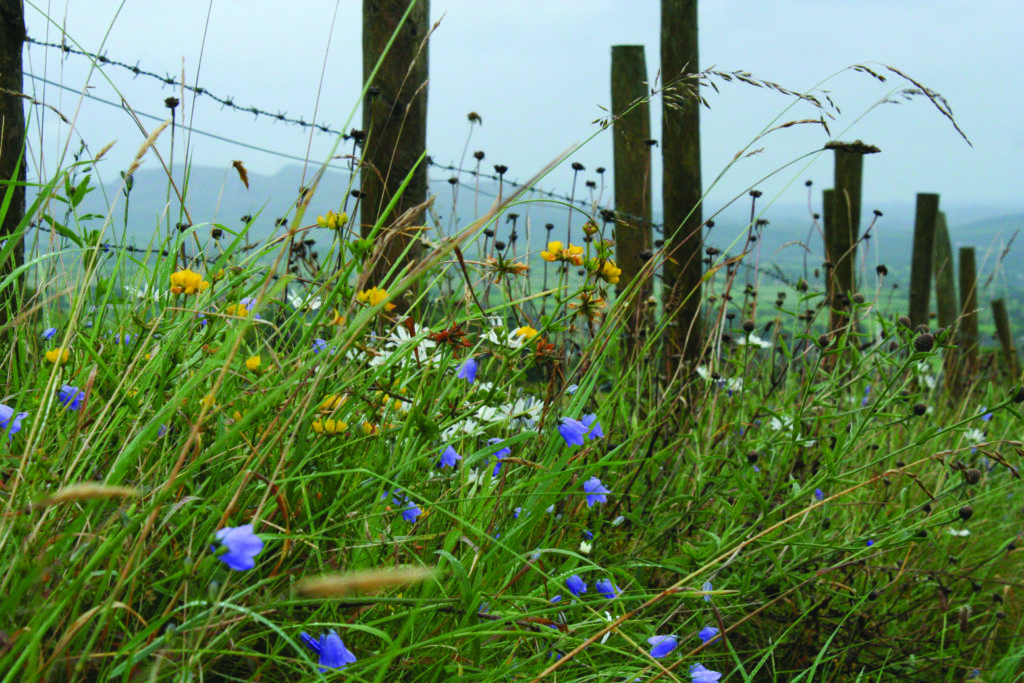 THE SIGN SAID six kilometers to Sligo, so I started walking north, one hand warming around a fresh cuppa from the shack at the foot of the trail. The air was light and full with oxygen, and I whistled odd Irish tunes that came to my head – the rain, a fine blowing mist now, was like holy water fallen from an aspergil shaken on an unseen peak even higher than my Knocknarae (my Knocknarae now), the white clouds great billows from some Druidic thurible in the skies.
"Up the mountain ye were?" the woman said to me. I tried to look at her from the passenger seat, though my glasses were bedazzled with raindrops.
"Picked a day for it, too," I said, and she laughed, and clicked her tongue. She was in her mid-seventies, wearing a corded cream wool sweater and speaking to me in that rough thicket of an Irish country accent that I encountered any time I left the main towns and met a sexa- or septuagenarian.
"My name is Aidan Ryan, by the way," I said – appropriate, it seemed, now that I'd been soaking her upholstery for a few minutes. "Oh, not many Ryans here," she said. And that was all I got out of her.
I never learned my driver's name.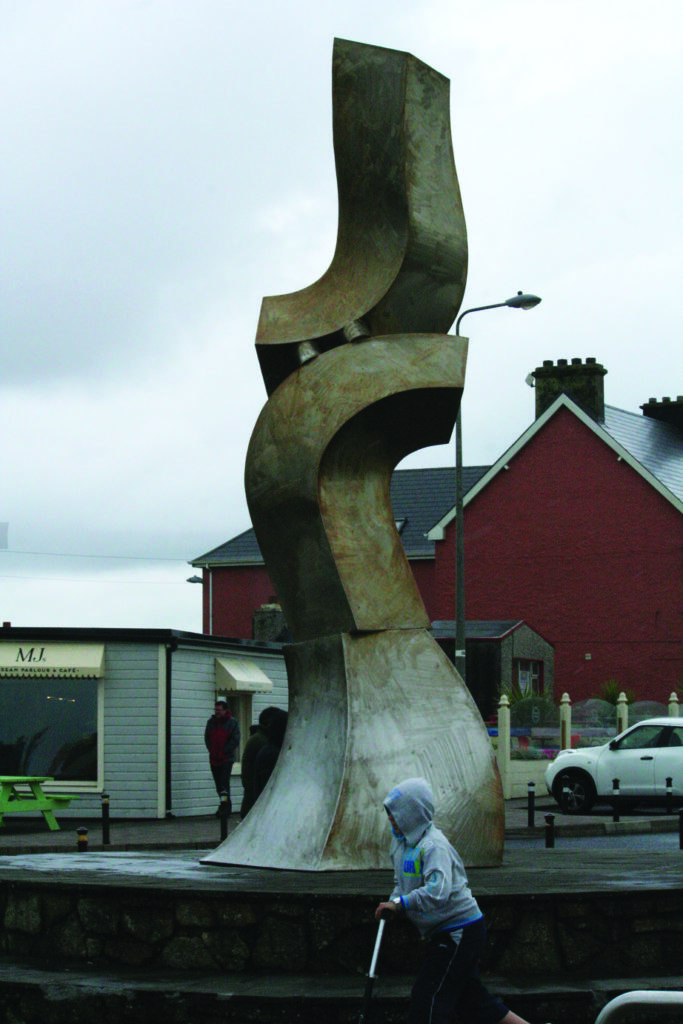 The woman had picked me up about two and a half kilometers from Sligo Town. I had been walking the easy downhill road from Knocknarae for about three kilometers already, through intermittent mist under a white sky, and though my thumb wasn't out in the universal hitcher's gesture my smooth-soled shoes were waterlogged, my sky-blue shirt had been soaked into a royal indigo, and the camera around my neck labeled me a tourist, which in Ireland is inevitably seen as something of an innocent fool to be pitied and taken in for at least two cups of tea and a bit of advice.
She pulled up to me beside some farmer's field, and I stepped out of the road for her, into thorny bushes. She didn't roll down the window or look at me; she just jerked her thumb into the empty passenger seat. I got in. And as we pulled into the busier traffic of the town, I remembered all the times that people of my parents' generation and older had told stories about catching rides across the U.S. or Europe.
"Back then you could get away with it," they always told me, following this with a world-wise warning that if I dared to thumb a ride I'd be chopped up with farm implements. I figured then, safe in that woman's car, that there was a fair chance I'd tell the same things to my children, in some gauzy future dreading whilst anticipating that they'd someday give the opposable finger to caution (preferably in Ireland).
She let me out at the corner of Wine Street and O'Connell, and in the bustle of a town switching into a higher gear for the Fleadh Cheoil, Ireland's traditional music festival which was set to begin, then, in a week. The disassociation hit me: I was at once rooted to the spot and still standing on the wind-swept top of Knocknarae.
We are blessed and cursed by a layered, rather than a linear, experience of time. Sometimes in melancholy wet cafes I am given to indulging in sober notions that by the busy industry of our lives we hope to keep at bay. And then there are other times when I find myself back on the hill's bare head seeing, in three hundred and sixty degrees, the Atlantic, the twin bays, the surfers at Strandhill, the sheep of the hillocks, and the fog all over the land.