The Irish American Business Chamber and Network (IABCN) is holding the 2023 Ambassador's Awards Luncheon on Friday, February 24 at the Union League of Philadelphia in the Lincoln Ball Room.
Hosted by Ambassador of Ireland to the United States, Geraldine Byrne Nason, the award luncheon honors exceptional individuals that embody the Irish spirit in their respective fields. 
Receiving the Ambassador Award is Dr. Chris Everett Domes, President of Neumann University.
As president of the private Catholic Franciscan university, Dr. Domes emphasizes respect for individuals, concern for the environment, and social responsibility among his faculty, staff, and students.
The founders of Neumann University, the Sisters of St. Francis of Philadelphia, were born or trace their heritage back to Ireland – and because of the longstanding cultural connection, Neumann has partnered with the IABCN for decades and aims to expand its study abroad programs with higher institutions in Ireland for 2023.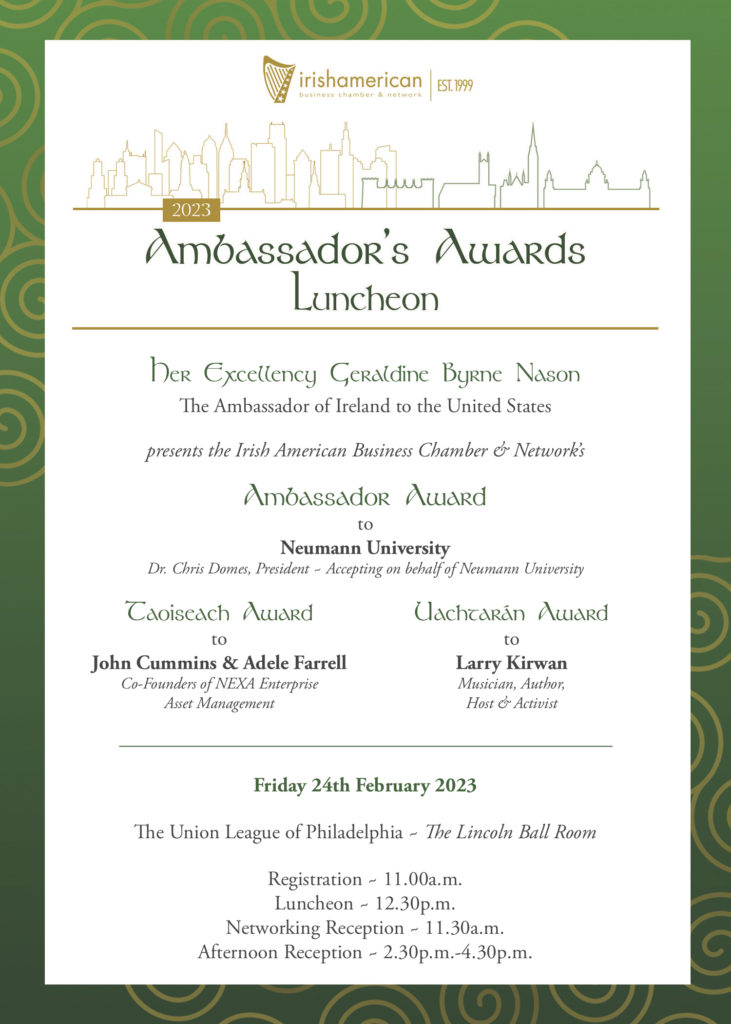 The honorees for the Taoiseach Award are John Cummins, founder of NEXA Enterprise Asset Management, and Adele Farrell, who launched NEXA | EAM (formerly "Cal OpEx") with Cummins and established the company's Human Resources and Recruitment division. 
NEXA is an Irish-formed company that came to the greater Philadelphia area in 2016 and has grown massively in both Ireland and America, and was acquired by the NASDAQ-listed Transcat in 2021.
Cummins has consistently encouraged corporate social responsibility within the company by raising money for charities like Philadelphia's "Rock to the Future" and the Wounded Warrior Project. Farrell, known as "Queen of People and Culture" in NEXA | EAM, is responsible for acquiring, retaining and developing the best talent. In tandem with Cummins, the NEXA leaders have made Corporate Social Responsibility a priority in the company, and have made it their personal mission to give back in their local communities.
Nominated for the Uachtarán Award is Larry Kirwan, Wexford-born and New York-based musician, author, host, and activist. 
As frontman for Black 47, Kirwan has released 16 albums and performed over 2,500 shows. He has also written several books: Green Suede Shoes, A History of Irish Music, Liverpool Fantasy, Rockin' The Bronx, Rockaway Blue, and more. He has also written or collaborated in 20 plays and musicals, including the critically acclaimed Paradise Square, which was nominated for 10 Tony Awards on Broadway, including one for Kirwan as a co-book writer and received the 2022 Eugene O'Neill Lifetime Achievement Award in October.