Irish-based NGO GOAL Grieves the Loss of 27 Staff Members in Turkey-Syria Earthquake
Irish-based international humanitarian relief organization GOAL has confirmed the tragic loss of 27 staff members in the devastating Turkey-Syria earthquake on Monday, February 6. This is the largest loss in the organization's history.
GOAL is one of the largest NGOs in Southern Türkiye and Northwest Syria, with 950 staff reaching more than 1.5 million people in Syria alone. Teams are still working around the clock to account for several staff still listed as missing, while also supporting the overall search and rescue mission.
Accounting for the safety of every member of staff has been the utmost priority since Monday. But this has presented significant challenges given the immediate movement of staff to find shelter and safety following the earthquake, the loss of electricity and power for telecommunications, damaged and completely impassable roads, and the absolute destruction and desolation across the vast region.
"To say it has been a profoundly difficult week for the GOAL Teams in Türkiye and Syria cannot be overstated. Because of the sheer geography of destruction, and GOAL's long-term presence in the communities so severely impacted, the scale of loss is far beyond anything we could have ever imagined," says GOAL CEO Siobhan Walsh.
GOAL staff across the region have also lost family members, sustained life-altering injuries, and lost their homes. Meanwhile, as part of GOAL's humanitarian response to support communities most affected by the earthquake, teams in Türkiye and Syria have mobilized responses to assess needs on the ground, while prioritizing the immediate restarting of key humanitarian aid programs that deliver shelter, access to food, clean water and health and social support.
GOAL's global team of 3,500 personnel across 14 countries are today united as one as they support their heartbroken colleagues in Türkiye and Syria. Never in the organization's history has GOAL experienced the loss of colleagues on such a scale.
"GOAL's teams in Turkey and Syria have faced loss and devastation for too many years now. Still, they have been there to do what GOAL does best – help people in extreme crisis survive, recover, and rebuild. Today we lost our 27th team member to the earthquake. While we mourn, we know there are literally hundreds of GOALies putting on that green vest and getting back to work. It's inspiring beyond words. And it's an effort we'll need to support today and for years to come. Their memory and our mission demand nothing less," said Ronan Ryan, Chair of GOAL USA's Board of Directors.
The earthquake has claimed over 26,000 lives as of Friday, February 10.
To support GOAL in its Turkey-Syria relief assistance, click here.
Hotelier John Fitzpatrick Receives Distinguished Leader in Business Award from the Irish Times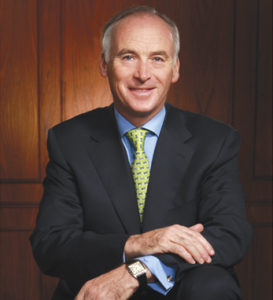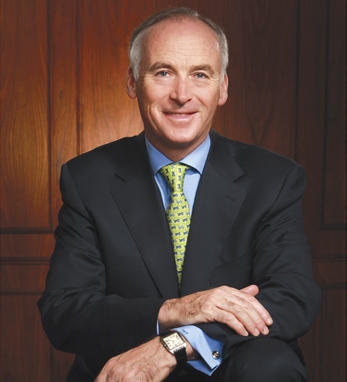 Irish hotelier John Fitzpatrick was the recipient of the Distinguished Leader in Business award at the fifth annual Irish Times Business Awards.
He received the award at a ceremony at the Mansion House in Dublin on Thursday, Feb 2.
Fitzpatrick, who owns and runs two first-class hotels in New York City: the Fitzpatrick Manhattan, and the Fitzpatrick Grand Central, both of which have four-star ratings, worked in his family's hotels in Ireland, including the famous Fitzpatrick Castle Hotel in Dublin, before establishing the Fitzpatrick Manhattan hotel on Lexington Avenue in 1991.
In his acceptance speech, he recollected the early days in New York, saying it was "a hard slog, knocking on doors and competing with big, well-known brands such as the Hilton and Sheraton".
The hotel went on to – and continues to – host the most notable Irish entertainment stars, sports celebrities, and politicians.
Dublin Runner Breaks 400m Dash Record at University of New Mexico
Dublin-born athlete and sprinter Rhasidat Adeleke set a new indoor 400m sprint record at the University of New Mexico Collegiate Classic on Saturday, Feb 4.
The 20-year-old finished the 400m dash with a record-smashing time of 50.45 at the Albuquerque match, beating her own outdoor record of 50.53 and Karin Shinkins' 51.58 record, set in February 2002.
Adeleke, a student at the University of Texas, now has the top time in the National Collegiate Athletic Association's (NCAA) history and in the Ireland National record, according to Texas Track & Field and Cross Country. Saturday's race also placed her 20th on the all-time world indoor 400m rank.
In January, Adeleke also broke a personal Irish indoor 200m sprint record with a world-record time of 22.52.
Native to Dublin City, Adeleke has a decorated running history, including winning the gold medal in the 200m dash category at the 2018 European Athletics Under-18 Championships at age 15 and winning the 100/200m sprint double at the European Youth Olympic Festival that same year.
Mary Lawlor Takes Home the 2023 Irish Red Cross Lifetime Achievement Award
Human rights activist Mary Lawlor is the recipient of this year's Irish Red Cross Lifetime Achievement Award for her extensive work as a human rights advocate and for supporting vulnerable people.
As the special rapporteur for human rights defenders in the United Nations, Lawlor has a shining history of advocating for refugee rights and asylum-seekers – and, more recently, supporting displaced families and people from Ukraine.
Lawlor is an adjunct professor of business and human rights at Trinity College Dublin and the founder and former executive director of Front Line Defenders, an international human rights organization that aims to protect human rights defenders at risk.
On the nomination, Lawlor said: "This is a tremendous honor for me to accept this award, recognizing those who work for human rights in communities all around Ireland and abroad, where so many contribute to the protection of rights, even when it is not popular to do so."
"Without them, change will happen, but not the sort of change the world so urgently needs today," she added.
Deirdre Garvey, Secretary general of the Irish Red Cross, said: "The inspiring and courageous work by Mary Lawlor in defending the crucial role of human rights has never been more relevant or important.
"Irish people have never been found wanting in coming to the aid of those less fortunate and this has been especially evident in the past 12 months in pledging homes and donating money towards the ongoing crisis in Ukraine which has seen the displacement of millions of people in our own European continent."
"Magical" Castle in Co. Clare Named one of the Most Romantic Hotels
County Clare's own Dromoland Castle Hotel was ranked 18th on Big 7 Travel's Most Romantic Hotels in the World for 2023.
Just in time for Valentine's Day, Dromoland Castle made the international list as Ireland's "most magical address", according to Big 7 Travel reviewers.
Dromoland Castle's history dates back to 1014, when Donough O'Brien, a son of high king Brían Boru, controlled the castle as a defense tactic from enemies and remained within the O'Brien family (known as the Barons of Inchiquin) for the next 900 years.
Hosting visitors since the 16th century, the Dromoland estate has a rich cultural history under the distinguished Barons of Inchiquin. It was purchased in 1962 by Irish American investors and transformed into a luxury estate hotel.
"The Brian Boru Suite features a four-poster bed, chandeliers, and huge windows offering sweeping views over Dromoland Lough and the estate," Big 7 Travel reviewers wrote.
"You'll feel like you're traveling back in time as you drive through the gate and approach the magnificent castle, set in forest thickets not far from the Wild Atlantic Way."
The 50 hotels ranked were based on multiple factors like high Tripadvisor reviews from couple's trips, hotel facilities, and unique romantic excursions.
Irish Writer Nominated for the Susan Smith Blackburn Prize 2023
Writer Katie Holly was named a finalist for the prestigious Susan Smith Blackburn Prize 2023.
The playwriting award is one of the most significant international prizes granted to women+ playwrights, with a $25,000 prize for the winner and a signed print by esteemed artist Willem de Kooning, crafted especially for the Susan Smith Blackburn Prize. In addition, each finalist will also receive a $5,000 award.
Representing Ireland in the final shortlist, Holly is recognized for Her Hand on the Trellis. Her first three plays, Marion (2016), Sharon (2017), and Crowman (2018), all toured regionally and/or nationally across Ireland.
Over 190 plays were submitted for consideration for the 45th-anniversary prize.
An international panel of six judges chooses the winning play, including The Language Archive writer Julia Cho, stage director Rebecca Frecknall, choreographer-director Raja Feather Kelly, producer and Society of London Theatre President Eleanor Lloyd, actor-director-writer Lucian Msamati, and actor Amy Ryan.
The winner will be announced on March 27 at the 45th Anniversary Celebration at the Playwrights Horizons in New York City.