The Northern Ireland Assembly is back but intransigence could still damage the prospects for peace. Anne Cadwallader reports.
Glimpse a furrowed brow or lips shut tight against gritted teeth at Stormont right now and you're looking at someone who was counting on the peace process ending in failure and recriminations.
Those with a spring in their step, a whistle on their lips and a twinkle in their eye are the indomitable ones who, despite all the dire predictions, desperately wanted it to work.
Miles of corridors behind that grandiose pillared facade are bustling once again with clerks, secretaries and researchers. Journalists and politicians are gossiping in the cafeteria. Coach tours are bringing rubberneckers back to watch it all happening.
Even the souvenir shop is doing a brisk business in dark blue Assembly pens, key-rings, notepads and paperweights with the golden linen-flower logo that was chosen to represent both communities, insulting neither.
But although the landings and staircases pound with hundreds of feet on Assembly business, there are corners where dark plots are still being hatched. And the smiles on the faces of the optimists are tinged with unease and concern.
Politicians hardly need reminding that we've been here before — for 72 days to be precise, between November 1999 and February 11, 2000. They know the mirage of normality can disappear as quickly as a Secretary of State can sign a piece of paper.
June 5, the first day the Assembly sat, was, unpredictably, almost boring. The sectarianism was tired and half-hearted. No one really broke into a sweat. They discussed budgets, while the one attempt to embarrass Martin McGuinness was a damp squib.
Sure, the following day's debate on flags generated a bit of steam. Ian Paisley fulminated about the "extermination" of Protestants in the Republic and how no British flag flew over Dublin Castle. But no one got thrown out for bad language.
The debate on equality had the unionists adopting their usual ostrich-position of denying the civil rights movement had any justification and out-whining the perennial nationalist complaint of discrimination, but there was no real heat in the debate.
The nearest the North has come to real sectarian anger was over the election of Sammy Wilson, a member of Ian Paisley's Democratic Unionist Party (DUP), as Lord Mayor of Belfast on a night when Alex Maskey of Sinn Féin had been tipped to become the city's first citizen.
All shades of unionism at City Hall united in a straight head count to keep Sinn Féin out and elect Wilson. Two UUP ministers (Michael McGimpsey and Reg Empey) even rushed from an Executive meeting to support the DUP, although it has pledged to wipe out the Ulster Unionist Party (UUP) at next year's general election.
Sinn Féin, the SDLP and the Alliance Party were outraged that the UUP would support the DUP, within days of Ian Paisley's party announcing it would begin a process of rotating its ministerial nominees to the Executive.
As before, these nominees will boycott Executive meetings in protest of Sinn Féin's inclusion, while taking their full salaries. The DUP is, however, to take those salaries and put them into a "fighting fund" with which to wage an all-out electoral war on the UUP at next year's polls.
The two UUP ministers explained their behavior by linking Sinn Féin to the IRA's past violence, although they had no qualms the same night in nominating Ulster Democratic Party (UDP) councilor Frank McCoubrey as Wilson's deputy. The UDP is linked to the Ulster Defense Association (UDA), currently involved in a bloody feud with the Ulster Volunteer Force (UVF).
Similarly, in 1994, the Ulster Unionist Party had no problems voting for a PUP candidate. The Progressive Unionist Party (PUP) is linked to the UVF which murdered 18 people the same year, including the mass murder of six people at a bar in Loughinisland, Co. Down.
Wilson is an outspoken loyalist with extreme views. After the 1991 UDA murder of Donegal Sinn Féin councilor Eddie Fullerton (around the time the British Army Special Air Services killed an IRA man in Co. Tyrone) Wilson proposed a resolution that City Hall congratulate those who had "done good work on both sides of the border."
When a Sinn Féin candidate was elected to City Hall in 1991, Wilson called the 5,000 republican voters who elected him "subhuman animals." He also once said, "Taigs aren't rate-payers."
In November 1987 he said Irish was a "leprechaun language" and in September 1989 he said the GAA was "the sporting wing of the IRA." He called Alex Maskey "leadbelly" in 1988 after the Sinn Féin councilor had been shot in the stomach by loyalists.
In Derry, however, a former republican prisoner was elected Mayor. Cathal Crumley promptly promised to represent all the city's people, even those who opposed him, and to usher in a new era of inclusivity.
Despite the undoubted anger at Wilson's election (which will probably spur Sinn Féin to an improved electoral performance in the 2001 local government elections) pro-Agreement supporters are more hopeful about the future.
People are almost afraid to whisper it aloud, but perhaps — just perhaps — the worst could be over and, with a good wind, fingers crossed, the peace process might be sailing into calmer waters.
If you were looking out (and some will be looking out) there are still opportunities for inveterate anti-Agreement unionists to row back the tide. The DUP and the anti-Trimble camp in the UUP have to push backward, there is no way forward for them.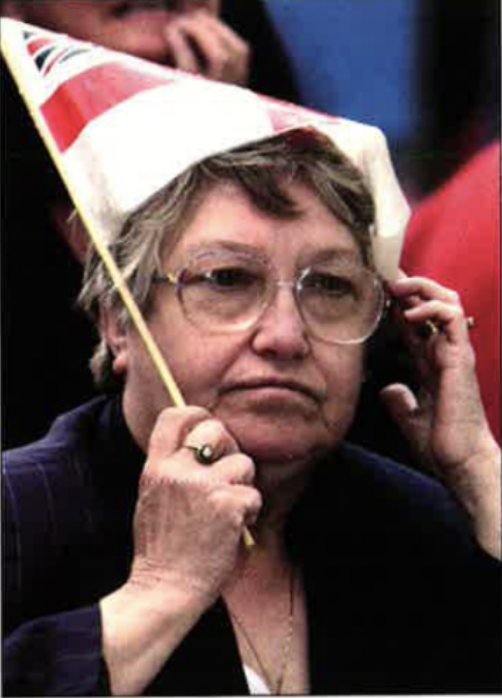 Even for the pro-Agreement camp, there are words, phrases and place-names that can wipe the smiles away as fast as a cloud can sweep over the grassy lawns of the Stormont estate.
Words like "decommissioning" and "policing"; place-names like "Portadown" or "South Antrim" and phrases like "dissident republican" can be felt like cold winds whipping around the windows and whistling under the doors.
Decommissioning, or the lack of it from the IRA, could still wreck the process, if the Ulster Unionist Party leader, David Trimble, faces another leadership challenge in the autumn.
He has probably known for months now that the IRA was never going to produce its armalites for the angle-grinders still waiting under General John de Chastelain's supervision to cut them up, but his party hard-liners may still use it to trip him up.
Policing, or the stubborn refusal of the British government to make good its joint promise with Dublin on May 5 to implement the Patten Report in full, could yet wreck the IRA's "confidence building measure" of allowing independent inspection of some of its arms dumps.
The devil is in the details over the Police Bill, still under debate in the House of Commons. The Patten Report, in nationalist eyes, was the compromise. Republicans say they will not tolerate any further watering down of his 175 recommendations.
The increasingly supercilious Northern Ireland Secretary, Peter Mandelson, airily told the House of Commons that his handling of the Bill was "all about balance and negotiation."
Gerry Adams, the Sinn Féin president, bluntly told him he had no business balancing and negotiating. His responsibility was merely to implement what Patten had recommended and the British and Irish governments had already promised.
"Meddling Mandy," however, seems determined to persist in a personal intervention in the policing debate — a development that could yet prove damaging to republican good intentions, given his previous history.
Meanwhile, July 2nd and the annual Orangemen's Drumcree march looms. The Order is to hold two Sunday parades in Portadown this year, and every day in-between, to stretch the RUC (Royal Ulster Constabulary — police) to breaking point in the run up to The Twelfth.
A brave, or foolish, South African judge and human rights lawyer, Brian Currin, has taken over the mantle of potential mediator in this long-running sectarian ulcer that now seeps its poison into the body politic all year round.
Few believe he can make a difference in time for "Drumcree 2000," with Orangemen vowing not to walk away quietly this year, as they did last (on unwritten promises from London that they would be rewarded).
Then there is the problem of David Trimble's electoral prospects. The fast test could come later this month, in the South Antrim constituency, where pro-and anti-Trimble unionists will fight it out to decide who will be the UUP candidate in the upcoming by-election.
The death of Clifford Forsythe, the sitting MP, could not have come at a worse time for Trimble, with former ally and vanguard member, public relations guru David Burnside, running as an anti-Agreement candidate, and liberal Englishman, Orangeman and former UDR soldier Duncan Shipley Dalton the leading pro-Agreement candidate.
But the dangers do not come only from one quarter. The problems Gerry Adams faces are too often overlooked and seem set to increase with time. The same group of dissident republicans responsible for the Omagh tragedy are the prime suspects for a bombing in London on June 1.
Their target does not really seem to be the ordinary Londoners they would have killed if their bomb had been — in their terms — "successful," but the peace process and their erstwhile comrades in the mainstream republican movement.
It's easy to write off the "Real IRA" as comprehensively compromised. As commentator Brian Feeney pointed out recently, "Not only do the Gardai and RUC know who they are and where they hang out, but they seem to know when they're up to something — or as RIRA no doubt would say, carrying out an operation.
"They seem to know because they usually arrest them just before they do it," wrote Feeney, his pen dripping acid. No one, including Feeney, however, would rule out the "cock-up factor," and the RIRA still poses a danger to the peace process and the Adams leadership.
Then there is the IRA itself, accused by senior, unnamed, RUC sources as responsible for the murder of drug dealer Edmund "Big Ed" McCoy in a south Belfast bar on May 28.
Whether that leaked accusation was of malicious intent, timed to coincide with the debate on Patten and the future of policing, or not, the potential of such interventions to upset the apple cart is self-evident.
So, wherever you look there are problems. There always are. As Adams says, this peace process is "a battle a day." As in the Middle East, a peace process can often be more unpredictable and volatile than war.
Editor's Note: This article was originally published in the August / September 2000 issue of Irish America.