On December 7, 1998, a special John F. Kennedy Profile in Courage Award was presented to eight political leaders of Northern Ireland and the American chairman of the peace talks in recognition of the extraordinary political courage they demonstrated in negotiating the historic Good Friday Peace Agreement in April 1998. The presentation of the Profile in Courage Award to a non-American was unprecedented at the time. 
The recipients of the Profile in Courage Award were Nobel Peace Prize laureate John Hume, Social Democratic and Labour Party; Gerry Adams, Sinn Fein; John Alderdice, Alliance Party of Northern Ireland; Malachi Curran, Northern Ireland Labour Party; David Ervine, Progressive Unionist Party; Gary McMichael, Ulster Democratic Party; Monica McWilliams, Northern Ireland Women's Coalition; Nobel Peace Prize laureate David Trimble, Ulster Unionist Party; and former U.S. Senator George Mitchell, chairman of the peace talks. 
The following are excerpts from remarks made by Senator Kennedy and each of the recipients. The complete speeches can be found here. 
Senator Ted Kennedy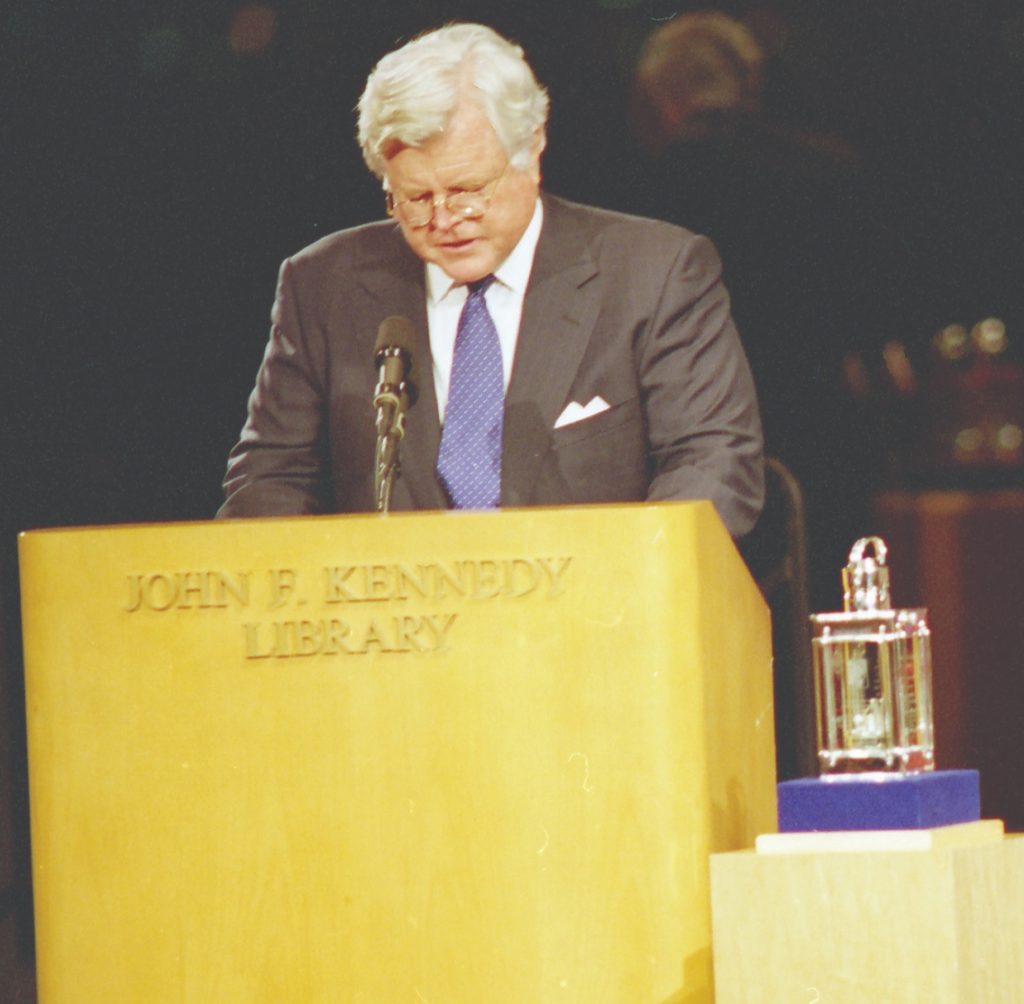 It's a privilege, as well [ask our honorees], to pay tribute to a very special person, who was present at the creation of the peace process in Northern Ireland and who did so much to make it possible, my sister, Ambassador Jean Kennedy Smith.
We are here to honor the eight political leaders of Northern Ireland and the extraordinary former United States Senator who helped make their achievement for peace possible. By their signing of the historic Good Friday peace agreement last April [they] launched a new era of peace and reconciliation for all the people of Northern Ireland. These eight leaders committed themselves to ending 30 years of violence and bloodshed in Northern Ireland, reducing divisions between Unionists and Nationalists, and building bridges between these communities.
They committed themselves to finding the needle of peace in the haystack of violence, and they found it. And when those of lesser vision urged a lesser course, these leaders acted boldly. They tirelessly dedicated themselves to the pursuit of peace, and they made difficult political choices to bring their noble vision of peace to reality.
In this season of the Prince of Peace, they are truly princes of peace themselves. As we all know, there are still miles to go before the victory of lasting peace is finally won. But, because of what they accomplished, there is better hope for the future. They have made an enormous difference, perhaps all the difference, for peace. Their achievement in the Good Friday Peace Agreement has changed the course of history for all the people in Northern Ireland. And I ask you to join me now in commending these eight leaders for their boldness, their perseverance, and above all their courage. [APPLAUSE]
We also honor the man I call the peacemaker's peacemaker, the former United States Senator from the state of Maine, my friend, George Mitchell. [APPLAUSE] We're delighted Heather is here, as well.
As President Clinton's Special Advisor on Northern Ireland and Chairman of the North Ireland peace talks, he performed an indispensable service to the cause of peace, by making the Good Friday Agreement possible. All of us who serve with George Mitchell in the Senate know his special skill in extracting a maximum of consensus and a minimum of conflict, among intensely opposing parties.
The parties in Northern Ireland saw that genius at work, too. They agreed that they would each be better off setting aside their entrenched differences and making common cause for peace, or, perhaps, they just knew George would never give up, and would never give in.
George has said that the recent birth of his son, Andrew, inspired him to an extra effort. As he tells it, on the day his own son was born 61 children were born in Northern Ireland. For their sake, he doubled his efforts to end the violence once and for all. St. Patrick would call him St. George, and the entire Kennedy family is delighted to honor him here tonight. We love you George, and we're proud of you.
I know that President Kennedy would be proud of each of you as well. In his book Profiles in Courage, my brother wrote that "today the challenge of political courage looms larger than ever before." We know how much Jack loved Ireland and its people. If he were with us now, I know that he would call each of these leaders a profile in courage. It is a privilege to have you here in my brother's library and honor you with this award that bears Jack's name as a tribute to your own courage. You have truly moved Northern Ireland closer to the day when the violence will be silenced for all times. You are truly profiles in courage, and we are graced by your inspiring presence.
George Mitchell
Co-chairman of the Good Friday Agreement talks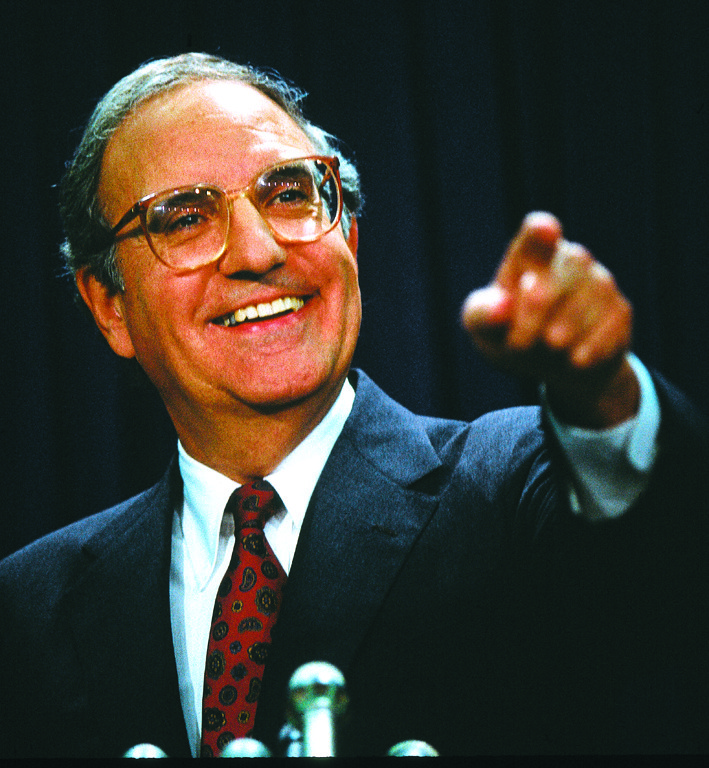 Now that that dream had been realized, I had a new dream, and it is this: In a few years, I want to take my young son to Northern Ireland. We'll tour that beautiful country, meeting the wonderful, warm, generous and energetic people there. And then, on a rainy afternoon, which will be easy because almost every afternoon is a rainy afternoon, we will drive to Stormont and sit quietly in the visitor's gallery of the new Northern Ireland assembly. And there we will watch and listen as these men and women and others like them debate the issues of life in an ordinary democratic society.
They will talk of education, health care, tourism, fisheries, and economic development. There will be no talk of war. The war will have long been over. There will be no talk of peace, for peace will be taken for granted. On that day, on the day on which peace is taken for granted in Northern Ireland, I will be truly fulfilled, and people of goodwill everywhere will rejoice. Thank you very much.
Dr. Monica McWilliams
Co-Founder Northern Ireland Women's Coalition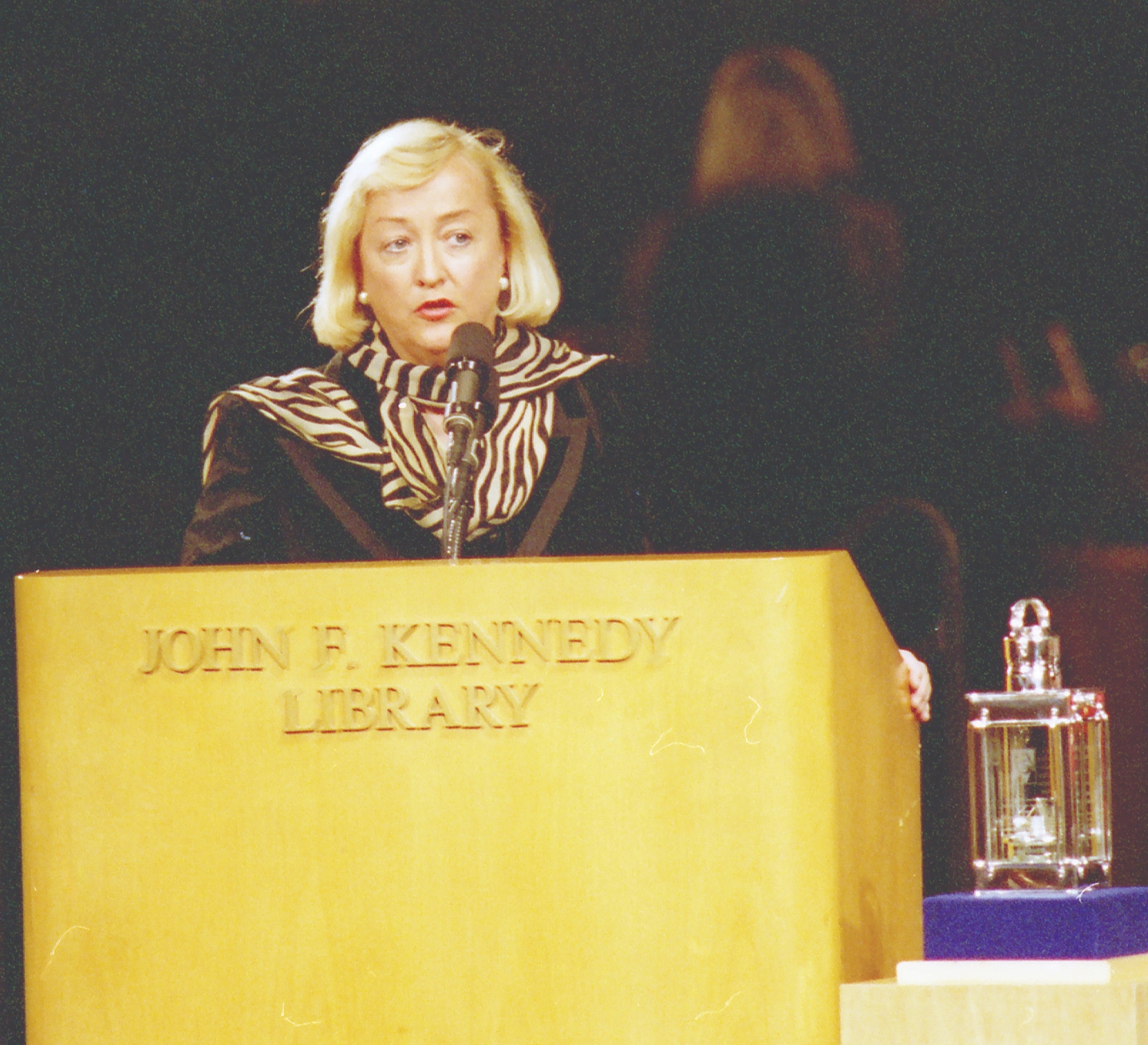 The people and the parties have committed themselves now to a different way forward. We in the Women's Coalition, and as a member of that new Northern Ireland Assembly, I pledge myself to work across the politics of inclusion and to greet and to meet the politics of difference. That is what each of us has now to do.
I want also to take this opportunity to commend each of the other party leaders here tonight. I was the one who told Paul that this was our first opportunity, tonight, to actually be together and to celebrate our wonderful agreement.
On Good Friday, I truly believe that we had interrupted the culture of failure. Senator, I thank you for the hard work that you put into Northern Ireland along with all of your family. And to you, Senator Mitchell, I want to say that I too have two small sons, and on their behalf, and on the behalf of your son and all the sons and daughters of Northern Ireland, we must never fail again.
Gary McMichael
Leader of the Ulster Democratic Party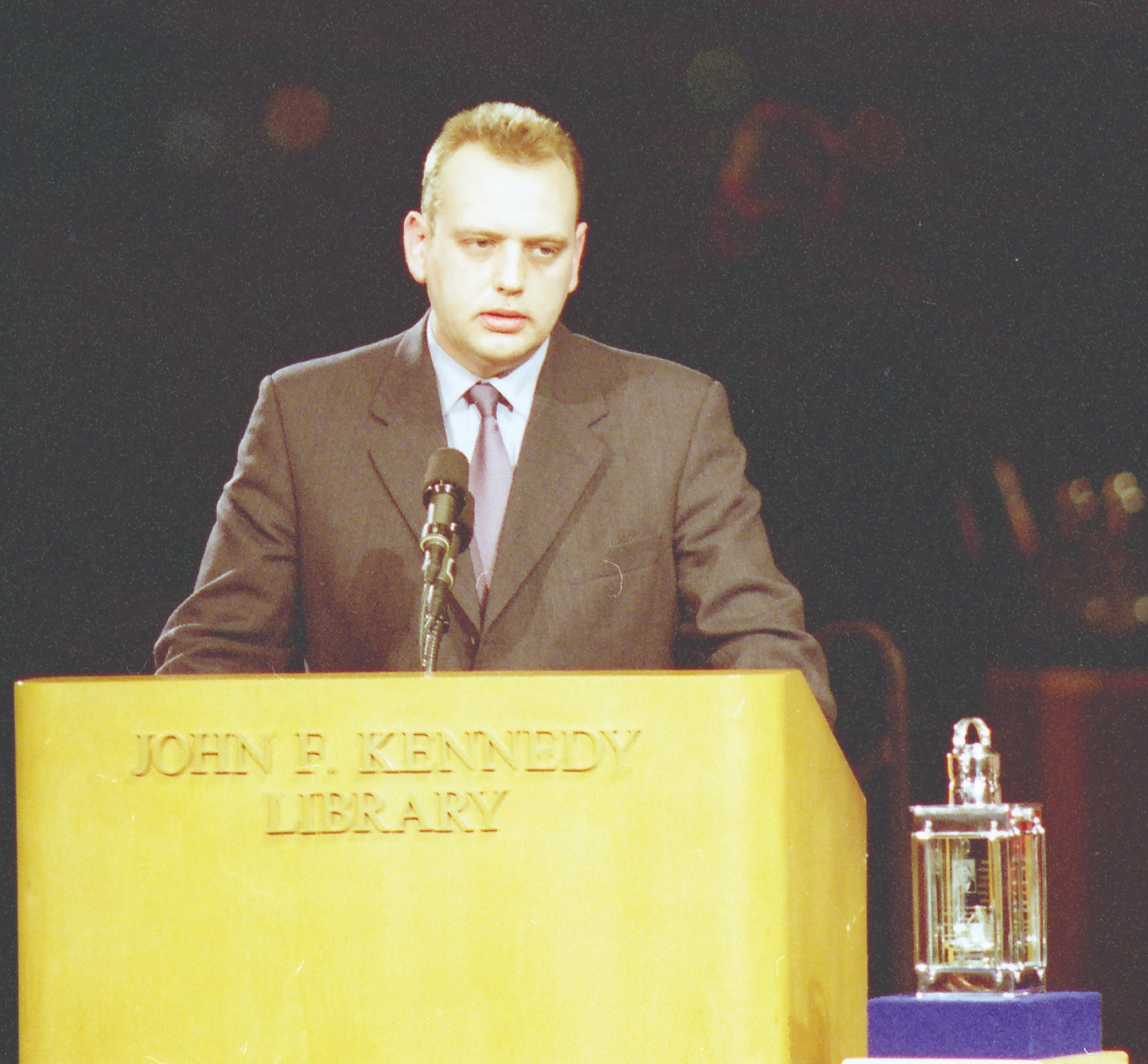 I thank the John F. Kennedy Library Foundation for honoring us with this award, and as a leader of the Ulster Democratic Party, I'm very pleased to be able to accept this and honored to accept this on behalf of my colleagues.
Each of us have had to play an extraordinary role, I believe, over the period of a long period of years, in order to try and bring this society in Northern Ireland forward, beyond conflict and towards peace.
I think that we have achieved more than any of us could have expected and hoped for, and have come through some very dangerous and difficult twists and turns over the period of the peace process so far. But it is still only a very short distance that we have traveled in the overall journey toward an eventual peace.
And I think we have to consider that. There are very serious monumental challenges ahead in order to assure that a peace process is consolidated and survives. I hope that on the part of all of us here, as leaders of political parties and movements within Northern Ireland, that we will rededicate ourselves to ensure that difficulties become less difficult to overcome and that the peace process continues to advance for the sake of all of the people of Northern Ireland.
David Irvine
Representing the Progressive Unionist Party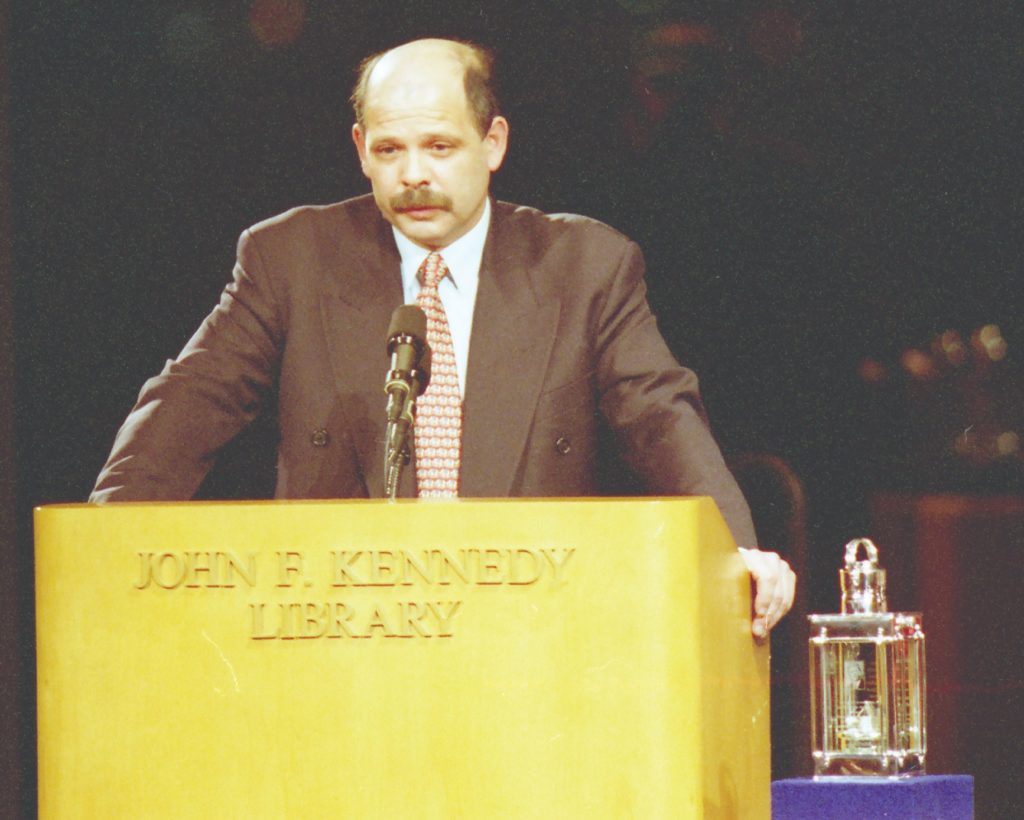 When I was about 14 years of age, what we now know as, "The Troubles," began in Northern Ireland, and we've never had a political crisis without having violence. Well, at the moment, back home, we have a political crisis, and it's almost luxurious to have a political crisis without violence. Just to have the experience of how normal societies might live. And we do have a difficulty, and that difficulty, I think, is compounded, almost, by Monica McWilliams reminding us that this is the first time that this group of people – those people who did broker the Good Friday Agreement – have been together, and perhaps that's part of our problem: that we still have a long way to go.
But nevertheless, I think, as Gary said, it has been quite incredible that 87% of the people of Northern Ireland ten days before the Good Friday Agreement, did not believe an agreement was possible. They expected that the intransigence of those who, if you like, demand that which they know they can't have and then get upset when they can't have it, which is the nature of a divided society; or perhaps those who get up 7 o'clock in the morning and travel 30 miles to be insulted. That's the type of society that Northern Ireland is. And I can only hope that the little piece of history that we put in place – and I only had a small part of that on the 10th of April, 1998 – now called the Good Friday Agreement, will be a line in history that offers the opportunity for young Andrew [Mitchell] to come with my kids or grandkids to the soccer match and let his father listen to the boring debate if he so wishes. You wouldn't wish that on a child.
Lord John Alderice
Representing the Alliance Party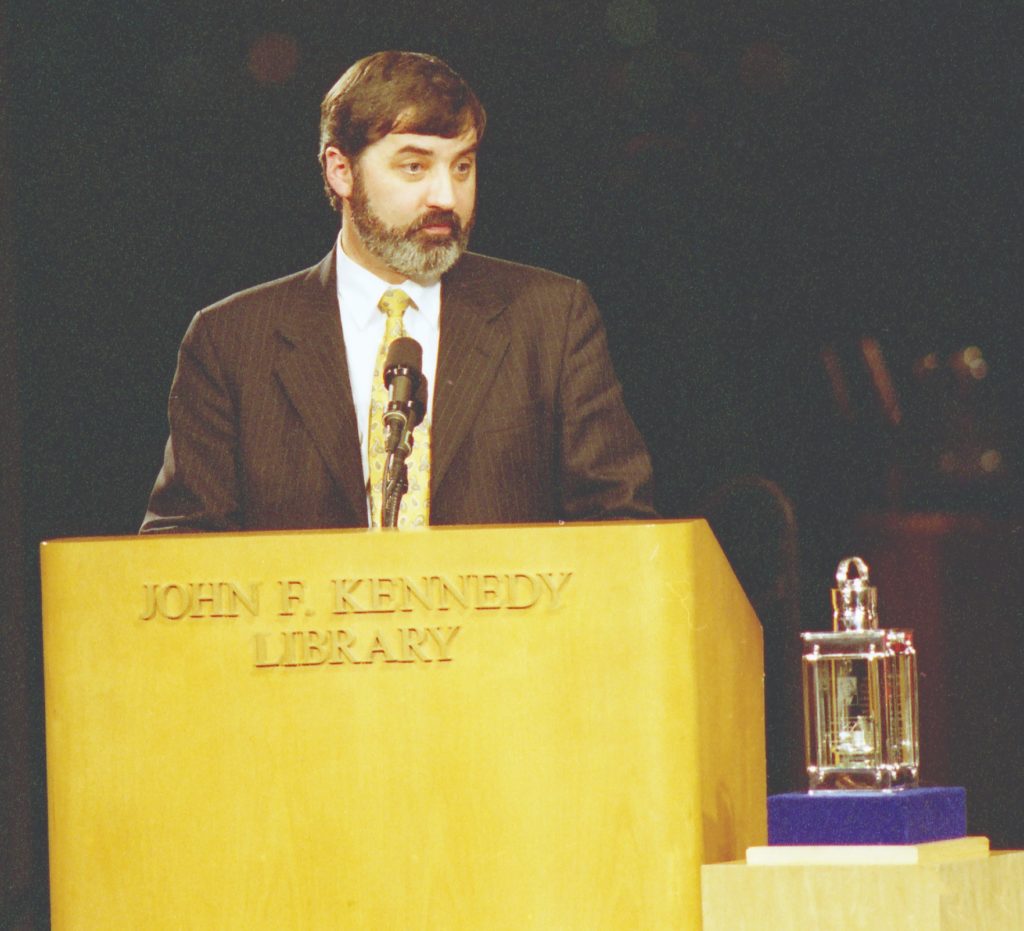 When I read Profiles in Courage, I have to confess that the one I identified most quickly and most closely was Sam Houston, of Texas. Now I did that because Sam Houston's family came from a little village called Ballyclair, in County Antrim, and my mother-in-law was a Houston from Ballyclair, in County Antrim. She wasn't quite so aggressive as Sam Houston was, but indeed, a very fine lady. But I don't think that President Kennedy included Sam Houston in his book simply because he was a fellow Irishman. I think it was because he understood that Houston had another kind of courage, the most difficult kind of courage for any politician.
[Houston] had the vision to accept the challenge of leadership of his own community. He had the vision to appreciate that Texas was going to be greater and stronger and more important, as a contributor, as part of the United States, not just as a separate entity. And he led and strove and indeed represented Texas, as a senator. When the Kansas-Nebraska |Act came forward and he knew that everybody was going to oppose what he had to say about it, he still stood forward, with courage, for his principles, and he confronted his own community with what was right.
Now, when you champion your own community, they may well back you. And when you accept the challenge of leadership of your own community, they may follow you. But when you accept the challenge of confronting your own community, you risk rejection and alienation, and that's what Sam Houston and so many others in that Profiles of Courage book experienced.
I take this honor as an inspiration and as a challenge, a very humbling challenge, for all of us to find that greatest courage. Because, you see, all of us, as politicians, like to be liked. That's our strength, that's our skill, that's the source of many of our strivings as politicians. The greatest courage of all is to dare to make yourself unpopular with your own people because of what you believe to be right.
Malachi Curran
Leader of the Northern Ireland Labour Party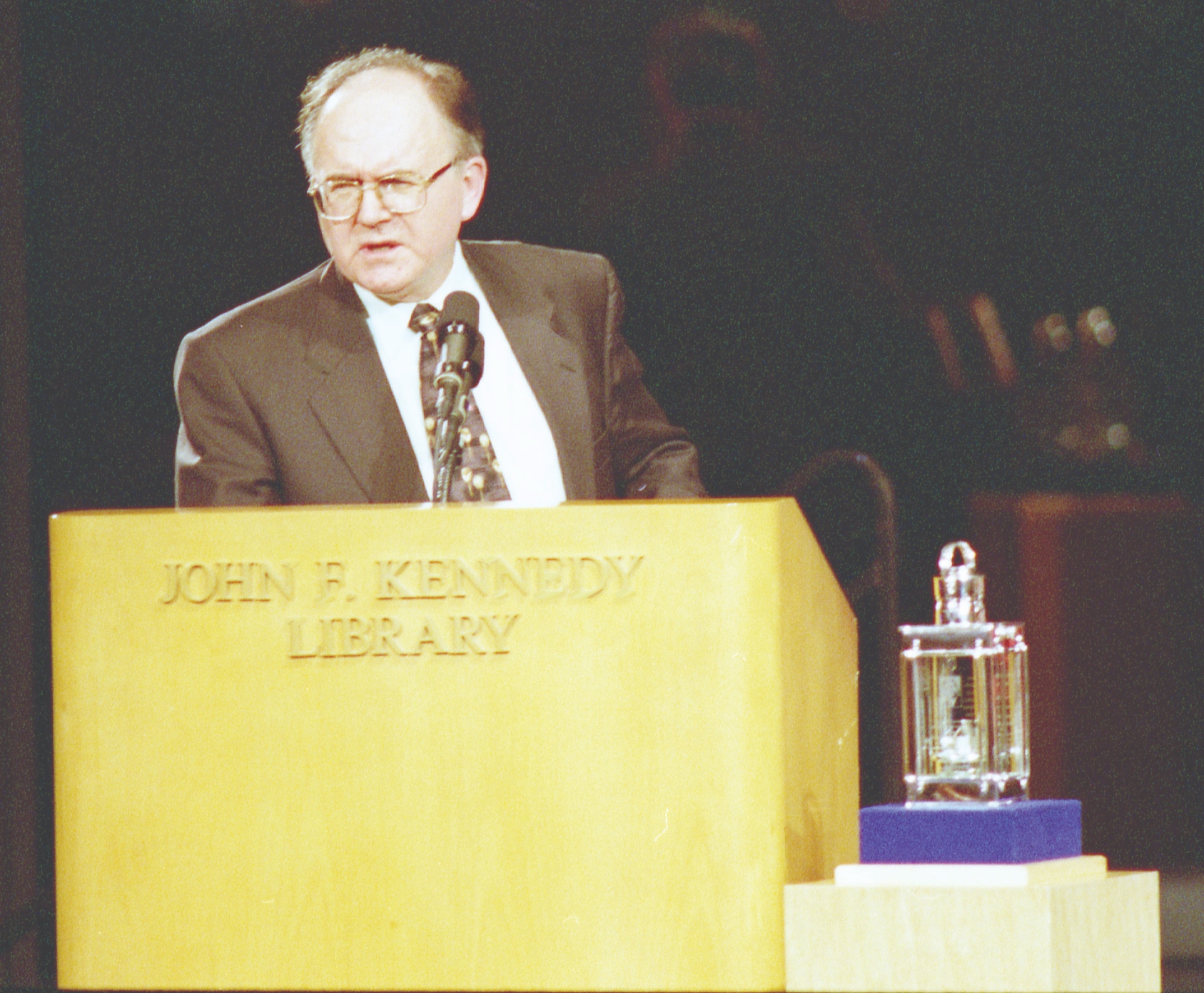 At the beginning of this year, we had a spate of sectarian assassinations in Northern Ireland, and when the talks resumed after the Christmas recess, we met, and I saw the determination on the face of my colleagues when they asked Senator George Mitchell to issue a statement, in our behalf, that we were determined to stick with this process to reach an agreement.
I knew then that we were going to get it. I take this opportunity to pay tribute to George Mitchell. He's endeared himself to the people of Ireland, he's an incredible man. Without his wise counsel, we would have never have got there in the first place. And I think it is important to understand where we're at. The Good Friday Agreement was a statement of intent. There is a long, long way to go for politicians in Northern Ireland to build peace and democracy in our country.
A very, very heavy responsibility rests on the shoulders of the political leaders in the Assembly, and I'm talking particularly about the leadership of the three major political parties. They have got a very onerous and a very real task ahead of them. I hope and pray to God that they are up to it and that we'll put some of the little local difficulties we currently have at home behind us; that we will see the Assembly up and running; and that we will get to the stage where we can get down to the real issues in Northern Ireland. There are very real issues in Northern Ireland.
Gerry Adams
President of Sinn Féin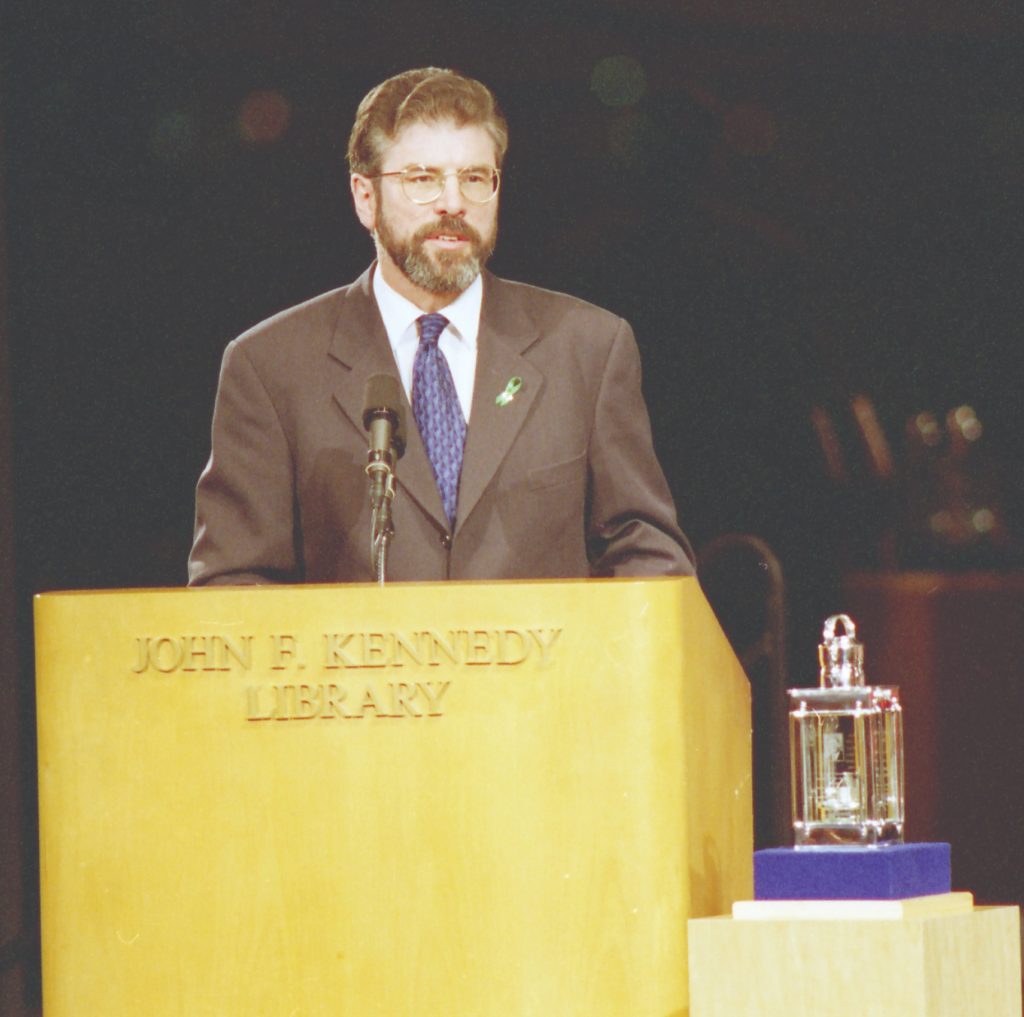 The Kennedy family, as John Hume can testify better than I, have been intertwined with the search for justice in Ireland. But Robert Kennedy once wrote: "There are people, in every land, who want to stop history in its tracks. They fear the future. They mistrust the present. And they invoke the security of a comfortable past, which in fact never existed."
He may have been speaking with absent friends. So that all of us be resilient, let us go from here in generosity, and I go from here in generosity also to those who are absent from our event tonight. In the spirit of Christmas, in the spirit of the future, in the spirit of keeping the promises that we made, of fully implementing all aspects of the Good Friday Agreement. And it isn't a promise that we made between ourselves or for ourselves. Because the most significant thing that happened wasn't the agreement, in my view, but was that the people of the island of Ireland voted for the charter of change that the agreement is.
So it isn't for us; it's for my children and grandchildren, for David Trimble's children and grandchildren; for John Hume's children and grandchildren; for Ian Paisley's children and grandchildren. It's for the future. It's for a new beginning. It's the promise of peace, and freedom, and justice, for the people of the small island of Ireland.
David Trimble
Leader of the Ulster Unionist Party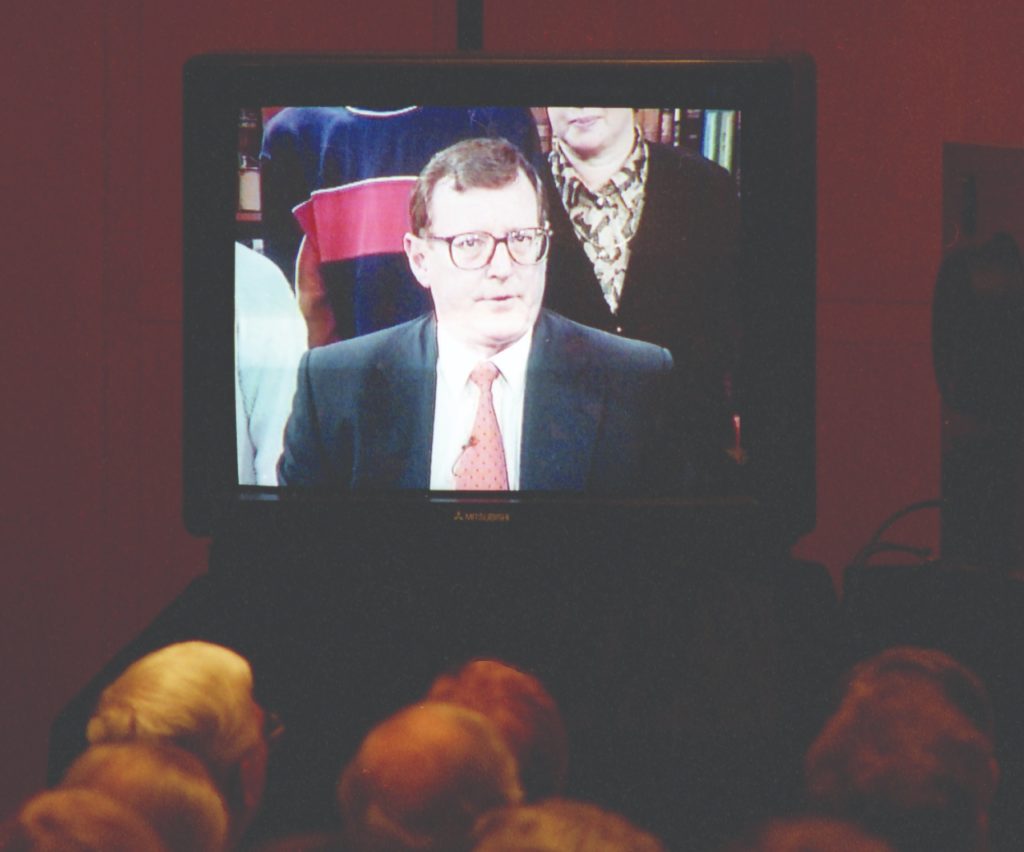 [By video]: I want to send a message of greetings this evening to Senator Kennedy, the Kennedy family, Senator Mitchell, and everyone gathered at the Kennedy Library tonight, and particularly, of course, to friends and colleagues from Northern Ireland. I'm sorry I can't be with you this evening.
But I must say, I am honored to be a recipient of the Profiles in Courage award. Honored because it links one with President Kennedy, and reminds one also of the studies in political courage that he wrote about. Those studies, of course, those actions, involve people making crucial decisions. And for most of us involved with the party talks, we took that decision when we entered into the Belfast agreement on that Good Friday, at Stormont. And now, of course, we're engaged in less dramatic, but more important, hard work of carrying the agreement into fruition, getting it implemented, getting the arrangements there, coping with the difficulties that arise –and there have been and there will continue to be some difficulties.
But I think we can cope with them, and we will be able to work them through. Bearing in mind that of course it's incumbent upon us to see that all the obligations in the agreement, all the elements of the agreement are implemented, and that we stick within the broad thrust of the agreement and not try to introduce new elements into it.
I'm sure we can do it. We're continuing to do it. We'll be very much encouraged by the support of people in North America. This award, of course, adds to it, and I'm delighted to be associated with it.
John Hume
Leader of the Social Democratic and Labor Party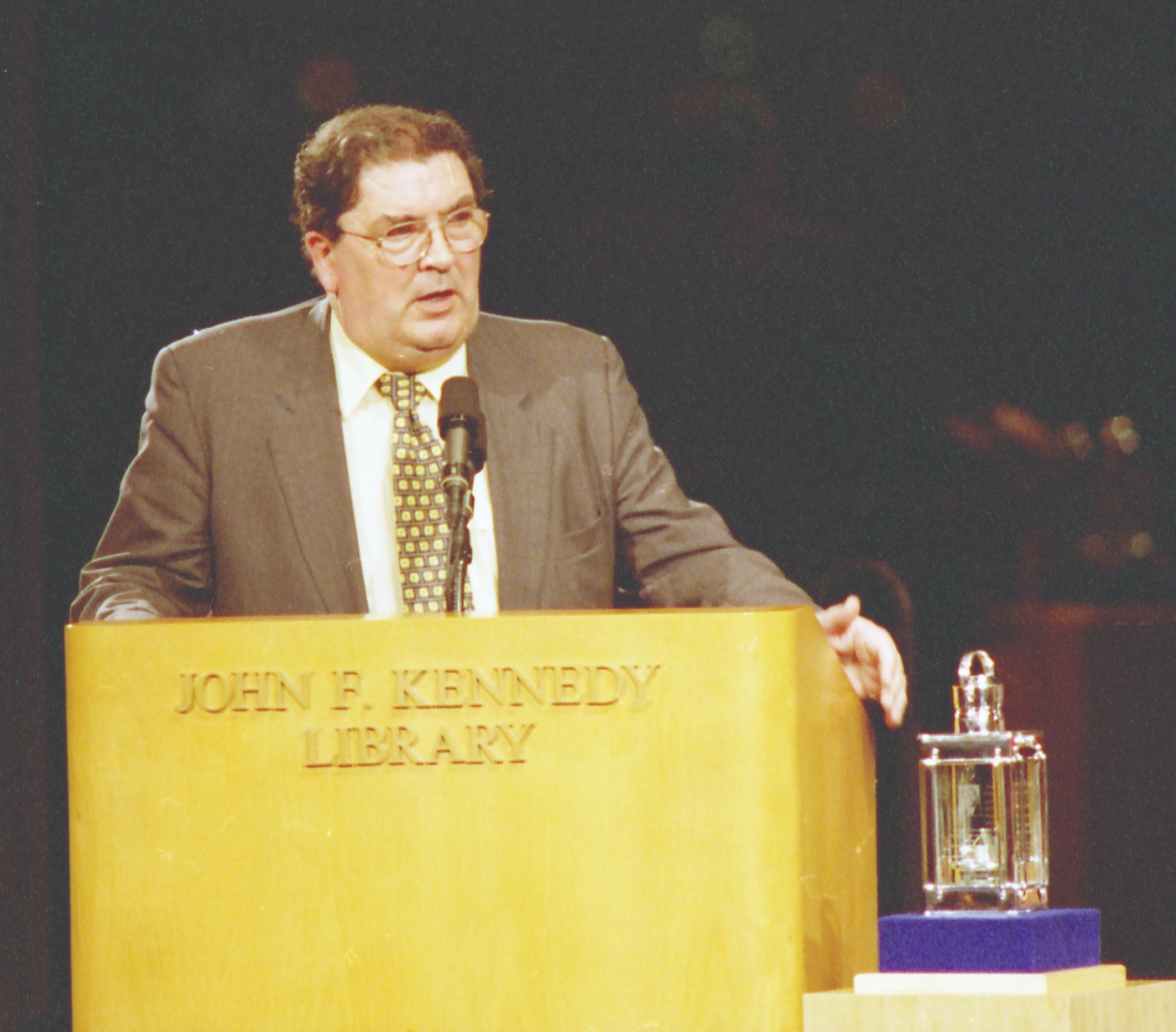 When the history is written and you go back to the early days of our Troubles, four men got together, two of them from Massachusetts, two of them from New York – they called them the four horsemen.
They called on the two governments to use their energies to work together to promote peace and agreement in Ireland. And the United States would give whatever support they were asked for, particularly in the economic sphere. President Jimmy Carter made the same statement a few months later. And, as I say, we owe a deep debt of gratitude to Ted Kennedy, for the outstanding work he has done for our country, and it was work that was designed to produce a solution that was acceptable to both sections of our people, not victories to any one side over the other. And we owe him that gratitude. And, has already been said by my colleagues, our deep gratitude to George Mitchell. Just imagine the job that he was left with at the start of our talks. Sitting, listening to the tribal arguments that were so consistent in our part of the world. But George stayed there. And his persistence, and his total commitment and his patience, were totally central to the agreement that emerged at the end of the day. And our gratitude to him is total.
Paul Kirk
Chairman, Board of Directors, Kennedy Library Foundation, who served as MC for the evening, closed with this statement:
When we contemplate the enormity of change that has been affected and the promise of peace, and hear the commitments of these individuals tonight, it's almost impossible not to recall an accolade delivered by the highest of authorities, centuries ago: Blessed are the peacemakers. They shall be called the children of God.
Editor's Note: Special thanks to the Kennedy Library for the images and transcript, which can be found here.