As St. Patrick's Day is celebrated around the world, Edythe Preet looks to March 17, 1776, and the role the Irish played in America's bid for freedom.
Pop quiz: what color ink is used to sign legislative bills into law? If you answered black, you'd be right with one exception. On March 12, 1941, Massachusetts Governor Leverett Saltonstall used green ink to sign a bill authorized by the state's Senate and House of Representatives making March 17th a legal holiday in Suffolk County, the region most well known for including Boston.
If you think the day's status is due to the fact that Boston has a large Irish American population and stages one of the United States' most famous St. Patrick's Day Parades, you'd be wrong. The date, known as Evacuation Day, commemorates an event that occurred early in the American Revolutionary War. On March 17, 1776, the Continental Army, under the command of General George Washington, forced more than 10,000 British troops and Loyalists to evacuate Boston, ending an 11-month siege of the city that until then had been an English stronghold in Colonial America. The evacuation was Washington's first victory in the war, and for it he was awarded the first medal commissioned by the Continental Congress. The triumph was even more significant as it occurred in the city where the Revolution had begun at the Battle of Bunker Hill.
The coincidence of the date targeted to drive the British from Boston and the fact that Irish Catholics had, for centuries, celebrated March 17th as Saint Patrick's Day did not go unnoticed by Washington. The General Orders he issued for March 17th, 1776 named John Sullivan as Officer of the Day and set "Boston" as the password and 'Saint Patrick' as the countersign for safe passage into the city. But Washington's recognition of the reverence for Saint Patrick held by Colonial America's Irish population didn't end in March 1776.
During the 17th and 18th centuries, nearly 250,000 Irish immigrants had settled in America and almost one-third of the Revolutionary forces (including 1,500 officers, among them 22 generals and more than a dozen sea captains) claimed Irish ancestry. In addition, Mother Ireland was engaged in a political struggle with Britain, which mirrored the American colonies' quest for liberty and diminished the attention and resources England could focus on the rebellion occurring across the Atlantic.
On December 1, 1779, the American forces made camp in Morristown, New Jersey, a location Washington had chosen for its proximity to British-held New York. But frigid temperatures and 28 snowfalls, proved the winter of 1779-1780 to be the bleakest on record and the Continental Army fell on dire straits. Provisions were minimal, a lack of horses hampered artillery movement, and the Congressional treasury was so depleted that the troops were poorly clothed and unpaid.
With a threat of mutiny hovering and hoping to raise morale, Washington announced a holiday for his troops (the only respite from active duty they had all winter) with this order penned on March 16, 1780: "The general congratulates the army on the very interesting proceedings of the parliament of Ireland and the inhabitants of that country which have been lately communicated; not only as they appear calculated to remove those heavy and tyrannical oppressions on their trade but to restore to a brave and generous people their ancient rights and freedom and by their operations to promote the cause of America. Desirous of impressing upon the minds of the army, transactions so important in their nature, the general directs that all fatigue and working parties cease for tomorrow the seventeenth, a day held in particular regard by the people of the nation."
After the conclusion of the war, on April 2, 1784, Lord Mountjoy told the English Parliament: "America was lost by Irish emigrants … I am assured from the best authority, the major part of the American Army was composed of Irish and that the Irish language was as commonly spoken in the American ranks as English. I am also informed it was their valor that determined the contest." Sláinte!
RECIPES
New England Boiled Dinner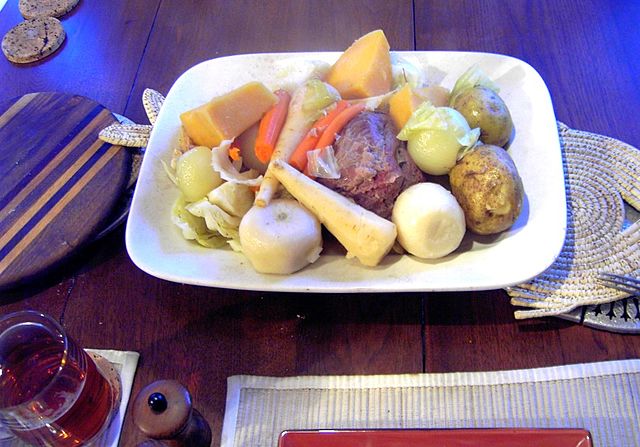 (personal recipe)
Note: This one-pot traditional New England meal stems from the Irish custom of preparing boiled bacon and cabbage as a special dinner for Saint Patrick's Day, which always occurs during Lent, the 40 days prior to Easter during which time Irish Catholics did not consume meat. In America, corned beef is substituted for Irish bacon, a brined pork cut including the loin and a bit of pork belly, plus assorted vegetables in addition to cabbage.
4 pounds of corned beef, trimmed of fat
12 pearl onions, skins removed
2 turnips, peeled and cut into 1" chunks
2 carrots, peeled and cut into 1" chunks
2 parsnips, peeled and cut into 1" chunks
3 russet potatoes, peeled and cut into 1" chunks
1 medium head green cabbage, cut in 6-8 wedges, core removed
Put corned beef in a large soup pot and cover it with water. Allow water to come to a slow, rolling boil for 2 hours. Check every 30 minutes, adding water if necessary. Remove meat, wrap in foil, and keep warm. Skim any fat off-stock.
Place onions, turnips, carrots, parsnips, cabbage, and potatoes in the pot of stock and cook on low heat until tender (check potatoes to make sure they don't fall apart). Add salt and pepper to taste.
Slice corned beef, against the grain, into 1⁄4-inch slices and place over cabbage wedges. Arrange onions, turnips, carrots, parsnips, and potatoes on the side. Accompany with horseradish and/or mustard. Makes 6 servings. ♦