One of the most beautiful counties in Ireland is captured in pictures and videos that Eoin O'Hagan made using a drone.
By Sharon Ní Chonchúir
"It's a long, long way from Clare to here." These may be the words of a popular song but have you ever stopped to wonder why the singer misses this Irish county so much? What attractions does it have to offer?
There is a huge amount to see and do in this county. It has some of the most varied scenery of any county in Ireland.
There are the spectacular Cliffs of Moher which stretch for five miles and reach over 700 feet at their highest point.
There's the lunar-like limestone landscape of the Burren, which is home to remarkable flora that you won't find anywhere else as well as some wonderful archaeology such as Stone Age wedge tombs, Iron Age ring forts, and Norman castles.
There are seaside villages such as Doolin, Lahinch, and Spanish Point, which have begun to build reputations as surfing spots in recent years.
Clare is also one of the centers of traditional music in Ireland. Well-known musicians such as fiddle player Martin Hayes and accordion player Sharon Shannon are from the county and you'll often find some of the best Irish musicians playing in impromptu music sessions in the pubs of County Clare.
As if that weren't enough, Clare is also home to the Tea and Garden Rooms in Ballyvaughan. Stephen Spielberg made a detour in his private jet the last time he was passing just so he could sample some of their cheesecake.
With all of this and more on offer in Clare, it's no wonder that the singer of the popular ballad laments the fact that he is so far away. However, thanks to videos and photos made by Eoin O'Hagan, using a drone, that distance is about to feel a whole lot shorter. They will probably fill you with longing for home, and put you in the mood to start planning a future visit.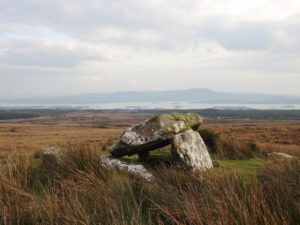 Eoin is originally from Dublin but when he fell in love with his wife Ruth, he also fell for her home county of Clare. "She's from Scariff in east Clare and that region, especially the area around Lough Derg, grabbed hold of my heart and it wouldn't let go," says Eoin. "In many ways, it's the poor relation of the Cliffs of Moher and the Burren in west Clare. People visit those on bus tours and they don't realize what they're missing in the rest of the county."
Eoin decided to try to do something about this. Firstly, even though his work continues to be based in Dublin, he moved to Clare. "I've been working as a lighting gaffer for TV for the past 22 years and I work in Dublin for at least three days a week," he explained to me over the phone as he drove home to Clare late on a Friday evening. "But once I fell for Clare, I couldn't live in Dublin anymore so now I split my time between the two."
He would love to spend more time in Clare and he has set up clarevirtually.ie, a web-based business, with this in mind. Through it, Eoin hopes to show people the beauty of Clare through his eyes. He does this by posting 60-second videos of different parts of the county as well as its pubs, restaurants and accommodation providers.
"I'm out with my camera, video camera, or drone any spare moment I have trying to capture the spectacularly varied landscape of Clare," he says. "I also try to give people a taste of what's in store for them if they visit the county. This is why I always feature a welcome from the owner whenever I showcase any businesses. It's all part of the céad míle fáilte (one hundred thousand welcomes) for which Ireland is so well known."
Eoin's photos and videos allow prospective visitors to take a virtual tour of Clare before they arrive.
People who have emigrated from Clare have also begun to visit the site too.
"Seventy percent of the visitors to the site are from America and a lot of those seem to be members of the diaspora," he says. "I think the site is a way for them to connect with home and to see what's changed and what's stayed the same."
Eoin's website is just one of the ways in which he promotes his adopted county. He is very active on social media and posts from @clarevirtually can be found on Twitter, Instagram, Facebook, YouTube and Pinterest.
He also is on a constant mission to attract the attention of the world to Clare. His latest plan involves bringing Pope Francis to Lough Derg. "He's said to be planning a trip to Ireland," says Eoin. "So, I got the children of the local national schools to send him postcards inviting him to visit Holy Island on Lough Derg. Here's hoping he visits!"
---
---
Sharon Ní Chonchúir lives and works in west County Kerry, and much of her writing is concerned with the changing face of modern Irish culture.
You can view more of Eoin O'Hagan's videos on clarevirtually.ie or on his YouTube channel.