Looking back at Irish America's premier issue we see that it set the tone for what was to come: a thorough investigation into what it means to be Irish American. Thirty-five years later, we are still answering that question and still pondering the answers. Enjoy these quotes compiled over 35 years.
-The Irish America Team
---
1986 Tip O'Neill
"Growing up as a youngster in Boston, you were instilled with three things. The first was the "No Irish Need Apply" signs and what those signs were doing to the Irish. The second was the way your forefathers came over here – off Famine ships – and you thanked God they were able to work to provide for their families. ….The third thing was a United Ireland, which was a key issue. A local congressman from this area lost his seat when he missed a vote on it. It was just as much part of your faith as anything else.
Tip O'Neill served in the U.S House of Representatives from 1953 to 1987. His ten-year tenure as Speaker of the House was the longest in U.S. history.
– Interview by Susan O'Grady Fox. October, 1986.
---
1988 Bernadette Devlin McAliskey
Do you see the development of the Provisional IRA as an outgrowth of the civil rights movement?
"The people took to the streets and raised the issues, and almost as soon as they raised them they realized that, because of the political reality of the six counties state, there was no political way to achieve those ordinary democratic aims. The movement split into its two historic components, the constitutional and the unconstitutional. The civil rights movement gave birth to the Provos and the Social Democratic Labor Party (SDLP) at exactly the same time. Those two strands have always existed in Irish history whether it was Parnell and the Fenians or Daniel OConnell and the Young Irelanders."
McAliskey speaking on the 20th anniversary of the Northern Irish civil rights movement.
– Interview by Patrick Farrelly. January, 1988.
---
1990 Helen Hayes
"I was not raised as an Irish person but I have Ireland in my blood and every exciting actor or actress that I've known has an Irish background. It's a strange thing, but we are performers, we are actors by heritage."
"The First Lady of American Theater" in one of her final media appearances.
– Interview by Kevin Lewis. November 1990.
---
1992 Ted Kennedy
"The Irish have this love for literature and music and these, combined with an emphasis on family and a devotion to freedom in their history, are pretty fundamental ingredients that go into political life. But here's another part to this, too. The Irish came to politics out of necessity in earlier generations. They saw it as a way of moving upwards and achieving their hopes and aspirations. And the Irish have done that well."
– Interview by Michael Scanlon. May 1992.
---
1994 Donald Keough
"My generation was really the first generation of the post Famine Irish to have the luxury to lift our heads up, take a breath and say, 'I want to know more about that place where we came from.' I think the next generation – my children – are going to be even more interested and more curious and more sensitive to that little island that has produced over 70 million people around the world."
– Interview by Niall O'Dowd. November / December 1994.
---
1996 George Mitchell
"It is a labor of love and I mean it. I believe this is a moment of historic opportunity that could set the framework for life in Ireland for not just a few years, but decades, or even centuries. It's an historic time and a tremendous opportunity to make progress."
Senator Mitchell (Maine) on chairing the All-Party talks. Two years later those talks culminated in the 1998 Good Friday Agreement.
-Interview by Patricia Harty. May / June, 1996
---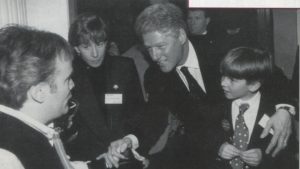 ---
1998 George Mitchell
"This agreement is good for all the people, North and South, and while many will try to defeat it, I believe it will pass. Ordinary people North and South will finally get a chance to prove that they want a just and lasting peace."
George Mitchell on the occasion of the signing of the Good Friday Agreement. May / June 1998.
---
2000 Frank McCourt
"All along we looked back over the years and across the ocean and deferred to the history, the tradition, the land. . .. Then something happened. Damn! Who's this Michael Flatley, this Seamus Egan, this Joanie Madden and her Cherished Ladies? And who do they think they are, coming to Ireland and, not only sweeping the competition but, talented, pushing their way into the culture of their ancestors? … The Atlantic has become a puddle, which poets and musicians leap without a second thought. …. So that's what it is to be Irish nowadays?"
– From McCourt's article, "Puddle Jumping." October / November 2000.
---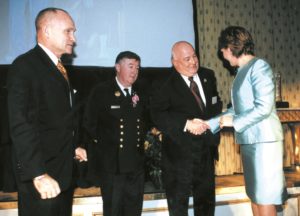 ---
2002 Mary McAleese
"Many nations counted their dead on September 11th and many nations have combined to create the unique passion that flourishes in this great city, a passion for life. Evil men thought they could kill that passion; that the ugliness of violence, the awesomeness of wanton deaths, would snuff it out. They were wrong. New York is still passionate about life and now that very passion has been deepened and stretched by the avalanche of grief it has had to struggle through, to find its way back to the future again. Irish men and women can rightly claim to have planted their flags on the landscape of that future and the words those flags bear are courage, fortitude, perseverance and selflessness. The generations who went before them would be proud of a modern generation who have known the easy times and comfort of prosperity but who when tested, chose the hardest road of all."
Irish President McAleese speaking at Irish America's Top 100, which honored the heroes of 9/11. March 2002.
---
2004 Chuck Feeney
"Everyone knows when they're born but nobody knows when they died. If you want to give it away, think about giving it away while you are alive because you'll get a lot more satisfaction than if you wait until you are dead. Besides, it's a lot more fun. Giving gave me a lot of pleasure."
Feeney, founder of Duty Free Shops, quietly gave away a fortune over the years.
Interview by Conor O'Cleary.
---
2006 John McCain
"This right here is the promise of America. Look at the faces, look at the hope. Their eyes are alive with hero daring."
– Senator McCain, pointing to a photograph of immigrants arriving at Ellis Island late in the 19th century. McCain, whose ancestors are Scots Irish, sponsored an Immigration bill with Senator Ted Kennedy.
Interview by Niall O'Dowd. August / September, 2006.
---
2008 Thomas Moran
"As you travel around the world you realize what an incredible influence the United States has and the potential that we have to do great good in the most difficult of situations. The peace process in Northern Ireland was greatly supported by the government of the United States, which believed that peace was possible and made it clear that it would be supportive of any efforts for peace. In Sri Lanka we heard stories about the U.S. military that came immediately following the tsunami to rebuild schools. In Africa, in the poorest countries, what a great sense of pride it is to see the Concern workers taking the bags marked 'U.S. AID,' and to know that the U.S. has supported efforts to keep children alive and to provide for a better existence and a better life. It's awfully easy sometimes to see the negative sides of our world, but I think that those who have traveled and understood and heard from the people who suffer the most, recognize how powerful our country is for the good."
Tom Moran, then Chairman & CEO of Mutual of America and Chairman of Concern Worldwide. (Died: August 12, 2018. R.I.P.).
Interview by Patricia Harty. April / May 2008.
---
2010 Bob McCann
"I remember it perfectly. It sounds like it's out of a travelogue or something, but what I remember first is just how green it was. It really does strike you. I had no idea. From the sky, I remember wanting to understand all the walls that were up and what they represented. I couldn't get over the value, in a host of ways, an Irishman puts on owning property."
McCann, then president of UBS Americas and Wealth Management Americas, on his first trip to Ireland.
Interview by Kara Rota. Aug./Sept. 2010.
---
2012 Michael Fassbender
"I try not to take myself too seriously. When my best friend in Killarney, Emerson Johnson, and I were in school together and we'd bunk off at lunchtime sometimes, I'd always be really nervous, but I remember he used to say 'What'll it matter in 100 years' time?' and he's right. If you can relieve yourself of that pressure and not take yourself too seriously, then you can afford to look like a bit of an idiot. I think I am quite immature, or maybe just childlike."
Fassbender stars as Steve Jobs in the upcoming biopic Steve Jobs.
Interview by Patricia Danaher. August / September, 2012.
---
2014 Gina McCarthy
"I come from a very much service-oriented family. We have
firemen, policemen, postal workers, school teachers – my sister, Elaine, is a middle school history teacher – and it's not like someone told you that was the thing you had to do, but public service was seen as very much an honorable thing to do. And that's what I grew up wanting to do; my parents' gift to me was two things, public service and hard work. I don't know anybody I grew up with that didn't teach their kids that there was a larger meaning in life."
Gina McCarthy is head of the EPA.
Interview by Patricia Harty. August / September, 2014.
---
2016 Charlie Flanagan
"It is highly appropriate to have this launch here in New York because no other city, and no country, played a more important role in the Easter Rising and the subsequent one hundred year journey for a lasting and just peace settlement, than the United States."
Irish Minister for Foreign Affairs launching the U.S. commemorations of the 100th anniversary of the Easter Rising.
Reported in Irish America's 1916 commemorative issue.
---
2019 Eileen McDonnell
"All four of my grandparents left Ireland when they were in their late teens, and they came to this country looking for better opportunities. They left their parents behind and they came with hopes for a better future. I think about their journey, and where I am sitting right now is why they did it. They couldn't have imagined. What an awesome responsibility for me to represent them well, and to give back to the Irish community as a result of it."
Eileen McDonnell, Chairman & CEO of Penn Mutual Life Insurance Company.
Interview by Patricia Harty. January/February 2019
---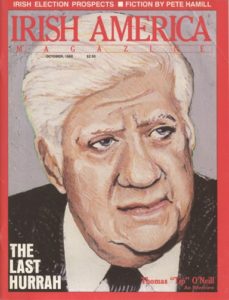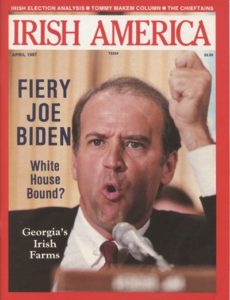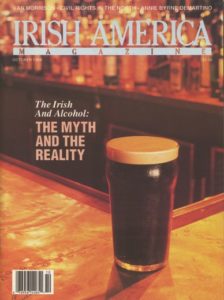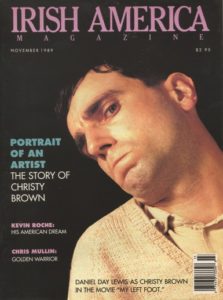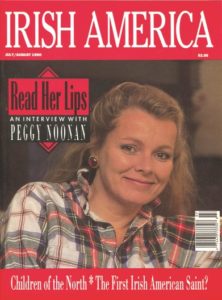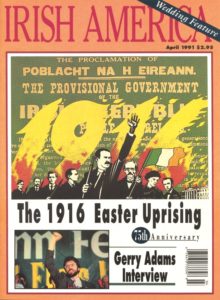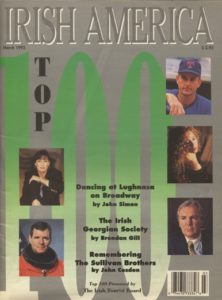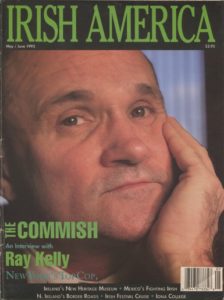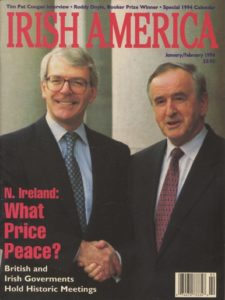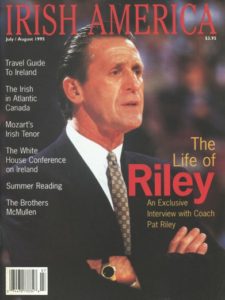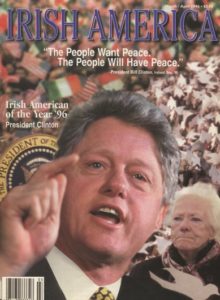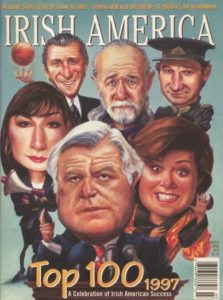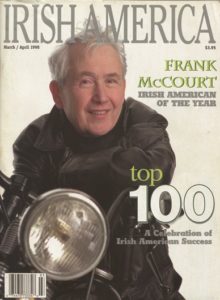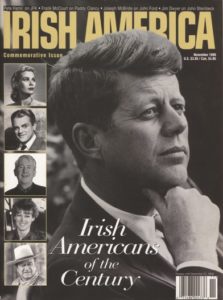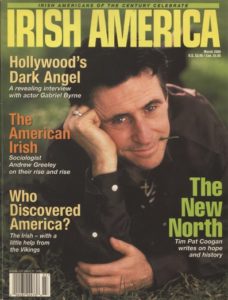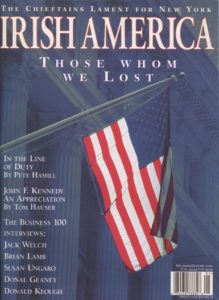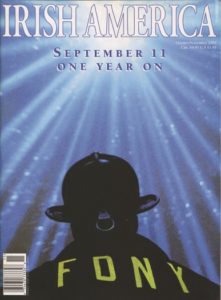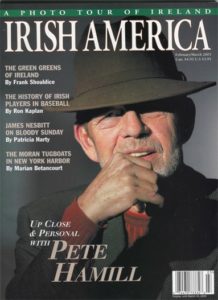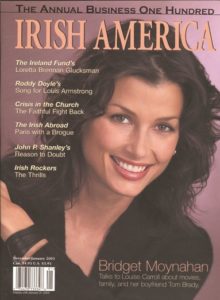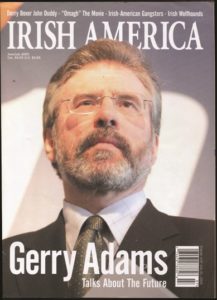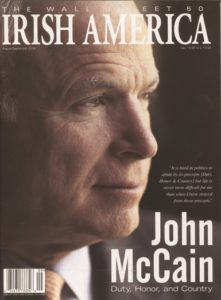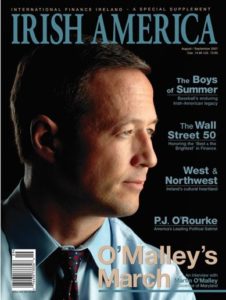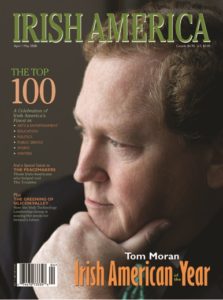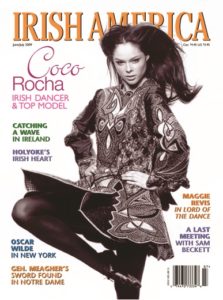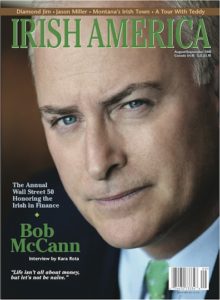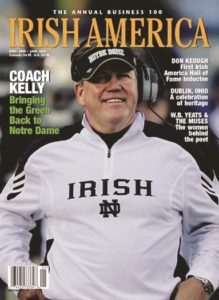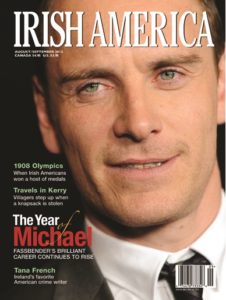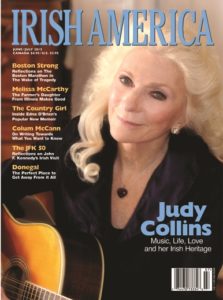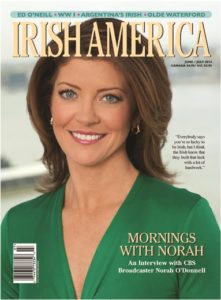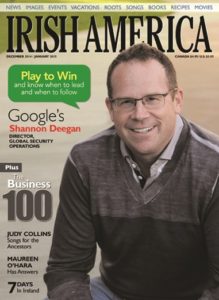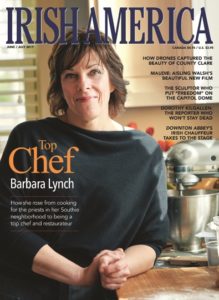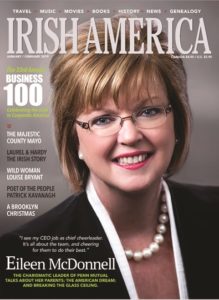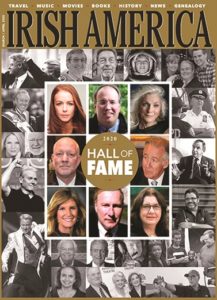 1987 Thomas Flanagan
"Years later I realized that the songs and the poems [my grandmother Ellen Treacy] taught me were unique oral histories of the turbulent period the Irish had come through. She inspired me."
Thomas Flanagan, author of The Year of the French, and other novels.
– Interview by Niall O'Dowd. January, 1987.
---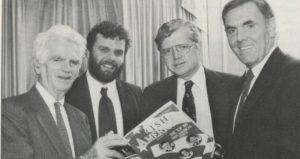 ---
1989 Brian Donnelly
"I am not going to forget that for 20 years the door was closed for the Irish."
Donnelly is referring to the 1965 immigration law that discriminated against the Irish. His contribution to immigration legislation helped thousands of Irish people gain legal residence in the U.S.
He was named Irish America's Irish American of the Year in March, 1989.
---
1991 Gerry Adams
"I've been elected by the people of West Belfast, they've elected me three times. Refusing to talk to me means that these people are being disenfranchised, that the British are refusing to recognize their rights. We're an important part of the equation; the people who I represent have the same rights as everyone else. I don't want to talk to Peter Brooks [then Northern Secretary] for the craic. I'm interested in trying to move the whole thing forward. I think the 1990s should be a period when we get peace and we should have talks.
"No matter how much you discuss what's happening, no matter how much you examine all the different characteristics of it and the history of it, the past and the future, it has to be settled and it can only be settled when people start talking."
– Interview by Patricia Harty, April 1991.
---
1993 William Flynn
"There are some commitments which one makes out of obligation, some out of position and some out of choice. There are other commitments that are thrust upon one by the weight of history and heritage. For me, religious liberty and freedom of conscience are such a commitment. I speak as a Catholic of Irish heritage whose father was from the north and whose mother was from the south. And I am deeply saddened when I see the violence that divides neighbors and the bitterness that hardens the soul. We must uphold and renew that which makes us caring persons striving for a just nation and a peaceful world."
As Chairman of Mutual of America, Bill Flynn worked tirelessly to keep the U.S. involved in the peace process in Northern Ireland.
– Interview by Niall O'Dowd. November 1993.
---
1995 Pat Riley
"What, to me, the Irish are all about is tremendous pride, a great work ethic, and a great discipline that comes from that. I sense it in Chuck Daly, I sense it in Mike Dunleavy, and in other coaches I have known in the past who are of Irish descent. Born out of that Irish upbringing, too, are just values. The values of doing right, knowing the difference between right and wrong, it's simple, very cut-and-dried."
Riley was then head coach of the Knicks.
– Interview by Patricia Harty. July / August 1995.
---
1997 Seamus Heaney
"There seems to be something in the Irish that makes them partial to poetry.
"There's a tradition, a value system, which is given an historical myth or truth that predisposes us as a community and as individuals to trust in poetry. If a poet publishes a poem in a newspaper in Ireland, the judges will read it, the Taoiseach will read it, the Protestant bishop will read it, and the name of the poet will be a possession. I think it's a mater of some indifference whether they are equipped in any special way to read or judge poetry. We are actually talking about the actual role of the poet in society, and in Ireland there is no doubt that the role is alive and . . . I think you have to concede that there is public psychic and artistic reality in this, which is a genuine positive cultural possession of the country."
– Interview by Patricia Harty. May/June 1996.
---
1999 John Hume
"It's not simply as an award to myself but as a powerful statement of the international goodwill towards peace on our streets in Northern Ireland."
Hume was the leader of the SDLP and winner of the 1998 Nobel Peach Prize. —Interview by Kelly Candaele. February / March 1999.
---
2001 Eileen Collins
"It almost seems to me, just from a pure scientific point of view, chances are there is life – maybe just microscopic life [in outer space]."
Favorite trick that she likes to do in space? "I'll put my face right up against a window, so I can't see anything else in the shuttle, and I'll put my arms out and my legs out, and I feel like I'm flying over the earth with no spacecraft. And it's really neat. You feel like you're Superman flying over the earth."
Collins was the first female to command a NASA space mission.
Interview by Patricia Harty
---
2003 Pete Hamill
"In the late 1950s, I started to learn the craft of writing and that turned me more seriously to Ireland. I found my way to Jonathan Swift and Oscar Wilde, to Yeats, and Joyce and O'Casey. I didn't read them to affirm my Irishness, or to pretend that I understood every line they wrote, or to wrap myself in their unfurled banners. I never thought that because they were great writers, I could become one too. They weren't even guides to conduct, or models for the way a writer should live his life. I read them because no writer – no educated human being – could not read them."
Interview by Patricia Harty. February / March, 2003.
---
2005 Peter Quinn
"We worshipped FDR, and we thought the second coming was when Kennedy was elected president. School was a big deal. So was storytelling. Both my novels are stuffed with tales, facts and lore gleaned from a lifetime in New York."
Peter Quinn. Interview by Tom Deignan. December, 2005
---
2007 Martin O'Malley
"I went into public service because I grew up in a house where that was considered an honorable and important thing to do. My parents met putting together a Young Democrats newsletter. My mom had her collection of campaign buttons and pictures of John F. Kennedy. My father was someone who, albeit a lawyer in private practice, raised us to be involved in the public affairs of our community and country. So that's the motivation in my heart."
– O'Malley was then governor of Maryland, and is now a presidential candidate.
Interview by Patricia Harty. August / September 2007.
---
2009 Coco Roca
"It was exciting. Usually when you dance, you dance in front of a crowd that has no clue who you are, so you can mess up, fall down, be exhausted and no one will really notice. But [at the Gaultier show] everyone knew me and I was really nervous because usually all I have to do is walk."
Supermodel Coco Roach, whose grandmother is from Belfast, was discovered while performing in an Irish dance competition. She's talking here about doing an Irish dance down the runway at a fashion show. Interview by Kara Rota. June / July 2009.
---
2011 Brian Kelly
"My great-grandparents were from Ireland. My grandfather was a Boston cop for 35 years, and my first introduction to Irish culture was talking to him about where the term Paddy Wagon came from. We lived in Chelsea, Massachusetts, which was a naval pier town where all the Navy guys would come in and they'd have some beers and then the police would be called in to round them up. They [the police] drove an open-air police truck and it was so cold at night that the guys who drove it had to have a little Irish Paddy [whiskey] to stay warm and that's why they called it the Paddy Wagon. Whether it's true or not, I have no idea. But it's a good story, and that's why I tell it.
Notre Dame football coach Brian Kelly on his Irish ancestors.
Interview by Niall O'Dowd. December / January 2011.
---
2013 Judy Collins
Do you still believe music will heal the world?
"Well, art and music are the only thing we've got. They have always been the only thing we've got, because we always have problems. We always have murder. We always have greed. We always have people who are nuts and there's always something awful happening somewhere. So, you have to have art. Every culture in the world has realized that art is the thing, that art is primary."
Interview by Patricia Harty. June / July, 2013.
---
2015 Shannon Deegan
"Play to people's strengths, celebrate them, shore up weaknesses and, as my grandfather – a legend in Montreal's professional baseball leagues in the early part of the 1900s – used to tell me, "Always play to win. "
Finally, I think a key element that often gets overlooked in sports and in business, is to have fun. The most successful teams I have been a part of – both in sports and business – have been a blast. While some of that was because it was fun to win, I think it goes the other way as well. Those fun teams I was part of were fun before we ever officially won, and the fun fueled the winning."
Shannon Deegan is Google's director of Global Security Operations, and was the Keynote Speaker at the 2014
Irish America Business 100 Awards.
Interview by Patricia Harty. December / January, 2015.
---
2017 Daniel O'Day
"The perseverance of my Irish ancestors is a daily motivation to me professionally and personally."
Daniel O'Day, then CEO of Roche Pharmaceuticals. now, Chairman and CEO, Gilead Sciences, Inc.
Interview by Patricia Harty. August / September, 2017.
---
2018 Eileen Murray
"When I first started working, the number of senior women on Wall Street was, I think, 0.5 percent and now it is maybe 17-18 percent. We should continue to plow ahead – it should be 50-50. But I also want to make sure we celebrate how far we have come. Until 1963, a woman couldn't have a credit card without her husband signing on for it. My mother couldn't get a job at the phone company when she first came here because she had an Irish accent. In this country there were signs posted, "Irish need not apply," so how long did that take to change?
Eileen Murray, then Co-CEO of Bridgewater.
Interview by Patricia Harty. Sept./Oct., 2018.
---
2020 Richie Neal
"The British Embassy used to come up to the hill to meet with those of us in the [Congressional] Friends of Ireland. These were not pleasant meetings. But when the Good Friday Agreement came about, Tony Blair applauded us right here at the British Embassy. He said, 'We've been great friends, America and the United Kingdom. We generally agreed on just about everything, but there was one issue we disagreed on: Ireland.' He said, 'There was a time when I thought that the Friends of Ireland were a hindrance, but you helped us get through this.' People forget that the Friends of Ireland was born of the purpose to try to compete with the money that was being used for gun-running. House Speaker Tip O'Neill, who founded it in 1981, said that the idea was just to kind of offer a competing vision. So now you can go and say that the Friends of Ireland position is 'No Border.' "
Congressman Richie Neal, inducted into the Irish America Hall of Fame in March 2020, has been a friend of Ireland all his life. One of his first speeches to Congress was about the use of rubber bullets by the British Army in Northern Ireland. Now he's speaking about how BREXIT must not change the Good Friday Agreement.
---