Niall O'Dowd writes of the authentic nature of the soon to be president.
The first time I met Joe Biden was in 1987 when he was a young senator considering his first presidential run, and Irish America was a new publication. He was a subscriber to the magazine, and he readily agreed to an in-person interview.
We sat down in his office in Washington, D.C., and what I remember now, is how proud Biden was of his Irish heritage, and how he loved to talk about Irish history and traditions; his great aunt Gertie's obsession with the Black and Tans, his love of W.B. Yeats and his admiration for Wolfe Tone, the 1798 Irish revolutionary hero. He was keen to be updated on the issue of Northern Ireland and expressed admiration for John Hume [S.D.L.P leader].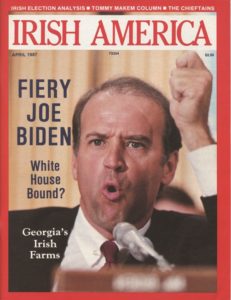 The interview ran as a cover story in the April 1987 issue, and subsequently I often found myself on Biden's invitation list.
Looking back, two events stand out in my mind. The first was a summer BBQ at the Vice Presidential home in Washington, D.C. It was a steaming hot afternoon in August, 2015. The party was in full swing with Biden's friends and family, and no sign of the VP until the back door of the house opened and a squealing mass of Biden's grandchildren came racing out. Close on their heels, dressed in a T shirt and shorts, came the Vice President armed with a water gun and chasing down the kids. They soon turned the tables, hosed him down, and we were all treated to the image of a dripping wet VP retreating back into the house as the kids charged.
The authenticity, pride in family and lack of decorum the incident showed was impressive. Joe Biden was never happier than when he was around his kids. I would learn that his extended family is his lifeline, and there is no better family man.
I had another glimpse of the real Biden some time later. My wife, Debbie and I were guests at his official residence for a Christmas Party, and Debbie happened to mention to the Vice President that her aunt, a Biden fan, was turning ninety that day.
"Get her on the phone" Biden instructed and took the phone when Aunt Nora answered. What ensued was a wonderful five-minute conversation between a 90-year-old Killarney-born woman and the VP of the United States. They eventually agreed he would come taste her cabbage and bacon the next time he was in New York.
Those two incidents point to the authentic nature of the man who will be president.
He feels the history and heartbeat of America, senses what must be done to restore our Republic.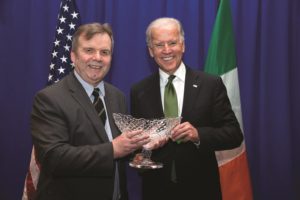 Like Lincoln, he understands the impact of those "mystic chords of memory" that all Americans share with their similar immigrant past, and he wants that as a symbol of unity not division. At his induction into the Irish America Hall of Fame in March, 2013, Biden spoke of his vision of America as a land of possibilities – a vision that requires a shift in immigration law if it is to continue to hold out the promise of possibilities.
"I know it sounds trite to say it, but anything is possible [in America]. I think that's what's attracted wave of immigration after wave. All those immigrants who have constantly infused this country with new blood, new ideas, new determination – a new certainty of continued possibilities. It's what makes us such a great nation.
"It's not just because I'm being honored here today, it's what I've been saying for the past 30 years. And I think it's the distinguishing feature that sets America apart. But today our immigration system is broken. It needs to be fixed. It needs to be fair. It needs to continue to hold out the promise of possibilities. And that means we have to modernize the existing legal system to deal with the reality that 11 million plus people are undocumented."
He continued with an appeal to those gathered to help. "We Irish – particularly you successful Irish – have an obligation, every one of us in this room has an obligation because we made it. And why? Because we stood upon those proud shoulders of our grandmothers and grandfathers who wouldn't bend. Who came with nothing and for a hell of a long time weren't able to achieve much of anything. Except maintain their pride and their dignity.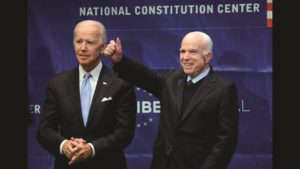 "They were proud and they stood tall, and now it's time for us to stand up, not just for those 50,000 Irish in the shadows today, but for the 11 million Hispanics, who by the way are just as proud, just as noble, care just as much about their families as we do. Because like our forebears they possess the overwhelming potential to build this country."
The Journey to America
Biden's folks, who came to America trailing broken dreams and heartache, likely never imagined that over a century later, their descendant would be elected to the presidency of the United States.
All eight of Joe Biden's great-great-grandparents on his mother, Catherine Eugenia 'Jean' Finnegan's side, were born in Ireland during the first half of the 19th century, and on his father Joseph R. Biden Sr.'s side, two great-grandparents were also born in Ireland.
Megan Smolenyak traced Biden's roots in a story that ran in Irish America in March 2013, and a grateful Vice President spoke to her by phone prior to his 2016 trip to meet relatives in Mayo and Louth.
On May 31, 1849, Owen Finnegan, Biden's great-great-grandfather from the remote Cooley Peninsula in County Louth, arrived in New York aboard the ship Brothers, fleeing the last of the Famine. As was often the custom, he came before the rest of his family. A shoemaker by trade (as was Barack Obama's Irish ancestor), he procured employment, and a year later, he sent for his family.
His wife Jane (nee Boyle) immigrated with her and Owen's children (including Biden's great-grandfather, James) almost a year later on May 15, 1850, on a ship named the Marchioness of Bute. According to Smolenyak, members of the Finnegan family went North to upstate New York picking apples and working with farmers. James Finnegan joined them for a time before heading west, ending up in Scranton, Pennsylvania, home to the Molly Maguires, a "secret society" of Irish immigrant miners who fought for workers' rights against the mine bosses.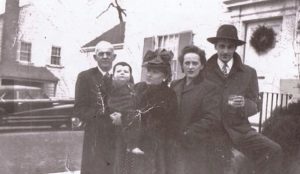 The mine bosses sent in the Pinkerton detective agency to break the union. Pinkerton planted a spy, an Irishman called James McParland, in their midst. His testimony was enough to send twenty of the Mollys to the gallows in one of the largest mass hangings by the U.S. government in its history.
Rumored to be a member of the Molly Maguires was Biden's great-grandfather Edward Francis Blewitt, a native of Louisiana whose parents Patrick and Catherine (nee Scanlon) Blewitt were from Ballina, Co Mayo. Blewitt was a major Irish American figure in Scranton. Not only did he win the election to the state senate, but he was also named Chairman of the Saint Patrick's Day Parade in 1897, and he became a co-founder of the Friendly Sons of St. Patrick in Scranton in 1908.
It was to the Scranton Friendly Sons that Robert Kennedy spoke in his first public appearance after the death of his brother, John. And it was to the same Friendly Sons that a young Senator Biden spoke on St. Patrick's Day in 1973, just a couple of months after the tragic death of his first wife and daughter. "I'm stunned by this loss," he told those gathered for the annual celebration of Irish heritage. "Life kicked me and then shook my hand at the same time that Monday afternoon in December.
He continued, "That's the Irish of it . . . life goes on with or without us. so better to go along, continue, one makes do."
He reflected on that Irish ability to overcome again in his Irish America Hall of Fame speech, saying, "There is something about the Irish. . . we know that to live is to be hurt, but we're still not afraid to live."
Of his great-grandfather Blewitt's rumored ties to the Molly Maguires, Biden said: "He went out of his way to prove that he wasn't, and we were all praying that he was."
At an event for the United Mine Workers in Virginia, in 2008, he said: "I hope you won't hold it against me, but I am a hard-coal miner, anthracite coal, Scranton, PA. It's nice to be back in coal country. … It's a different accent [in Southwest Virginia] … but it's the same deal. We were taught that our faith and our family was the only really important thing,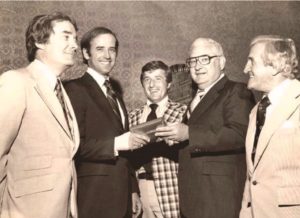 and our faith and our family informed everything we did."
In 1879, Edward Blewitt married Mary Ellen Stanton, a native of Scranton, and together they had four children, including Geraldine Catherine Blewitt, who went on to marry James Finnegan's son Ambrose Finnegan. In 1917, Geraldine gave birth to Catherine 'Jean' Eugenia Finnegan, who would become Biden's mother.
Grandpop Ambrose had a huge influence over young Joey – who had political ambitions from an early age. After mass on Sundays the clan would gather, and men would break away into one room and engage in robust political discussions about the merits of Harry Truman over Adlai Stevenson. There was no talk of Republicans, the class divide was too great. Irish Catholics didn't dare to think that way.
Grandpop Ambrose gave Joe the benefit of a lifetime of experience dealing with the Democratic Party and instilled in young Joey the virtues of the working man. He even had a term for how the rich dealt with the lowly Irish in the mines and elsewhere. He called it the "Silk Stocking Screw."
The Ireland U.S. Relationship
His Aunt Gertie who used to say­ "Remember Joey, you are mostly Irish."
And though Biden also has English in his lineage, his affinity for Ireland has already caused ripples in the U.K., which has long been a U.S. ally, and whose Prime Minister, Boris Johnson has enjoyed a close relationship with out-going President Trump.
Biden's incoming administration is seen as less supportive of Brexit (Britain's exit from the European Union), which Mr. Trump openly embraced. And the president-elect has made clear that he is opposed to any exit moves that would jeopardize the Good Friday Agreement –the 1998 peace deal that ended decades of violent conflict in Northern Ireland.
As the Wall Street Journal noted Ireland has a "deep rooted ally" in Biden who has said that it's incumbent on every stakeholder to "keep the border open."
"We do not want a guarded border," Biden retold reporters. "The idea of having a border, between north and south is just not right, we've just got to keep the border open."
Ireland's prime minister, or Taoiseach, Michéal Martin, was among the first five foreign leaders Biden spoke to after he was declared the next president, a signal that Ireland's Ambassador to the U.S. Dan Mulhall called a "big deal."
Irish public relations executive Paul Allen, who has a long relationship with the U.S. Democratic Party, going back to the peace process, helped organize a portion of Biden's 2016 visit to Ireland and this year helmed a campaign to get Irish residents to call their family in the U.S. to encourage them to vote for Biden.
"People had lots of fun. Because in lockdown Ireland there was nothing for anybody to do. So you'd call a relative in America," Allen said, adding that he got a call from Mr. Biden in the fall.
Ireland is also hoping for a boost in tourism thanks to the American president's affection for the land of his ancestors.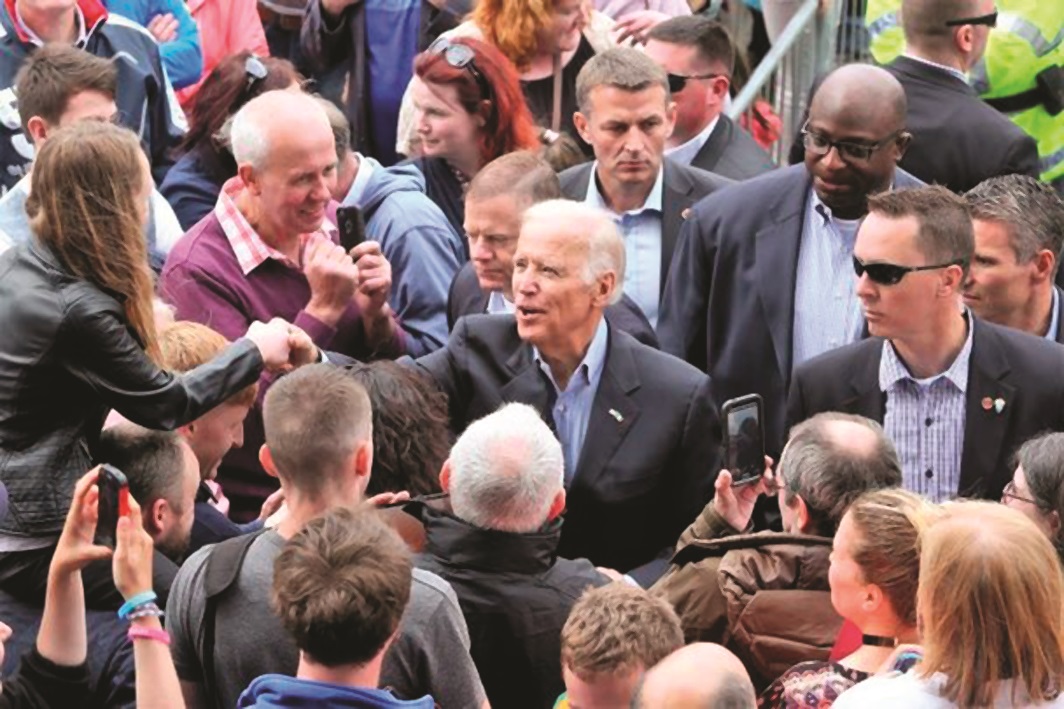 There were joyous celebrations on the streets of Ballina, Co. Mayo when the election was called for Biden. Locals hope that the Biden connection will boost business interest in the town and attract tourists.
"It's been a bit of an underdog town," said local elected official Mark Duffy, 28, who helped organize the mural of Biden that was unveiled in September. "We were very keen to demonstrate our pride in a descendant of the town whose family left in a bleak time, worked and lived the American dream and has gone on to hold the highest office in the land."
During that 2016 visit, Biden spoke to RTE, the Irish broadcast network, about the resolve of his ancestors: "My grandfather and grandmother Finnegan, all my mother's brothers, and my father told us about the courage and commitment it took for our relatives to emigrate from Ireland – in the midst of tragedy to distant shores, where they didn't know what awaited them," he said, adding, it took great courage. That courage, as it turns out, paid off."
Biden's own courage and tenacity also paid off. On his third run for the White House he made it, and received more votes than any other presidential candidate in the history of the United States.
And it's entirely fitting that it was Pennsylvania, where legions of his ancestors first put down roots in the United States that gave him the electoral votes to seal the deal.
Ahead of the 2016 visit to Ireland as vice president, he wrote: "Northeast Pennsylvania will be written on my heart. But Ireland will be written on my soul."
On the Cooley Peninsula in County Louth, Eamonn Thornton, 70, recalled meeting Biden during his 2016 trip as vice president.
"It was very emotional for him to be in the area where his relations were from," he said. He also remembered one of Mr. Biden's security-team members getting out of the car in a small town off the Atlantic and saying, "Where the hell are we?"
"Listen, man, you're in heaven," Biden replied.
Being President
Does the prospect of being President frighten you?
"The prospect of being President is a daunting one. Maybe it should frighten me. It doesn't frighten me, but it chastens me to realize that I'm not sure that there could ever be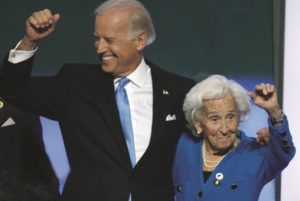 any woman or man who could be prepared, in a purely objective sense, to be President of the United States.
I think that the President of the United States affects the fortunes of the free world, more than any other single person. If you look at it in those terms it's a chilling thought. But I think that the way to deal with problems is to look at the pieces you can handle. Look at it, not so much in terms of the enormity of the task, but in terms of the pieces of the task all of which you think you can handle."
From Biden's 1987 interview with Niall O'Dowd.
Being Irish
"Over the course of my life, I've been to a lot of places. I've traveled all around the world – more than a million miles on Air Force Two alone. I've been honored to have held a lot of titles. But I have always been and will always be the son of Kitty Finnegan. The grandson of Geraldine Finnegan from St. Paul's Parish in Scranton; a proud descendant of the Finnegans of Ireland's County Louth. The great-grandson of a man named Edward Francis Blewitt, whose roots stem from Ballina, a small town in Ireland's County Mayo – sister city to my hometown in Scranton, Pennsylvania – an engineer with a poet's heart. Months after my mother passed away, I found an old box of his poems in my attic.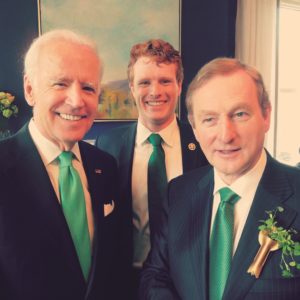 "In his poetry, my great-grandfather spoke of both continents, and how his heart and his soul drew from the old and the new. And most of all, he was proud. He was proud of his ancestors. He was proud of his blood. He was proud of his city. He was proud of his state, his country. But most of all – he was proud of his family.
"And that is America: This notion that home is where your character is etched. As Americans, we all hail from many homes. Somewhere along the line, someone in our lineage arrived on our shores, filled with hope. We are blessed to experience that simultaneous pride in where we've found ourselves, while never forgetting our roots."
From Biden's autobiography, Promises to Keep.
Note: This article was published in the Irish America January/ February 2021 issue prior to President Biden's inauguration.♦