The hugely anticipated Broadway revival of Meredith Willson's The Music Man, stars Tony Award-winner Marie Mullen in character as Mrs. Paroo.
Born in County Sligo, Mullen co-founded the Druid Theatre Company, located in Galway, and appeared in many of its productions. She has also appeared in many Broadway productions, and her performance in the 1998 production of The Beauty Queen of Leenane, earned her a Tony Award for Best Actress in a Play.  Mullen talks to Tom Deignan about being back on Broadway after all the COVID delays, and what it was like prepping for her role in The Music Man.
What was it like to perform a big Broadway show before a big Broadway crowd after all the delays?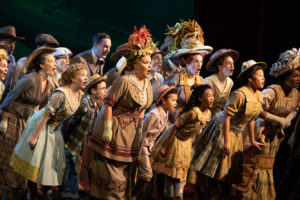 At once exhilarating and terrifying. However, truth be told, we as a company, had a lot going for us. A very edgy love story, magnificent music, two extraordinary leads at the top of their game, a creative team who have such talent, respect and love for the show, and an audience who, we felt, would surely welcome the experience after coming through a grueling two years of hardship.
How did your loved ones manage during the pandemic ? And how did you manage to stay sane, if you did stay sane?
I really enjoyed being free during a lot of lockdown. Watching the seasons, long walks, having time to putter and read a bit. Sean McGinley, my husband, is also an actor, and we are used to periods out of work, but I must say, we were getting restless for a return to absorbing interesting script work towards the end of the year. 
How was preparing for The Music Man different?
For me, the great excitement happened when I understood that the story weaves in and out of the music, and the music is the biggest part of our yearnings and aspirations within the story. Our audiences adore every single number in The Music Man. When I first saw Hugh perform "76 Trombones" and watched Warren Carlyle's amazing choreography, I felt I could actually see the town's young people holding their band instruments in their hands.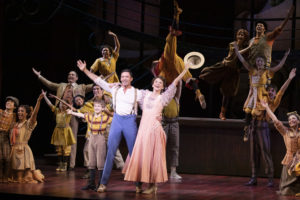 What had you thought previously about the role of Mrs. Paroo?  Did you make a point of looking at other performances. Or not?
Mrs. Paroo is such a beautiful soul, and through her and Winthrop we get a look at Marian's home life in Iowa's small town, River City. I didn't really look at other people's take on her. What helped me in rehearsal was the relationship between Marian and her mother. I can't tell you enough about Sutton Foster's generosity and sense of fun. She is amazing, as is Hugh [Jackman]. Two extraordinary stars and decent human beings.
What were some of you earlier inspirations with performing and theatre, growing up in Sligo?
In 1975, Garry Hynes, Mick Lally, and myself set up the Druid Theatre Co. in Galway with the aspiration of giving a west of Ireland voice to some of our classic plays and to use our life experience to interpret other plays of every era. Druid is still doing ground-breaking work, I'm happy to say. 
Who were some of your Irish role models once you got your career going?
Through the years, I've admired and looked up to so many great people. Among them are Siobhan McKenna, Tom Murphy, and Brian Friel.
What would you still like to accomplish in this business?
I would like to do more Shakespeare and explore the work of many new writers.
Any idea what's next?
I don't know what's next. I consider myself very lucky to be able to enjoy The Music Man. It's a gift and I'm delighted.
Is there a theatrical production that you would you love to put on, and tour both the U.S. and Ireland?
I'm revisiting Eugene O'Neill at the moment so I would love to tour a production of Long Days Journey Into Night.
Short Takes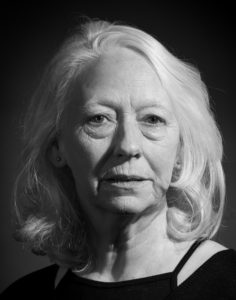 Favorite play: The Playboy Of The Western World.
Favorite Musical: Guess!! The Music Man, and Mary Poppins. 
Recent book read and loved: The Letters of John McGahern.
Favorite book: Wuthering Heights.
Favorite TV or Movie: So many. "House," on TV. Wings of Desire, Wim Wenders' 1987 film.
Irish Playwright who should be better known: Tom Murphy.