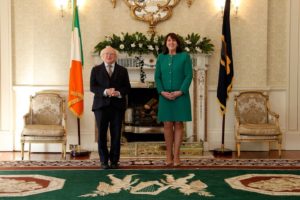 "My grandfather left Ireland for a future in America full of hope and promise. He would be thrilled to see his granddaughter return to these shores as the US Ambassador. It is a dream come true." – Claire Cronin in her Welcome Video after being appointed U.S. Ambassador to Ireland
---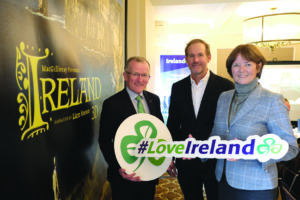 We are rolling out our Green Button restart campaign in the United States right now – encouraging travelers to starting planning and to book their trip to the island of Ireland. . . . Our message is very simple: Ireland is open for business, there is good summer air access, and we cannot wait to welcome back visitors from the United States. We're telling prospective U.S. visitors that a warm welcome awaits, despite the disruption of the last couple of years." – Alison Metcalfe, Tourism Ireland's Executive Vice President, North America and Australia, pictured with Tourism Ireland's CEO Niall Gibbons, and Sean MacGillvray, producer of the IMAX film Ireland, at the unveiling of its marketing plan in New York on March 2.
---
"I mentioned on the show that we wanted to go to Ireland, and while we're still finalizing it, it's looking like we'll be there for St. Patrick's Day." –Amy Schneider who had a 40-game winning streak on the game show Jeopardy
---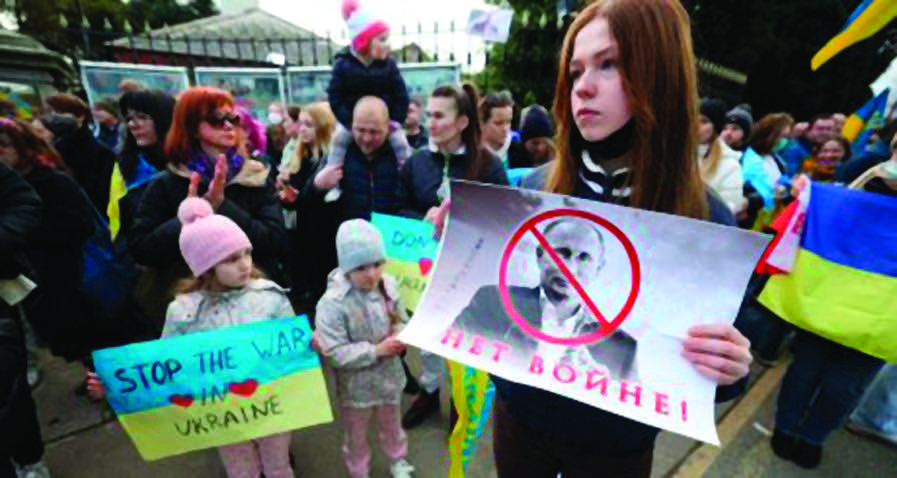 President Michael D. Higgins called the Russian invasion "unacceptable and immoral" and stated: "This violence must stop. Troops must be withdrawn by Russia. The rise of militarism must end. Full humanitarian access must be given to all civilians in need. Every glimmer of hope through diplomacy must be seized."
Taoiseach Micheál Martin condemned the "outrageous" actions of Russia in Ukraine and promised "severe sanctions from EU," while saying: "Our thoughts must be with the innocent people of Ukraine at this, their most difficult hour."
Tánaiste Leo Varadkar stated that whilst Ireland is militarily neutral, "in this conflict, Ireland is not neutral at all, acknowledging the country's "unwavering and unconditional" support for Ukraine. He compared the invasion of Ukraine to the invasion of Czechoslovakia in 1939, calling Putin ­"the Hitler of the 21st century."
---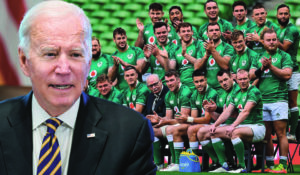 "We're really proud of you guys. Really, really, really. And by the way, when I was down in New Zealand, not long ago, I was bragging about you guys, they almost didn't let me off the island, you know what I mean? Congratulations, fellas!" – President Biden congratulates the Irish rugby team on their win over New Zealand.
---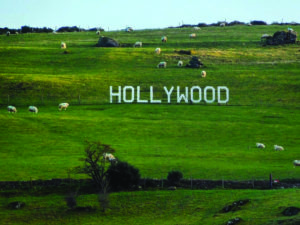 "Less traffic, greener hills, great Guinness. A different kind of Hollywood." – Oscar nominee Florence Pugh, filming The Wonder, in Ireland, shares apicture of the Hollywood sign in Co. Wicklow.