Meath Ladies Celebrate All-Ireland Football Final Win
For the second year in a row, the County Meath's ladies football team won the All-Ireland title, with a nine-point victory over Kerry.  
Over 46,000 people were in attendance to watch the game, and some 150,000 viewers tuned-in to watch the live-broadcast on TG4 (the Irish language station).
The game started like a dream for Kerry, with top player Louise Ní Mhuircheartaigh scoring the first free of the game. Still, Meath goalkeeper Monica McGuirk blocked further plays. 
Meath players Shauna Ennis, Vikki Wall, and Emma Duggan made headlines with their structured plays – with Wall adding two points for the Royal team in the first 20 minutes and ending a lengthy attack played by Kerry. 
Two of Meath's top players are leaving the team and heading to the Land Down Under to join Australian Football League Women's Competition (AFLW) with Vikki Wall joining North Melbourne and Orlagh Lally playing for Fremantle Dockers. "I'm really looking forward to it. It's a great opportunity and a bit of a new adventure as well," Lally told Donnchadh Boyle of Independent.ie.
"The girls bought into it, and that's most important. There's no point having good players if you haven't good management. We have both, so we're blessed," Coach Eamonn Murray said. 
Meath won the 2022 Brendan Martin Cup with a final score of 3-10 to 1-7.
Former U.S. President Donald Trump to Visit Doonbeg in late August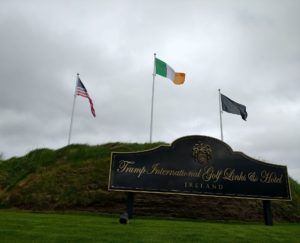 Former U.S. President Donald Trump is set to pay a visit to Ireland in the last week of August.
He is expected to fly into Shannon via private jet, and stay at his 5-star golf resort in Doonbeg, County Clare.
No definitive dates have been set, though the Irish Mirror reported that Trump is expected to stay sometime between August 25 and August 30. A few Trump family members are expected to be part of his incoming entourage. Donald Trump Jr. girlfriend, Kimberly Guilfoyle, is the daughter of a County Clare immigrant who settled in San Francisco. (Her mother is from Puerto Rico).
Since Trump is no longer sitting President, it's not considered an official visit. Still, Garda security checkpoints will be set up from Shannon to Ennis on the Kilrush Rod toward Doonbeg.
Unless declined, all U.S. presidents are provided Secret Service detail for the rest of their lives, so it's expected that Trump will travel with a security detail. The Irish Emergency Response Unit (ERU) and the Special Detective Unit (SDU) will coordinate with U.S. security officials to prepare for the visit.
Doonbeg resident and local business owner Rita McInerney, said the visit will create a "bit of excitement." Speaking to Olivia Kelleher of the Irish Times, she said: "We have a great working relationship with the owners of Doonbeg golf club. Doonbeg golf club employs about 300 people in the summertime and it goes down to about 100 in the winter." The last time the Trump family visited Doonbeg was in 2019. While his sons Eric and Donald Junior bought pints for locals and visitors and participated in a mini-pub crawl, thousands across the country turned out to protest the visit, and demonstrators in Dublin hoisted a Trump Baby inflatable blimp.
Trump is currently under scrutiny for his actions during the January 6 insurrection on the Washington Capitol in 2021. He has been accused of "supreme dereliction of duty" and of inciting the riots.
The First Look Inside Martin McDonagh's New Film 'Banshees of Inisherin'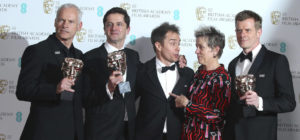 Martin McDonagh's new movie Banshees of Inisherin is set to premiere at the Venice Film Festival from August 31 to September 10, 2022.
Renowned Irish actors Colin Farrell and Brendan Gleeson reunite to star in another McDonagh film, 15 years after their iconic performance in the quintessential crime/comedy hit, In Bruges.
The Banshees of Inisherin is a dark comedy that follows the story of two lifelong friends amid the Irish Civil War in 1923. The two friends are fighting on opposite sides of the civil war when Pádraic, played by Farrell, determines that his friendship with Gleeson's Colm must end.
"The Irish Civil War was between two sides who, a year before, were on the same side and fighting the British and the British Empire," McDonagh told Vanity Fair. "The tragedy of that war was that everyone was close friends — and then they were killing each other."
"This is about things getting inexorably worse from a simple, sad starting point," McDonagh continued. "The love was there, like in any broken-down relationship, but it was interesting to have them not have that ease with each other — because they love each other as actors, as people, but they cannot have that onscreen."
The English-Irish director has written many plays about Ireland, like The Beauty Queen of Leenane, but this is his first feature film in his native Ireland. The film is set on the fictional island of Inisherin and filmed on the islands of Inishmore and Achill, off the coast of McDonagh's family home in Galway.
The first looks of the film provided by Vanity Fair show the cast looking distraught amongst the rolling green hills. Kerry Condon stars as Pádraic's sister, Siobhán, who craves more than what the rural island town offers. Condon stars alongside up-and-coming Irish actor Barry Keoghan, who plays a policeman's son, Dominic.
McDonagh says the characters' accents are authentic to the Irish Civil War era and warns that U.S. viewers might not be able to grasp the dialogue fully.
"When I'm watching Mean Streets or Goodfellas, I'm hearing 90 percent of it. I'll miss some Italian or New York dialogue, every couple of lines—but it doesn't matter. I'm going with it," McDonagh told Vanity Fair.
McDonagh has won multiple awards for his work, including 4 BAFTA Awards, two Golden Globe Awards, three Olivier Awards, and one Academy Award. Some of his best-known works are Six Shooters, Three Billboards Outside Ebbing, Missouri, and Seven Psychopaths.
The Banshees of Inisherin premieres on October 21 from Searchlight Pictures.
Hundreds Gather for the ALS Ice Bucket Challenge in Honor of Pat Quinn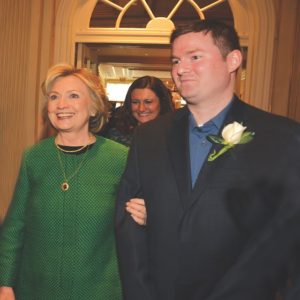 On Sunday, July 31, hundreds of Yonkers residents gathered at Empire City Casino to participate in the ALS Ice Bucket Challenge in honor of Yonkers native and co-founder of the viral internet trend, Patrick Quinn, who died in 2020.
Over 350 people with buckets of freezing cold water gathered at the Yonkers Raceway Empire City Casino on Sunday, chanting, "we won't stop till we find a cure for ALS."
Elected officials from the local city and state governments joined in for the annual event, hosted by Empire City and Quinn's father, Patrick Quinn Sr., since 2015. Yonkers Mayor Mike Spano and U.S. Senator Kirsten Gillibrand, who worked on legislation that ensured research for the neurodegenerative disease, were among those in attendance.
"Not only am I so grateful for the continued support of Empire City Casino, Mayor Mike Spano, and our community, but the annual challenge for me serves as a beautiful tribute to my son's lasting legacy and everything he did to help move the needle in finding a cure for ALS," Patrick Quinn Sr. said at the awareness event.
In 2013, 30-year-old Yonkers resident Pat Quinn was diagnosed with ALS – a neurodegenerative disease that affects nerve cells in the brain and spinal cord. Soon after his diagnosis, he found a way to gain the public's awareness of the life-altering disease and get donations for the ALS Association along the way. He set up the website 'Quinn 4 the Win', which helped establish ALS fundraiser networks across New York.
With the help of two other friends who also had ALS, Quinn co-founded the global social media trend – the ALS Ice Bucket Challenge. Thousands of people worldwide- politicians, sports stars, celebrities, and even a group of Irish nuns – recorded themselves dumping ice-cold water on their heads. In 2015, Quinn was welcomed into the Irish America Hall of Fame for his dedication to fundraising and international awareness.
Quinn's social media campaign raised over $220 million for the research and treatment of ALS.
"Five years after the Ice Bucket Challenge soaked the world, the pace of discovery has increased tremendously, bringing ALS researchers closer than they have ever been to real breakthroughs in diagnosing, treating, and eventually curing this disease," said Calaneet Balas, president, and CEO of The ALS Association.
The ALS Ice Bucket Challenge is hosted annually at Empire City Casino, which donates the space. You can visit Quinn for the Win on Facebook to register for the next Yonkers Ice Bucket Challenge.
Irish Museum of Time Nominated for the Travel Writers Guild Award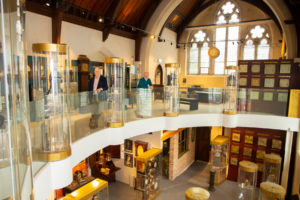 Home to the oldest Irish-made grandfather clocks and 16th-century timepieces, the Irish Museum of Time is up for the prestigious British Guild of Travel Writers International Tourism Awards for 2022.
The museum, also known as Ireland's National Horological Museum, is a redone gothic-style church on Greyfriars Street in County Waterford, in the center of Waterford's Viking Triangle. The museum celebrates the "remarkable beauty and technological genius" of the craftsmen who created the near-ancient timepieces.
The Guild of Travel Writers is one of the U.K.'s leading travel media organizations.
To win the Travel Writers Tourism award, the establishment must meet strict criteria to require an annual audit by 270 Guild members.
The Irish Museum of Time, also part of the Waterford Treasures suite, earned its nomination after a visit from award-winning travel writer and guild member Isabel Conway, who called the horological exhibits "superb."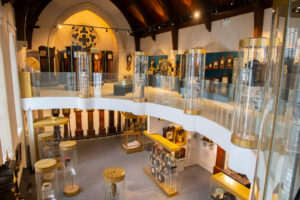 "Wander ancient Waterford's medieval laneways around its multi-award-winning Viking Triangle and you'll find The Irish Museum of Time that traces Ireland's long history of horology, all gathered in a Gothic Revival church that celebrates the skills of clock and timepieces makers, dating back to the sixteenth century," Conway wrote.
Eamonn McEneaney, Director of Waterford Treasures, called the nomination a "huge honor."
The next step for the Irish Museum of Time nomination is a shortlist vote by guild members, hopefully moving the historic Irish museum to the finalist stage.
The Guild of Travel Writers International Tourism awards will take place in November 2022 in London. For further nomination announcements or information, visit bgtw.org
'Fleadh Cheoil Central' on Ireland's TG4 Channel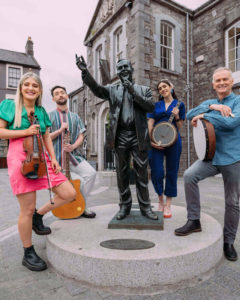 The Fleadh Cheoil na hÉireann is returning to Mullingar, County Westmeath, for the world's largest week-long celebration of Irish music, culture, and traditions. For those who can't make it, the Irish TG4 channel broadcasts one live show daily from August 5 to 7, highlighting the best of Irish songs, music, and dance.
Fleadh festivities will start with The Homecoming Suite, a new piece composed by Irish American fiddle player Liz Carroll, who was inducted into Irish America's Hall of Fame in 2011.
Carroll is the first Irish-American traditional musician ever nominated for a Grammy award, was also awarded the TG4 Gradam Ceoil award for composition in 2011, and is a recipient of the National Endowment for the Arts National Heritage Fellowship award, and winner of the All-Ireland senior fiddle title in 1975.
Festival presenters Daithí Ó Sé and Doireann Ní Ghlacáin have been touring across Ireland, meeting musicians and sports stars, some of whom competed in last Sunday's All-Ireland Football final.
Ó Sé and Ní Ghlacáin will co-host with Peader O Goill and Maggie Carty to introduce musicians Martin Hayes, John Francis Flynn, Inni-K, Anúna, Liz Carroll, At The Racket, Kila, and 3 On The Bund, among others.
Behind-the-scenes activity and music of the Fleadh Cheoil na hÉireann will be posted on @TG4TV on social media and under the hashtag #Fleadh2022.