Is a United Ireland Likely in the Near Future?
For the first time in the history of the state, Catholics outnumber the Protestant population in Northern Ireland, and that is giving supporters of Irish unification substantial hope for their cause.
The Northern Ireland Statistics and Research Agency released the 2021 census data which revealed that Catholics, at 42.3% of the population, outnumber Protestant or Christian denominations in Northern Ireland, which make up 37.4% population. Additionally, less people identified as British compared to 2011– shrinking over 5 points from 48.4% to 42.8%.
In light of the news, the leader of Sinn Féin, the largest party in Northern Ireland's assembly, Mary Lou McDonald addressed the crowd at the 3Arena amphitheatre in Dublin on October 4, saying: "We reimagine the future of our country, discuss our ideas for a united Ireland and a tomorrow that captures all the potential and immense opportunities for this island. We are here in the spirit of ambition. To seize the day."
"It is time for the government to establish a Citizen's Assembly on Irish Unity," McDonald continued. "Make no mistake, history is happening now. The challenge is now. The moment is now. We are all nation builders. Ireland's future belongs to us all. We can achieve a new Ireland. We can realize the promise of a better tomorrow. Here in our time, we can make Ireland a nation home for everybody." Her speech was met with a standing ovation.
Further legitimizing the possibility of Irish unification is the analyses of the census data from media outlets across the world, such as The Washington Post, and the U.K.'s liberal The Guardian, who quoted one Mary Greene of west Belfast saying, "It's is closer now than it's ever been."
The data is massively symbolic of the relationship between the Republic and the North and has shaken Unionist politicians and their demographic, as most Protestants are in support of Northern Ireland remaining in the United Kingdom and have been historically separated since the partition of Ireland in 1921 – when religious figures in census data were used to secure the Protestant majority in Northern Ireland two-to-one and support the Union in the region.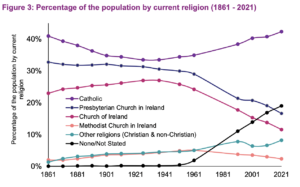 And as unionists fear what this will mean for the future of Northern Ireland, Norman Tebbitt told the Daily Telegraph that: "It looks more likely than not that in the not too distant future, the province will become part of the republic." Tebbit is a Thatcherite minister who was injured in the 1984 Conservative conference IRA bombing.
When researchers dug into the background of the 20% who identified as unaffiliated, they found that 45.7% were raised in a Catholic background or family, with 43.5% identifying as Protestant or Christian.
Sam McBride from the Belfast Telegraph says the results "makes unspinnable grim reading for unionists."
"Part of the sense of momentum towards a border poll is that Britain is so embarrassing at the moment," says Malachi O'Doherty, the author of Can Ireland Be One? "If I vote for unity, it'll be out of not wanting to be governed by a Little England run by Tory prats till the end of time."
The number of people in Northern Ireland reported having Irish passports jumped nearly 50% from 375,600 in 2011 to 614,300 in 2021 – and researchers suggest that the number is the result of Brexit as much as the changing demography.
Those who identify solely as Northern Irish make up approximately a fifth of the population, and some politicians have claimed that this populace is now a "well-established middle-ground bloc" with people who do not identify as unionist or nationalist and the 9% of religious "others" and have a powerful role in the future of Northern Ireland's constitution and placement in geo-political maps.
Founders of END SEPSIS to Receive Ireland's Presidential Distinguished Service Award
After a decade of steadfast campaigning in memory of their son, Rory, Ciaran and Orlaith Staunton will receive the Presidential Distinguished Service Award – an official recognition of their tireless determination in ending sepsis-related deaths.
Ireland's Minister for Foreign Affairs, Simon Coveney, announced the recipients of this year's Presidential Distinguished Service Award for the Irish Abroad on October 11.
In March 2012, Rory scraped his elbow on the gymnasium floor of his school. The teacher applied a band aid and within days, Rory started showing signs of septic shock. His pediatricians dismissed his symptoms and sent him home. A day later, Rory died in the ICU from sepsis.
Fueled by grief and anger that there were no sepsis protocols established in hospitals, Ciaran and Orlaith founded END SEPSIS, The Legacy of Rory Staunton, a foundation for sepsis prevention through widespread awareness and educational campaigns, sepsis identification and treatment protocols in all hospitals and medical settings, and a support system for people and families affected by the life-threatening condition.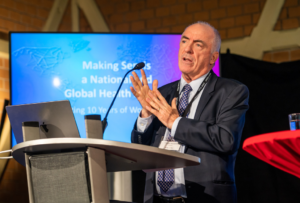 The Staunton family worked directly with the CDC, Dr. Shah from the New York State Department of Health, and then-Governor Andrew Cuomo, who signed what is known as Rory's Regulations into law in 2013. New York State now tracks sepsis throughout its hospitals.
In a letter to the Stauntons, Minister Coveney wrote: "I am especially pleased that you have been selected to receive the Award under the category of Charitable Works. The central and significant role played by you in setting up the Rory Staunton Foundation in the wake of the tragic death of your young son, Rory, and the resultant laws which have been passed, has had a far-reaching impact. Your work has undoubtedly saved thousands of lives and will continue to impact on future generations. The award is well deserved and I am delighted to see your efforts recognized in this very special way at a national level."
Another notable recipient from the U.S. is author, lawyer and academic Joseph M. Hassett, a New York-born Harvard Law School graduate with a doctorate in Anglo-Irish Literature from the University College Dublin, who has written extensively on Irish writers such as James Joyce and W.B. Yeats. He formerly served as counsel to the Embassy of Ireland and a leading lawyer that has argued in the U.S. Supreme Court. He was one of Irish America's Stars of The South in 2010.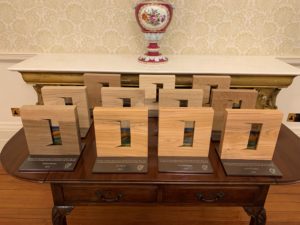 Morgan Bullock, a young black dancer from the U.S. who was inspired by Riverdance to try Irish dancing, will also receive the Distinguished Service Award. Bullock went viral on TikTok in 2020 matching Irish dancing to popular and hip-hop songs. Her videos were reposted by then-Taoiseach Leo Varadkar, who wrote: "Some brilliant moves there, we'd love to have you over," and invited Bullock to Ireland to dance on St Patrick's Day. Bullock, who now tours with Riverdance, also performed virtually for the US Embassy of Ireland in March 2021.
The nominations were made by Irish communities abroad through Ireland's network of Diplomatic Missions. The Award annually recognizes the "distinguished and sustained contribution to Ireland, Irish communities abroad, and Ireland's international reputation by people resident abroad."
The Awards presentation by the President of Ireland will be held at Áras an Uachtaráin in Dublin.
Co. Donegal Town Petrol Station Explodes, Killing 10
On October 7, the Applegreen gas station and complex in Creeslough Co. Donegal exploded, leaving a path of destruction and grief behind it.
Four men, three women, a teenage boy, and a young girl were killed, according to the gardaí. Eight were injured, one critically. This is the largest civilian casualty since 1998, when The Troubles ended.
Donegal gardaí Superintendent David Kelly said evidence is "pointing toward a tragic accident." The cause of the explosion is still being investigated.
Creeslough, a small village in the northwest of Ireland, is about 30 miles from the Northern Irish border and has a population of about 400 people – and the tiny, tight-knit community is mourning their massive loss.
The gas station was connected to the village's only shop, the post office, and several residential apartments. Naturally, it functioned as a hub for the community members, who were going about their regular Friday duties.
Because of its proximity to the border, emergency services in both the Republic and the North were deployed in the search and recovery operation after the destruction. The explosion caused a massive blast through the center of the complex, requiring sniffing dogs and mechanical diggers to remove layers of debris.
Prime Minister Micheál Martin called it "one of the darkest days for Donegal and the entire country."
On Saturday, October 8, Father John Joe Duffy led mass in the Creeslough village church to express how the village had been overcome with a "tsunami of grief."
The Taoiseach, Micheál Martin, the deputy Prime Minister, Leo Varadkar, and Mary Lou McDonald, the leader of Sinn Féin, visited the scene and attended two of the memorial masses
Among the dozens of nearby workers who came to the scene, like Colin Kilpatrick, a delivery driver who was across the road when the explosion occurred, recalled a horrifying site.
"I came running over and I heard this wee girl squealing, I'll never forget that. She was just crying at the top of her lungs looking for her friend or sister," Kilpatrick told BBC News NI.
Patrick O'Donnell, a butcher who was working at the service station's shop during the explosion, went into the store to rescue an elderly woman.
"She's ok," O'Donnell told BBC NI. "I went back in another time just to check – I didn't realize how bad it was, but I couldn't get to anybody."
Another nearby helper, businessman Brian Dolan, hurried from his office and was one of the first on the scene, attempting to clear a path and remove some debris.
A GoFundMe page was set up by Creeslough native Gerard McFadden and raised over €400,000 in just five days. McFadden and the Creeslough Community Association are distributing the funds to the families of the deceased, injured, and displaced.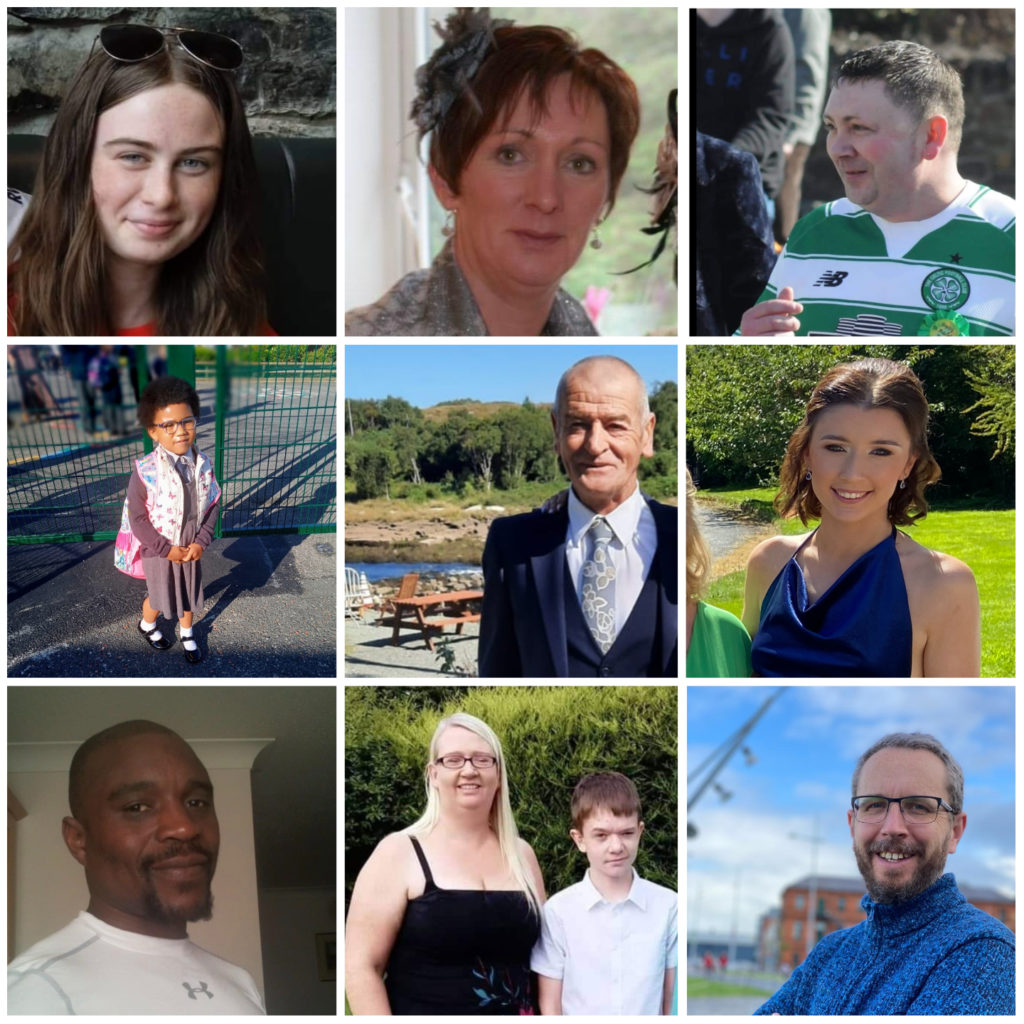 Creeslough Explosion Victims (top left to bottom right):
Leona Harper, 14, was buying ice cream. Her teammates from Letterkenny Rugby Club and classmates lined up in front of St Mary's Church in Ramelton. Martina Martin was 49 and a mother of four. Mass was held at St Michael's church in Creeslough on Thursday. Martin McGill, 49, who moved from Scotland to care for his elderly mother. Five-year-old Shauna Flanagan Garwe was buying a birthday cake for her mother. Hugh Kelly, 59, was buried on Friday, October 14. Jessica Gallagher, 23, a fashion designer who just got home from Paris, was buried on Tuesday at St Michaels Church in Creeslough. Robert Garwe was with his daughter, Shauna, buying a birthday cake for his wife. Catherine O'Donnell, 39, mother of James Monaghan, 13, were both buried on Wednesday. They were waiting in the line at the post office. James O'Flaherty, 48, an Australian engineer from Sydney, who was living with his wife and son in Dufanaghy. His funeral was on Wednesday, October 12.
Trailer Released for New Film Starring Jessie Buckley
A haunting and deeply emotional trailer for a new film starring Frances McDormand, Rooney Mara, Claire Foy, Ben Whinshaw, and Co. Kerry's Jessie Buckley was released after much Hollywood buzz.
Women Talking, named and based on the novel by Miriam Towes, tells the tale of a group of women "in an isolated religious colony as they reconcile their faith with a series of sexual assaults committed by the colony's men" and how to collectively move forward.
And though Oscar nominations aren't revealed until January 2023, The Hollywood Reporter claimed Buckley is a top contender in the Best Supporting Actress category for the Academy Awards.
Buckley was nominated for an Academy Award for her performance in The Lost Daughter in 2021.
Director Sarah Polley said she was moved by Towes' book and that it raised "Questions about forgiveness, faith, systems of power, trauma, healing, culpability, community, and self-determination. It also left me bewilderingly hopeful."
The film was the official selection of many film festival awards, including the BFI London, Telluride Film Festival, Toronto Film Festival, and the Mill Valley Film Festival 'Mind the Gap Creativity & Truth' award.
Women talking will release in theaters on December 2, 2022.
Dublin Celebrates 125 Years of Bram Stoker's 'Dracula'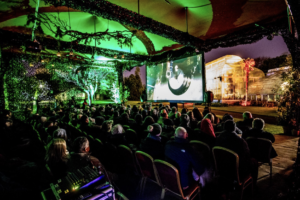 The Bram Stoker Festival will return to Dublin from October 28-31 after a two-year hiatus to celebrate Count Dracula and his creator, Bram Stoker.
In part of the books 125th publishing anniversary and the TV shows, films, and recreations of the story over the last century, the city of Dublin is offering a festival packed with Halloween activities.
Stoker, born and raised in Dublin, was inspired by Ireland's 'walking dead,' the neamh-mairbh when creating Count Dracula's character. The festival gives participants a chance to explore the same streets, indoor and outdoor venues throughout the city, and the feel of Dublin that inspired Stoker.
The full details of the festival have yet to be announced, but attendees can expect nothing short of the extravagant presentations of art installations, theatre productions, outdoor night circuses and banquets in sacred crypts in past years. 
To prepare for the weekend's festivities, you can listen to the Bram Stoker Festival at Home Treats, a curated collection of videos, podcast, and other audio context about Stoker's life, muses, and how vampires influence modern culture. 
Enrichment Through Respect for Difference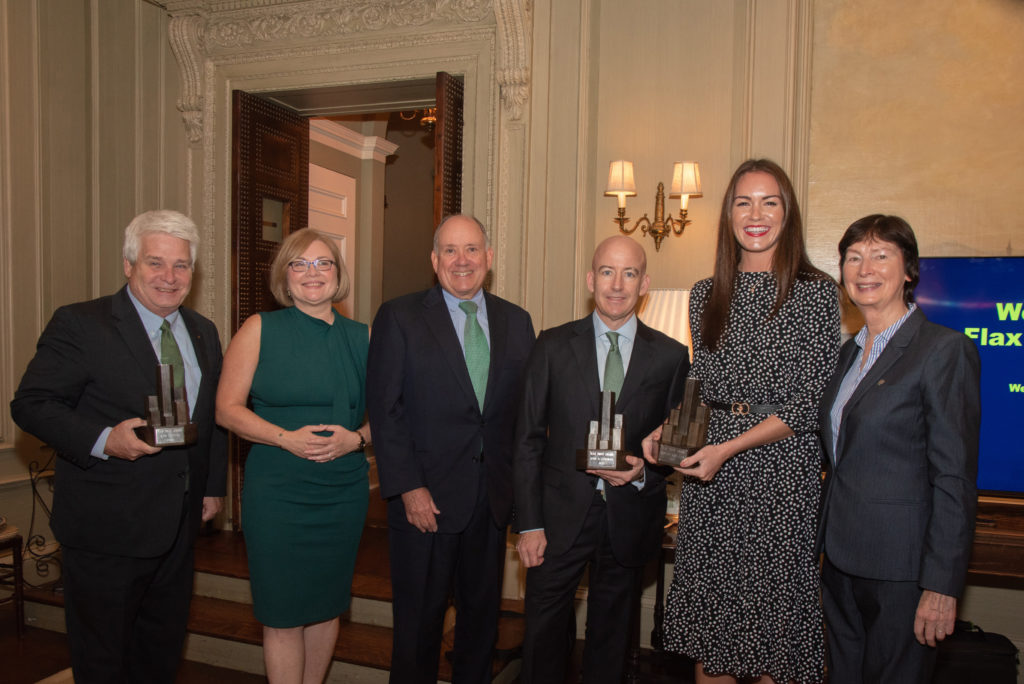 The Flax Trust celebrated its first in-person luncheon in New York City since 2019 at The Links, 36 East 62nd Street, on Wednesday, October 12, with Sister Mary Turley, the director of the Trust presiding.
One of the largest and longest-established development trusts in Ireland, The Flax Trust is a registered charity formed in Belfast in 1977. Over the years, it has been committed to the reconciliation of a divided community through economic and social development, bringing peace to both communities, one person and one job at a time. 
Contributions from Flax Trust America have helped develop such programs as an international arts center – theatre, art gallery, dance studio, and the Pittsburgh Bar & Steelers' Restaurant; initiated a community association and health and social programs, which have served thousands of Meals on Wheels in addition to day-care center meals; built a medical center housing Ardoyne Community Healthcare Centre, Ardoyne / Shankill Healthy Living Centre, medical and dental surgeries, and an elderly day care center; built a shopping center including a supermarket, post office, pharmacy, fancy goods store, florist, community-based organizations, café, offices, and workshops providing services, and much, much more.
Funds raised at the New York luncheon will go to support leadership, management, and business development for the social economy sector and young musicians of the future to assist them in furthering their development and education.
This year's honorees were Sophie Colgan Program Director Ireland – U.S. Council, John Coleman, the President of the Friendly Sons of St. Patrick in The City of New York; and Bill Byrne, who represents Aer Lingus as the Senior Vice President of Global Sales United States of America.
The luncheon chair was Tom O'Brien, Chairman, President & CEO of Sterling Bancorp, and the Director of Flax Trust America.
Ireland's Ladies Football Team Faces Backlash for 'Celtic Symphony' Chant After Defeating Scotland in World Cup Qualifier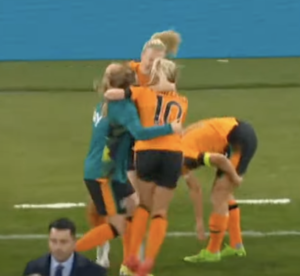 Ireland's Ladies' Football team played ruthlessly against Scotland in the Women's World Cup qualifiers on Tuesday, October 11, in Hampden Park, Scotland. The Republic won 1-0.
Amber Barrett scored the most iconic goal in the history of women's football in Ireland with a second-half finish, scoring their winning goal. Highlights include Courtney Brosnan, who saved a penalty kick, and Megan Campbell's long throws that put Scotland off their game.
Barrett dedicated her winning goal to the victims of the Creeslough explosion, saying that her grandparents are from the small village and that she still spends a lot of time there.
"I'm dedicating this result and the goal to the 10 beautiful souls who unfortunately perished, for all their families. I know they touched their lives and they have touched ours. This is for Creeslough. This is for Donegal," Barrett said.
After the historic win, a clip of the women's Irish football team chanting 'Ou, ah, up the ra,' from the song 'Celtic Symphony', a song commonly associated with support for the Irish Republican Army, in the dressing room.
The clip was subject to massive backlash and is the subject of an investigation from both the Police of Scotland and the Union of European Football Associations (UEFA). The UEFA cites an ethics violation for the "inappropriate behavior" displayed by the Irish team.
The Football Association of Ireland and team manager Vera Pauw released a statement after the video circulated, saying: "The Football Association of Ireland and the Republic of Ireland women's national team manager Vera Pauw apologize for any offense caused by a song sung by players in the Ireland dressing room after the Fifa Women's World Cup qualifying playoff win over Scotland at Hampden Park on Tuesday night."
"We will review this with the players and remind them of their responsibilities in this regard. I have spoken with players this morning and we are sorry collectively for any hurt caused, there can be no excuse for that," Pauw said.
The Women's World Cup kicks off on July 20 and ends on August 20, 2023.