The Northwell Health Nurse Choir skyrocketed to fame last year on America's Got Talent. Tom Deignan Finds the Irish Connection.
It is the late 1970s, and an Irish American from Queens is working at a pub that regularly features the musical stylings of Tommy Mulvihill and his band.
And the crowd gets so lively at times that they join in on the singing – as does the waitress.
"We'd just end up singing with the Irish performers," Winnie Mele (nee White) recalled in a recent interview with Irish America.
When Mulvihill and the boys later went into the studio to record an album, Mele was even asked to perform some background vocals on the track "Keep the Tradition Alive."
"I still remember showing up that day, and putting the headphones on," Mele says. "I still have a copy of the album framed on my wall."
But that was then.
Mele worked a little while longer at the pub, One Station Plaza, which helped her pay off her college bills. Then she became a nurse. She got married and had three sons and moved to Long Island.
And her singing days were done. Or so it seemed.
Over the past two years, Mele has performed before millions of people – on national TV and social media. And in front of thousands more, live at Madison Square Garden NBA games, at the White House, and opening for popular musical acts such as the rock band Train, led by Irish-American Pat Monahan.
Mele is a member of the now-famous Northwell Health Nurse Choir, which skyrocketed to fame last year after appearing on the TV competition show America's Got Talent, earning a coveted "golden buzzer" from host Howie Mandel.
That meant the 18-member singing group – made up of medical professionals from various Northwell facilities around New York – would not only show off their talents to millions of music fans across the globe. It also meant that the nurses would advance to the AGT finale, with a chance to win the whole contest.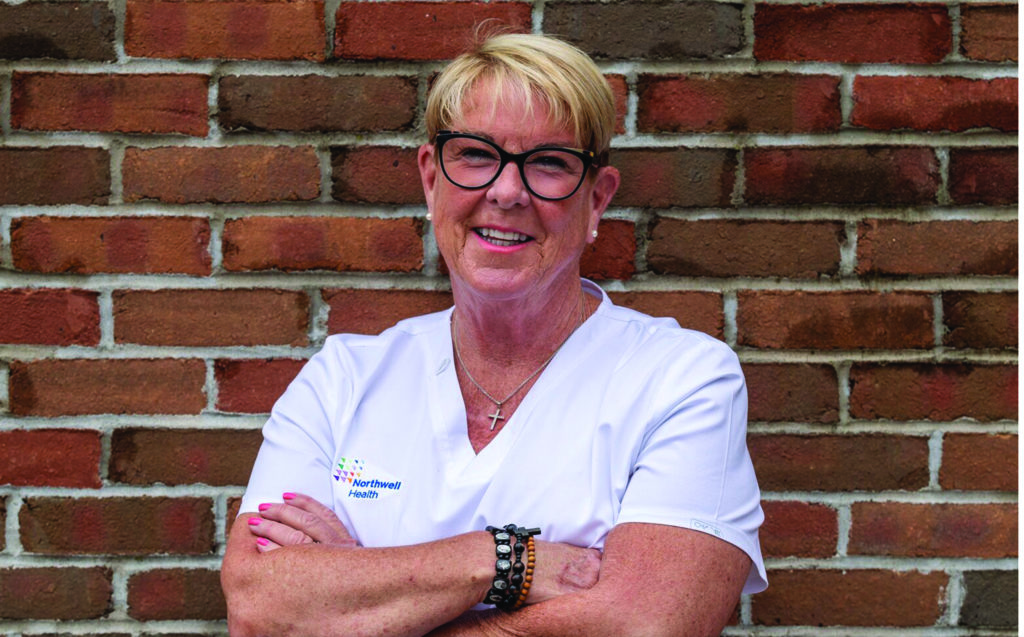 "It was a bit nutty," Mele says, recalling a moment after the group flew out to Hollywood, and stepped out of a van to stand for photographs in front of giant America's Got Talent banners.
"I just looked around and was like, this is so crazy… how does this happen to someone like us?"
The Nurse Choir did not win the AGT contest – which has done little to dampen enthusiasm for this collection of multi-talented health care workers.
They continue to perform around the country, racking up thousands of fans and millions of views on social media, and – perhaps most importantly – inspiring fellow nurses, during one of the most challenging times in the history of this very challenging profession.
"We're just happy we could have this kind of effect on people," says Mele. "It really is miraculous."
An Irish background also inspired fellow performer, Lisa Kennedy.
"I was raised in a large Irish Catholic family," said Kennedy, a registered nurse at Northwell Health's Long Island Jewish Medical Center, with roots in Cork.
"My father loved his Irish heritage and made sure we loved it, too. We celebrated St. Patrick's Day every year by having the traditional Irish breakfast with lots of soda bread, butter and Irish bacon. But mostly it was about the music."
In fact, Kennedy's father worked as and immigration lawyer who helped legalize the famous Clancy Brothers folk group when they came to the U.S.
"I learned a lot of their songs and … they became part of my upbringing and I would then sing them at family celebrations," Kennedy says.
Performing alongside Mele and fellow nurses has "rekindled" Kennedy's lifelong passion for artistic expression.
"Anyone who has a passion for art and music theater understands what it feels like when you perform. It's a physical and emotional high. You feel the sensation in your body but then you see the reaction from the audience."
When not performing vocal miracles, Mele works as Director of Perioperative Services at Plainview Hospital on Long Island.
Overall, she's worked in health care for over four decades.
This to go along with raising three children, as well as caring for her husband, who has battled cancer after years on a job that exposed him to 9/11 debris from Ground Zero.
Amidst all of this, in March 2020, came COVID.
"It was St. Patrick's Day," says Mele, asked to recall the moment the true gravity of the pandemic hit her.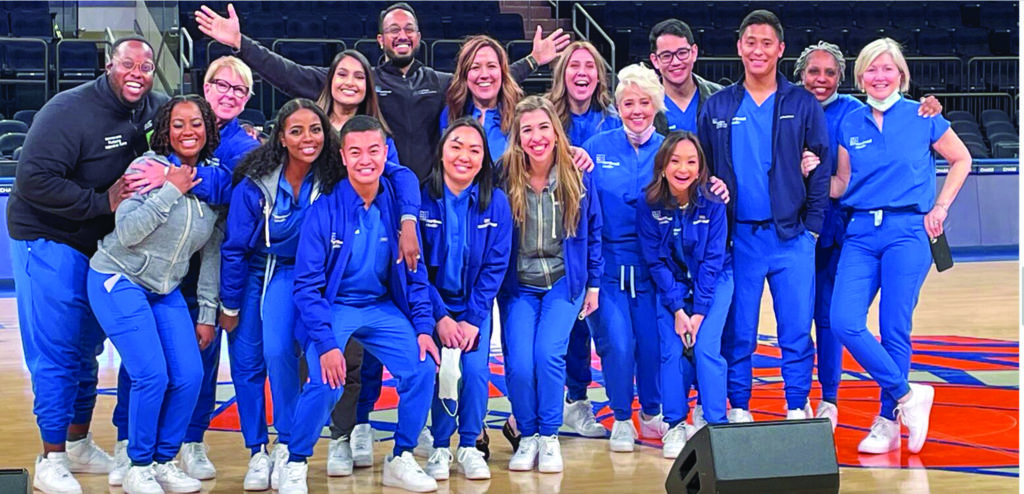 Surgeries at the hospital were canceled and Mele, along with the entire Plainview staff, began the process of redirecting the hospital's resources to focus almost exclusively on the COVID response.
Even with Mele's many years of experience – "I lived through the AIDS crisis," Mele recalls solemnly – it was impossible to be prepared for the immensity of the labor, and the intensity of the emotions, COVID placed upon nurses.
Mele recalled the toll a long stretch of demanding shifts took, on a seemingly mundane ride home.
"I'm just driving on an empty road, because there's no one out…. And it finally hit me. That this could be the end of all of us."
On top of all that was required at the hospital, Mele – like nurses across the country – also had home responsibilities that didn't simply go away.
"That work-life balance was still there. Just getting some laundry done, or if (a co-worker) needs to get her daughter to a step dancing class…We still had lives back at home."
For Mele, that meant a husband with cancer – and a compromised immune system, which only exacerbated fears that she might expose her own family to this dangerous virus.
"That was the scariest part. I don't know if the public quite realized that," said Mele. (She added that her husband is "doing great," receiving treatments, and still working.}
These many challenges were only harder on nurses who did not have years of experience.
"Think about being a new nurse at this time, you're working on this job for three months – and this happens," Mele says.
"Our job as seasoned nurses was to put our arms around [new nurses], and try to get them to believe…'We can get through this.'"
Another big help were the diverse contributions of the surrounding community – neighbors and restaurants cooking meals or donating desserts, a local florist setting up a beautiful display of lilies.
And even those clanging pots and pans, when the nightly shifts at the hospital finally ended.
"It was just so cool."
But these things could not change the brutal reality of COVID.
"For all of the patients who passed," Mele recalled, "we had a moment of silence."
Amidst these emotionally grueling days, Mele heard about an effort around Northwell to put a singing group together for Nurse Heroes Live, a virtual benefit concert held on Thanksgiving 2020.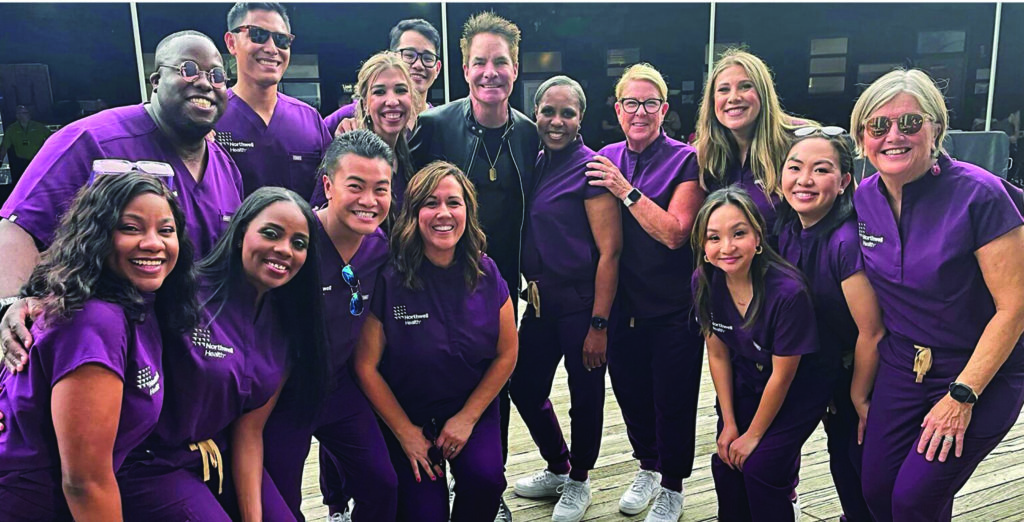 Mele decided to give it a shot.
"I come from a big Irish singing family. That was always a very big part of my life, just gathering around the piano at parties," said Mele, whose great grand-parents came from Galway, Tyrone and Kerry, before settling in Brooklyn and Queens, where Mele was born.
The first version of the Northwell Health Nurse Choir met and performed online. It was made up of about 50 people from different specialty areas all across Northwell's many facilities.
The need for such performances was great – and the response was even greater. So much so that by Spring 2021, the group – none of whom had previously known each other – was winnowed down to 18, which would allow them to appear on the popular TV show America's Got Talent.
Merely practicing and auditioning – performing tear-jerking songs such as "Stand By Me" and "Lean on Me" – would mean so much to the singers, as well as other nurses and health care professionals across the country.
On AGT, dressed in matching blue scrubs, the nurses performed "You Will Be Found," from the Broadway show "Dear Evan Hansen."
The song includes the lyrics: "Even when the dark comes crashing through/ When you need a friend to carry you/ And when you're broken on the ground/ You will be found."
After Mele and the rest of the choir were done singing, the crowd roared while show judges Howie Mandel, Heidi Klum, Sofia Vergara, and Simon Cowell joined in for an extended ovation.
Vergara could even be seen wiping away a tear.
"We were crying, the cameraman was crying, everyone was crying," Mele recalled. "It was so emotional."
And yet, few were ready to see the group automatically advance to the AGT Season 16 finale that September – thanks to Mandel's Golden Buzzer.
And while the Northwell nurses didn't win the contest, they clearly touched the hearts of millions of Americans.
They performed "We Need a Little Christmas" on the Today Show in December of 2021, and performed at Carnegie Hall, on Broadway, at NHL hockey games, and other TV shows like Live with Kelly and Ryan.
Does this mean Winnie Mele is going to leave nursing behind, for the show biz life?
She scoffs.
These days, she just wants to continue spreading the message that vaccinations against COVID save lives.
But there are Northwell nurses choir performances planned for the fall and winter of 2022 – the latest chapter in Mele's musical life story, that began around the piano at family parties, and at Irish pubs, and continues now with her fellow caregivers and lifesavers.
Which makes perfect sense.
"We're just a different kind of family," says Mele. ♦