Gander, Newfoundland: Hannah O'Rourke and Sandra O'Reilly Taylor, women from two different worlds who were tossed together in the turbulent wake of September 11, now share one of those bonds made of awful tragedy.
Hannah and husband Dennis of Lawrence, N.Y., a Long Island suburb of New York City, were on Aer Lingus 105, a flight bound from Dublin to New York that was diverted to this small town of 10,000 in central Newfoundland.
Taylor, a descendant of an Irish migration to Newfoundland that is centuries old, is a mother of two living in a mobile home. Hannah, born in Monaghan but an American for 43 years, would soon lean on Sandra and others for support as she and her husband held a grim vigil waiting for news of their son Kevin, a New York firefighter.
"I wish I could have done more," Sandra said of the fretful days as the O'Rourkes waited for news of their son. "It was just so hard on the heart, I felt so sorry for them. All I could do was talk with them, serve them meals and offer my home for showers and laundry."
Says Hannah: "I'll never forget for the rest of my life the way those people welcomed us with open arms. They put us up in the Royal Canadian Legion building and brought food and blankets and opened their homes to us."
She means that literally.
"`You just take whatever you need,' they'd say to us. `Use the shower, have something to eat, we'll leave the door open when we go to work.' They were unbelievable."
And they prayed for Kevin. The parish priest spent time with the O'Rourkes while the couple tried fruitlessly to get home.
"We tried every connection we had through family and friends. And we kept up hope all the time."
They had to return to Dublin before another flight to New York and then at home, like so many families during that period, they learned their son had not made it out.
"Kevin was with the Rescue 2 Company in Brooklyn," said Hannah. "He had wanted to be a firefighter all his life. He started at 11 as a volunteer here in Lawrence, helping around the station. It was his life for 18 years."
It was against this sad backdrop that the O'Rourkes learned about the deep Irish tradition in Newfoundland, an often-maligned province of Canada that harbors some of the world's friendliest people.
They call Newfoundland `The Rock' in the rest of Canada, but it is a hard place not to like for those who take the time to get there.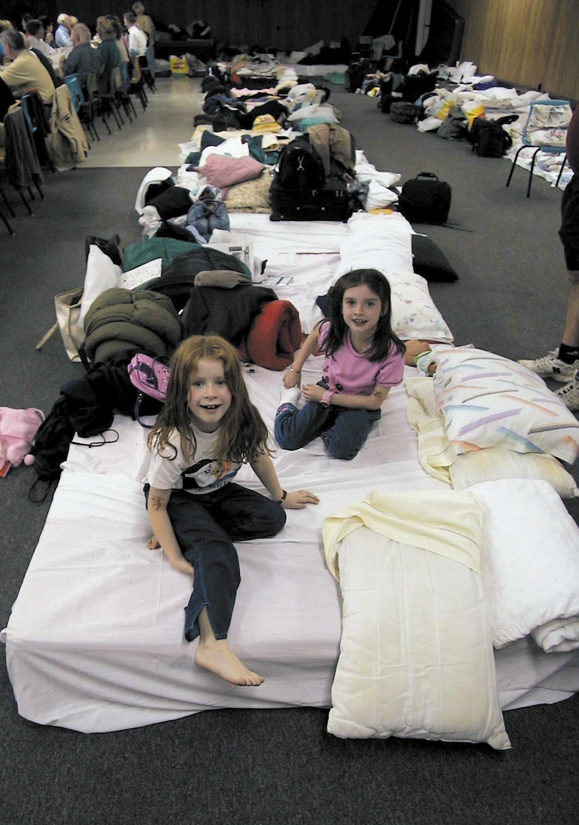 As the accidental tourists in the wake of September 11 found, the people who live there simply astound with their natural grace.
The unique culture of Newfoundland has its roots in Waterford, Wexford, Carlow, Kilkenny, Tipperary and Cork. The descendants of waves of emigration from those counties in the late 1700s and early 1800s, are soft-hearted folks who have tamed a hard, hard land.
Their generosity of spirit played out gloriously when almost 7,000 air passengers, mostly American, landed in the small town of Gander and villages of Gambo and Lewisporte in northeast Newfoundland for four days.
The island is North America's last landfall in the Atlantic before Ireland, and planes were diverted there as the skies of North America were cleared after the outrages in New York and Washington. They landed in Gander, once a refueling stop for trans-Atlantic flights, and passengers received a welcome people still talk about six months later.
A bulletin board at the Legion hall is filled with thank you notes and Christmas cards from passengers of the Aer Lingus flight, including one from the O'Rourkes.
"To all the wonderful people at the Legion. God bless you all for the kindness you have shown us. You are the greatest. We will be back to see you next year for a holiday and to meet you all. Love," Hannah and Dennis O'Rourke, Lawrence, N.Y.
The Legionnaires organized an Irish evening for the passengers the night before they left, with the Irish music you will hear all over the island, dancing and as one of the Legion members, Wally Crummell, noted, perhaps a drink or two was taken.
"All the people who were here thoroughly enjoyed themselves, there's no doubt about that," says Crummell. "They absolutely refused to leave when they were scheduled to go to the Salvation Army Camp. They were right up in arms about it because they didn't want to leave this place at all."
Crummell shows off the wall of cards and messages from stranded passengers.
"To all the kind and hospitable people of Gander and especially those involved with the Royal Canadian Legion. You all have demonstrated to us the true meaning of the word charity. These have been especially trying times for everybody but for what you guys have done, you all deserve medals for. Many thanks." Alan, Jennifer and Thomas Collister, Ireland.
"Your hospitality will never be forgotten. Gander is now an independent state of Ireland." Andrew Kilfeather, Dublin.
"Words can not express how grateful we are for the hospitality and kindness the people of Gander have shown us during our stay. We will never forget it. It made our (unforeseen) visit to Gander most memorable. We hope to come back some day for a longer visit when we can repay some of the hospitality received. There will always be a welcome for you in Ireland!" Margaret O'Leary, Dublin and Cork.
"Gander, we will never forget you for all your help and support." Tony Cudmore, Dublin.
"To the people of Gander: Not only did you guys respond to exceptional circumstances with efficiency and courtesy, but your kindness, unfailing helpfulness and generosity of spirit was reassuring and very touching. Thank you so much for your help." Karl Fawen, Ireland and Australia.
Over in Lewisporte, a village which ships supplies to Labrador, the mainland of Newfoundland, residents part were just as gracious.
Maisie Quinlan went around to the churches helping with clothing for passengers whose luggage was still aboard the planes. "I'm a seamstress and we had to find clothes for these people and make them fit." So she hemmed and took out waists and never asked for a penny. "Heavens, no, that wouldn't be the neighborly thing to do. Those people needed help."
Maisie said that seeing all the people walking around town was sad because of the circumstances, but exciting in another way because it brought so much life to her little town.
Says Peggy O'Leary of Gander, who contributed clothes and toys to the children off the flights, "It was heartbreaking because some of these people had lost loved ones but it was hectic too. Uptown was alive with people."
In the little town of Gambo, residents pulled out all the stops to help the stranded.
"They restored my faith in humanity," says Cindy Richter of Illinois, a passenger on United Airlines 929. "Their kindness and generosity turned it around for us. After the terrible things that had happened, they showed us all the good there is in the world."
At Christmas, Richter's spirits were lifted once again when a Christmas card postmarked Gambo arrived.
"It was from Melva Warren," she said in an interview. "She's an elderly woman and a widow in her late 70s. She took us to her home for a shower the first day. She was really sweet. We sat and chatted in her home and over the next few days I saw her as she helped out in the kitchen at the church.
"I sent her a thank you for her hospitality. It was very thoughtful that she kept my address and added me to her Christmas list. It's a card I will keep."
Scores of these testimonials found their way into newspapers in the days after September 11. Scores more appear in web sites devoted to the experience in Newfoundland, a rugged land that counted Irish fishers as part of the first settlements here.
The Irish Loop drive south of the capital of St. John's pays tribute to these pioneers, taking you into the heart of Irish Newfoundland. You travel past a series of magnificent bays guarded by rocky islands, little harbors where some of the fishing fleet has converted to eco-touring, and get an interesting glimpse of history at Ferryland, where the Colony Avalon archaeological dig is under way.
The dig site is hard by the sea, as you'd expect, and archaeologists here are carefully peeling back the layers of life, finding evidence of the Beothuk Indians from the early 1500s but mostly the first known fishing colony.
It was settled in the 16th century as a project of Lord Baltimore, who eventually turned his attention to Maryland.
The Irish migrations to Newfoundland began around 1675, according to a history researched by Memorial University in St. John's. It, and the associated provisions trade, represent the oldest and most enduring connections between Ireland and Canada.
Ships from the English West Country called in to ports along Ireland's south coast to collect food and servants for the transAtlantic fishery.
"These migrations were seasonal or temporary," the history outlines. "Most Irish migrants were young men working on contract for English merchants and planters. They served for a summer or two, occasionally longer, and then went home. It was a significant migration, peaking in the 1770s and 1780s when more than 100 ships and 5,000 men cleared Irish ports for the fishery.
"The exodus from Ulster to America excepted, it was the most substantial movement of Irish across the Atlantic in the 18th century."
Virtually from its inception, a small number of young Irish women joined the migration. They tended to stay and marry Irish male migrants. Seasonal and temporary migrations slowly evolved into emigration and the formation of permanent Irish family settlements in Newfoundland, the history notes.
"This pattern intensified with the collapse of the old migratory cod fishery after 1790. An increase in Irish immigration, particularly of women, between 1800-1835, and the related natural population growth, helped transform the social, demographic, and cultural character of Newfoundland.
"They created a distinctive subculture through the 18th century that is still evident. Almost all were Catholic. Many spoke only Irish on arrival, or distinctive varieties of English. Elements of material culture — agricultural folkways, vernacular and ecclesiastical architecture, for example — endured to this century, and trace elements remain. But the strange new world of a commercial cod fishery, a harsh winter climate, and the presence of so many English transformed their lives; their descendants emerged as full-fledged Newfoundlanders, a unique culture in modern North America."
The welcoming nature of this culture was celebrated widely as passengers stranded in Newfoundland found their way home. Cheryl Drake of Delta Flight 37 turned the experience into an address delivered on Sunday, September 16 at Friendship United Methodist Church in Wyoming, Ohio.
"I had the honor of spending two and a half days with the richest people in the world — the people of Gambo, Newfoundland," she offered. "The people of Gambo are rich in God-given talents. Whether it's their scrumptious cooking, their warm smiles or their gentle spirits. They were always asking, `How are you doing? Is there anything you need? Do you want a warm shower…come to my house to get refreshed.'
"They opened their fire houses, schools, churches, community centers, Salvation Army halls — any facility that had ample square footage, a kitchen, and restroom facilities.
"Many times my fellow travelers and I searched for ways to express our appreciation. What could we do to repay them for all of their kindness? They were humble when we offered them money. One of the flight attendants came up with what I think is the best suggestion — pay it forward. Whenever we have a chance to help others and can extend to them the generosity that the people of Gambo extended to us, we'll be, in turn, expressing our thanks for what we have received."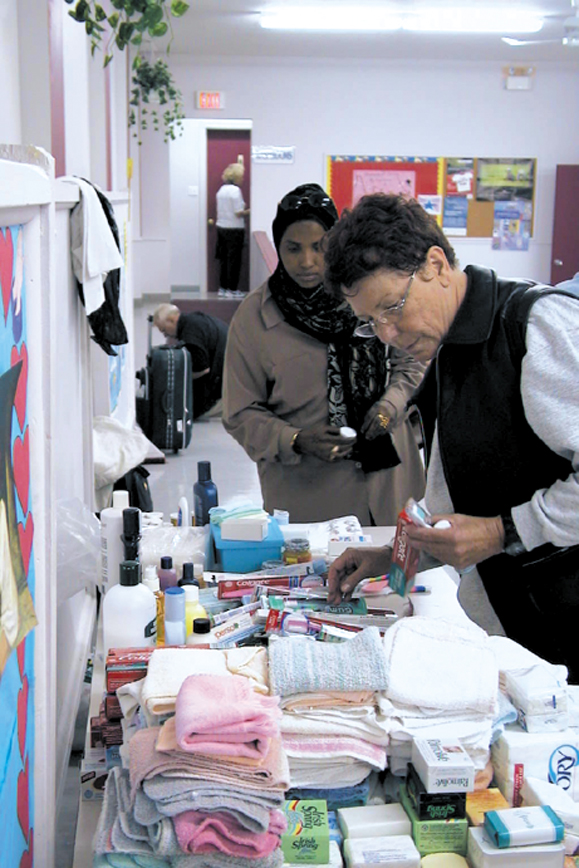 In the larger town of Gander, townsfolk like Scott Cook were initially swamped by sheer numbers but viewed it with bemusement after they had handled the mass visit.
"It's been a hell of a week here in Gander," he e-mailed a passenger's website. "The stories are amazing. We had 38 aircraft with a total of 6,656 people drop by for coffee. They stayed for three or four days.
"Our population is just under 10,000, so you can imagine the logistics involved in giving each of these people a place to sleep and a hot meal three times a day.
"Many of us spent our time bringing people home so they could get a shower or, once the rain started on the third day, driving them to the mall or sightseeing to relieve their boredom. The diversity of the people who have been in my car and in my shower over the past few days is pretty wild.
"You should have seen the look on my little girl's face when three Muslim women came home with me for a shower. With their robes, she could only see their faces, hands and feet. Their hands and feet were covered with Henna paint and two of them didn't speak English.
"There were also immigrants from all over the world. They all slept side by side in schools and church halls. Except the Irish, of course! A flight from Ireland was put up at a couple of local drinking establishments! The Royal Canadian Legion and the Elks Club.
"You should have been here, but of course, there wouldn't have been room," he laughs.
That is the Newfie way, make a joke about a situation that bent the area's resources almost to breaking. What amazed everyone was how an area ill-prepared for so many guests mobilized so quickly, so well and with so much empathy.
Gander residents rushed to the airport as word of the situation spread. So much traffic crowded the two-kilometer road leading to the runway, that security was put in place to keep it clear.
Meantime, people on the planes, most of whom had never heard of the province, also had very little information, if any, about the events that were unfolding just a country away.
Benoit Strauven of Belgium was flying from Belgium to New York when he heard the news of what had transpired in the United States.
"The pilot came on when we diverted our route to Gander," he explained. "First he said that the airspace was closed and that we were going to Canada. Then once we were on the ground, he told us about the attacks and not to be overwhelmed."
Strauven recorded the pilot's announcement on his mobile phone. "It's difficult to comprehend, but there has been a terrorist attack in New York," the pilot said over the intercom to his passengers. "We have a limited amount of information, but from what we've been able to gather listening to various radios up here, two hijacked commercial airliners were flown into the World Trade Center, both towers, and a third one was flown into the Pentagon.
"We really don't have any more information than that," he continued. "Obviously you can imagine the damage. So as a precaution, they've shut down the entire U.S. air system, air traffic control, all aircraft bound to the U.S. and all aircraft within the U.S.
"As soon as we are passed on any more information, we'll certainly give that to you. Again, we've been listening to this for the past hour and everyone is doing everything they can.
"We just ask for your patience. We'll do what we can, and this thing will be unfolding for quite some time."
Paul Andrews, a flight engineer, said the crew of the aircraft he was on first heard of the attack on a radio chatter.
"We tuned into the BBC, and everybody sat there and said this can't be happening," he explained. "We were on the airplane for more than 20 hours as the government assembled everything."
Once arrangements for food, shelter and security had been made by volunteers, airport security and various agencies like the Red Cross and the town of Gander, passengers were slowly taken off their flights. The influx of strangers then faced a tedious and meticulous process of being screened and searched by a contingent of Royal Canadian Mounted Police and immigration officers.
At about 3:30 p.m. the following day, all the passengers had been screened and registered with the Red Cross. They were then boarded on buses and driven to various locations throughout Gander, Gambo, Lewisporte and Glenwood by striking bus drivers who stepped off the picket lines to lend their support.
The Lewisporte-Gander School Board canceled classes and closed three schools in Gander, three in Lewisporte and one each in Gambo and Glenwood to accommodate the stranded strangers. The College of the North Atlantic, which is the provincial college, various churches, centers, hotels, and camps throughout the district also opened their doors to those with no where else to go.
When the passengers were settled into the makeshift shelters, many flocked to television sets to gather information on the days events. Expressions ranged from tears shed to utter shock as first-time viewers clutched friends and family as they watched the news.
"It's so terrible," commented Lady Mayor Petra Roth of Frankfurt, Germany who was among those stranded in Gander. "It's an attack against civilization."
Civilians in Gander began to pull together to help those affected by the situation. Donations from around the community poured in and included hundreds of cots, which were set up for beds in school gymnasiums. Gym mattresses were thrown on floors for a more comfortable sleep, and church pews were transformed into temporary sleeping quarters as well. About 10,000 pounds of bedding, sleeping bags and pillows were brought in by residents or pulled from store shelves whose owners donated the goods.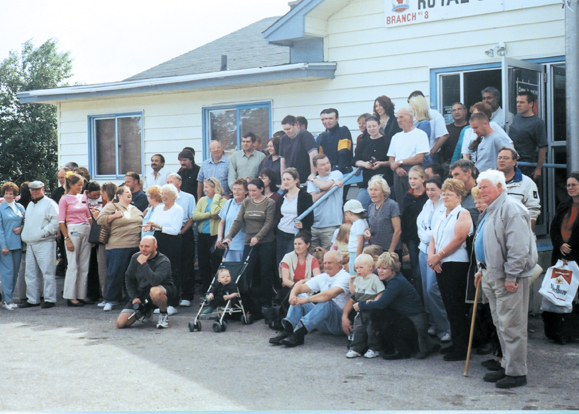 Stores and banks opened early each morning to accommodate passengers. Children's and adult clothing were brought to the shelters in large garbage bags for those needing clothing. Free toiletries including razors, soap and toothpaste were distributed to people left without luggage, and the James Paton Memorial Hospital in Gander established clinics to aid passengers who were stranded without medical supplies.
Canned goods, fruits and vegetables also poured in from local grocery stores and area residents. People as far away as Twillingate, a small fishing community about two hours north of Gander, made various trays of sandwiches and pots full of soup to feed their hungry company.
The culinary cooking students at the College of the North Atlantic were given the opportunity to hone their skills in the large campus kitchen. They prepared many dishes for their visitors and were told by some that the meals were better than those of expensive restaurants in Paris.
Wanda Simms worked in the cafeteria of the College of the North Atlantic campus and served an average of 400 people per meal.
"They're surprisingly happy. Considering they've spent so much time on the plane, they're really pleasant," Ms. Simms commented during the first day of the passengers' stay.
"I think they're overwhelmed," added volunteer Lorraine Dally.
Hour after hour, the many volunteers from Gander and outside communities cared for the passengers. Some spent days on their feet with no rest as they aided any way they could.
"We just had to come in and help them out," commented Ruby Newhook who was one of many to volunteer her time at the Lions Club in Gander. "One man said to me, `I thought us Texans were hospitable, but man, we can't beat this.'"
Kevin Lewis, an aircraft maintenance student at the local college, said he was there "just to put a smile on people's faces and help them enjoy where they are."
While the majority of the passengers enjoyed their stay in Gander, they passed the time glued to television sets located throughout the community, or by exploring the town's sites and walking trails.
The weather made it easy for people to flock to the lawns outside many of the shelters to read, play catch, or just enjoy the sun. Local entertainment was provided to lift the spirits of the foreigners.
Town streets were packed with thousands of pedestrians who strolled the roads during the day in search of phones, stores and diversions. The local phone company even connected 50 telephone lines outside their office building for passengers to use to call home, free of charge.
Every few hours, people could be spotted boarding shuttle buses for the return trip to the shelters after spending time in shops and at local tourist sites. As the days rolled on, passengers were seen hitch-hiking around town after word spread that passing motorists often stopped to offer rides.
Anthony Collins of Arlington, Virginia was one of those impressed by such gestures and wrote to the Arlington Sun Gazette about his experience.
"Irina and I would walk around the town, and numerous times strangers would stop and offer a ride or whatever help we needed. People would always greet us with a smile," he said. "The spirit of warmth and friendship was simply remarkable."
Residents also offered their sympathy to the many who became a large part of the community. The red, white and blue hung half-mast next to the Canadian and Newfoundland flags outside many government buildings, not-for-profit organizations and private homes.
But through the midst of the turmoil and despair, something special was occurring between the strangers and the people of Gander.
"The support, the care and the concern has been tremendous," said one flight attendant. "I know from my experience that this is a great place with great people. I will always have a connection to Gander because of the kindness that has been shown."
Muriel Moorcroft also made a connection that week. As owner of Moor-crafts and gifts, a local craft store, she saw numerous travelers walk through the door of her shop and offered her assistance wherever possible.
One couple from Italy who were on their honeymoon were among those Mrs. Moorcroft and her husband Herbert lent a hand to. When they learned of the newlyweds misfortune during such a special time in their lives, they offered them a place to stay in their own Gander home.
"We thought, `What if it was us in that predicament?'" said Mrs. Moorcroft. "They were amazed because they had never been in a home in this part of the world."
The Moorcrofts have been keeping in contact with the couple by e-mail, and have exchanged presents.
"We were part of their wedding, they felt," said Mrs. Moorcroft. "They even sent me what they gave their guests at their wedding and wanted us to have it. It was just unique to meet someone like that, and you just felt a special bond to them even though they weren't with us very long."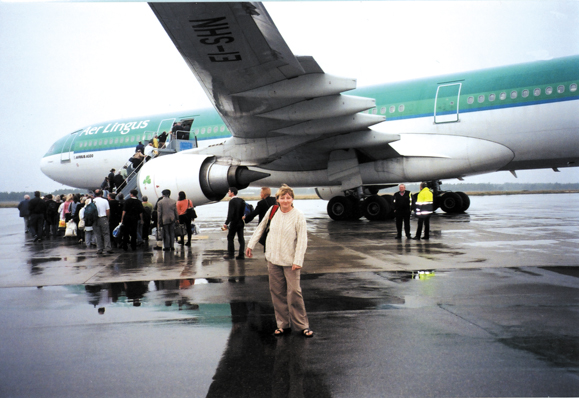 The unselfishness of people like Mrs. Moorcroft hasn't gone unnoticed.
Thousands of dollars has been sent by passengers, airlines and people who heard about what transpired, to the various places that offered their assistance.
"We keep telling these people that we did this because we care about people," said Gander Mayor Claude Elliott. "We didn't do it to be rewarded, but they want to return some of the hospitality showed them and they're working on ways to do it."
Arlington County in Virginia officially recognized the people of Gander with a proclamation in light of comments made by country residents who stayed in the town during the crisis.
U.S. ambassador to Canada, Paul Cellucci made a special trip to the province's capital, St. John's, to publicly thank Newfoundlanders for the generosity they showed to the more than 13,000 passengers who landed on the island.
Lufthansa airlines of Germany said a plane will be named after Gander in recognition of its acts of kindness. Various media have also appeared in the community over the last several months, and an influx of e-mails, cards and letters continue to pour in to the local newspaper and town hall.
One such piece of correspondence from Barbara and Kevin O'Brien of Ridgewood, New Jersey, who were heading home from Paris, reads:
"All of us who stayed at the Gander campus of the College of the North Atlantic (a four-star hotel) were astounded by the unparalleled care we were given.
"Everyone's kindness and friendliness, not to mention fabulous food, cozy beds, nature walks, and rides into town, amount to the best experiences of our lives. Thanks again to the entire community. It seems to be made up of saints and angels."
The feel-good story may also bear some practical fruit for Newfoundland, long an economically-depressed area.
The province's tourism body has been receiving messages from Americans asking for tourist information.
They're looking at visiting Gander and Gambo, attracted by the stories of the kind residents and reports of Newfoundland's rugged beauty.
And some of the passengers, like Cindy Richter's friends on UA 929, are talking about reunions.
Though most of Canada has already woken to Newfoundland's charms, it seems Americans will newly discover that this island is a slice of Ireland closer to home. ♦