How an Irish tailor named Hercules Mulligan, and his accomplice, an enslaved man named Cato, twice saved George Washington from capture during the Revolutionary War.
Hercules Mulligan was born in Coleraine, of what was then called County Londonderry to Episcopalians Hugh and Sarah Mulligan, on September 25, 1740. Six years later, the Mulligan family immigrated to New York, where Hugh became an accountant and began to accrue not only a fortune but a rise in social status, that the family would not have enjoyed had they stayed in Ireland.
Hercules was educated at King's College (now Columbia University) and, for a time, worked for his father as a clerk in the family accounting firm. However, accounting wasn't Hercules' calling. He decided to pursue a career in tailoring and haberdashery, for which he had a definite talent. He opened his first shop on Water Street near the Mulligan home, and then later relocated to 23 Queen Street (today's Pearl Street).
Soon Hercules was drawing clients from the upper echelon of New York's colonial society. His reputation was further enhanced when he married, Elizabeth Sanders, niece of British Navy Admiral Charles Sanders in 1773. His marriage to Elizabeth would also give him access to officers who would talk to him about military matters, which would come in very useful when he later became involved in America's fight for freedom.
As Hercules was building up his reputation on Water Street, in 1774, a young man named Alexander Hamilton came to Mulligan's house on Smith Street, now Nassau Street, asking for lodging. Hamilton, at the time, was a student at Hercules' alma mater, King's College. Mulligan accepted the young man into his home and introduced him to New York society. When war broke out a year later in 1775, he would help Hamilton get a commission in the army.
At the time of Hamilton's introduction, Mulligan was a member of the Sons of Liberty, a secret society that was formed to protect colonists' rights and to fight the oppressive taxation policies set by the British government. Hamilton, who originally supported British rule in the colonies, was soon convinced by the charismatic Irishman to believe and fight for the colonists, and he and Mulligan went on to take part in many military and non-military forms of resistance. One such military mission was when they led the Hearts of Oak, a volunteer militia to the Battery in which they took four cannons whilst under cannon fire from the HMS Asia, the first British ship to have 64 guns! This covert operation conjured up by Mulligan led to Hamilton receiving a commissioned officer position as Captain of the Hearts of Oak, which became an official artillery unit in the Continental Army.
During the British Army's 1776-1777 campaign to conquer New York City and New Jersey, Mulligan tried to flee the city due to his reputation as what Loyalists could call "rebellious." He was caught, put in detention, and was later paroled. As the Continental Army was driven out of New York by the British in January 1777, George Washington needed to have eyes and ears within the now British and Loyalist-controlled city, and as the saying goes, "cometh the hour, cometh the man." Mulligan's one-time ward, Alexander Hamilton who had risen in the ranks from Captain to General Washington's aide-de-camp, enlisted his help, and Mulligan proved himself worthy of the task. While he was still under parole, Mulligan was allowed to run his tailoring business. By now he was not only serving the British officers but Hessian officers, due to a connection with Polish-born patriot and fellow spy, Haym Salomon who falsely swore allegiance to the British as a translator. With the connection to Salomon, Mulligan bolstered his reputation as a tailor to the Loyalist cause while secretly being Washington's eyes and ears.
In the winter of 1779, a British officer came into Mulligan's shop late in the evening and asked that a watch coat to be made for him. As worked on the officer's coat, Mulligan used his "gift of the gab" to draw out the officer. He learned that the British had plans to capture "the rebel general" the very next day, and was further able to learn from the officer, the location of the surprise attack. After the officer left, Mulligan quickly dispatched Cato, his slave, and accomplice, to deliver the news to Washington. Cato crossed the Hudson armed with the information as well as packages with Mulligan's name and occupation to make his missions look like deliveries. Cato was able to pass through enemy checkpoints without a scent of suspicion, as a significant number of British officers were clients of his master. Once across the river, Cato delivered the message and new clothes to Hamilton's express riders and soon General Washington received the message and moved his troops to a new location thus saving the general and his army to fight another day.
The second time, in the summer of 1780, that Mulligan was involved in saving Washington's life, was when he received news from his brother Hugh – a merchant whose firm, Kortright and Company supplied the British Army – that 300 cavalrymen were to intercept Washington in New London, Connecticut as he was making his way to Newport to meet with French Commander-in-Chief Rochambeau. Again, Hercules dispatched Cato to take the ferry and alert General Washington. Once the news reached Washington, he decided to position his army that would not only threaten New York but would support Rochambeau's force if anything should happen to move the British focus on his position rather than Newport, where the French eventually landed. Mulligan and Cato not only saved Washington but also secured the force that would help bring about the end of the war.
However, one mission undertaken by Mulligan and Cato failed. The Provost of New York, William Cunningham had Mulligan watched and noticed that Cato was often missing from his master's shop. As Cato successfully crossed the Hudson to send a message to Hamilton, he was arrested by Cunningham's men and was brought to the Provost Prison for interrogation. Despite Cato being thrown in jail and having to go through the gambit of cruel 18th-century forms of interrogation, he never implicated his master.
Washington acknowledged the Irishman and his slave's efforts after the war, when called into Mulligan's home for breakfast on Evacuation Day, 1783, and asked him to make him a civilian's wardrobe. Shortly after completing the clothes, the sign outside Mulligan's shop read, "Clothier to Gen. Washington."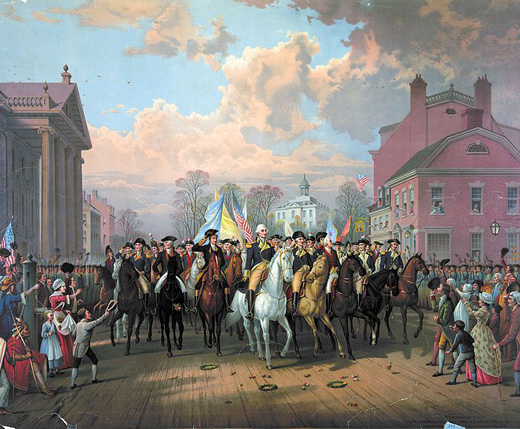 His spying days were over, Mulligan continued his professional life as a tailor, and his political life as a member of the New York Manumission Society, an early abolitionist group. Despite his support for ending slavery, there are no records of him freeing Cato, his ever-faithful co-conspirator. Mulligan retired at age 80, and died just a few years later, in 1825, at the age of 84. He was buried in his wife's family vault at Trinity Churchyard, according to a report by his son William (Mulligan and his wife had three sons and five daughters). However, the Sanders vault is no longer there (it might have been moved due to construction) but there is a tombstone that bears the name Mulligan in the southwest quadrant of the cemetery.
This President's Day, as you celebrate two of America's greatest presidents, remember the daring of men like Hercules and Cato, and the risks they took to help the Revolutionary War effort. ♦
Editor's Note: This article was originally published on our blog here on June 29, 2018 Dave Lewis