Having spent decades writing about crooks and killers, what seedy corner of America's immigrant underworld could best-selling author TJ English explore next?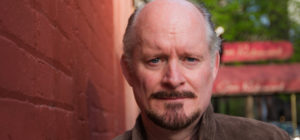 Jazz, of course!
OK, this might seem like a strange fit.
In books like The Westies and Where the Bodies are Buried, English took a close look at ruthless Irish American gangsters from Hell's Kitchen to South Boston. Then he wrote what may well be the definitive entire history of Irish immigrant crime and corruption in Paddy Whacked.
How could such bloody stories be linked to a musical genre associated with pipe-puffing professors and finger-snapping beatniks?
Find out by reading English's fascinating new book Dangerous Rhythms: Jazz and the Underworld.
English makes a very convincing case that the rise of this revolutionary – and quintessentially American – musical form was intimately connected to desperate immigrants from Ireland, Italy, and Russia, as well as the resilient children and grandchildren of African American slaves.
"It is a quirk of history that around the same time jazz was taking shape, organized crime in America was also in its incubation stage," writes English, a native of Washington state, who grew up in a large Irish Catholic family, before moving to the East Coast to pursue a career in journalism and, later, TV writing.
English tells Irish America all about his new book as well as his entire career in this new Zoom interview. He discusses how legendary jazz figures like Louis Armstrong, Ella Fitzgerald, and Duke Ellington are linked to gangsters like Owney "the Killer" Madden, Vincent "Mad Dog" Coll, and "Bugs" Moran. He also offers readers a starter Spotify playlist of seminal jazz tunes.
English even talks about the pivotal role a certain magazine – Irish America – played in his early days as a journalist and aspiring author.
Dangerous Rhythms is already garnering rave notices. The influential magazine Kirkus Reviews called English's latest a "swinging, blood-drenched history about the symbiotic relationship between jazz and organized crime through much of the 20th century," as well as "an entertaining, vivid cultural history."
Enjoy – the interview, and the music.
Dangerous Rhythms is available for purchase on Amazon and Barnes & Noble. ♦
Listen to the Interview as a Podcast