J.P. Donleavy, the Irish American novelist and playwright who penned The Ginger Man, which was initially turned away by over 45 publishers for its sexual obscenity but eventually sold more than 45 million copies and became considered a modern cult classic, died on September 11 in a hospital near his Mullingar, Co. Westmeath home. He was 91 years old. Donleavy wrote more than a dozen Dublin-based novels and story collections, and was often dubbed one of the most comedic writers in the English language.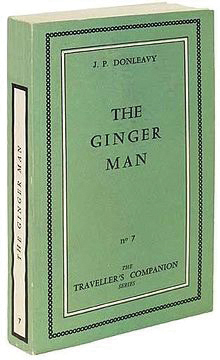 Born in Brooklyn to Irish immigrant parents in 1926, James Patrick Donleavy grew up in the heavily Irish neighborhood of Woodlawn, in the Bronx. He served in the U.S. army during World War II and relocated to Dublin at the age of 20 to study zoology at  Trinity College following the war. His time there was marked less by academic study and more by his proclivity for finding himself in uncomfortable situations, his tweed jacket and smart mouth making him a well-known presence in bar fights around the city. He never finished his degree, but was soon published in the Dublin literary periodical, Envoy, immersing himself in the hard-living literary scene and befriending Brendan Behan.
Soon, he completed The Ginger Man, which chronicled the many sexual exploits of Sebastian Dangerfield, an Irish American student of law at Trinity College, commonly believed to be a composite of Donleavy and his university friends. Behan, Donleavy told Irish America in 2015, was actually the first person to read the book, finding the manuscript by drunk accident when he was staying at Donleavy and his wife's house while the two were away. When they returned home, Donleavy said, they found that Behan had blackened all their pots, stolen Donleavy's shoes, and left the manuscript behind with heavy edits in the margins. Sometime later, after accepting that Behan's suggestions were worthwhile, Donleavy had Behan review the manuscript again. "He read the book and put it down and said, 'This book is going to shake the world!'" he said.
But it was not to be without a fight. After copious rejection by Irish and American companies, The Ginger Man was published in 1955 under the pornography imprint of Parisian house Olympia Press, which issued the first print of Vladimir Nabokov's Lolita and also distributed many of the works of Samuel Beckett. This move enraged Donleavy, who felt that this label attacked the legitimacy of his novel, and resulted in over two decades of legal battles that culminated with Donleavy firmly on top: after Olympia fell into bankruptcy, he purchased it at an auction in 1970.
The Ginger Man's lewdness caused it to initially be banned in Ireland and the United States. However, it was named among the 100 Best Novels of the 20th Century by the Modern Library in 1998, and has never been out of print. In the 2010 reissue of the novel, American writer Jay McInerney's introduction noted that it "has undoubtedly launched thousands of benders, but it has also inspired scores of writers with its vivid and visceral narrative voice and the sheer poetry of its prose." A later novel of Donleavy's, the 1973 A Fairytale of New York, served as inspiration for the Pogues' famous Christmas song "Fairytale of New York." In 2015, Donleavy won the Bob Hughes Lifetime Achievement Award at the Bord Gáis Energy Irish Book Awards.
Donleavy was married and divorced twice, and is survived by two children from each union – Philip and Karen, children of Valerie Heron, and Rebecca and Rory, of actress Mary Wilson Price. Of old age, he once wrote, "It's not nice, but take comfort that you won't stay that way forever." ♦