The New York Yacht Club was the scene of much merriment on Monday, October 30, as Irish America magazine celebrated its 2023 Wall Street 50 honorees at a gala dinner.
This year's honorees – from standout rising stars to Wall Street veterans – represent some of the world's largest finance companies.
Irish America's founders Niall O'Dowd and Patricia Harty opened up in the show with Niall reminding those present of the struggles of earlier generations and what they had overcome to build lives for themselves in "An Tillan Nua," the New World. Cofounder Patricia welcomed the guests and Keynote Speaker Kevin McLaughlin, and noted that 42 percent of this year's honorees were Irish-born. This represents a seismic change from the first Wall Street 50 event in 1998 when just one honoree was Irish-born. Since immigration from Ireland is so tricky – corporate America increasingly seems an entry point, she reflected.
Deputy Council General Andrew Byrne also congratulated the honorees and was eloquent in his remarks about Irish America's role in community building over the years. He noted that O'Dowd's First Word column in the 1985 premiere issue was relevant today in that Niall had predicted that the then-young senator Biden had a possible future as president.
Of the many honorees present, famous among them was Eileen Murray, who, as one of 9 children brought up in the Dyckman Housing project, had reached the very top rungs of the financial ladder as co-CEO of Bridgewater Associates. Eileen, who served as the Wall Street 50/2018 Keynote Speaker, was on hand for the unveiling of Irish America's digital library named for her mother, Bridget "Bridie" Murray, who emigrated at 13 to New York from Galway. The library houses all of Irish America's archives from 1985 to the present day.
Also present at the dinner was Irish America Hall of Famer Loretta Brennan Glucksman, who served for many years as Chair of the Ireland Funds and who, together with her Wall Street financier husband Lewis Glucksman, donated Glucksman Ireland House to NYU as its center of Irish Studies. The popular community-minded Loretta who served as Grand Marshal of the 2018 St. Patrick's Day Parade, received tremendous applause on being mentioned.
It was an evening of many highlights, richly enhanced by Kevin McLaughlin, who gave a thoughtful and touching keynote speech. A longtime careerist at Merrill Lynch, Kevin has had fantastic success in Wealth Management.
Introduced by Jack Raslowsky president of Xavier High School, to which McLaughlin had earned an Altar Boy Scholarship, Jack focused on Kevin's humanitarian efforts and contributions to his former alma maters, Xavier, and Boston College.
Kevin, in his address, chose not to speak of himself and his career but of those in his life who made his success possible. He began by welcoming the honorees:
"Tonight, we pause, reflect, and celebrate our proud Irish heritage, and "the hard work and sacrifice and education that was the springboard [of his and the honorees' success}. "In particular, we remember those who came before us and instilled the values of Faith, Family, and Country," Kevin said.
He went on to talk about his first-generation parents and his grandparents from Cork.
"That first Irish awakening for me, my American Irish story begins in 1893, when my maternal grandfather, Patrick Mahoney, arrived here from Cork City at age eight. By 1910, he was a salesman for a food company on the Upper East Side. His clients were the residents of the grand Mansions and Apartments along Fifth and Park Avenues, primarily staffed by Irish Immigrant women domestics. That's where he met Molly Curtin, also from Cork City, and they married in 1914. When I reconnected in Cork with my cousins not long ago, I learned they had an old saying. "Molly had to move to America to meet a man from Cork".
In closing, Kevin reminded us, "It's not only about success; it's how we live."
"Recalling words from over 65 years ago by the four-term governor of New York, Al Smith, who in 1928 was the first Irish American, Roman Catholic to be nominated for President of the United States by a major party, Governor Smith said then, speaking to a similar group as tonight.
"'Each year, we gather here in the oldest Irish society in America to review our faith in ourselves, in our heritage, and in this Land we have adopted and taken to our hearts. So it is only fitting that we determine to leave here this evening, committed to living up to the best who came before. Let us be gracious in our dealings with others. Let us strive to give support and opportunity to our children, just as our parents did for us. Let our love of God and Family shine for all to see. Then, about all of us, we'll see that you cannot find a Better Friend, a Better Neighbor, a Better Ally, or a Better Citizen, than those whose Heritage lies on the Green Isle Blessed by Saint Patrick.'"
(View Kevin's speech in its entirety in the above video).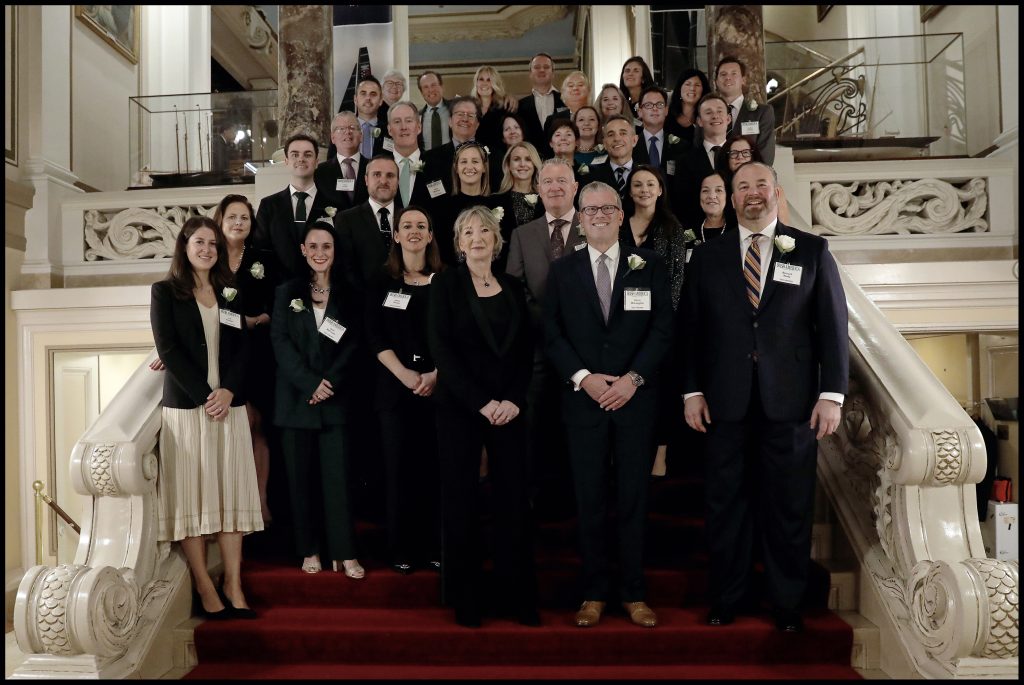 The evening was brought to a close by vocalist Niamh Hyland, accompanied by Rod Hohl on guitar. Niamh, who earlier had brought a hush to the crowd with a beautiful rendition of "Fields of Gold," ended the gala with a tribute to the late Sinead O'Connor, singing "Nothing Compares to You."
It was a night to remember.
All photos from the 2023 Wall Street 50 Awards Dinner are by photographer Peter Foley.
The 2023 Wall Street 50 Honorees